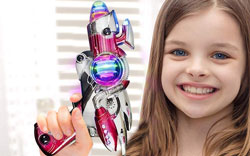 It's not unusual for players to be so enthusiastic about laser tag that they think they're ready to play, regardless of what they're wearing at the moment. But if you're playing laser tag, then you should keep in mind that it's best to think about it as a sport. That means you need the appropriate uniform to play in, to best keep you safe and to maximize your enjoyment.
Of course, the list of essential clothes to wear starts with your target vest. In some cases, you may even have to wear a headband with the laser tag targets, but this isn't always the case.
But after the vest, now what? Here are some tips that can help:
Tips for Footwear
The main rule of choosing the right footwear is to match your shoes with the terrain you're playing on. Obviously, you can't wear your formal leather shoes if you're male, nor can you wear your heels if you're a lady. You also can't use overly casual shoes, as they may not give you the traction you need to make sudden changes in speed and direction.
It's true that in a pinch, your everyday casual sneakers won't be too bad. But they're not the best option because they may not be tough enough for the game. You may end up destroying your casual sneakers too soon, especially if you're a regular laser tag player.
You may want to actually try military boots for laser tag. Military boots are meant for all situations and weather conditions. They're tough, and offer good traction regardless of the terrain. You even protect your ankle joints to prevent tendon sprains.
On the other hand, these aren't super-comfortable. It may also take you a while to get used to running in these military boots.
Arena Games
For indoor games, it's best if you stick to lightweight sneakers that work well enough for summer. These are very comfortable and allow for good mobility.
Just make sure you get good traction. Some floors can be very slippery.
Basketball shoes are especially good for laser tag, as these shoes let you change directions suddenly and give good grip on indoor floors.
Go with mesh sneakers for best breathability.
Try not to wear sneakers that squeak, obviously.
Gentle Outdoor Terrain
If you guys are playing outdoors, then you may want to switch to hiking sneakers. You get better traction for the dirt paths, and you protect your feet when you step on stones or the roots of trees along the way.
You should go with insulated hiking sneakers if you're playing in the cold and rain.
For summer seasons, go with mesh tops instead for better breathability.
Rougher Outdoor Terrain
In some cases, you may want to challenge yourself by playing outdoors where you've got lots of tree roots to deal with, while the ground may have lots of slopes to contend with. Perhaps the grass is always wet, and there's a lot of mud around.
These are the places where your military combat shoes can really shine, since they're made for these conditions.
Or, you can go with hiking boots. The best of these boots have terrific rubber soles for excellent traction, even with uneven ground and wet terrain. They also offer excellent toughness, plus protection for your ankles.
Clothing
Here are the tips that you should heed when picking specific clothes for laser tag.
Start by taking the temperature into account. Obviously, you wear clothes for the cold or for the heat. It's actually best to dress in layers, so you can take off a jacket when you feel warmer than before. When playing laser tag, it may feel cold at first, but all that running will make you sweat eventually.
If you're playing indoors, go with darker colors for your shirts and trousers. The problem with lighter colors is that you stand out with all the UV lights used during the games.
Sportswear is a good choice for laser tag, especially with the jackets on at first. The best sportswear apparel pieces are tough yet they're comfy due to the weight and breathability. With sports jackets, shirts, and trousers, you're quite free to move around. They're great for both indoors and outdoors, especially during the non-winter seasons. For winter, just add more layers.
You may also want to consider military-inspired uniforms for your laser tag clothes. You can even match the camouflage colors to match the specific playing conditions. Some military uniforms are for combat in urban settings, while others are great for sandy settings or jungle environments. There are even some camouflage military uniforms for snowy conditions.
The key to picking the right camouflage colors is to take the 2 main goals into account. The camouflage breaks your silhouette, and then it also lets you merge with your immediate surroundings better. These 2 functions make it more difficult for your opponents to see you from far away.
Another option is to add camouflage cloaks to your clothes. You wear a camouflage cloak over your regular clothes, and the cloak is usually made with tough yet lightweight fabric. Some camouflage cloaks come in a set with jacket and trousers, but you can also wear other camouflage cloaks like a poncho.
Safety Equipment
You don't really need additional safety equipment with laser tag, aside from the right clothes and shoes. But here are additional tips if you want to be really safe, or if you want your kids to have extra protection.
It's great if your kids can wear elbow pads and knee pads, since all that running around increases the risk of tripping and falling. Some kids may not like these pads (they can look goofy, admittedly), but they offer great protection.
In some cases, you may even consider the use of helmets (such as lightweight bike or skateboard helmets.
Conclusion
The key with the right laser tag attire is to keep both safety and comfort in mind. The clothes should protect you, even while they're comfortable to wear. Stick to sports or military apparel, since laser tag can be classified as both a sport and a combat simulation!