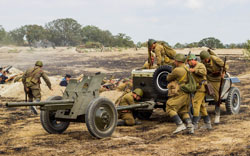 Artistic imitation exists in the airsoft world. Airsoft guns take inspiration from real guns. Airsoft games exist to help beginners have an understanding of how firearms work. Airsoft competitions help build community through sports. A lot of gun designs today are still the same since WW2.
Guns like the WWII Carbine Airsoft Sniper Rifle keeps its WW2 aesthetics. This gun has a history to show. These may not be real WW2 artifacts but they perform under capable hands. Airsoft guns like this look classic but still work like modern airsoft guns.
Read more to find out about World War 2 airsoft guns on our list.
Top 5 WW2 Airsoft Guns: Comparison Chart
This table is your visual guide to help you choose your ideal airsoft airgun. We've included important product features and what they look like. We've also included links on where you can buy them from.
Best Picks of WW2 Airsoft Guns
If you haven't decided on which WWII airsoft guns you'd like to buy, read on. This section of the article discusses each product's features. Each of these guns has its own strengths and weaknesses. You should be able to find out which gun fits your needs.
What's the best WWII Airsoft gun?
According to this website, they rank the Sturmgewehr 44 as the best gun in WW2. The reason is that it was the first ever assault rifle that had been mass produced. This allowed the Germans to have an advantage in the war.
Evike has an airsoft version of the Sturmgewehr 44. The closest to a Sturmgewehr we have on the list is the M40 airsoft rifle by BBTac. For the airsoft version of the Sturmgewehr, it has a magazine capacity of 300 rounds. It also has an adjustable hop up to make the BBs travel faster.
The Sturmgewehr 44 airsoft uses a combination of wood and metal for its body. It works with a fully metallic gearbox with 3 firing modes. The BBs travel along a 14mm threaded barrel that reduces air and surface friction.
It's an AEG that's worth a purchase if you're willing to spend over 200 dollars. We'd recommend buying the WWII Spring Action M1 because it has a higher PFS. It doesn't have the same firing modes as the Sturmgewehr but you get a lot more guns in exchange.
Thompson guns are also among the list of the best WW2 weapons. If you don't feel like browsing for Stuurmgewehrs, then you can consider buying the first 2 entries on our list.
What are the most famous weapons from WW2?
We're going to limit our selections to rifles only. Our criteria for deciding the most famous weapons is going to be on the number of people who used it.
M1 Garand Rifle
Canadian weapons master John Garand designed the M1 Garand. This rifle became standard issue during WW2. At least 5.4 million units of the M1 Garand were in use during the second world war. The M1 Garand rifle uses gas to fire bullets from its chamber.
It was a standard weapon used prominently in the Korean war as well. This gun reaches a firing range of 500 yards thanks to a complicated gas mechanism. It was later changed to a more simple design, but similarly gas-based, system.
M1 Carbine Rifle
This rifle was for troopers who had assignments to the tropics. These soldiers needed to navigate dense jungle areas. They benefited greatly from the M1. The M1 Carbine rifle is always mistaken as the smaller version of the M1 Garand. It's a semi-automatic rifle with a magazine capacity of 15 rounds. This lightweight semi AR has an impressive firing rate of 750 rounds per minute.
It's a good assault rifle for close quarter combat. The environment in the tropics doesn't allow snipers to maximize their weapons. The combination of the M1 Carbine's light weight and firing rate made this a popular choice during WW2.
MP40 SMG
This is the main reason why you should consider buying the BBTac Airsoft Gun Package. The MP40, or sometimes known as M40, was one of the more popular rifles during WW2. This submachine gun was the first weapon to be mass produced.
Its "indirect" creator was Heinrich Vollmer. There were an estimated 1.1 million units of MP40 made during WW2. The MP40 arose from the designs of MP38 and MP36, which each being an iteration of the latter.
Vollmer decided to simplify MP38 and MP36 before achieving the MP40. Vollmet owns the patent for the magazine used in the MP40 and had less of a role to play in designing the MP40.
Thompson Submachine Gun
One of the most famous weapons used during WW2 was the Thompson SMGs. The Thompson was first created in North America. Over 1.5 million Thompsons were in use during WW2. Prior to the war, the FBI acquired Thompsons in 1933.
Thompsons originally were for civilians. It didn't sell that much prior to its use in the Second World war instead. To this day, some people still have Thompsons. Certain countries have laws banning the ownership of Thompsons.
Are there full metal WW2 replicas?
No. There isn't a full metal WW2 metal replica. This may be because of cost-related reasons. Your best bet at any WW2-inspired airsoft guns is to look for grandfathered ones instead.
There are WW2 airsoft rifles that have a metal and dense plastic build. AN example would be this product from Cybergun. It's a Thompson with a metal barrel, gearbox, and receivers. The wood areas are high-density polymers.
Technically most countries do not allow ownership of Thompsons or WW2 weapons. If you're a collector, you can bid on these items. As long as the purchase of WW2 items are not restricted, that is.
Are there World War 2 Sniper rifles airsoft replicas?
A lot of replicas for WW2 sniper rifles exist. We have actually one listed. The M1 Carbine is an example of a WW2 sniper rifle airsoft replica. There are other kinds of sniper rifle airsoft replicas out in the market.
Examples would be M1 Garands, MkII Sten British, and Mosin-Nagant M44. All of these sniper rifle airsoft replicas have impressive strengths. You can buy them from either Amazon or other online airsoft stores like Evike.
There are a lot of cheaper options but for your convenience, we've included an M1 Carbine. Most WW2 sniper rifles are either M1's or Thompsons. These two were the most popular during the World War. It only makes sense for these two be the two most numerous types of airsoft sniper rifles.
How often can you find WWII themed airsoft battles?
Not a lot of airsoft facilities provide a WW2-themed location. However, there are still places you can go for the WW2 experience. Adrenalin Airsoft in the UK has battle grounds that mimic WW2 settings.
This type of play in airsoft games is MilSim. MilSim is short for "Military Simulations." The very first game of MilSim was in Japan in the year 1980. The extreme sport has been growing ever since.
There's also a MilSim facility and company in the US called the Ground Zero Airsoft. They don't really replicate the WW2 environmental settings. However, they organize events to give players a similar experience to WW2. The facility has its own armory of airsoft weapons serviced during WW2.
Unfortunately, the number of businesses last year closed. This continued on into early 2021. A lot of people limit themselves indoors. The most affected by these are businesses that rely on outdoor activities.
A huge number of airsoft facilities are on the West Coast. This COVID map shows the concentrations of infected individuals. Comparing that map to this one, a prediction about open businesses is possible. Airsoft fields aren't doing well either.
The best way to find out if you can play WW2-themed airsoft games is to make a call. Look up the number for the nearest airsoft facility in your area.
Why don't more people do WWII Airsoft?
Here are some of the reasons why:
Better performing airsoft guns
Most of the airsoft guns we have on our list still go past 300 FPS. What's disappointing is the lack of additional features we got used to seeing in modern airsoft guns. Most of the M1's and Thompsons don't have rails where attachments go to.
These accessories have a huge impact on an airsoft game. Although WWII airsoft aims to emulate the conditions of the 1940's, the accessories give an edge..
Lack of facilities
There are a lot of airsoft facilities across the country. Each state has at least one airsoft grounds to allow players to use airsoft guns. To be able to do WII airsoft, these facilities should replicate a WW2 battlefield. Unfortunately, not a lot are into the trend of WWII Airsoft.
The closest to WWII airsoft are MilSims. Not all MilSim organizations have their own airsoft facilities, and vice versa.
Lack of a common knowledge about WWII
Players for airsoft vary in ages from teenager to mid-twenties. The demographic is mostly male. According to this study, the average age of male players is 30 years old. You're most likely to see WWII airsoft games with 20 to 30 year old participants. WWII airsoft may also not appeal to a younger audience.
Does anyone use WWII loadouts for normal games?
It's still possible to use WWII loadout in normal games. Airsoft veterans will have a better understanding of the terrain in an airsoft field. The experienced will win if everyone were similarly equipped with the best WW2 rifle. It all comes down to experience.
It would be fun seeing a normal game with WWII airsoft guns instead of modern. In a way, a game with WWII loadouts is already a WWII-themed airsoft game. The lack of accessories and advantages simulate how life was around 70-80 years ago.
Back then soldiers had to endure a lot of discomfort while fighting for their life. Playing airsoft in WWII style gives everybody a handicap. It let's them experience what life looked like in war.
Conclusion
WW2 airsoft guns are fun to use in normal or themed airsoft battles. The best WW2 airsoft guns for playing these types of games has only one winner. It's the Thompson M1A1 AEG. We rarely pick premium airsoft guns but this one meets all the criteria for a good WW2 airsoft gun.
The Thompson M1A1 AEG has the best materials and the highest firepower. You can also set the gun on fully automatic or semi-automatic firing modes. It's a good WW2 airsoft gun for both normal and themed games.
The BBTac Airsoft Package deserves an honorable mention. It's the only product on our list that has WW2 airsoft pistols. A lot of iconic pistols were in use during WW2.