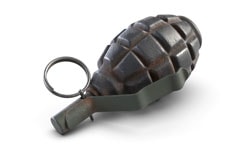 Airsoft grenades are the airsoft equivalent of real-life grenades. They're used in CQB's to disorient the enemy. They're especially useful if you can't get a clear shot of the enemy target.
Airsoft grenades like the ASG Storm Grenade 360 showers your enemies with pellets. Even if they're behind a wall, a BB or two will land on them. A well-thrown grenade is enough to draw out the opposing team and gives you a chance to aim at them with your AEG's.
They're your best friend in CQB situations where a pistol or rifle isn't the best weapon to use. Read more to find out about the best airsoft grenade out on the market.
Top 4 airsoft grenades: Comparison Chart
Use the table below to help you make a decision on what airsoft grenade best fits your needs. We've included their names and a short list of their features. We've also included a preview of what they look like and how much they cost. Click on the price for each to visit the site where you can buy them from.​
Best Picks of airsoft grenades
We've outlined more information about the best picks for airsoft grenades. If you think the table did not help you decide what to get, we've included other information. This section will cover additional specs and what they're best at. Continue reading below to find the best airsoft grenade for you.
What is an airsoft grenade?
An airsoft grenade works very much like an actual grenade. It has a mechanism for releasing pellets. Airsoft grenades typically contain somewhere around 80 to 120 pellets. There are airsoft grenades with a higher capacity like the SportPro which contains 210 BBs.
Airsoft grenades are useful in CQB situations. They allow you to draw an enemy from secluded positions. They're also useful if the enemy team likes crowding. The use of airsoft grenades depends on the rules established by an airsoft facility.
Most facilities allow use of different types of airsoft grenades. There are other types of airsoft grenades that don't use BBs too, but we have a section dedicated for that.
What is the Best Airsoft Grenade?
The rules for an airsoft game precede the type of airsoft grenade you're going to use. In this case, there are several best airsoft grenades in each category.
For BB-based airsoft grenades, what you have to look for is one with the widest spread. It also helps if the BB-count is high. More BB pellets means you get to hit more with the grenade.
There's also airsoft grenades that use real blank rounds. Some airsoft facilities allow the use of these types of grenades. Depending on the rule, enemies in proximity of the flash-bang type grenade are out of the game.
Types of Airsoft Grenade
There are two types of grenades based on mechanism if looking at all brands available on the market. You can either have a projectile-based or non-projectile based grenade.
Projectile-based grenades use BBs to "inflict damage" on enemies. Non-projectile base use either noise or flash, or a combination of the two, to take out enemies.
For the projectile based grenades, here are subtypes:
Timed
These are airsoft grenades that have a delay to when the BB pellets launch. The delay is usually not longer than 5 seconds. These types of grenades also work well as traps.
Impact
Impact-based projectile grenades rely on hitting a surface to release the pellets. There are a lot of airsoft grenades based on this mechanism. They're also the most common types of airsoft grenades.
Directional (or non-directional)
What this means is how the pellets get released. Directional airsoft grenades may either have a single slot or multiple slots. Some of these airsoft grenades spin for maximum effectivity. Airsoft grenades can also be omni-directional which is better.
These types of grenades can crossover. For example, you may have timed, directional grenades. The pellets spread to a particular direction after a certain amount of time. You can also have omnidirectional, impact-based grenades which can eliminate huge crowds of opposing airsoft players.
For non-projectile-based grenades there are two types:
Sound-based
For sound based grenades, they use blank rounds to release a very loud sound. Depending on the current rules of the game, anybody within earshot of the explosion is out of the game. Always rely on these rules as it has a heavy influence on your airsoft playstyle.
Light-based
Light-based grenades act like flashbangs or stun grenades. In a way, they're very similar to sound-based non-projectile grenades. They're watered down versions of real life stun grenades since the real ones can cause serious hearing injuries.
Note that these are simply descriptive generalizations as there is no set criteria yet for the types of airsoft grenades available.
Things to Consider Before Buying Airsoft Grenade
How often are you going to use grenades?
Airsoft grenades are great additions to your current arsenal of weapons. You can bring it to an airsoft game or test it out in your own backyard. It's a really good item for use in competitive play. In other words, airsoft grenades aren't that much fun to use if it's just for solo airsoft play.
If you want to win airsoft games, then we recommend getting airsoft grenades. They're good items for CQB situations. Airsoft grenades are good items to start with prior to moving around the playing field. Sometimes, unexpected throws hit a good one or two opposing players.
If you play airsoft frequently, opt for cheaper airsoft grenades. If you seldom play airsoft, then you can go for more expensive airsoft grenades. Generally, premium airsoft grenades have better engineering and will disperse BB's better.
Is it within the budget?
Airsoft grenades aren't really cheap. The price range of airsoft grenades varies depending on the type and brand. It also depends on the materials used for the airsoft grenade. It could also depend on the mechanism of the airsoft grenade.
One good example of an exception to these is the SportPro. It looks premium but has the lowest price out of the four. It's made with aluminum. It also releases BBs via propane. It carries 120 rounds of BB's. It matches the other two gas-powered airsoft grenades for half the price.
If you have the money to spend,, there are airsoft grenades that have price points higher than $100. These airsoft grenades are usually non-projectile. These use blank rounds to imitate a stun grenade. Most of these aren't reusable either.
What kind of airsoft grenade are you looking for?
You also have to ask yourself if you're looking for a particular style of airsoft grenade. Do you want to continue the plastic BB tradition with your airsoft guns? Then opt for projectile-based airsoft grenades.
You may also find yourself scouting for airsoft grenades. You can do this at online shops or airsoft equipment stores. Most of the airsoft grenades you'll end up buying serve to comply with an airsoft facility's rules.
If the airsoft facility allows rules for airsoft stun grenades, then it's a more reliable option. The enemies will have no time for cover. For beginners, we recommend sticking with BB-based airsoft grenades.
Do you want a reusable grenade or a single-use grenade?
You can also choose if you want a reusable grenade or a single use grenade. We'd recommend going for reusable grenades as you can save money in the long run. But if you'd like to win a competition and just want that edge in game play, single use grenades are effective.
Reusable grenades have a lot of advantages over single use grenades. The very first reason is cost-reduction. You'll be loading the grenades with the same ammo you use in your airsoft guns. It's also more practical to rely on reusable airsoft grenades. Single-use grenades worth more than a hundred dollars is just going to the landfill after they're used.
How to Use Airsoft Grenade
For this section, we're going to use the Cyclone Airsoft Grenade as an example on how to use an airsoft grenade.
Refilling The Airsoft Grenade
Remove the cap by twisting counterclockwise and pulling it off.
Check the pressure by observing if the center seal bulges.
Resetting the Impact Head
Remove the head by screwing off the cap
Reset the impact pin by pressing it down on a hard surface.
Drop the spoon vertically into the airsoft gun
Secure with safety pin
Reattach impact hea by rotating it clockwise.
There are a few things you need to know about using an airsoft grenade. Very much like any other type of equipment, airsoft grenades need maintenance. To maintain an airsoft grade, here are the following steps:
Using an injector, put a few drops of oil directly into the air chamber.
Put two drops of oil into the grenade body where the pellets rest.
Always apply the oil after every use of the airsoft grenade.
And when you need to load BBs into the airsoft grenade, follow the steps below:
Lubricate seals then press down the shuttle
Fill the airsoft grenade with the recommended gas (propane or green gas)
Pour the BBs onto the cartridge, down the BB channels
Reattach the bottom cap by aligning the lock ring
Twist the bottom cap to secure it in place
Note that these steps are specific to the product mentioned prior to these 3 lists. For other products, always check the manuals for the correct sequence of steps. Each product has its own detailed steps in loading BBs. They may also have their own aftercare steps.
Some of the steps outlined here may have similarities with other products. Most airsoft grenades will need lubricating oil and gas. Always follow the product manual for the recommended products to use it with.
Conclusion
The best airsoft grenade on our list goes to ASG Storm Grenade. Despite having the highest price tag, this airsoft grenade outperforms the others. It's also the best one in terms of appearance as it looks like a real grenade
The ASG Storm Grenade only contains 100BB's but the pellets reach over 35 feet. The internal parts are metallic. You can reuse this BB airsoft grenade for a lot of games. It won't break easily thanks to sturdy plastic materials.
An honorable mention goes to the SportPro. It's a fully aluminum airsoft grenade. You'll hit your targets more with a 120 BB capacity. It's also well built with an aluminum casing to house the BBs.
Frequently Asked Questions
What is inside of a grenade?
The 3 main parts of a grenade are the body, the safety clip, and the fuse. The body is where the explosive material is. The shell of the body also acts as the fragments that cause damage when it explodes.
The fuse is where the ignition starts. It's activated by pulling on the clip. Pulling the clip sets of a series of mechanical actions. These help the combustion process to start. The combustion expands the gas to a point the shell cannot contain it.
Once the internal pressure reaches a critical point, this will cause the shell to rupture. The increased pressure will cause it to explode. The loud sound heard from a grenade is the result of air expanding at an accelerated speed. The lethal parts of the grenade are the pieces of metal that come off from the shell rupturing.
What's Wrong with Grenades?
If by wrong we mean ineffective, there are several reasons why. Unlike firearms, grenades are not directed at targets. Grenades have an area of effect so it doesn't choose who or what its targets are. Grenades are also not risk-free. Grenades work best if they're thrown correctly.
Grenades also give away your location if somebody straight up throws it from your base area. You also risk losing the game if you don't get to throw it far away enough. You'd be showering your teammates and yourself of unwanted BB'
Airsoft grenades have the same function as regular grenades. They provide an extended firepower when you've already run out of bullets.
Why Use Grenades?
During wartime, there are several places where rifles and bullets cannot reach their targets. These include foxholes, trenches, bunkers, and other hard to reach places. The enemies use these as cover against snipers and people who excel in CQB.
When you use grenades, you don't have to aim at a particular target. Grenades hit their targets regardless if they're not directly in your line of sight. As long as they are within range of the impact, they will get hit and are promptly eliminated.
Bullets can't also eliminate enemies since BBs don't pierce. Your next best idea is to launch a grenade to hit multiple targets all at once.
Are airsoft grenades dangerous?
Airsoft grenades are like other airsoft equipment. Any type of firearm that uses BB has its advantages and disadvantages. Airsoft grenades spread pellets in all directions. This increases the risk of getting injured.
What you can do is to make sure you're wearing the right kind of personal protection. Full airsoft masks give your face a shield to protect it from flying BBs. There are also masks that have a full seal, further reducing the potential damage you may get.
Airsoft grenades actually have lower FPS than airsoft rifles or pistols. The worst you can get from them are some minor bruises. But it's a different topic altogether if a 120 FPS BB gets into your eye. Make sure you're wearing masks that have ANSI ratings.
Are airsoft grenades safe to use?
Airsoft grenades don't have any safety features. But at the same time, they don't have any components that potentially produce fire. Even airsoft stun grenades have blank rounds. The good news is that these only produce a loud explosive sound. You can also opt for the best smoke grenade for airsoft instead.
The safety of airsoft grenades rely heavily on the rules of an airsoft facility. For example, the use of airsoft grenades have to follow these set criteria:
Only certain types of airsoft grenades is allowable for play
You can either use airsoft stun grenades or opt for BB-based grenades
You can't do overhead throws – you either roll the grenade or do an underhand throw
You're out of the game if you're within 10 ft of an exploding airsoft grenade.
These rules come from TASO rules of engagement. They even recommend kernels instead of BBs. Read more about the rules from this document.
Are airsoft grenades allowed in the airsoft battles?
Yes, depending on the airsoft facility you're playing in. They may have different sets of rules on the use of airsoft grenades. We've shown you TASO's rules regarding airsoft grenades and they're very simple.
An airsoft facility called Wildlands Airsoft Park has a set of rules on airsoft grenades. They specify what types of airsoft grenades they allow. They also indicate what kinds of ammunition can go into the grenades. It also has rules on how to throw airsoft grenades, and for picking them up.
The closest rule to banning airsoft grenades is in these rules. This is when players in Wildlands Airsoft do an overhead throw. The ban lasts for a day and restricts the player from using airsoft grenades. There's also a rule that specifies they'll get kicked out of the game if they're caught violating it.
Can you go to an airsoft game with only grenades?
It's possible to play an airsoft game with only grenades. It's going to be challenging getting close to enemy players who have high-FPS rifles.
Most airsoft facilities don't specify the number of grenades allowed. You can bring grenades in an airsoft match as your main weapon. If you want to lob airsoft grenades using a grenade launcher it's also allowed. An airsoft facility in New Zealand allows the use of airsoft grenades.
For all other facilities, a quick review of their guidelines help. Guidelines determine the limitations of airsoft grenade use. So far, most facilities don't specify a minimum on the airsoft equipment you should bring.
We'd say goodluck to people who want to engage in an airsoft battle using only grenades. We're sure it's a difficult task to achieve.
Can you reuse airsoft grenades?
Absolutely. Most airsoft grenades are reusable. All of the products we've put on our list qualify as reusable. These types of grenades are better and you get your money's worth. Since most airsoft facilities require you to roll or do underhand throws, your airsoft grenades are going to last long.
In buying airsoft grenades, also consider the type of material it's built from. Buying airsoft grenades made with cheap plastic will be a waste of money. If the internals of the airsoft grenade are from metal, that's also a bonus.
In airsoft how can a reusable grenade be used as a booby trap?
Booby traps are especially useful if you're defending an objective. The best type of reusable grenade to use in this situation is the impact type. You can rig them to go off when unaware players intrude into your team's territory.
There are various ways you can rig an airsoft grenade. You can either use trip wires or use pulleys to surprise your enemies. You can also put impact-type airsoft grenades hidden in plain sight. This is if you're prepared to lose one of your reusable airsoft grenades.
How much does it cost to buy a grenade?
Grenades typically cost anywhere from $20 and all the way up to $200. Most of the products we've shown you fall in the $50 range. What's great about these $50 items is that they're reusable so you'll be getting your money's worth.
Always check for airsoft grenade reviews to find out if it's worth spending on. Some high-cost airsoft guns have little to no difference in performance.
What's a good, cheap airsoft grenade that can fit small balls?
Airsoft gun grenades like the SportPro hold 6mm BB's in the cartridge. 6mm BB's weigh from 0.12g to 0.20g. Using smaller BB's makes throwing airsoft grenades easier as they're lighter in weight. The disadvantage to this is it reduces the distance the pellets can travel.
We recommend using 0.20g BBs unless specified by the product manual.