If you want the best, you'd have to invest in time and money to research for them. Fortunately, if you're looking for the best slingshot ammo in the market, that research will pay off if you're doing it right.
There are tons of factors that can make or break your decision in buying what's best. From accuracy, manufacturer reputation, materials and hunting needs, these factors will define how long your slingshot will last.
There are deals to find online, too, that will depend on what kind of ammo you're looking for. If your intention is for hunting, a few of the products may provide better advantage.
A lot of times the best slingshot will depend on the type of ammo material used. For maximum performance, it's better for you to check whether a particular ammo type fits your slingshot design.
Explore this article to learn more about them and the criteria to pick on what makes a hunting slingshot ammo the best in the market.
The 5 Best Slingshot Ammo :
Comparison Chart
Based on specs, features, value for money and maximum compatibility, we have chosen these slingshot pellets as the top choices you can judge:
Best Picks of Slingshot Ammo
These are the best size slingshot ammo for hunting that you may want to explore for your quest in finding the best. They're probably not easy to compare against each other, but you have to admit: these choices have core similarities.
What Are the Best Slingshot Ammo?
I could say with confidence that the best slingshot ammo are the spherical types. These are the projectiles many people are familiar with, and that's not for nothing.
The good thing with spherical projectiles is that you can reload your slingshot with them in an instant. You get faster recoil because of the shape advantage.
It also makes sense to get the steel balls or lead balls. Yes, they're not as eco-efficient than clay ones or marbles, but they sure can be the best ones to use when hunting game.
When doing target practice, go for the slingshot ammo that costs cheap, and that's usually the clay balls.
Things to Consider Before Buying Slingshot Ammo
The first thing to bear in mind when buying your slingshot ammo is your intention. However, consider the following attributes or factors, too, in your decision.
Pellet Type
You can get pellets that are shaped in spheres and ones that are made of clay or marbles. These are all good, if your intention fits the type of pellet.
Pellets that are made of steel have a higher ballistic coefficient. They are great for hunting game and for making sure that when you hit your target, you knock them down.
Steel pellets may be costlier, though, so when you're doing target practice, this may not be the one to get. Go for clay balls instead.
The Clay Balls, other than for target practice, are best for just hitting targets you just want to shoo away. These may not be enough when you want to kill or hunt a rabbit or squirrel.
Weight
Weight is another factor to weigh in, no pun intended. The great ammo for slingshots are balanced between weight and light.
You want good weight so you can knock down targets, but the light factor is what you want to carry more of these when out for a hunting streak.
When you hit the right balance between the two, what you get is the right velocity to strike. The weight of these balls will also make for how precise your hits can be.
You also have to make sure that the size is adjusted well to the weight. The ideal size should be, well, sizable and easily picked by your fingers and contain in a safe bag.
Color
Another pro tip here is choosing neon or shiny colors for you. When you want to reuse ammo, those neon and silver-colored pellets will be easy to track down on the floor for faster re-usage.
Different Types of Slingshot Ammo
Here are the major types of slingshot ammo right now: steel, glass marbles, clay balls and tungsten carbide. This is how they differ:
Steel
The best thing about steel slingshot pellets is that they have the best ballistic strength. They can rather more effectively kill the target object better than clay or marble types.
Glass Marbles
The good thing about these glass marbles is that they're easy to acquire. Even the toy marbles of your childhood can well be suited for this.
You can't get as much ballistic or force with this type, though, so what you want is to elevate your choice to steel if you're planning to hunt.
Glass marbles are well adjusted or fitted to those times when you just want to hit targets to hone your skills.
Clay Balls
These ones are good when you want to go eco friendly, but they easily disintegrate when stored for long.
Tungsten Carbide
This is the one to get when you want the heaviest type of pellet to use to inflict a lot of impactful damage. Ideal scenario for this pellet type is hunting a rather bigger game.
Understandably, the tungsten type are more expensive since they underwent a lot of rigorous, long-standing process to get made.
3/8 vs 1/4 slingshot ammo
It's understandable for newbies to ask whether 3/8 pellets are better than 1/4 types.  It's really just a matter of preference, but those who go for the 1/4 are those who want a heavier impact in the damage.
If you go for 3/8 then what you are slightly lighter and less impactful, but they cost a bit less than the counterpart.
Slingshot Ammo vs Ball Bearing
All you need to know when in dilemma between the two is this: a slingshot ammo is optimized for velocity, speed and impact. A ball bearing doesn't have that much advantage.
You could use either of the two, though. You could go serious with slingshot ammo, as they are more optimized for going pro.
Glass Vs Clay Slingshot Ammo
You could consider going for glass pellets if you want better impact and damage to projectiles. If you're just practicing and you want more value for money then the clay slingshot ammo would be the one to get.
Clay balls, on the other hand, are hardly effective in hitting slightly larger game. So it really depends on your goal, intention or purpose.
Top Slingshot Ammo Brands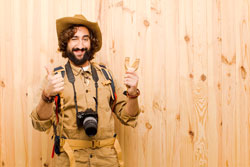 The brands  to consider when you want to maximize your investment in your slingshot game are: Trumark, MAG and Daisy Outdoor Products.
A stand out among these is the MAG 500 glass marble pellets. At just 1/2 inch, they already can pack a lot of hitting power that can knock down even game that are not that small.
You get zinc-plated steel with a Daisy Outdoor brand, though, so you can be sure that they're packed and made under a lot of rigorous, industrial processes.
If you go for clay balls, understand first how they differ from glass pellets or marble types.
Also, if you're scouting for brands, look for nice round shape pellets if you're just starting.
The familiar type of pellets can make you adapt quickly if you no longer have pellets. The ball bearings you find in your garage can be a good alternative.
However, your zip code can be a limiting factor. Other pellet types may not be easily available in your country or area, so go with what is available and be resourceful.
Who Makes the Best Slingshot Ammo
The maker of the best slingshot ammo is a brand that can put the needs of a customer first. One brand that can do this is Daisy Outdoors.
The Daisy Outdoor Products undergo a lot of rigorous standardized tests, so you get higher quality when you go to them for your slingshot needs.
What Size Slingshot Ammo To Use?
You want a good heft for your slingshot ammo, so a good size may well be around 5/15 inch, but this still depends on your purpose.
If you're just going for a target practice activity, going for this size is already good enough. Lighter sizes or weight are ideal when you want to pack a lot.
The extra weight will not be an issue when you're not out hunting. If you're just honing your hunting skills at home, then you're already good with the clay pots that you can buy in the cheap.
The best size of slingshot still ultimately depends on your true purpose for them.
Final Verdicts
So what among these pellet types and brands should you pick? Well, go for all of them if you can.
However, if you're to just pick a single one, then my clear winner would be the: BARNETT Slingshot, the 38 Caliber release. It's the best one for me because it is the perfect mix of size and heft, giving you hunting power for small game and yet it's still good for target practice.
At 1.1 pound of weight,it's so lightweight that you can carry lots of them in your hunting trail. That alone is a good reason why it's the best slingshot ammo I can think of today.