There are so many air pistols to choose from, but not many of the ones you can buy fit the mold of what the best air pistol for self defense can be. Many of the airgun pistols can just basically be good old toys.
That's why it's important to know what you're looking for. Find out a pistol's specs, the blowing power, the type of mechanism that fires out the pellet and the level of accuracy it offers.
This is the kind of information that may be too overwhelming. What you need is a filtered out, classified and organized list of the best ones to choose from.
The list below is your guide.
Top 6 Air Pistol For Self Defense: Comparison Chart
What's more important than just getting an affordable self-defense air pistol is a brand that offers the best specs. Here's our top six with the best features we can find:
Best Picks Of Air Pistol For Self Defense
What looking for the best CO2 air pistol for self defense, it's good to scale down your choices to the these top six products we have analyzed.
See if you agree with our choices:
What Are The Best Air Pistol For Self Defense?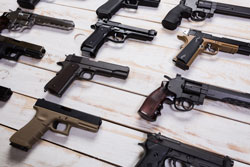 Whatever air pistol you choose as your best, make sure you consider these factors in your criteria: caliber, weight, cost, action and capacity per clip.
The best ones you can get are usually from the iconic brands in the market, which includes Gamo, Tippmann, Crosman and Daisy.  Depending on whether your main priority is heft, bulkiness or accuracy, these brands have something to offer you that will be your best choice.
If you want to increase your marksmanship skills, you may be better off getting something like the Gamo P-25, which has 16 rounds and which will be enough to hone your hits' accuracy.
Things To Consider Before Buying Air Pistol For Self Defense
It's inconceivable to purchase an air pistol without first considering the factors, criteria and other things that will get you the best deal out of your purchase.
For that reason, here are some key factors you shouldn't miss before your purchase:
Safety Mechanism
Make sure you double-check the level of safety mechanism that the air pistol you choose gives you. What good is a pistol to defend you from others when it won't even protect you from yourself against accidents?
Lifelike Quality
When you're training for the actual firearm, you want an air pistol that can be as close to the real thing as it can get. A self-defense air pistol will be even more valuable when you can transition it to an actual self-defense firearm.
Accuracy or Rapid Fire
If you want to master your accuracy, then you might go for a single-shot or semi-auto action in your air pistol. The rapid-fire will make sense if you're just protecting yourself against a pack of dogs or any intruder
These rapid-fire pistols may not give you the high level of training that single-shots or semi-automatics can give.
Air Pistol Action
You must also first know the different options or types that you can get in your air pistols. They come in these types: revolving cylinder, bolt action, single shot or semi-automatic.
The rule of thumb to remember is that the most powerful you can get for self-defense are bolt action and single shot types. This is so because they allow for a greater seal that will help you generate more air power in your shots.
For general target practice before buying an actual self-defense air pistol, you could extend the value of your money with a semi-automatic. These types usually just shoot one fire every time you pull the trigger.
Tips For Using And Maintaining Air Pistol For Self Defense
Using an air pistol for your self-defense requires a commitment. That's why you have to invest the time to maintain your air pistol and do the necessary repairs or storage do's and dont's.
The first one you should remember is to store your air pistol properly. Keep them off humid areas or places in your home that attract clamminess and will produce moisture in your air pistol.
Apply a non-corrosive oil or coating to your air pistol, if possible. Go for the one that is approved by the manufacturer of your air pistol.
Next, make sure when you carry your air pistol as a self-defense, check if nothing in the pistol is dysfunctional.
Check for wear and tear. Your air pistol might have been in storage for such a long time, that it may not be able to hit targets anymore that much accurately.
Lastly, consider investing in a brand that's known for decades to create long-lasting air pistols. Trust is hard to earn, and those brands trusted by many users are there for a reason.
Who Makes The Air Pistol For Self Defense?
I should say here that the best maker of air pistols for self defense would depend on your criteria. For best affordable self-defense air pistol, Umarex should be the winner, for its Umarex XBG.
For the best self-defense weapon that can also be used for target practice, then the Tippmann TiPX Mag Fed would be the one that fits the mold.
Final Verdicts
Comparing against each other, I declare the Crosman P1377BR as my clear winner. Unlike others, you're getting more than just a self-defense weapon here.
You can train your grip, aim accuracy and even cocking speed with this air pistol's lifelike  features. These features all make this one my best air pistol for self defense.
Frequently Asked Questions
Will air pistol kill a person?
Highly unlikely. However, if you're using compressed-gas powered air pistols with steel pellets, the chances of lethal damage are higher.
Will air pistols be a reliable self-defense against stray dogs?
Yes. Even the cheapest, least powerful air pistol you can get is enough to ward off stray dogs.
What's the strongest air pistol for self-defense?
The strongest would perhaps be the Gamo PT-85 but only because it's the most versatile, "all-rounder" pistol you can use for more than just self defense.
The air of confidence you could get with this one is definitely high, considering its added features that really just pack so much power and flight velocity in one air pistol.