There are so many air pistols to choose from, but not many of the ones you can buy fit the mold of what the best air pistol for self defense can be. Many of the airgun pistols can just basically be good old toys.
That's why it's important to know what you're looking for. Find out a pistol's specs, the blowing power, the type of mechanism that fires out the pellet and the level of accuracy it offers.
This is the kind of information that may be too overwhelming. What you need is a filtered out, classified and organized list of the best ones to choose from.
The list below is your guide.
Top 6 Air Pistol For Self Defense: Comparison Chart
What's more important than just getting an affordable self-defense air pistol is a brand that offers the best specs. Here's our top six with the best features we can find:
Best Picks Of Air Pistol For Self Defense
What looking for the best CO2 air pistol for self defense, it's good to scale down your choices to the these top six products we have analyzed.
See if you agree with our choices:
Crosman CCP8B2 Vigilante CO2 .177-Caliber Pellet and BB Revolver
Quick Specification
Velocity: Up to 435 fps
Barrel Type: Rifled
Caliber: .177
Front Sight: Fixed Blade
Powerplant: CO2
Weight: 2.00 lbs
Rear Sight: Adjustable
Safety: Hammer Block
The CCP8B2 Vigilante could easily be the best BB gun for self defense that you could pick right now. Made by Crosman, this has a full-metal frame and a double-action mechanism that guarantees a knock-out blow.
Self-defense doesn't need to be that powerful, and the 12-gram CO2 cartridge-powered system of this one may be more than enough damage to any intruder.
You get 10 rounds with this if you're using a rotary pellet, and 6 if it's BB clip. That's likely just the right amount of shots that could protect you when you're on your commute.
What gives this model an added strength is its front sight that's made of fixed blade. Complement that with its rear sight that you can adjust to fit any accessory and you're good to go.
I recommend this if you're looking for a self-defense air pistol that you can also use as a target-shooting revolver. This can also be a weapon with which to shoot unwanted vermin off your property.
As a measure of precaution, you may want to get an expert to assist you how the pistol works, as its old-school mechanism could be a bit obscure to some.
What I Like
It looks like a real old-school revolver
Lightweight and has enough pellets without bulk issues
Can both be used as a self-defense firearm and a target shooting pistol
Has double action mechanism for a real feel
Speed can reach to as high as 435 FPS
Has CO2 cartridge compressed gas for more power
Daisy Powerline 415 Pistol Air Gun Kit
Quick Specification
Caliber: .177 bb
Velocity: 495 Feet Per Second (Fps).
Action: Co2
Powerplant: Spring.
Maximum Shooting Distance: 235 Yards
Length: 8.6 Inches
Weight: 0.93 lbs
This pistol fits in most reviews of the most powerful air pistol in the world mainly because it's made by Daisy, a world-trusted brand. Other than that, its 21-shot BB magazine gets you more load in one clip than many others out there.
Some powerful components of this model include its 500 FPS velocity that can protect you from any type of intruder. I recommend this to you, too, if you're trying to fend away stray dogs on your way to work.
The front of the pistol is made of a blade and ramp with its rear sights fixed open, so you're given more leeway to practice your accuracy.
Designed to be semi-automatic, you can shoot more with this one and save more time better than single-shot action pistols.
What I also like about this is that Daisy didn't forget to add details that improve its safety measures. This comes with a manual trigger block system that keeps you safe from accidental explosions.
The barrel's steel material gives you the confidence that your investment with this one will last for the longest time.
What I Like
Has 495 FPS of reach of velocity so I can hit intruders even at far distance
Has fixed open rear and fiber optic material for durability
Made with muzzles for mounting rails
Bold molded black design makes it look elegant and stylish
Manual trigger block safety mechanism for added safety
Powerful enough to ward off stray dogs and small game
Designed to train you in the right way to grip a revolver
Winchester Model 11K CO2 Pistol Kit
Quick Specification
Max Velocity: 410 fps
Length: 8.5″
Weight: 1.9 lbs
Caliber: .177 bb
Shot Capacity: 15
Barrel: Smooth bore
Action: Semiautomatic
Powerplant: CO2
Trigger Action: Single-Action
Will a pellet gun stop an intruder? If you're using a Winchester 11K, it could as the CO2 semi-automatic mechanism it has ensures that it's not just a toy.
It's a serious self defense weapon against unwanted creatures, human or animals.
At 410 fps max velocity, you have the needed reach just enough to ward off an incoming dog even if it's still far off. The realistic blowback action also gives you a better grip.
You may also notice that the entire barrel design of this one, as well as its body's solid metal construction, is very lifelike. This means you can actually use this one as a training pistol for the real thing.
I recommend this one if you're trying to go pro or training for military school, and you want to feel what it's like to shoot without the added stress and dangers of the real one.
You get two 12-gram CO2 cartridges for each purchase of the pistol, with 750 counts of BBs  in the pack that comes with it. That's likely to be a good deal for the budget price of this pistol pack.
What I Like
Has 410 FPS of max velocity so it's still powerful at a farther reach
Comes with Winchester BBs, which are known for their consistent, smooth design
Has a solid metal construction so your grip is stable
Has a nickel finish for added design sense and anti-rust protection
Already comes with compressed CO2 gas cartridges, 12 grams
Not violent but just enough to inflict considerable damage for self defense
No need to reload the clip as often because it contains enough pellets to ward off targets
Crosman P1377BR
Quick Specification
Action: Bolt Action
Barrel Material: Steel
Barrel Type: Rifled
Caliber: .177 bb
Front Sight: Fixed
Velocity: Up to 600 fps
Powerplant: Variable Pump
Weight: 1.875 lbs
The P1377BR made by Crosman is a good pellet gun for self defense mainly because of its Cross Bolt Safety mechanism. The worst thing that can happen is when you are hurt by your weapon when using it against targets.
I recommend this model if you're looking for a self-defense air gun that can also be effectively used as a training weapon for shooting skill development. With this one, you can train for your grip, accuracy of aims and reloading rate.
You get an adjustable rear sight with this one, too, so when you're hitting at a far-range, then you can still stay on target without a hitch. This is paired with a front sight made of fixed blade, so it doesn't flake off.
The sleek, elegant and modern feel and design of this one also has much to be admired. The single-shot bolt action feature in this one will make it easier for you to cock and load it.
I recommend this as the air gun for those who want a self-defense weapon but haven't tried to hold any actual air gun yet.
What I Like
Has a patented Cross Bolt Safety mechanism to protect yourself from accidents
Lifelike enough that you can actually use this for shooting skill development
The rear sight and front sight are adjustable and made of fixed blade to aid accuracy
Made of pneumatic pumping power for controlled velocity
You get far with each shoot because it can do about 600 FPS
Can be pumped easily, even a 10 year old can do it
Crosman 2240 Bolt Action CO2-Powered .22-Caliber Pellet Air Pistol
Quick Specification
Action: Bolt Action
Barrel Material: Steel
Barrel Type: Rifled
Caliber: .22bb
Velocity: Up to 460 fps
Powerplant: CO2
Weight: 1.81 lbs
A good pellet gun for home defense doesn't need to be able to do a rapid-fire shooting action. The single shot, bolt action that the Crosman 2240 air pistol is actually more than enough if you know how to use it properly.
The single shot design that this one has may appear to be a liability, but it's actually an advantage because it makes for easier cocking. The CO2 compressed gas cartridge in this one will more than make up for its single-shot design in terms of ballistic power.
I recommend this type if you want a self-defense air pistol that you can also use for plinking, target practice or just for getting rid of squirrels off your backyard.
For target shooting, the ergonomic grip design here is ambidextrous, so if you or your child wants to use it and they're left or right handed, you can still get the most out of this air pistol.
The steel barrel design here gives you extra advantage in terms of accuracy because of its rifled style. You get better accuracy with this even if you're afar, shooting at 460 FPS.
What I Like
Powered by compressed gas so it's much more convenient than manual cocking
Bolt design lets you to cock and load it at a much faster rate
Its rifled steel barrel gives you more opportunity to improve your accuracy
Can knock out both stray dogs, small vermin, but will rarely be lethal
Has perfect balance in grip, comfort and flight velocity
Good quality relative to its price
Reliable to use against critters
Daisy 5172 Power Line CO2 Pistol Kit
Quick Specification
Caliber: .177 bb
Velocity: 520 Feet Per Second (Fps)
Action: Co2
Powerplant: Spring.
Maximum Shooting Distance: 254 Yards
Length: 9.5 Inches
Weight: 1lbs
The world in general may have favored this Daisy 5172 air pistol mainly for its above-average 520 FPS velocity. This is not common for a pistol of this size, caliber and price range.
The kit you will get with this already includes shooting glasses, so if you're going for value for money, you definitely get more than a self defense air pistol with this one.
At 21 shots in capacity, it will be a while before you find yourself reloading to hit your targets consecutively. This is ideal when you need more shots to get rid of your targets, such as a pack of stray dogs.
Powered by CO2 cylinders, you save yourself some time manually cocking and loading it up. I suggest you buy this one if you're aiming for maximum, continuous damage for each clip or load.
The front sights in this one should also please you because the maker added a blade and ramp, so whether you're a beginner, your shots will be given a more accurate boost.
I can recommend this to you, too, if you want to hone your shooting marksmanship with much better authority, since the added smooth barrel component here is made for such a goal.
What I Like
Has CO2 compress gas power mechanism that's more powerful than manual cocking
Has front sights embedded with a ramp and blade for better marksmanship
Built in manual trigger safety mechanism or block so you're safe from accidents
Has a reliable capacity of about 21 shots per clip
Could go to as high as 254 yards in shooting distance so you hit targets at long-range
Barrel is corrosion-free as it's polished with bore steel
What Are The Best Air Pistol For Self Defense?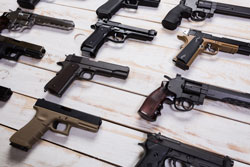 Whatever air pistol you choose as your best, make sure you consider these factors in your criteria: caliber, weight, cost, action and capacity per clip.
The best ones you can get are usually from the iconic brands in the market, which includes Gamo, Tippmann, Crosman and Daisy.  Depending on whether your main priority is heft, bulkiness or accuracy, these brands have something to offer you that will be your best choice.
If you want to increase your marksmanship skills, you may be better off getting something like the Gamo P-25, which has 16 rounds and which will be enough to hone your hits' accuracy.
Things To Consider Before Buying Air Pistol For Self Defense
It's inconceivable to purchase an air pistol without first considering the factors, criteria and other things that will get you the best deal out of your purchase.
For that reason, here are some key factors you shouldn't miss before your purchase:
Safety Mechanism
Make sure you double-check the level of safety mechanism that the air pistol you choose gives you. What good is a pistol to defend you from others when it won't even protect you from yourself against accidents?
Lifelike Quality
When you're training for the actual firearm, you want an air pistol that can be as close to the real thing as it can get. A self-defense air pistol will be even more valuable when you can transition it to an actual self-defense firearm.
Accuracy or Rapid Fire
If you want to master your accuracy, then you might go for a single-shot or semi-auto action in your air pistol. The rapid-fire will make sense if you're just protecting yourself against a pack of dogs or any intruder
These rapid-fire pistols may not give you the high level of training that single-shots or semi-automatics can give.
Air Pistol Action
You must also first know the different options or types that you can get in your air pistols. They come in these types: revolving cylinder, bolt action, single shot or semi-automatic.
The rule of thumb to remember is that the most powerful you can get for self-defense are bolt action and single shot types. This is so because they allow for a greater seal that will help you generate more air power in your shots.
For general target practice before buying an actual self-defense air pistol, you could extend the value of your money with a semi-automatic. These types usually just shoot one fire every time you pull the trigger.
Tips For Using And Maintaining Air Pistol For Self Defense
Using an air pistol for your self-defense requires a commitment. That's why you have to invest the time to maintain your air pistol and do the necessary repairs or storage do's and dont's.
The first one you should remember is to store your air pistol properly. Keep them off humid areas or places in your home that attract clamminess and will produce moisture in your air pistol.
Apply a non-corrosive oil or coating to your air pistol, if possible. Go for the one that is approved by the manufacturer of your air pistol.
Next, make sure when you carry your air pistol as a self-defense, check if nothing in the pistol is dysfunctional.
Check for wear and tear. Your air pistol might have been in storage for such a long time, that it may not be able to hit targets anymore that much accurately.
Lastly, consider investing in a brand that's known for decades to create long-lasting air pistols. Trust is hard to earn, and those brands trusted by many users are there for a reason.
Who Makes The Air Pistol For Self Defense?
I should say here that the best maker of air pistols for self defense would depend on your criteria. For best affordable self-defense air pistol, Umarex should be the winner, for its Umarex XBG.
For the best self-defense weapon that can also be used for target practice, then the Tippmann TiPX Mag Fed would be the one that fits the mold.
Final Verdicts
Comparing against each other, I declare the Crosman P1377BR as my clear winner. Unlike others, you're getting more than just a self-defense weapon here.
You can train your grip, aim accuracy and even cocking speed with this air pistol's lifelike  features. These features all make this one my best air pistol for self defense.
Frequently Asked Questions
Will air pistol kill a person?
Highly unlikely. However, if you're using compressed-gas powered air pistols with steel pellets, the chances of lethal damage are higher.
Will air pistols be a reliable self-defense against stray dogs?
Yes. Even the cheapest, least powerful air pistol you can get is enough to ward off stray dogs.
What's the strongest air pistol for self-defense?
The strongest would perhaps be the Gamo PT-85 but only because it's the most versatile, "all-rounder" pistol you can use for more than just self defense.
The air of confidence you could get with this one is definitely high, considering its added features that really just pack so much power and flight velocity in one air pistol.