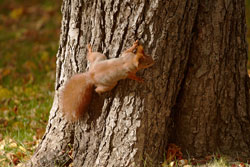 When it comes to maximizing investments, you get more value when you invest in the best. This is the same thing you get when looking for the best BB gun for squirrels available in the marketplace.
It's easier now more than ever to find the right BB gun suitable to your needs. But nothing will come out good if you don't do a bit of research.
Depending on whether you're just buying a BB gun for target practice or you're hunting small game, a good BB gun has to have the right balance of size, weight, velocity and price.
In this guide, you may weigh all that in order to get the optimized rifle for you.
Top 4 BB Gun for Squirrels: Comparison Chart
Here are the top options you may like to explore first in your quest for the best pellets for squirrel hunting:
Best Picks of BB Gun for Squirrels
To save you time, we have you here the Top 4 BB guns that can pack a lot of damage to your squirrel targets:
Gamo Silent Cat Air Rifle
Quick Specification
Caliber: .177
Velocity: 1200 feet per second with PBA
Skeleton stock
Scope: 4×32 air rifle scope with rings
One year limited warranty
Weight: 7 Pounds
There are many good things to say about why the Silent Cat is among the best bb gun to skill squirrels today. The main reason is that it's a creation of Gamo, a reliable brand in the market.
The line-up of Gamo is all about creating the best, and this one is an example of that. It has an 18″ barrel with polymer stock and an old-school bolt-action rifle design.
It feels the way a normal rifle would feel like, and if you're nostalgic, then this may be the first rifle to check out.
The check pads built on the both sides of the rifle will make sure that easy recoil is possible. You get more comfort, too, when hitting those squirrels, so your accuracy is heightened.
The thumb-hole in the stock will make you like it even more as it gives you that grip similar to a pistol's. You get better accurate results in your hits at the squirrels when you have a good grip.
Pros
Has a standard rifle feel that many nostalgic hunters like
Accuracy levels are heightened because you get better grip
Cheaper than the other offers out there
Has automatic safety system built in for better cocking
One of the safest BB gun to get right now
Cons
Scope needs improvement
Thumb-hole space needs more allowance
Umarex Ruger Air Magnum Break Barrel Pellet Gun Air Rifle
Quick Specification
Action: Break Barrel
Caliber: 0.22
Ammunition: Pellet
Length Of Pull: 14.25″
Cocking Effort: 42 Lbs
Weight: 9.5 Lbs
Scope: 4×32 Included
Velocity: 1,000 Fps
Danger Distance: 675 Yards
The best bb pellet gun for squirrel hunting should have a powerful velocity and scope features, and that's what you get from the Air Magnum rifle by Umarex. At 1200 FPS  in its range, you're certainly getting a lot of allowance to hit that squirrel down.
Its spring piston has a break-barrel style that's coated with composite stock. What this means it is a heavy duty BB gun that you can carry out in tough weather conditions.
The blued barrel you get with this comes with a receiver, while the barrel itself is made of tough steel. That's something that can make your rifle last for the longest time.
If you want durability and hard-hitting power for your air gun, this is the combo gun you might want to check out first.
An added bonus with this one is its fiber optic material made for the rear sight. You can make easy sighting controls with this that allows you to hunt squirrels more accurately.
Pros
Break-barrel style and blued steel barrel design makes for longevity
Heavy duty barrel for tough weather conditions
Hard-hitting power
Cons
Scope range can be far limiting when you want more features in your long-range hits
Can be a bit more expensive than the other ones you can get in the market
Daisy 880 Powerline Air Rifle Kit
Quick Specification
Caliber: .177 Bb And Pellets
Velocity: 800 Feet Per Second (Fps).
Action: Multi-pump Pneumatic
Powerplant: Spring.
Length: 37.6 Inches
Weight: 5.78 lbs
Optics: 4 X 15 Air Rifle Scope
Hunting with bb gun is made even more special and efficient when you're using the 880 Powerline rifle made by Daisy. The wood-grained theme of this rifle's stock and forearm is reason enough why this is a top choice.
This rifle is designed with sleek black color that combines with a safety glasses. It's a nice decision for the manufacturer to make this a combo and factor in the issue of eye safety in each purchase.
Tough and sleek, this is the rifle to get when you want to consider style as part of your decision in getting a BB gun. I'm not saying that the features are not good, though.
The "dual fuel" capacity of the rifle that can use both BBs and Pellets is even a feature that not many rifles out there have. Its 4 x 15 scope will also make it a strong contender in competitions of powerful scopes.
Truly, the action-packed features of this one make this rifle more than just a simple big boy toy.
Pros
Dual Fuel capacity allows you to use either BBs or pellets as fuel
Powerful range and scope for maximum reach
Has multi-pump system for faster recoil
Tough and sleek-looking, perfect for style
Cons
Looks too similar to an actual firearm, and so you should be careful lugging this around
May be dangerous to use when at 291 yards
Crosman Nitro Venom Dusk Break Barrel Air Rifle
Quick Specification
Caliber: .22 bb And Pellets
Velocity: up to 950 FPS (alloy) / 800 FPS (lead) / 20 FPE
Power Source: Nitro Piston
Length: 44.5 Inches
Weight: 7.375 lbs
Optics: 4×32 mm scope
Can you kill a squirrel with a BB gun? It depends, but if you're using the Nitro Venom made by Crosman, then you definitely can.
How can you not? It's made of high quality components by a trusted name and already comes with a 4×32 mm range of scope, measured from the Centerpoint.
If accuracy is what you're after, this one has a fluted muzzlebrake. This elevates accuracy position, especially if paired with the Artillery Hold shooting angle that this rifle comes with.
What makes this one also one of the best air rifle for squirrel hunting today is that it can reach as high as 20 yards when being used with a CO2. That makes it not just good for hunting, but for pest control, or just plain old plinking with friends.
Convenient and easy to use, the Nitro Venum has minimal recoil and 70% less noise than a spring rifle. This puts you an advantage when your interest is in stealth mode.
Pros
Made by a trusted brand in the industry, so quality of materials is assured
70% Less Noise in its Nitro Piston compared against Coiled Springs
Cannot be affected by tough weather conditions
Cons
Accuracy may be hit or miss sometimes
Only has 700 fps velocity if using Variable Pump
What Are the Best BB Gun for Squirrels?
You could say that the best BB Guns that can inflict serious damage against squirrels are those made by Gamo, Daisy, Ruger and Crosman. These are the major brands out there that pack themselevs with impressive features for squirrel hunting.
The best BB gun you could get should be both powerful in its ballistic damage, as well as tough in weather conditions. Some rifles just die on you because of rust; avoid them like plague.
If you want the highest level of quality in your BB guns, invest in one that's made by at trusted brand in the industry. That way, you can guarantee that the maker will do its best not to harm their reputation.
Things to Consider Before Buying BB Gun for Squirrels
A good rule of thumb when getting the most out of your BB gun is to consider these things first:
Accuracy
Check first if the rifle you could get is made for accuracy, or its main strength is on damage. You don't want accuracy without damage, but when you're honing your hunting skills, accuracy may be first priority.
Think About The Range
When you want the best out of your BB gun, consider the range. It's the reach of your rifle without exposing yourself to the target.
A good range will afford you high number of FPS, but will also not compromise quality. Check if the rifle you're about to get is intended for close-range or not.
Features
It's not a good investment to buy into features of a BB gun that you're not even able to use. Try simplifying the options you can do with your rifle, and that will definitely pay off.
Scope
Ask the seller of your rifle first if the scope comes with other add-ons to make the accuracy go high. It's pointless to have a powerful rifle but its scope limits you to just close range.
You may even consider if you really need scope. Scopes can loosen your movement and distract you from making more precise hits.
Operation System
Go for the ones that have features and components that are simple to operate, install or understand. There's no use putting all of them in the rifle when you can't even understand how they function.
Final Verdicts
So what should be the best BB gun to use against squirrels from the list above? My clear winner is the: Gamo Silent Cat rifle.
I choose it because I'm biased against old-school nostalgia, and I don't mind that its scope needs improvement. Its feature of improving accuracy is another reason why I think this is the best BB gun for squirrels available today.
Frequently Asked Questions
What are the major factors for a good rifle?
Go for accuracy, simplicity and power. The three things will dictate how valuable your rifle is.
Are add-ons necessary?
Not really. You could go simpler and just get rid of accessories from your rifle that lower your accuracy.
Metal or plastic?
The body of the rifle may be better if you go for plastic, since the metal ones can dent and bend. Both types of body are unbreakable, though.
The plastic ones later can be modified into metal, so that's an added, valuable option.