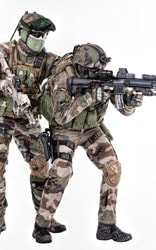 It's your first time with airsoft but you're not sure what to buy. You've looked around stores. You've also heard salespersons explaining what makes this brand better than the other.
But you're still stuck on whether you're going for an airsoft pistol or rifle. You're not into brands yet.
This is where we show you the best airsoft starter kit. It's great for beginners or if you're hoarding airsoft guns for an imaginary zombie apocalypse. Either way, it's a smart way of spending your money on airsoft. Just take a look at BBTac Airsoft Gun Package – Black Ops.
We're also open to the possibility that you're a parent or a friend wanting to give someone their first airsoft gift. All the products listed here are good airsoft starter kits.
Top 6 Airsoft Starter Kit: Comparison Chart
In this part of the article, you'll have a visual basis for deciding which one to buy. We've included what comes with the package. There's also prices, but these are subject to change.
Best Picks of airsoft starter kit
The products listed below are airsoft starter kits with varying kinds of guns. All of them have at least one rifle and a pistol. Guaranteed extras are BB's. Each has a different price. Some of them don't have their prices updated yet but we'll update this information in the future. You can also click on the links to see where you can buy them from.
#1: GameFace GFR37PKT Warrior Protection Spring-Powered Single-Shot Airsoft Rifle
Quick Specification
Barrel Material Type: Metal
Shot Airsoft Rifle – With 400-round capacity and speeds up to 350 fps
Shot Airsoft Pistol – With 14-round clip and speeds up to 200 fps
All-weather Synthetic Design
Includes 1,000-count 6mm Airsoft Bbs
This beginner airsoft kit by GameFace includes an airsoft rifle and pistol. GameFace calls this their Warrior Protection Kit. It's available in 3 packages. You can either have the airsoft rifle only or you can have the whole set. The 2 other sets are similar except for the color scheme. One has a beige and black configuration while the other has grey and black color scheme.
The rifle included is the GameFace Elite Renegade GFR37. It's a spring piston type airsoft rifle. The GFR37 has an output of 350 FPS. The magazine holds 400 BBs. It's adjustable and comfortable to use because of the adjustable stock.
The GFR37 has a powerful single shot firing mode. To make the lone BB worth shooting, there's a fixed sight at the front. The BB travels through a smooth bore barrel to achieve the 350 FPS. Picatinny rails also provide a place for accessories to attach to.
Despite the single shot firing mode, the GFR37 is an AEG. It's light to carry at just 3.75 pounds. It's not too big either as it measures only 2 feet long.
For the pistol, it's a spring-powered type as well. It has a 14-round magazine capacity and fires at 200 FPS. When you get the package with both the pistol and the rifle, you get a holster for the pistol. To make sure you enjoy both of the products, CROSMAN included a pack of 1000 airsoft BB's.
For the BB's you get to choose if you want black, white, red, or camo. All of them are 6mm caliber. The black BB's have the highest caliber with 0.25 grams, while the white one only weighs 0.20 grams. The other two are lighter at 0.12 grams only.
Pros
Powerful firing capacity at 350 FPS
The rifle looks like a real M4
You'll spend lots of time playing with both the guns with a BB pack included
The rifle has a 400 BB magazine capacity
Stock has a miniature compartment for storing BB's or other small items
Cons
You'll miss a lot of freebies if you purchase the airsoft rifle only
The BBs hit targets slightly higher than the sights
#2: BBTac Airsoft Gun Package – Black Ops
Quick Specification
Weight: 7.8 Pounds
Caliber: 6
Air Gun Power Type: Spring-Piston
Frame Material: Plastic
Powerful : 300 Fps with .12g BBs
Realistic Replica
This is the best airsoft gun kit we've seen by BBTAC. Their Black Ops package has many inclusions. Buying this starter pack gives you an airsoft AR. It also has a pump-action shotgun, a pair of UZIs, and another pair of pistols.
The airsoft rifle in this package is the Black Op Airsoft Rifle. It has 300 FPS firing power. It uses a spring piston to shoot BBs. The body of the airsoft rifle is plastic. It's equipped with a stock. It also comes with a scope.
There's an overhead rail on top of the main body. Fixed sights on the front help you shoot accurately. The airsoft rifle isn't automatic but the mag can hold multiple pellets for faster reloads.
The airsoft rifle also has a safety just on top of the trigger. Picatinny rails also make sure your accessories have something to attach to. By default, this airsoft rifle already has a flashlight attached.  This feature should be useful during nighttime or indoor airsoft.
The pump-action shotgun also has the same 300 FPS firing power. It's easy to pump – even a six year old can do it. There's also the two SMGs with a high magazine capacity. The SMGs have front and rear blade sights to help with accuracy.
For the pistols, they're pretty much standard. It comes in black and silver. The two SMGs only come in black. All of the guns can use 6mm BBs that weigh 0.12 grams. You get 2000 BB's in either blue or white.
Pros
You get more guns for the money
The rifle and the shotgun fire at 300 FPS.
Endless playtime with 2000 BBs.
You get to experience an AR, shotgun, SMGs, and pistols.
Lots of accessories already attached to the rifle.
Cons
The assault rifle only has a single firing mode, non-automatic.
Most of the features were on the assault rifle alone.
#3: GameFace GFRPKTGS Ghost Affliction Full-Auto Airsoft BB Rifle
Quick Specification
Item Weight: 0.78 Pounds
Barrel Material Type: No
Full-auto Airsoft Rifle – With speeds up to 200 fps
Gravity Fed Rifle Hopper – Holds up to 500 rounds
Customize The Rifle – Add accessories for your style of play
Spring-powered 15-round Airsoft Pistol – With speeds up to 280 fps
If you're looking for a top rated airsoft starter kit, you can rely on GameFace to show you one. The GFRPKTGS, or Ghost Affliction for short, is a rifle-pistol package. It's cheaper by $20 compared to the first GameFace entry on our list.
The airsoft rifle fires BBs up to 250 fps. With this fast FPS, you need more bullets. The magazine holds up to 500 BB's. It has two firing modes: fully automatic or semi-auto (or burst.) You can rain bullets on the enemy team with the fully automatic mode. If you want more precise shots and hate wasting BBs, use the burst mode instead.
You can also shoot targets easier with the help of front and rear sights. If that's not enough, the scope helps you zoom in on targets from a distance. There's also a stock that will rest comfortably on your shoulder. It's a 15-round quick reload airsoft rifle so you get back on the game sooner.
The body looks great since it mimics a smooth metal finish. The picatinny rail makes sure you have enough space to attach accessories to. There's also a suppressor that makes the rifle much cooler. This airsoft rifle is highly-customizable.
For the pistol, it's a spring-powered airsoft gun. It has a 15-round magazine capacity and can also shoot up to 280 FPS.
The Ghost Affliction set is a good airsoft starter kit. They even provided safety glasses to help you prevent injuries. There's no shortage of BBs as GameFace included 2000 BBs.
Pros
Cheaper option than the first GameFace entry if you want to save a few bucks.
A lot of accessories already equipped to the rifle.
Beautiful faux-metal finish.
Scope and sights help you shoot more accurately.
Safety for your eyes guaranteed with the glasses.
Cons
Doesn't have as much equipment as the GameFace Warrior kit.
Slightly underpowered FPS.
#4: Soft Air COLT RIS Spring Airsoft Rifle and Pistol On-Duty Kit
Quick Specification
Item Weight: 2 Pounds
Rifle 300 FPS with 6 mm ammo;
Pistol 210 FPS with 6 mm ammo
Ready To Play: Shoots 6 millimeter ammo in a single shot
Easy To Load: Rifle magazine holds 300 rounds; Pistol 12 rounds
There's no pricing available yet for the COLT RIS. But we think it's definitely one of the best airsoft packages we recommend. This airsoft starter kit has two well-made imitation firearms. The color choice is excellent – it's military-themed with the black and tan color scheme.
The airsoft rifle is a spring piston-type with a 300 FPS firepower. Reloading is not a problem with the 300 capacity magazine. It's easy to carry around with the option to attach a sling to the picatinny rails. A standard stock is attached for more stability during firing. There's also a top rail for other attachments.
At the end of the barrel is the legally-required orange tip. This tip acts as the suppressor. Front sights help you shoot your target easier. An additional handle drops below the front body for two-handed support.
The COLT RIS airsoft rifle already has a flashlight installed on one of the sides of the picatinny rail. This accessory helps you in low-light conditions. It's easier to navigate dark rooms and hallways.
The pistol that comes with the rifle fires BB's at 210 FPS. The magazine has a capacity of 12 rounds. It should provide enough ammo for a backup weapon in situations where you can't reload.
For the bullets, you get a pack of 500 BBs. When you run out of ammo, simply buy one with the correct caliber. This airsoft starter kit uses 6mm rounds with a weight of 0.17g. You also get some practice shooting with paper targets.
It's a good buy overall, and if you're into more militaristic designs, then the COLT RIS is a good choice.
Pros
Colorful military-like airsoft rifle and pistol design.
Vertical grips and stocks make it easy to carry.
You can practice shooting with their paper targets.
Generous magazine capacity for the airsoft rifle at 300 FPS.
Ideal for night time or indoor airsoft with the equipped vertical flashlight.
Cons
You can't expect too much BBs.
Only one firing mode available on the rifle.
#5: BBTac Airsoft Gun Package Desert Raider
Quick Specification
Weight: 7.55 Pounds
Caliber: 6
Air Gun Power Type: Spring-Piston
Frame Material: Plastic
Powerful: at 300 Fps with .12g BBs
Realistic Replica
BBTac doesn't disappoint with their airsoft starter kits. This airsoft gun combo doesn't stray far from the first entry. It almost has the same number of firearms as the Black Ops package. Buying this you get the standard rifle, shotgun, one SMG and a pair of pistols.
The rifle works with a spring-piston mechanism. It fires BB pellets at 300 FPS. You will be able to hit targets at a distance of 120 feet. The stock on this rifle makes shooting more stable. It has a magazine capacity of 475. This airsoft assault rifle has powerful single-firing mode.
The carrying handle located on top of the main body also acts as a rail. There's a picatinny rail where you can clip flashlights, lasers, or scopes. BBTac made sure you don't have to buy a scope since it's already included in the package.
The Desert Raider single-pump shotgun fires BB pellets at 300 FPS. We've tested this and the shotgun can go over 400 FPS depending on the BB size. This shotgun doesn't have sights on it but a scope is an alternative. There's rails on top where it positions securely.
The SMG in the Desert Raider pack has a magazine with a max capacity of 25 BBs. You can increase this with other magazines. We recommend using the original to avoid problems. For the pistols, they have a magazine capacity of 16 rounds.
You will have enough time to cover a teammate with all the backup firearms you have. BBTac also didn't forget to include a pack of 6mm caliber BBs. Each pellet weighs 0.12g.
Pros
Powerful assault rifle and shotgun with over 300 FPS firing power.
You have a lot of backup weapons.
Cheap price for the number of weapons available.
Both the rifle and shotgun have rails for accessories.
Carrying handle makes it easy to transport the rifle..
Cons
Rifle only has one firing mode, still powerful.
Pump-action shotgun has no sights.
#6: FN Airsoft Starter Kit Including FN SCAR AEG Electric Powered Gun with Hop-Up
Quick Specification
Item Weight: 3 Pounds
Caliber: 6
Air Gun Power Type: Spring-Piston
Frame Material: Plastic
Powerful: Rifle shoots 302 FPS with 6 mm ammo
Precise 2 MOA Dot
Easy To Load: Rifle magazine holds 200 rounds, pistol holds 120
Last but not the least, a basic starter kit for airsoft is the FN SCAR package. It has the bare essentials for the true beginner in airsoft. This kit has one airsoft rifle and pistol. The only other accessory it has are the BB pellets.
The airsoft is an AEG. It's modeled after a SCAR-L and has a firepower of 302 FPS. If you're worried about recoil, the stock provides stability. It has a textured handle to provide grip. The handle has a dedicated space for fingers to rest on.
A vertical grip is also attached below the picatinny rails if you need more accuracy. The front and rear sights flip down when you're not using them. A scope helps you focus the crosshairs on a target from afar.
The FN SCAR AEG has a magazine capacity of 350 rounds. You don't have to worry about running out of bullets. You can also switch the firing modes from single to automatic. The battery powering this AEG sits inside the magazine.
For the pistol, it uses the same spring-piston mechanism the rifle has. Unlike the FN SCAR, this sidearm doesn't need a power source. It fires BBs at a maximum speed of 300 FPS, allowing you to hit targets from 100 feet away.
The pistol has front and rear blade sights that can help you aim better. Both the handle and the slide have texture to help with grip. There's also a picatinny rail below the barrel where you can attach flashlights or tracers.
Pros
Both rifle and pistol have a maximum firing power of 300 FPS.
You can switch between automatic or single firing mode.
Licensed by FN (the real gun manufacturer)
The stock is movable for more stability and accuracy
Already includes a scope
Cons
Fewer airsoft equipment but ideal for starters
Only comes with 500 BB's.
What is an Airsoft Starter Kit?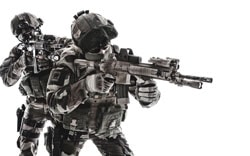 An airsoft starter kit is a set of equipment. For it to be called a kit, there should at least be one airsoft rifle and an airsoft pistol. Ideally, a pack of BB's is an inclusion. Airsoft starter kits vary in pricing depending on the quality and quantity of equipment.
Generally, the types of material used in the equipment directly affect the pricing. Regardless if it's only two or three imitation firearms, more metal bearing equipment means a higher price. For beginners, we recommend getting a starter kit with the most number of equipment so they have a basis for comparison.
Airsoft starter kits also provide additional accessories like flashlights, tracers, and scopes. These extra features are good but there are only a few things you need in an airsoft starter kit. Powerful FPS is one. A good high capacity magazine also works to your advantage. The last would be build quality.
Things to Consider Before Buying Airsoft Starter Kit
Buying airsoft gun sets is simpler these days. There are many resources available online. There are both reputable and unreliable airsoft starter kit reviews. We've made it easier for you to choose the best one with this article. Here are some of the things you need to consider before buying a kit.
Is it within the budget?
The very first thing you need to consider before buying an airsoft starter kit is the price. For example, AEG's have different price points depending on the brand. Some of these brands are G&G, CYMA, and Tippmans.These are all good airsoft brands.
If you're specifically looking for AEG's that have a lower price point, you may want to try others. Cybergun, Umarex, and Double Eagle provide the same functionality for less money. Airsoft starter kits have pricing anywhere between $50 to $200. The sweet spot is in the $50 dollar range. Your $100 can already get you a decent airsoft rifle and a pistol.
Are you looking for a long-term airsoft gun?
If you're looking for something you want to keep for a long time, opt for airsoft guns with metal components. Most airsoft rifles and pistols have a plastic main body. If they have moving metal parts, they have better durability. This will also mean that they will be more expensive because the smaller parts aren't mass produced.
For future collectors, look more into the build quality of the airsoft gun rather than the brand. True, there are some brands that make premium airsoft guns but some are catching up already. These cheaper alternatives will get better over time.
How many types of guns are you going to use?
Starter kits will always have a minimum of two types of guns. If you want the basic rifle and pistol, consider airsoft gun bundles like the FN Scar or the COLT RIS packages. Some brands are more generous with the number of airsoft guns they include in a package.
There's no airsoft starter kit with 4 guns on our list. What you can get is a rifle-pistol or the ones from BBTac.
If you want more airsoft equipment, BBTac gives you at least 5 to choose from. We'd like to see some of the other brands emulate BBTac's package. The addition of an SMG and shotgun makes it better for beginners. They will have a better understanding of the types of airsoft guns available.
What type of airsoft gun are you looking for?
The type of airsoft gun you're looking for matters when you're buying airsoft starter kits. Most of the products we've listed here have at least one rifle. If you only need an airsoft pistol, then it's better to scout shops or browse online for the specific purchase.
You're guaranteed an airsoft rifle and a pistol if you buy a starter kit. If you're looking for an airsoft sniper starter kit, a quick Google search gives a lot of information. You can determine the places  where to buy them from. Or you can type "ASG or AWM airsoft kits".
Is design important to you?
If you have an eye for aesthetics like us, then gun design and detail is a consideration. Most airsoft guns use simple black and grey color schemes. If you want to stand out in an airsoft competition, it's not a bad idea to buy airsoft guns with impressive designs.
Sometimes color schemes make a difference. Examples would be GameFace Ghost Affliction or the COLT RIS. These obviously were well-researched. Kudos to the design engineers.
And yes, good designs always are worth adding to your collectibles.
Who Makes the Best Airsoft Starter Kit?
There's no set criteria to decide who makes the best airsoft starter kit. There are a lot of points to compare. For example, if you want more for your money, buying starter kits with lots of inclusions is one factor. That means the victor in this category is the BBTac airsoft kits.
If you want quality over quantity, GameFace provides basic starter kits. Purchases from this brand are always worth your money. They use high quality plastics and a good number of parts of their airsoft guns have metal.
We'd like to conduct a poll soon on who you think makes a good airsoft starter kit for beginners. To find out the best airsoft starter kit, proceed to the next section.
Conclusion
The winner of the best airsoft starter kit goes to BBTac Airsoft Gun Package – Black Ops. Why?
Beginners in airsoft have an idea of what makes an airsoft gun good. They don't have a baseline for comparison so the best way to do that would be to "hoard" as much gear as possible. The BBTac gives that option. You have a rifle, a shotgun, SMGs, and pistols.
From here on out, it's just a difference in the FPS, magazine capacity, and accessories. The airsoft rifle on the BBTac starter kit has a good FPS output. The magazine capacity offers more time for the player to shoot BBs. Additional accessories help the player familiarize themselves with the equipment.
An honorable mention would be the GameFace GFRPKTGS Ghost Affliction. It's the only brand on this list that provides protective equipment. GameFace is a good brand of airsoft and we recommend checking some of their products out.