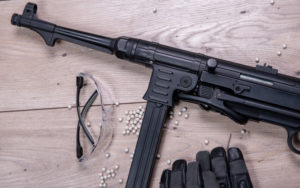 Looking for the best airsoft MP7? That's not surprising, considering the enduring popularity of the real MP7 from Heckler Koch. It's famous for its association with military special operators, and you may have even used it in various computer games.
The MP7, at first glance, seems like a pistol on steroids or maybe the lovechild of a carbine and a submachinegun. It was developed starting in the late 1980s due to the need of NATO special forces to deal with powerful body armor. The pistols and even the submachineguns of the time simply weren't able to deal with the protective body armor.
Heckler Koch then met these NATO requirements and the MP7 entered full production and service in 2001. The MP7 really became famous when it became known that SEAL Team 6 used it, and it was even part of the operation that took care of the infamous Osama Bin Laden for good.
Of course, it's much easier to buy the airsoft version of the MP7. But which is the best airsoft MP7 for you? We have some information for you to help you decide, along with a couple of recommended options.
Top 2 Airsoft MP7: Comparison Chart
There are plenty of similarities between these 2 options. But we need to highlight them anyway to give you the information you need.
Image
Product Name
Features
Price


Elite Force HK Heckler & Koch MP7 GBB Automatic

Power: Gas
Overall length: 23.5 inches
Weight: 4.7 pounds
Shot capacity: 40 rounds
Action: Full and semi-auto
Rate of fire: More than 900 rounds per minute
Maximum velocity: 390 fps (at least)
Blowback action: Present
Accessory platform: Picatinny rail

Check Price


Umarex/KWA H&K MP7 Elite Airsoft Submachine Gun

Overall length: 23.5 inches
Weight: 4.7 pounds
Shot capacity: 40 rounds
Action: Full and semi-auto
Rate of fire: More than 900 rounds per minute
Maximum velocity: 380 fps
Blowback action: Blowback
Accessory platform: Picatinny rail with Weaver mounts for scope

Check Price
Best Picks of Airsoft MP7
If you've checked out the chart, you'd probably notice how similar these 2 airsoft MP7s are to each other. That's not surprising, and it's why they're picked as the best among all the other airsoft MP7s out there.
The main differences are that the Elite Force version is a lot more expensive. But for your money, you get the realistic recoil feel that really gives you the oomph you want for your airsoft adventures.
#1: Elite Force MP7 GBB Automatic 6mm BB Rifle Airsoft Gun
Quick Specification
Color: Black
Caliber: 0.24
Frame Material: Plastic
Blowback recoil
390 fps
40 rounds per mag
Authentic dimensions
7 pounds weight
Just about everyone who has bought and used this version gives it perfect marks. They call it an absolute beast that works like a charm. Perhaps the only people with complaints are those who received defective units, probably due to the delivery. But you can always just have it exchanged.
If you do get an undamaged airsoft MP7 you're in for a treat. This carries the licensed trademark of Heckler & Koch, so it's a very accurate replica. It looks quite intimidating too, and aside from the orange tip you'd think it was the real thing.
Blowback
This is the aspect of this version that you don't find in many other versions. This feature gives you that strong recoil that you'd expect in a real firearm.
That makes things realistic, and that's not a bad thing. It's actually rather exciting, and can get your adrenalin pumping. It's a more immersive experience, and it's as if you're transported to a real battlefield.
A lot of people say that the lack of recoil makes the weapon feel like a toy, so the whole battle feels like a silly game. With the recoil, you're able to take things more seriously.
Pellet Velocity and FPS
You might have noticed that the pellet velocity in this MP7 is 390 fps, and that's the official estimate. That's only slightly higher than with the Umarex/KWA version. But Elite Force may be understating the case. We found that it can consistently fire at 400 to 420 fps.
That's great for outdoor battles. That may not be all that fine when you fight indoors, where arenas may have rather stringent fps limitations for safety. That means you will have to figure out how you can reduce fps so you're able to use it.
Overall Quality
It's fantastic. Plenty of people call it a "must-have", a "solid" gun, and even "the best". With the terrific rate of fire and quick velocity, you're able to hit targets more quickly at farther away. You basically have a compact weapon that can outperform most full-sized AEG rifles.
It's very durable, but if you somehow damage parts of it then you have lots of available replacement parts to buy on the market. You also have lots of potential upgrades for this MP7 to make it even better and badder.
All in all, use this and you probably will have a smile on your face afterwards. It's that sort of fun that you don't always get with just any airsoft weapon.
Pros
Great feel
Easy to carry
Terrific range and accuracy
Cons
Significantly more expensive
The fps may be too high for some indoor arenas
#2: H&K MP7 Elite Airsoft Submachine Gun (Umarex/KWA)
Quick Specification
Overall Length: 15 inches
Weight: 4.7 lbs
Inner Barrel Length: 160 mm
Muzzle Velocity: 380 fps
Gas Type: Green Gas
System: Gas Blowback SMG
Color: Black or Dark Earth
Magazine Capacity: 110
40 rounds per mag
Authentic dimensions
Here's the thing: this Umarex/KWA version is significantly more affordable than the other on the list. Yet it's basically the same in terms of quality and performance. It only comes with 1 magazine, but you should have lots of extra cash savings left to let you buy several more mags.
Almost Everything's the Same
You still have the full metal action housing on the inside, with the fiber-reinforced polymer on the outside. Other features here include the functioning cocking handle, 40-round clip, adjustable sights, adjustable hop-up, and even the blowback feature.
The size and even the weight is exactly the same as the other MP7. It's really terrific, and at a bargain price.
Better for Indoors
The main difference is the more "sedate" 380-fps velocity for the pellets. That's not as good for outdoor shooting, and so you don't have as much range as the Elite Force version.
But for indoor use, this may be the better option because it's safer. Your 380-fps velocity may be just enough to be legal for your local indoor arena.
Upgradeable
You may want to upgrade this right away, starting with a red-dot sight. That way, you can target and hit enemies more quickly and efficiently.
Buy an extra magazine as well. A single gas charge is enough to let you fire a full 40-round magazine, plus maybe 35 rounds more from the 2nd magazine.
Overall Quality
It's a lot of fun. The accuracy is reasonable, the weapon works reliably, and the rate of fire is super-hot. The balance is great, and you're able to kill your enemies with minimum fuss.

Pros
Very affordable
Fun
Reliable
Efficient
Reasonably accurate
May be legal for indoor arenas
Cons
The range isn't as great for the outdoors, due to the lower FPS.
What is the Best Airsoft MP7?
It's a toss-up between the MP7 from Elite Force and the one made by KWA under license from Umarex. It depends, mainly, on how much you're planning to spend.
Basically, the KWA version is terrific, and it comes with a much more reasonable price. The Elite Force MP7 is perhaps a bit better, but then it's a lot more expensive.
So, it's up to you if you're willing to pay 42% more money to get an improvement of perhaps 10% (or even less).
The good news is that either way you choose, you're getting a truly nice airsoft MP7 for your use.
Advantages of Owning an Airsoft MP7
There are several benefits to owning an airsoft MP7 if you're engaging in CQB airsoft battles:
Compact Size
This is one of the main advantages of the real MP7 that translates well in airsoft. Get something that's a 1-to-1 realistic replica, and it's not too big at all. While you can extend the stock so you're able to use this like a rifle, it's also compact enough that it works as a sidearm.
It's a great replacement for your pistol. With its size, it's easy to carry and you're less likely to bump it around like you would a bigger rifle.
Realistic Experience
Of course, this depends on the version you're getting. The good news is that if you stick to one of our recommendations, you're getting a pretty accurate replica. The size is basically the same as the real thing.
What's more, you even get the recoil that you'd expect when firing a real weapon. The recoil isn't too violent for you to handle, but it's there to make the whole experience a lot more realistic.
High Rate of Fire
This is another advantage of the real MP7 that serious airsoft manufacturers were able to put into the airsoft version. Even the airsoft MP7 version can fire up to a rate of 900 rounds per second at full automatic! You can spray an area where your target is, and you will most likely hit the enemy even when they're moving.
Mag Capacity
The MP7 is really a sidearm, much like a pistol. But the MP7 can give you up to 40 rounds per magazine, which is usually a lot more than what you'd get in a pistol magazine. If you stick to semi-auto mode, that means you won't have to change magazines too frequently when using the MP7.
Things to Consider Before Buying the Best Airsoft Mp7
The truth is, you won't really find a cheap airsoft MP7 that's also very good. You will have to spend at least a couple of hundred bucks. The good news is that you won't have to approach the thousand-dollar mark to get a really good one.
But what else do you want to consider when you're buying an airsoft MP7? Here are some factors you should keep in mind:
Brand and Build Quality
For airsoft MP7s, the brand and the build quality are interrelated. You have to go with a proven, reputable brand if you want to make sure you get a good MP7. With a more obscure brand, you're more likely to get an airsoft MP7 that's prone to break down with various types of issues along the way.
So, check the brand. If you're an airsoft enthusiast, you already know which brands are known for their good weapons. If you haven't heard of a particular brand, it's not a good gamble to get their MP7 and hope for the best.
We listed the Umarex/KWA version here, since it's a Heckler & Koch officially licensed airsoft version.
Always check for metal internals, as metal for the inside is a lot more reliable than their plastic counterparts. Metal internals are less likely to screw up.
Rate of Fire
This is one of the advantages of the MP7. You're able to fire faster, and that means better chances of hitting a target with a burst of shots. So, you need at least the option of going full auto, even if going semi-auto is your default mode.
It's great if you're able to fire lots of shots per second. Even 600 rounds per minute is good, even if you won't really need it unless it's an emergency. For some strange reason, with airsoft battles these emergencies tend to happen quite often!
High-Capacity Mag
Obviously, having just a dozen rounds in your mag just won't cut it. You need something that can give you lots more ammo. You're not carrying a pistol with an MP7 with you.
At least 40 rounds per magazine ought to do the trick. Keep it to short bursts, and you won't have to empty your clip too frequently.
Realistic Size
While some people prefer something a bit smaller than a real MP7, it's often a good idea to just get an airsoft variant that gives you a 1:1 facsimile of the real thing.
This is especially true for those who have already handled the real MP7. The familiar dimensions make handling the airsoft version a lot more reassuring.
Of course, you also need that extendable stock, like the real MP7. That way, you're able to secure the weapon on your shoulder should you have recoil to deal with.
About the recoil—some people prefer using a gas blowback MP7. This gives you that recoil feeling that makes things a lot more realistic.
All in all, if you're using the airsoft MP7 as a training tool to familiarize yourself with the real thing, then you'll want a faithful representation with realistic features like recoil.
Weight and Build Material
Again, the ideal weight depends on your preferences. You can go with a more realistic feel, and that means having metal for most (or all) of the externals.
But you may want something more lightweight, which means having durable plastic for the externals. You're more able to use the MP7 with just a single hand more effectively.
How to Use Airsoft MP7
The fact that so many Special Forces units around the world (alphabetically, from the Albanian Special Forces Battalion to the Pontifical Swiss Guard of the Vatican City) means that it's not really suited for conventional warfare and large-scale ground battles.
Instead, it's meant for close quarters combat. You get the compactness of the pistol, so you're able to carry and maneuver your weapon easily.
At the same time, you still get the impressive rate of fire and even the range of airsoft rifles. You can rock and roll on full automatic if the situation calls for it.
Use the airsoft MP7 for indoor battles, where it shines. For outdoor battles, you're better off with AK47 variants.
Who Makes the Best Airsoft MP7?
There's actually an ongoing debate on this, like in reddit and other online forums. Each self-appointed expert has their own opinion. That's alright, since we too have an opinion. For your money, it's either Elite Force or the Umarex/KWA version.
We've already narrowed it down to two choices, so the ultimate decision is entirely yours. It's your money and your game, and therefore your call!
Conclusion
In the end, it's all about you and your preferences. Which airsoft MP7 gives you the most fun and enjoyment? Maybe that's the version that offers a realistic feel, or perhaps it's the one that gives you the most kills and wins in your airsoft competitions.
If you're not able to decide, here's a couple of quick tips. Get the first one on the list (the Elite Force) if you're playing outdoors. Get the Umarex/KWA version if you're playing indoors.
Whichever you pick, the best airsoft MP7 is a terrific addition to your arsenal. Use it as your backup weapon for battles, or even your primary weapon in CQB raids. There's something to be said about an airsoft MP7 that helps you to feel like a Navy Seal.