It's understandable if you're looking for the best airsoft M4 you can find and buy. After all, the real M4 rifle is one of the most popular weapons in the world. This carbine has been the weapon of the armed forces of NATO and most of the Western world since the 1990s.
So, it's understandable that so many airsoft enthusiasts may want to get themselves the best M4 airsoft gun for their collection. It's not always easy to get the real M4 rifle, and that's also a bit too dangerous for some.
But that leads to a rather important question: what's the best M4 airsoft rifle you can get? While you're the best one to make that determination, it's also best if you can make an informed decision. It's a good thing you have the information coming your way right now.
Top 12 Airsoft M4: Comparison Chart
Best Picks of Airsoft M4
Yes, we have 12 picks on our list. And no, we didn't just list down all the airsoft M4 rifles available right now. Believe it or not, there are plenty more of these M4 replicas out in the market. But these are the 12 of your best options. Check out our airsoft M4 reviews:
#1: Soft Air Colt CQBR-RIS Electric Powered Airsoft Gun
Quick Specification
Rounds: 350
Caliber: 6
Item Weight: 6 Pounds
350 to 380 fps
Adjustable hop up
Adjustable stock
Tough plastic external with metal internals
The rail system takes in lots of different accessories
Everything here is on the up and up, since this is an officially licensed version. The outside is made with tough polymer for lightweight durability. The internals are made of metal, though, which performs better and more reliably than plastic. This measures about 30 inches long, and weighs less than 6 pounds.
This comes with the 8.4v 1100 mAh NiMH battery, along with the standard 250 mAh wall charger. It's powerful enough to launch the sample 0.20g BBs at a rate of 350 to 380 fps with the adjustable hop up.
This also comes with an adjustable tan crane stock, while the RIS system can take in various aftermarket accessories for better performance. You can even replace the removable rear sight with a scope or a red dot laser.
It's great that this M4 replica offers terrific performance for airsoft battles, comparable to what you get with more expensive models. With its terrific accuracy and range, you'll thrive in battlefield conditions.
Pros
Fantastic performance for its price range
Extremely reliable
Great range
Terrific accuracy
Cons
Needs silicone lubricant right out of the box
#2: Lancer Tactical Airsoft LT-15T-G2 SD AEG
Quick Specification
Caliber: 6
Air Gun Power: Spring-Piston
Frame Material: Metal
Length: 30″ – 33″ (Retracted / Extended)
Muzzle Velocity: 370 – 395 FPS (w/ 0.20g BBs)
Magazine Capacity: 300 Rounds
Battery and charger included
Lightweight at 4.2 pounds
Quad rail for accessories
This looks more serious with its all-black design, except for the orange tip so you don't alarm other people with its realistic looks. This is an electric airsoft weapon that can go semi-auto or full auto, with a velocity reaching up to 415 fps.
With the extendable stock, the length can range from 27.5 inches to 30.5 inches. You have flip-up sights for the front and rear, along with an adjustable hop up.
This is quite lightweight, as it only weighs about 4.2 pounds or so. That weight includes the high-capacity magazine that can hold up to 300 rounds.
The power comes from the 8.4v 1200 mAh NiMH Battery, and the charger is included as well. Just be careful when you put in the battery. You may end up cutting the wires inside if you close the stock on them.
Try this, and you'll find that it's like the M4 replica is shooting laser beams. For its price, it's utterly fantastic.
Pros
Battery, charger, and 600 rounds are part of the purchase
Terrific range
Fantastic accuracy
Very affordable
Easy to add a scope for long-distance shooting
Cons
The magazine doesn't slide out easily
Better to replace the iron sights
#3: Soft Air COLT M4 KeyMod Automatic Electric Airsoft Gun
Quick Specification
Muzzle Velocity: 350 FPS with 0.20g BBs
Gearbox: Metal Version 2
Magazine Capacity: 350 BB Metal
2 mags come with purchase
Weighs 10 pounds
Keymod rail system for accessories
If you're looking to familiarize yourself with a real M4, you may want to try this model. It's a full-metal replica, which gives you the solid heft you need to get used to. It may not feel lightweight at 10 pounds compared to the models with plastic externals, but the solid feel is oddly reassuring.
So is its performance too, in case you actually try this out in airsoft battles. This comes with a 9.6V butterfly battery, giving you a velocity of about 330 to 350 fps. That's safe enough for most airsoft arenas.
You still have the adjustable hop to make sure you're likely to hit what you're aiming at, and that you're able to hit targets farther away. With the metal gearbox and gears, the internals should withstand the rigors of actual battle and give you reliable performance.
You can even boost the performance further, thanks to the terrific 13-inch keymod rail system. This is able to accommodate various accessories, including red-dot sights and custom grips.
The purchase even comes with 2 mags, so you can quickly put in a new mag to continue that battle. It's just that the purchase doesn't come with free pellets, so you'll have to buy those yourself.
Pros
Feels realistic
Ample (and safe) fps for airsoft battles
Reliable internals
Great keymod rail system
Cons
May be too heavy for some
#4: LT-15T M4 SD Metal Gear Airsoft Rifle Gun
Quick Specification
Air Gun Power: Spring-Piston
Frame Material: Metal
Muzzle Velocity: 390 FPS (0.20g BB)
Magazine: 300round
Weight: 4.30lbs
Inner Barrel: 343mm
Barrel Diameter: 6.03mm Tight Bore
Length can range from 27.5 to 30.5 inches
1,000 rounds come with the purchase
Comes with 8.4v Battery and charger
This comes with the tough polymer on the outside, with the reliable full metal internals. Its features also include the retractable stock, adjustable hop up, and adjustable front and rear sights. You're even able to pick from semi-auto and full auto.
What really will get you going is the unrelenting reliability of this replica. It just works, time and time again. You can play with this for months on end, and nothing just goes wrong. It doesn't even jam during this time, though of course you do need to maintain the barrel properly.
The metal internals and the adjustable hop up all work together for some very snappy performance. The accuracy is terrific, which is great for both backyard plinking and combat.
The velocity can range from 350 fps up to 400 fps. Your purchase comes with a thousand 0.20g rounds, and each mag holds 300 pellets.
Pros
Easy to handle
Can do long-distance shooting
Full metal gearbox
Adjustable hop up
Semi- and full auto
Cons
Some say they didn't get the thousand BBs
#5: Lancer Tactical G2 Airsoft LT-19B M4 Carbine 10″ AEG Rifle
Quick Specification
Operation: Electric Automatic
Muzzle Velocity: 370 – 395 FPS
Magazine: 300 Round
Battery: 9.6v Nunchuck
Inner Barrel Length: 400mm
Inner Barrel Diameter: 6.03mm Tightbore
Overall Length: 31″ in. / 34.5″ in.
Realistic looks
This looks very realistic, so it's a good thing that it has the orange tip to indicate that it's just a replica. But it's not really just a replica, to be fair. It offers outstanding performance even for newbies.
The purchase comes with a 9.6V nunchuck battery along with the charger, and you're able to get up to 330 fps at least. When we tried it with 0.28g BBs, we got about 370 fps. We got up to more than 390 with the 0.20g BBs.
That's just right, especially with the airsoft arena rules in most places. It'll also help you that it's reliable and accurate, the better to shoot your enemies more efficiently. It takes lots of accessories as well, including the red dot scope we tried.
Pros
Very reliable
Extremely accurate
Great for arenas and backyards
Takes in lots of accessories
Cons
May look too realistic (so don't brandish this in public!)
#6: G&G Airsoft Combat Machine M4 Raider High-Performance
Quick Specification
Operation: Electric Automatic
Muzzle Velocity: 370-385 FPS (w/ 0.20g BBs)
Magazine: 450-round high capacity
Gearbox: Full metal
Hop-up: Adjustable
Weight: 7 pounds
Battery: 9.6V NiMH Nunchuck Battery
Color: Black
Polymer external
Metal internals
The specs are rather unsurprising, with a length of up to 662mm and a weight of up to 2,012 grams. These are in metric because it's a UK brand. It's a mid-level gun for both newbies and intermediate players, and for its price it sure offers a lot of value for your money.
The muzzle velocity is outstanding for mil-sims, especially if you use the 9.6v Nun-Chuck Style Battery. That's not part of the purchase, however, and so you'll have to buy that yourself.
The plastic parts include the lower receiver, shroud, rails, and the stock. That's good, since the polymer is tough while it keeps the weight down. You still get metal for the magazine, barrel, and the various internals for reliable and durable performance.
This particular gun gives you high-end results with a surprisingly reasonable price tag, which is great for most people. The metal magazine even holds up to 450 rounds, so it takes a while before you need to reload.
Pros
High quality build
Great velocity
High accuracy
Very reliable
Cons
You'll have to buy the battery separately
#7: UKARMS AEG M4 Keymod Electric Automatic Airsoft Rifle Gun
Quick Specification
Inner Barrel Diameter: 6.03 Mm
Length: 31.0 In. / 34.25 Inch
Weight: 4.35 Lb.
Outer Barrel Length: 14.5 Inch
Magazine Capacity: 300 Rd. Hi-cap
10-inch drop-in keymod rail system
Adjustable rotary polymer hop-up
Retractable crane stock adjusts to your situation
Rear sling mount is perfect for single point slings
Lightweight reinforced nylon polymer construction
Battery, charger, 1000-rd bag of 0.20g BBs included
This top-rated airsoft M4 isn't really meant for absolute newbies to airsoft. It's best for at least the intermediate level, as the M4 replica is so powerful that the pellet velocity can reach up to 415 fps. You can shoot accurately for up to 125 feet.
This is because all the crucial parts are made with reliable metal, such as the gearbox and the barrel. The rest of the rifle is made with tough polymer plastic to keep the weight down. It only weighs about 4 pounds.
The features include the 10-inch drop-in keymod rail system, adjustable rotary polymer hop-up unit, retractable crane stock, and the 300-round mag. Your purchase also includes the 9.6v Nun-chuck battery, charger, and thousand free 0.20g BBs.
This may well be the best airsoft M4 under $200. It's an absolute beast, and utterly reliable
Pros
Extremely powerful
Accurate right out of the box
Very reliable
Lightweight
Cons
You need to make sure the fps meets arena fps limits
#8: Black Ops Airsoft Guns Rifle
Quick Specification
Rounds: 300
Caliber: 6.00
Frame Material: Metal
Muzzle Velocity: 420fps With .12g Bbs
Quick Release Rail System
Durable and Lightweight Polymer Construction
Full Length Ergonomic Handguard
Fiber Optic Flip Up Sights
Ambidextrous Sling Attachment Points
Adjustable Crane Stock
Upgraded Steel Gears in Gear Box
LiPo Ready
This one won't let you down, especially with the rate of fire. It's able to fire up to 600 rounds per minute, which can make you the most fearsome warrior in the arena. We went with the Elite version of the M4 replica, which also gave us the metal gearbox and wishbone style metal hop up.
Other features include the fiber optic flip up sights, the fiber optic flip up sights, and the adjustable crane stock. It's almost ready to rock right out of the box, except for how it doesn't come with a battery. You'll have to buy your NI-MH 9.6v butterfly style battery separately.
We tried this with the 0.12g BBs, and reached up to 420 fps. You may want to stick with the 0.20g BBs, which still gives you a velocity of 300 to 370 fps. That should comply with local arena limits.
Pros
Plenty of space for accessories
Adjustable stock for comfort
Powerful velocity
Can use the LiPo 7.4v battery
Extremely accurate
Cons
You may want to get a better mag
#9: JG 2010 Version 432 FPS
Quick Specification
Muzzle Velocity: 420 fps (0.20g BBs)
Manufacturer : SPIG
Magazine: 300 Round High Capacity
Battery: 8.4v 1100 mAh
Gearbox: Metal
Picatinny rails
Adjustable rear and front sights
Mostly metal build
A lot of people love this M4 replica, and you can count us as one of its fans. It's a proven airsoft rifle that's been around since 2010, and yet even now it's still a firm favorite in the airsoft community.
Part of the reason for its enduring popularity is that you can use it with 0.20g BBs and get an astounding velocity of up to 420 fps. You can set it up with a red dot scope and it can work as a sniper rifle good for at least 50 yards.
Using this can be almost unfair in airsoft battles. But then again, all is fair in love and war. And if your opponents aren't using this, then it's their own fault.
You just need to be careful with the battery. Don't use the charger that comes with the purchase. Instead, use the TSD universal Smart charger. You'll also want to be very careful when you take out the battery from its compartment. You may crush the wires inside when you put the battery back in.
Pros
Terrific range
Fantastic accuracy
Accommodates various accessories
Very tough
Cons
A bit heavy
Battery installation can be an issue
#10: Valken ASL Series M4 Airsoft Rifle
Quick Specification
Inner Barrel: 325mm
Magazine Capacity: 300 Round hi-cap
Muzzle Velocity: 330 FPS / 1.01 Joules (.20g BBs)
Battery: 9.6V 2200mAh
30 inches of rail space for accessories
Realistic components like billet-style receiver and functioning bolt catch
Ambidextrous magazine release and fire selector
6-position adjustable crane stock
Flip-up high-visibility front and rear iron sights
If you tend to play in local airsoft arenas, having too much fps isn't always a good thing. It may not be all that safe. That's why this may be a good choice for you if your local airsoft arena has rather stringent fps limits. With this, you're still able to get 330 fps with the 0.20g BBs.
This is also a terrific option if you're left-handed. Both the fire selector and the mag release are ambidextrous. You also get the billet-style nylon fiber body, the pro match trigger, and the free-floating keymod rail. With the 6-position vented crane stock, you're able to adjust the length to your comfort.
With its price, it's an entry-level gun. But it's fun for even intermediate players, because it's just so reliable in its performance and durability. However, it doesn't come with its own battery so you'll need to get your own 9.6V NiMh or 7.4V Lipo battery.
Pros
Premium internals
Great for left-handed players
Works well for close combat
Tough and durable
Cons
Doesn't come with the battery
#11: Lancer Tactical M4 Gen 2 AEG Electric Airsoft Rifle Gun
Quick Specification
Operation: Electric Automatic
Muzzle Velocity: 370-390 FPS (w/ 0.20 BBs)
Magazine: 300 Rounds
Gearbox: Version 2 (Metal)
Battery: 9.6V Nunchuck
Inner Barrel Length: 393.7mm
Inner Barrel Diameter: 6.03mm
Length: 31″-34.4″ " Inches
Weighs 4.2 pounds
Can be in full auto, semi-auto, or safety mode
Rotary hop-up
While the price is quite attractive, the quality of this M4 replica is certainly not cheap. Sure, it's lightweight due to the polymer external. It only weighs 4.2 pounds. That just makes it easy to carry around for hours.
On the inside, you have the version 2 metal gearbox along with the rotary hop-up and the 300-round mag capacity. The length can be adjusted from just 30.5 inches up to 33.8 inches. You're able to fire at 370 to 390 fps, with 0.20g BBs.
If you want, you can go with 0.25g or even 0.30g BBs. The fps will drop to about 330 fps, but you're able to shoot farther and straighter.
The rail system gives you an easy way to upgrade the rifle with accessories. You can out in a red dot scope, flashlight, or vertical grips.
Pros
Great value for money
Lightweight
Impressive pellet velocity
Versatile rail system
Cons
You'll need to buy better a better battery for it
#12: Elite Force M4 AEG Automatic 6mm BB Rifle
Quick Specification
Magazine: 300-round Hi-Cap
Brand: Lancer Tactical
Muzzle Velocity: 385 FPS (.20g BBs)
Warranty: 60-day
Color: Black
Polymer upper and lower receiver
All-metal quad-rail handguard
Lots of picatinny rail space
The all-black color can be quite frightening, so it's a good thing the orange tip is very prominent. You have polymer for the upper and lower receiver, but metal for the quad-rail handguard.
You're better off upgrading this right away, and you have the ample Picatinny rail space to accommodate your needed accessories. You should put in a flashlight for CQB, along with a red dot sight. Perhaps a stubby vertical grip too, and you're good to go.
This is very tough indeed, and it can take a lot of abuse in the battlefield. With the red dot sight, you're also able to shoot very accurately. You'll need that advantage, especially if you face opponents with more expensive gear. With this, though, it's as if you have a pricey rifle yourself.
You do need to spend more, since it doesn't come with the battery. Aside from that, this rifle offers fantastic value.
Pros
Can be very accurate
Lightweight and easy to carry
Extremely reliable and tough
Cons
Doesn't have a battery
Really needs that red dot sight right away
History of the M4 Airsoft Rifle
The US military officially accepted the real M4 rifle into service in 1994, after about a decade of testing various carbine variants. US troops first used it in combat in 1999, when they were deployed in Kosovo. By 2005, the M4 became the main weapon option for the forward deployed personnel of the US army.
The USMC started to follow suit by requiring their officers and NCOs to use the M4 rifle instead of the M9 handgun. By 2016, the USMC had all its infantry battalions, security forces, and supporting schools switch to the M4.
Because of how the US Army and Marine Corps have made the use of the M4 so popular, it's not surprising that so many airsoft manufacturers have also followed suit by producing their own M4 airsoft variants.
What is the Best Airsoft M4?
That's entirely up to you. The better ones tend to cost more, but that's a general rule that applies for all consumer products. And you may have to settle for the best within a certain price range, depending on your budget limitations.
At least you have our list of the best airsoft M4 rifles to pick from. These options cover lots of different price ranges, so you can find the best one you can afford.
How Does an Airsoft M4 Work?
Like real rifles, you have a magazine with your BBs that hit your targets. You aim your M4 at your target and pull the trigger. But there's a main difference.
Here's the essence of it: the BBs are propelled from the M4 barrel with air compression. You don't use gunpowder at all. There some crucial steps that are specific to the type of M4 airsoft you have.
With the spring system, you have to first cock the spring and then load the BB. Pull the trigger and you release the spring.
For the gas system, you have some sort of pressurized gas container (like a CO2 canister) and the pressurized gas propels the shot when you pull the trigger.
With the AEG, the battery power automatically loads and cocks the spring. That way, you're able to get a faster rate of fire.
Different Types of Airsoft M4
Airsoft M4 rifles can be categorized in several ways. One basic way to differentiate airsoft M4 rifles is to categorize them by the power system they use. They may be AEGs, with rechargeable batteries for power. Other types are spring-powered airsoft rifles and airsoft rifles that use compressed gas cannisters.
But you can also categorize airsoft M4 rifles according to how you plan to use them:
Airsoft M4 for Display
For some airsoft rifle collectors, the main point is to be able to display these replicas. Generally, that means opting for airsoft M4 rifles that look as similar to the actual M4 rifle as possible.
You won't have to worry about the quality of the internals, the durability of the airsoft rifle, or even features such as the rate of fire and the fps. It's all about the looks.
Airsoft M4 for Backyard Plinking
For this, the looks aren't as important as the range and the accuracy of the M4 rifle. After all, your main goal is to hit what you're aiming at. That means you'll want good internals with a design meant for accurate shooting.
With backyard plinking, you can always just stick to very affordable models using springs to propel the BBs. You can also go with high fps velocity. You won't have to stick to lower fps for safety.
M4 Replicas for Airsoft Battle Competitions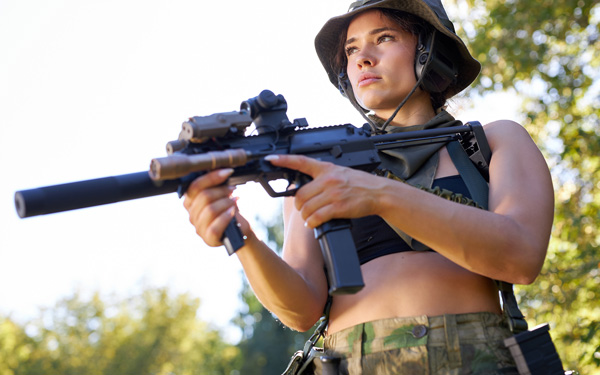 These competitions may involve small teams or even veritable armies. This time, you need to make sure that you comply with the arena fps limitations for safety reasons. You may want to stick with lower or easily adjustable fps velocities.
You have to go with the more reliable M4 models, which should work well enough during actual battle settings. The M4 rifle should be tough enough that it remains working even when you bump the rifle around. It shouldn't jam too often as well.
The M4 replica should be easy to use, and it ought to be accurate as well. A higher rate of fire will also serve you well.
Airsoft M4s for Vermin Control
If you just want to frighten uninvited animals off your property, then you may opt for lower-velocity fps M4s. But you can go with higher fps if you want to make sure that you kill off the rats from your property.
Accuracy and ease of use will also be crucial factors, just like with airsoft battles.
Airsoft Rifles for M4 Training
Some people use M4 airsoft replicas to train themselves before they use the real thing. This will work only if the airsoft M4 works as closely to the original as possible. It should also have the same measurements and weight.
You can practice drawing your weapon, and using the M4 replica for urban and outdoor warfare.
Key Differences Between M4 vs M16 vs AR-15
How is the M4 different from the AR-15 and the M16?
M4 vs. AR-15
This is like comparing apples with fruits in general. The AR-15 is much more generic. An AR-15 rifle is simply a lightweight semi-automatic rifle that's based ArmaLite AR-15 design. The M4 is just one particular type of AR-15 rifle.
However, it's also true that the M4 and the M16 rifles were designed for military use. That's why they can be fired in fully automatic mode. AR-15 rifles, on the other hand, is often a term used to refer to the civilian versions. That's why you have the semi-automatic limitation.
M4 vs M16
What about the differences between the M4 and the M16?
The M4 is more lightweight, and has a shorter length compared to the M16. The M4 generally has a 14.5-inch barrel with a collapsible stock. The M16 has a 20-inch barrel with a fixed stock. These differences make the M4 easier to carry, handle, and use.
Advantages of Owning an Airsoft M4
There are plenty of benefits to getting yourself an airsoft M4.
Legal Issues
The main advantage of owning an airsoft M4 is that it's not real. That's a big deal, because a real M4 may not be all that legal to own in your area.
Safety
Even if it's legal for you to own a real M4, the airsoft version is much safer. You're a lot less likely to kill someone with your M4 airsoft rifle, no matter how realistically lethal it might look.
Great for All Airsoft Levels
The M4 is easy enough to use, so beginners should have no trouble with it. Yet many of these M4 airsoft variants are upgradeable. That means even more advanced users can customize their M4 to suit their particular needs and preferences.
Things to Consider Before Buying Airsoft M4
Here are the factors you need to consider:
Affordability
Obviously, you'll want to consider the price. After all, if you can't afford a particular M4 then it's not exactly the best option for you.
Brand Name
This is a rule that tends to apply to most consumer items: stick with the more famous brands. These brands are famous for good reasons, and that's also true with the M4 airsoft brands.
You'll find that well-known brands are more likely to build quality airsoft rifles. They're more apt to work smoothly with lower chances of problems.
In addition, you may have trouble finding replacement parts when you go with the lesser-known brands. Some brands may even disappear, which will make finding replacement parts virtually impossible unless their M4 replicas have parts that can be replaced by parts made by the more famous brands.
Power Type
As you may have already noticed from our list of the best airsoft M4s, you're better off with the AEG variant that requires a battery. You generally get the best rate of fire, and often the best range too.
FPS Velocity
The fps stands for "feet per second". The higher this velocity, the farther you're able to shoot. While that mat not matter when you want an airsoft M4 simply for display, it matters a lot for actual airsoft shooting.
Of course, there's the possible issue of having too much velocity. That can be too dangerous with competitions, when you're shooting at other people using your airsoft M4.
Ease of Use
This isn't really something you can quantify and generalize. What's easy for one person to use may be awkward to use for another.
In general, though, you'll want to check out the size and the weight of the airsoft rifle. It can't be too large or too small. It can't be too heavy either, though some people like a solid heft to their airsoft M4.
If you're left-handed, you'll want to look for ambidextrous controls. Also look for a foregrip, or at least the option to install one in. the foregrip gives you
To make sure you're getting an airsoft M4 that's easy to wield and run around with, get one with a collapsible stock. Try for sling mounts as well.
Upgradeability
This is extremely crucial especially as you become more advanced in your airsoft skills. It's better if you can put in the accessories you want to make the airsoft rifle a lot more accurate.
With upgradeable internals, you may even boost the fps and the rate of fire as well.
How to Use Airsoft M4
You should be able to use your M4 properly, depending on the type of power you have for your weapon. You may want to check out YouTube videos on how to use your M4 properly. Read the manual carefully as well.
One issue you will inevitably encounter is jamming. This can happen when you don't maintain your airsoft M4 properly. You need to keep the inside of the barrel and the inside of the magazine free of dirt and debris.
Check for any signs of damage as well. Look over the tappet plates and the nozzles for any problem. Any problem in these areas can lead to jamming.
But even with proper maintenance, jamming can still occur. This is particularly true when you accidentally use dirty or deformed BBs.
So, what are you to do when your M4 jams? Here are some steps you should take:
Stop firing right away. You'll need to act immediately to clear the jam.
Turn off the hop up.
Get your cleaning rod and insert the opposing end into the barrel.
With the M4 upside down, push the jammed BB gently back into the magazine.
Now it's time to test fire the gun, and see if the problem persists after these steps.
If it's still jammed, then a more knowledgeable pro may be required to fix the problem.
Tips for Maintaining Airsoft M4
Here are some tips on how to maintain your M4 airsoft rifle properly:
Clean the Barrel Regularly
It's absolutely time to clean your barrel when you notice that your shots are going farther up or down the spot you were aiming at. The good news is that this isn't all that difficult to do, and you're only need your cleaning rod and a proper paper towel.
Thread the paper towel through the tip of the cleaning rod, with a light spray of silicone lubricant on the strip of paper towel. Insert the cleaning rod into the barrel with the strip in first, then move the rod (while spinning it) up the length of the airsoft barrel.
Lubricate Your M4
You may need to lubricate the hop up and the gearbox, especially if you keep misfeeding or jamming your airsoft M4.
Inspect the Various Components
Basically, you want to make sure these various components are all undamaged and working properly. The hop up shouldn't be too tight. There shouldn't be a lot of dirt in the magazine and inside the barrel.
Special Tip for Spring-Powered Airsoft M4s
Empty the M4 magazine after every time you use the rifle. For the spring-powered M4, this precaution preserves the strength of the springs.
For Gas-Powered Airsoft M4s
For this type, you should leave the magazines pressurized. This maintains all the components properly.
When you do expel the gas from the airsoft, don't use the release valve. The O-ring may freeze as a result, and that can lead to gas leaks in the future.
Top Airsoft M4 brands
There are plenty of airsoft brands that have manufactured their own version of the M4. So many, in fact, that it might be easier if we are to list down the brands that didn't have an M4 to offer.
Still, the top airsoft M4 brands (aside from the brands on our list) will include the following:
A&K. This brand makes a lot of M4 models similar to the Dboys lineup, and with a similar price range. They're equally good, though some say the Dboys variants are a bit better.
Classic Army. They manufacture lots of rifles made with metal and polymer, with a price starting at $200 or so.
CYMA. They have a metal M4 made for the Cybergun brand
Dboys. This brand offers the most M4 variants under the $200 price level.
G&G. The prices of their M4 rifles range from $150 to about $500.
G&P. If you're looking for an M4 airsoft rifle that really looks like the same thing, this is the brand you should consider. Some of their rifles are good enough for competitions.
JG. This brand produces more affordable M4 airsoft riles, using either metal or polymer
LCT. The LCT brand is actually more famous for the AK airsoft rifles they offer. But their M4s are good as well, with prices reaching up to $350.
Valken. They offer a "Combat Machine" M4 for just $130, using polymer for the body.
VFC. This particular brand is famed for building premium rifles with terrific looks.
Who Makes the Best Airsoft M4?
Ask 10 experts, and you may end up with 10 different answers. That's just how it goes—everyone has an opinion. So, you may as well come up with an opinion of your own. What do you think?
Adding to the confusion is that in many cases you're not even entirely sure as to which brand actually made the M4 airsoft replica in the first place.
Some brands simply take one manufacturer's M4 replica, and then put in their more famous brand on the replica to sell it. It's as if Levi's simply got random jeans on the street and then placed their Levi's logo on those jeans.
In any case, you can always trust the brands we listed on our list. That means y
Conclusion
With 12 top-rated M4 airsoft models to pick from, one of these will certainly match your needs and preferences. That choice is up to you.
But if you're still undecided, then you really should try the JG 2010 Version 432 FPS. While the 432 fps is a bit exaggerated, it's not by much. The 420 fps is quite impressive whether you're just target shooting in the backyard or getting rid of vermin. You can still dial down the fps for local arenas.
It's very comfortable to use, and it's also extremely durable. You get the battery as well. You just have to replace the mag (try the MetalTac 300 round mag) and get a universal smart charger, and you're good to go!