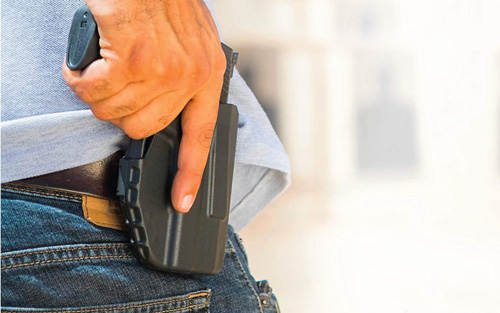 When you have a pistol for your backup piece, you will need the best airsoft holster on you for it. And we can help you find the best one for you with our airsoft holster reviews. These things (even the top-rated holster options) aren't really all that expensive, but we can still make sure you get the best holster for the money.
It's a bit different when you're looking for the best airsoft pistol holster compared to if you're a police officer or licensed to carry a civilian pistol. With patrol officers, the comfort level is perhaps one of the most crucial factors, since patrol officers can spend their entire career without drawing their weapon for real.
In some cases, the pistol may function as a backup, and they may be carried concealed when the cop is undercover. Concealment isn't really a main concern with airsoft—unless you're using airsoft for training.
Other factors are in play, and we will focus on those when we cover these airsoft holsters in our reviews.
Top 5 Airsoft Holster: Comparison Chart
Best Picks of Airsoft Holster
Here, we list down terrific options, with holsters of different types. We have one you set on your belt, and other options like shoulder and ankle holsters. That way, you may train for various situation as well.
#1: XAegis Shoulder Holster General Vertical Gun Holster
Quick Specification
Handgun: 3.5″ to 5″
Manufacturer: XAegis
Padded shoulder harness
Elastic and adjustable strap
Comes with 2 mag pouches
Reversible thumb-break for ambidextrous setup
Fits up to 5-inch barrels
A shoulder holster is great if your belt is already overloaded with your other equipment, like magazines, radio, water bottle, and may even smoke grenade. Now you have a holster that sets your pistol out of the way while it's still accessible.
We went with the ambidextrous model, which can be switched around so that it can also work with left-handed users. It's great for just about all body shapes and sizes because of the adjustable straps. Its size also accommodates handguns with 3.5 to 5-inch barrels.
Because of the fit, it's quite comfy to wear. It helps that the shoulder harness is padded, while shoulder strap is also adjustable and elastic.
The design also features an adjustable and reversible thumb-break system, along with the modular holster. You also get the modular double mag pouches for extra ammo, and the quick release buckle.
You may have heard that most nylon holsters aren't really all that tough (especially when compared to leather), but the ballistic nylon used here is stiff and wear-resistant. It's thick enough so that it's comfy to wear. It even has strong thread stitching.
All in all, maybe the plastic clips are the holster's weak spot, but it feels tough. It feels like it can last at least 2 or 3 years (and probably more). At this price point, you get your money's worth when it lasts that long.
We've tried this with both airsoft guns and all-metal pistols, and we got good weight distribution. The weapon stays secure, but it's easy enough to draw when needed.
Pros
Very comfy to wear with adjustments
Good weight distribution
Weapon stays secure
Durable
Affordable
Cons
Uses plastic clips (though they do seem tough)
#2: Topmeet Upgraded Ankle Pistol Holster
Quick Specification
Brand: Topmeet
Hand Orientation: Ambidextrous
Material: Nylon/neoprene
Color: Black L
Manufacturer: TOPMEET
Extra safety belt with double anti-skid design
Left and right-handed options
Foam innards with extended paddle
Comes with extra mag pouch
In most cases, you normally don't use ankle holsters for airsoft battle simulations. But if you're using this for training and ankle holster familiarity, then it's a great pick.
First of all, you have 2 size options to choose from so you're able to pick the right size for your calf. With the Large size we went with, the 18-inch band fits legs measuring z11-16 inches.
You even have color options, though obviously your trouser legs will hide the holster. What's great is that the setup can be left- or right-handed, depending on your choice.
This comes with a double anti-skid design, so that you don't end up with your holster dropping to the top of your shoe. The weapon is strapped in place, using a durable button design.
The bottom of the holster is a hole, letting pistols of various sizes through. This works for guns ranging from subcompacts up to full-sized handguns. There's an extended paddle here to keep your gun barrel from scratching your ankle.
It's comfy to wear since you have extra pads and thick foam to protect both your calf and ankle. You have 3 loops to work with, and the thick neoprene When you move around, you also don't make squeaking noises that can alert the enemy.
You also have a mag pouch here, which you can also use for other gear. You can put in a knife or even pepper spray.
Pros
Secures the holster in place
Gun strapped in firmly
Fits even full-sized handguns
Lots of padding for comfort
Cons
Can't be machine-washed
Can't be dried in direct sunlight
#3: Aikate Deep Concealment Shoulder Holster
Quick Specification
Size: 39″
Brand: AIKATE
Hand Orientation: Left/Right
Material: Neoprene
Color: Black
2 chest sizes
Perforated neoprene
Narrow edge design
Removable shoulder strap
Fits most pistols
This holster was designed for deep concealment, meaning that if you use this then people around you aren't supposed to realize that you're carrying a weapon. If you're training so you can (legally) carry a concealed weapon, then this is a holster you need to consider. You can even remove the shoulder strap and place the holster inside or outside the waistband.
But it works for airsoft players too. That's because it's designed to stay in place regardless of how actively you're moving. In fact, you can even work out while wearing this. The design also allows for quick draws, which is great when you need to use your pistol once your rifle ammo runs out.
It's comfy to wear, as the neoprene-base nylon here is perforated for even better breathability. It also uses the new "narrow edge" design for even greater comfort, with the holster setting softly against your body even for long periods. The foam pad protects your chest from pressure points.
Just make sure you get the right size. The Size 39 is best if your chest circumference measures 32 to 37 inches. Get the Size 45 if your chest measures 38 to 43 inches.
Pros
Breathable neoprene
Snug fit that doesn't jiggle
Can be set inside or outside the waistband
Can be used comfortably for hours
Cons
It's really better for subcompact and compact handguns
No mag pouches
#4: Safariland, 7371, ALS Concealment Paddle Holster
Quick Specification
Hand Orientation: Right
Material: Polymer
Color: Black
Size: S&W M&P Shield 9mm, .40
Available for various specific gun sizes
Uses non-abrasive material
The plastic can deal with heat
Now this is a polymer holster, so you better make sure you get the right size. If you get the right size, it'll fit your weapon like a glove. The sizes range from the S&W M&P Shield 9mm, .40 (which we tried out) to the Glock 43 with the Streamlight TLR-6 tactical light with red aiming laser.
This will be most likely the holster you'll want if you're wearing a belt (and it's not overloaded with other gear). This is designed so that you're able to wear the holster on your belt quickly and without any fuss. This features a micro-paddle, which secures the holster to your pants.
The fit and finish of the paddle holster are terrific, and the holster preserves the finish of your airsoft weapon. The weapon slides in smoothly, and it snaps the weapon into place. Press the release with your thumb, and the weapon slides out for a quick and easy draw.
If you really want that "quick and easy" draw, you better practice. Holster and draw your weapon for at least a hundred times. That should let you get used to what you have to do.
The good news is that the plastic here isn't really all that vulnerable to direct sunlight. It can deal with temperatures of up to 300 degrees F.
Pros
Very easy to set to your belt
Slides your weapon in smoothly
Quick and easy draw
Doesn't mar the gun finish
#5: LPV Products Ankle Holster for Concealed Carry
Quick Specification
Hand Orientation: Right, left, ambidextrous
Material: Neoprene
Color: Black
Size: One size fits all
Works for all most all handguns
Fits sizes 11 to 19 inches
Neoprene with leather stitching
V-shaped pocket
Soft padding
Quiet snap button
If you're wearing a concealed carry pistol, then chances are it will fit this one. This works for subcompacts, compacts, midsized guns, full-sized pistols, and even some revolvers. The adjustable nylon strap fits calf sizes ranging from 11 to 19 inches.
The design uses comfy neoprene, with a powerful gun pocket so even a heavy pistol isn't a problem. The gun pocket has a V-shape and it's elastic. The weapon stays in place, with no chance to bounce or skid. It features a mag pouch as well.
Wear this all day and you won't complain. The design features super-soft padding, and the gun barrel doesn't come into contact with your skin. The retention strap also features a snap button that opens quietly.
Pros
Can work for your entire handgun collection
Adjustable size
V-shape pocket secures the weapon in place
Allows for quiet draw
Cons
May not be too comfy with large guns
What is the Best Airsoft Holster?
An airsoft holster is meant for constant action. Unlike police officers who may have very long stretches of time without drawing their weapon, an active airsoft enthusiast will most likely get into firefights and competitions often.
So, which one is best for you? That basically depends on how you plan to use it. That's why we featured so many different holsters for various situations.
Different Types of Airsoft Holster
The different types of airsoft holsters are categorized according to where the holster is placed on your person.
Waistband Holsters
These holsters are set either on the outside of your belt, or under the belt. Either way, your weapon lies at waist level. That's a convenient setting that keeps it out of the way of your movements, even when you sit. But at the same time, you get quick access to your weapon.
Belly Bands
These holsters are meant for concealed carry. That's not really needed for airsoft, but you may need it for training for real pistols. You're able to adjust the placement of the holster easily, and you still get quick access to your weapon.
Shoulder Holster
This is another popular option, which is great for concealed carry when you're wearing a suit or jacket. You're able to cross-draw your pistol nestled nicely around your chest, while your belt remains free for other accessories you may need.
These holsters should be lightweight, and allow you to move freely.
Pocket Holsters
As the name says, this is really meant for a concealed carry option of letting you just put the weapon in a pocket. The holster breaks the outline of the pistol while it also keeps the trigger from just hanging out. The holster also keeps the pistol in place comfortably.
Ankle Holsters
This is a popular option for police officers. They're great for backup pistols, and some even use it for their primary weapon. If they're disarmed, then the bad guys may not think that the cop still has another weapon on them. A guard may also frisk an undercover cop along the waist and the sides, and forget about the ankle.
If you're sitting down, then the ankle holster offers quick and easy access to your weapon. It's also a good placement when you're done and in a fetal position trying to keep the bad guys from kicking your head in. in this position, getting the weapon from the ankle holster may be easier than with a belt placement.
Advantages of Owning an Airsoft Holster
Here are some advantages of owning an airsoft holster:
You Have a Convenient Place for Your Weapon When Not in Use
This is the most common reason. You have your hands free for your primary airsoft rifle. You don't have to use a hand holding the pistol when you're not using it.
It Feels More Comfortable
Some people look to the movies and think that it's perfectly okay to just tuck the weapon on their back inside their jeans. But then they try it and it just makes things awkward. It may even hurt, especially when you sit back and lean against a chair.
You want to be comfortable when you're running all over the place, trying not to get shot when playing your airsoft games. You really don't want the distraction of your pistol pressing uncomfortably on you, when you're trying to concentrate.
It Secures the Weapon in Place
With a good holster, you're able to also run all over the place while your weapon stays in place. Dropping your pistol while playing airsoft is a true sign of an amateur. It's laughable and simply a cardinal sin.
You're Able to Keep the "Bad Guys" from Grabbing Your Weapon
Granted, this is mostly a concern for cops. Obviously, they don't want criminals from grabbing cops' guns and then using it for mayhem. But it can also happen in airsoft games, so it's better to be safe than sorry.
It Keeps Your Weapon Unscratched
This is especially important when you have a nice replica with a smooth finish that you want to keep looking good. Stashing your pistol in makeshift places like your belt or the inside of your jeans may just scratch your gun.
Things to Consider Before Buying the Best Airsoft Holster
Here are the factors you need to keep in mind when you pick your airsoft holster:
Proper Fit for Your Weapon
This is your most crucial factor. The holster is basically useless if it's too small for your huge handgun. It may also be too big, meaning you're unable to draw a small pistol from the holster quickly.
Some holsters are able to accommodate a range of sizes, which is convenient if you own several airsoft pistols. You save some money, as long as you get a holster that suits all your weapons.
Proper Design
The right holster must satisfy these 3 basic requirements:
It completely covers the trigger. That way, you're unable to accidentally fire your weapon while it's still on the holster.
It retains and secures the gun in place. That means your pistol should stay in the holster even when you're running around or crawling prone on the ground.
You're able to draw the firearm from the holster safely and consistently.
If the holster isn't able to satisfy one of these requirements, you most likely need another holster instead.
Type of Holster
This refers to the carrying style you prefer for your holster. You may want a holster set for your waistband or belt, or even for your pocket.
Other holsters include shoulder rigs and ankle holsters, and there are even thigh holsters as well.
Material of Airsoft Holster
You have 3 basic options (leather, nylon, and plastic) with each one having their own set of pros and cons. Basically, leather works even under the sun, nylon is inexpensive, and plastic can be shaped to fit your weapon perfectly.
Proper Fit and Comfort
This is about the fit to your body. You should feel comfortable while wearing the holster, while it's still placed to let you access your weapon quickly and easily. When you move and run around, the weapon should remain securely in the holster.
Durability of Airsoft Holster
Of course, you'll want the holsters to last long. That way, you're not buying a holster too frequently. Keep note that these holsters will be used a lot, so they ought to be tough.
Orientation of Airsoft Holster
Plenty of holsters are mainly designed for right-handed folks. While that suits most people, it's a problem if you're left-handed.
Aesthetics of Airsoft Holster
You do want your holster to look cool, just like you want you weapons to look awesome. Also, it's best if it's not in a very shiny color so that your opponents don't see you as easily.
Who Makes the Best Airsoft Holster?
On our list of recommended airsoft holsters, we include the following brands:
XAegis
Topmeet
Aikate
Safariland
LPV
Of course, if you're not bothered by cost considerations, you may have an expert holster craftsman to make something for you. This craftsman can design the holster for the particular dimensions of your weapon and of your body.
Conclusion
Some people, including airsoft fans, may wonder about the actual need to get the best airsoft holster. It's not as if you're carrying your airsoft weapon in a concealed manner, right? You don't actually work all day with a gun on your hip, like a police patrol officer would.
Unless you're training for concealed carry, we really think you should opt to go with the Safariland paddle holster for your belt. Set it on your belt and you're good to go. Your weapon will slide out smoothly, and it doesn't make a noise while you're running. It's comfy too.
Frequently Asked Questions
What is a drop-leg holster?
This is also called the thigh holster, since it sets your weapon on your thigh. Some military and law enforcement personnel use the drop-leg holster because traditional belt holsters are often obstructed by lots of armor and equipment.
On the other hand, these things come with rather serious drawbacks. They snag on things easily, and it wobbles all over the place when you run. Also, bad guys might grab the weapon
What materials are holsters made from?
There are 3 basic material options for holsters.
This is generally more expensive, but you won't have any trouble leaving the holster under the sun for long hours. It contours to your body (and to the weapon) over time. It looks great, too.
This is a cheaper alternative to the leather, without having the drawbacks of plastic. It's just that it doesn't really contour to your body over time. Also, it doesn't tend to last long compared to leather.
You can't leave this under the sun for long. But it offers a tighter grip, especially around the trigger guard. Also, you generally have a nice, reassuring click to tell you your weapon is secure in the holster.
Can a holster be worn anywhere else?
Basically, you want the holster where you can get at it quickly with your hand. That leaves you with several options:
Around your waist (front, back, or side)
On your chest (for a cross-draw)
On your thigh
On your ankle
How important is it to have a holster?
For an airsoft enthusiast, having a holster for a weapon is crucial. That's because you may need a place to put your handgun when you're not using it. The holster offers a secure area that keeps your gun in place while you're running and moving around. You're then able to access your pistol quickly and easily when you need it.
What holster fits my gun?
That's the question, isn't it? Generally, manufacturers specify the type of gun for which their holster can work with. They may specify the particular pistol model, or simply indicate the size for which their holster can work.
Universal vs. Custom holsters
With universal holsters, you're able to use the same holster with different guns as your backup weapon. That's a very inexpensive option.
But you may want a custom holster for each pistol. Each of these holsters will be molded more precisely to your particular weapon for a more secure setting and easier and faster draw.