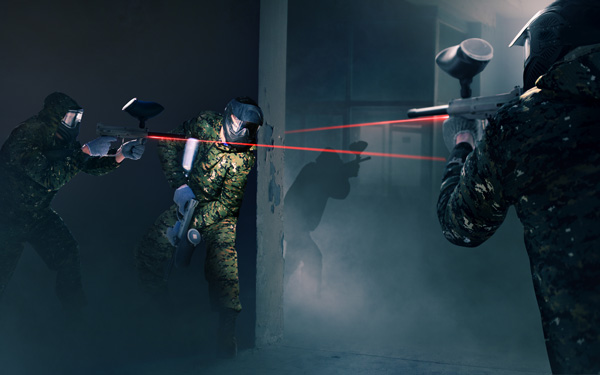 It's easy enough to want the best airsoft gun laser even when you usually have good irons sights on your airsoft weapon. The laser helps you aim more accurately, even when your eye isn't lined up along the length of the barrel.
What's not so easy is determining the best airsoft gun laser is for you. The good news is that we did most of the work for you already. We have a list of the best airsoft laser option accessories, and that should help you find the best airsoft laser for the money.
With the information we've compiled for you to check over, you can then make an informed choice.
Top 5 Airsoft Gun Laser: Comparison Chart
Best Picks of Airsoft Gun Laser
Here are our best airsoft gun laser reviews, covering 5 of the best airsoft gun lasers available right now. These come in different price ranges, so you can get one without going over your budget. Each one is excellent, and they will all serve you well.
What is an Airsoft Gun Laser?
This is basically a laser sight meant for installation on an airsoft weapon. It emits a laser beam that sets directly on your target, so you're able to know what you're aiming at more easily and more quickly.
Just keep in mind that the output level of those lasers can be dangerous. Military lasers can be especially harmful, since soldiers and Marines aren't exactly concerned about endangering the eyesight of people they're preparing to shoot.
But airsoft gun lasers are by design less powerful, so that they're safer to use even. They shouldn't be able to damage the eyes even when you accidentally set the laser beam on your targets' eyes.
How Does an Airsoft Gun Laser Work?
It's simple. The airsoft gun laser projects a visible beam of light directly on the target. Basically, your shot should hit that spot the beam of light is aimed at.
In the real world, you do have limitations to consider. Red lasers aren't as easy to see at all in very bright sunlight. You may not even see it beyond a few feet, though in more optimal conditions you can see it from up to 25 or 30 yards away. With green lasers, the visibility can increase up to 100 yards.
Advantages of Owning an Airsoft Gun Laser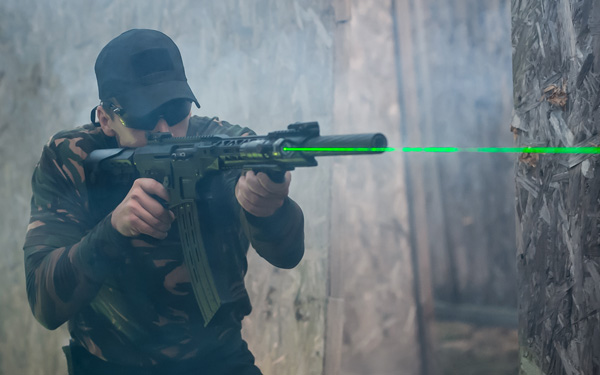 Owning an airsoft gun laser offers you one heck of an advantage—you're able to aim better. It's that simple, but that advantage offers huge benefits for your shooting and airsoft battles.
Some people have problem using iron sights, especially when they get older and their eyesight deteriorates. But with lasers, all you need to do is to be able to see the red or green laser, and you're good to go. Aiming is just much easier.
In fact, unlike with iron sights, you don't even have to raise your handgun or rifle to your eye level to aim. You can fire your weapon at chest or waist level and still hit your targets.
Things to Consider Before Buying Airsoft Gun Laser
How, exactly, do you determine whether an airsoft gun laser is any good? It's not all about the price, since airsoft lasers aren't all the same. So, here are some factors you should consider:
Compatibility
This is the most crucial factor. That's because the best airsoft gun laser won't do you any good if it's not meant for the rail on your airsoft weapon. So, if the laser is designed for 20mm picatinny rails, you better have that rail on your weapon.
Power Output
The safest option is to limit the output to under 1 milliwatt (1mW). That's weak enough that even if you accidentally aim the laser at someone's eyeball directly, it won't cause any injury. The person's blink instinct, and their tendency to just flinch from the laser, should prevent any eyeball harm.
The problem is that low output often means shorter range. So, you may want to increase the limit to under 5 milliwatts. That's a limit that adults can work with, but these more powerful lasers aren't ideal for kids who like to goof around.
Size and Weight
You don't want a huge laser, as that just makes things awkward for you. You need something compact, so you're still able to maneuver the airsoft weapon without too much difficulty. It cuts the likelihood that you bump your laser into things and mess the laser accuracy.
Obviously, you don't want a heavy laser to mess with how you aim your weapon. The laser should weigh less than 100 grams if you're using it for a pistol. For airsoft rifles, you can go up to a weight of about 600 grams.
Adjustability of Airsoft Gun Laser
Basically, you ought to be able to adjust the scope to factor in issues concerning elevation and windage. This should be easy enough with an Allen key, so you can do it on the fly.
Durability of Airsoft Gun Laser
When you use these airsoft guns lasers, you end up banging them around stuff a lot. That means you really need something tough that can withstand all that abuse.
In some cases, you may even end up with lasers that go off-zero even when you just fire the weapon. But that's not really a big deal. You just have to screw in the laser tightly once you've zeroed it, and maybe use Loctite so the screws don't loosen.
How to Attach a Laser to Airsoft Gun
This isn't really difficult at all. There should be a manual with the purchase that tells you how to do this with your laser. But if your purchase doesn't come with a manual, just go online and do a bit of research. You'll probably find a YouTube video that will show you exactly how you do this.
Normally, you either set the laser over the weapon or under the barrel. These places have the rail to accommodate the laser, so you just slide the laser in. You then zero the laser, and then lock the laser in using the screws.
To make sure the screws don't loosen, you may use glue or Loctite.
How to Sight an Airsoft Laser
A laser beam goes straight towards a target, but that's not the same path your airsoft pellet will travel. That means you'll have to "zero" the laser, as you would a scope. That way, your pellet actually hits where you're aiming at (at a certain distance).
Sighting your airsoft laser is simple enough. Just set it at a particular spot at a target, and then note where your pellets actually land. If you have a good pistol or rifle, the grouping of your shots should surround that spot you're aiming for.
If your grouping is a bit off the target, then adjust the laser sight. Usually, you can adjust the laser sight up and down, since you may need to do this to also adjust for elevation. Then you can also adjust left and right, as this allows you to adjust for windage as well.
Once you're zeroed in, lock down the laser sight. Maybe you can even use some glue or Loctite on your screws so that the sight won't budge and wiggle.
Who Makes the Best Airsoft Gun Laser?
Obviously, there's no final answer here. Each expert will have their own opinion.
However, our own opinion is that while Tacticon and Feyachi are also great brands with terrific value for money, the Pinty brand will give the best bang for the buck.
Conclusion
The truth about iron sights is that when you're under pressure when shooting, you'll find it very hard to focus on iron sights. Most studies confirm what we all think: that when people shoot, their eyes are on their targets. It's that simple.
Which is why the simplicity of the laser is so helpful. You see the red dot on your target, you shoot and they're "dead". No more messing about with lining up the iron sights.
So, which one should you pick? That depends on what you like. Get the Pinty Compact for simple indoor airsoft fights, but you can go with the Feyachi LF-38 Red Laser Flashlight Combo if you're fighting at night or for intimidation. For long range, the scope with the laser is great.
Pick one out for your weapon, install it, zero it, and get to work. With the best airsoft gun laser, you'll find it a lot easier to hit the targets you're aiming at—and isn't that the whole point?
Frequently Asked Questions
What kind of lasers are safe for airsoft?
In general, airsoft lasers are safe to use. They're like the laser pointers used in lecture halls. They're not exactly like the laser weapons and "lightsabers" you see in sci-fi films. But there are still several health risks to factor in.
There are several classes for airsoft lasers, depending on the output level and degree of laser hazard. The safest class is the Class 1 lasers, and the Class 2 lasers are generally considered still safe for airsoft. With the Class 2 lasers, the maximum output power is 1 milliwatt.
Even when you accidentally set a laser towards another person's eye, they're protected by their natural blink instinct.
How far will a laser sight work?
In terms of visibility, that can go up to 100 yards in daylight if you use a green laser. A red dot isn't as visible during the day, and its range is only at 30 yards at the most.
But you also need to consider the fact that BBS don't travel a straight line like a laser. So, if you aim at a target from much farther away, you may not hit what you're aiming at. It's best to limit it to 50 yards. But some rifles are accurate up to 100 yards or more!
Do lasers improve accuracy?
Short answer is yes. It quickly tells you where you're aiming at and where your rifle is pointed. You don't even need to raise your weapon to your eye level, as you would with the iron sights.
Which is best red or green laser?
That depends on what's "best" for you. In terms of visibility, green is definitely better. You may be able to see the green laser up to 100 yards away.
Red lasers are best only for close combat. You'd only be able to see the red laser up to 30 yards away.
However, red lasers are simpler to build, so they're more affordable. They're also generally more compact and lightweight. If you're a newbie, then it makes more sense to go with the red laser.
Are lasers allowed in airsoft?
That depends on the arenas you play in and what class of laser you have. They may have rules regulating the laser classes allowed, or not allow lasers of any kind at all.
Of course, if you're using the laser for backyard plinking and vermin control, it's all up to you. Just follow the general safety rules, which mainly means don't aim them at the eyes!