Airsoft is a fun and exciting sport enjoyed all over the world and there are a lot of interesting new battlegrounds being explored every day.
One way people are increasing the challenge and enjoyment in airsoft is by playing night matches and indoor arenas, where darkness is used to provide an additional level of complexity to each match.
The humble flashlight is the key to these types of matches and using the best airsoft flashlight will aid you and your team to final victory.
We are going to be looking at some of the most popular options on the market today and checking out what kind of features and capabilities should be available in the flashlights you'll be using.
You can be surprised at how complex a good tactical flashlight could be, as well as how simple they are to use to your advantage on the battlefield. Take note of the key differences in functions and capability to compare them properly.
Top 3 Airsoft Flashlights: Comparison Chart
On the following table, you'll find a quick feature comparison of the 3 models we picked from the list of popular flashlights used by current airsoft players.
Best Picks for Airsoft Flashlights
These three flashlights are great representatives of three of the general classifications for tactical flashlights used in airsoft. They will all deliver great performance when you require your own illumination at a match but are quite different when it comes to full feature sets and additional capabilities. These options are also in different pricing ranges to ensure that you'll have a good choice for any budget.
Surefire X300
Sale
Features
Special off-white high-performance LED produces 1, 000 lumens biased in the yellowish-green spectrum optimal for human vision
Precision TIR lens creates a smooth, tight beam with enough surround light for peripheral Illumination
Switching-ambidextrous push/toogle, Integral, ergonomic one-finger ambidextrous momentary - and constant -on Switching
Integral aluminum t-slot mounting System offers rock-solid attachment to railed hand guns and long guns equipped with MIL-STD 1913 rails
Construction: high-strength aerospace aluminum with Mil-Spec Anodizing; coated, tempered window
Last update on 2023-12-01 /  Affiliate Links (#ad)  / Images from Amazon Product Advertising API
Any quick search on the web or on any respectable airsoft forum for flashlights will probably call up Surefire as one of the best manufacturers of tactical flashlights used in the sport. The Surefire X300 Ultra is a great example of a good tactical flashlight and is full of features that made the brand one of the leaders in the market.
You may have already heard about the X300 before, but the new X300 Ultra is made even better by using suggestions and feedback from the users. The most significant of which is the increased brightness that would be around 1000 lumens meaning a beam distance reaching 150 or even 200 meters away. This is significant, especially for the compact size of the entire unit.
Looking at the build quality and construction of the unit, you will see the great care taken to provide a great shape for the lightweight aluminum body. They also used a process called anodization to cover the surface with a protective layer that helps avoid scratches. This is one flashlight that will look great on almost all airsoft guns.
A critical component that airsoft players will look at is the quality of the lens and reflector on the flashlight and Surefire did a great job at providing a beam that will be effective at lighting up both indoor and outdoor fields. The beam itself provides intense illumination at the center of focus while the lens provides a wider zone of illumination for your immediate surroundings.
This flashlight attaches to your airsoft gun via a T-slot mount, which is compatible with a wide variety of mounting hardware on both airsoft pistols and rifles. It also allows the use of easy to find adapters, if you are inclined to use it on more exotic configurations with other equipment like scopes, IR illuminators, and sights.
Pros
T-slot mount attaches to many rails including Picatinny and universal
The intense beam illuminates the battlefield and distracts opponents
Total Internal Reflection lens is robust and effective
Friendly switching for both left and right-handed users
Cons
The normal-looking design does not stand out
On the smaller size, not for those who want a large attachment
Olight Odin
Features
[Powerful and Long-lasting] Powered by a single OLIGHT customized battery, the Odin delivers an impressive 2,000 lumens, can reach up to 300 meters, and has an 8-hour runtime.
[Secure and Professional Design] The OLIGHT Odin is designed specifically for PICATINNY mounts and features a removable slide rail mount with a mechanical lock for secure operation. Also compatible with Mlok and Key-mod mounts for versatile use.
[Innovative Pressure Switch] Odin's magnetic remote pressure switch is both innovative and functional, featuring a locking function for a tight fit with just a single push of the anti-slip knurling ring.
[Fast and Efficient Charging] The tactical flashlight adopts the MCC3 USB magnetic charging cable, which allows for a charging current of up to 2A, greatly improving charging efficiency.
[Multifunctional Tailcap] OLIGHT WML Odin Series has unique tail cap is both multifunctional and easy to use, featuring an integrated magnetic charging tail switch with compatible locking remote controlling, making tactical operation a breeze.
Last update on 2023-12-01 /  Affiliate Links (#ad)  / Images from Amazon Product Advertising API
Olight's reputation as a flashlight brand is so good that they are known, not just in the tactical and airsoft community, but are respected as a reliable brand in the flashlight hobbyist community. The Olight Odin is a direct implementation of their expertise in creating innovative flashlights for the airsoft and tactical community.
An initial look at the Odin will give you an impression of just another tactical flashlight, but upon closer inspection, you will realize the thought and care put into the design of this highly effective tool.
Inspecting the body, we saw the hard anodizing on the surface of lightweight aluminum, which makes the flashlight light but sturdy and resistant to damage. The construction of the flashlight makes it seem that the 1.5-meter drop resistance claimed by Olight is really true.
The attachment point on the flashlight is robust, mainly due to the tested design that mounts on Picatinny rails easily. The slide mount is removable but has a secure mechanical lock which makes it stable on the airsoft rifle even during intense action. The size and weight of the flashlight are good for use on airsoft equipment, it is not difficult to have a steady aim with this light on the target.
Another great addition for airsoft players is the remote pressure switch. Fiddling with your equipment during an airsoft match will probably be problematic and this switch solves that, for your flashlight at least, because it is easy to operate and even has knurling on the surface so that it grips your fingers, gloves or no.
The battery life on the flashlight is also good with its large lithium battery capacity while remaining convenient, cost-effective, and environmentally friendly by being rechargeable. It works with a USB magnetic cable that charges with up to 2A of power, making each charging cycle quick and efficient in comparison to other flashlights where you have to deal with charging the batteries individually.
Pros
A popular brand with High reliability
The flashlight is good enough to use even outside the playing field
Superb build quality from good materials and workmanship
Picatinny rail design ensures wide compatibility across multiple platforms
Convenient and effective remote switch makes it usable in battle as a distraction
Cons
Lens options might not be for everyone
The larger size will not be ideal for smaller airsoft guns
ActionUnion Airsoft Tactical Light
Features
NEW PEQ BOX – Visible red laser and IR laser + strong light flashlight, the LASER light through the screw can be adjusted freely fixed-point to hold zero, form a complete set of update IR glass lenses, powerful features.
MULTIPLE MODES:Adjustable Red Laser Sight Tactical Switch Convenient control,5 types for choice: LED flashlight / IR Laser/ Red laser sight / LED Flashlight + IR Laser/ LED Flashlight + Red laser sight.Fits for standard 20 mm picatinny rails.
OUTPUT POWER: PEQ-15 Style < 0.7-1mW Class II, Battery: 2 x CR123A batteries or 2 x 16340 / RCR123A 3 v or 3.7 v rechargeable batteries(batteries is not included).
OUTDOOR SURVIVAL:This PEQ-15 battery box is suitable for outdoor hunting at night,CS tactical gaming and camping ect.
MATERIAL: Made of high strength nylon plastic. Weight:155g Size:12*7.3*3.7cm Easy to carry.
Last update on 2023-12-01 /  Affiliate Links (#ad)  / Images from Amazon Product Advertising API
Most flashlights used in airsoft, even if they are called tactical flashlights, are just that, flashlights. ActionUnions Airsoft Tactical Light is the exact opposite of that, as it is specifically designed with the Airsoft player in mind. A true simulation attachment for simulated warfare.
The whole look, design, and function of this particular attachment from ActionUnion are based on the PEQ-15 standard attachment in military applications. That particular design itself is intended to create an attachment that works as an aiming and illumination system for battlefields.
This ActionUnion light mimics this by providing not only an effective flashlight but a red laser and an IR laser. They even provided IR glass lenses, which is surprising when you consider its price point. The IR laser is designed to be visible with compatible night vision equipment and not visible to people with no such equipment
Our tests with night vision equipment show that the IR laser works for aiming and illumination levels using the IR lens cap is reasonably good for the price. The Red laser is quite strong and can be seen even with the flashlight on. The flashlight itself is effective for lighting up areas like rooms and corridors without being too bright.
The aesthetics of this high-quality attachment is outstanding, to say the least. The design itself is derived from actual military-grade equipment, and it shows. It has a utilitarian quality that says tactical utility and is a great visual addition to most airsoft rifles.
Players in military simulation matches or those that use military combat uniforms as a basis for their sports outfits will appreciate the additional realism this flashlight provides. The number of functions on the attachment makes it ideal to put on your airsoft rifle even during games where there are only a few places to use a flashlight.
Pros
Multiple functions make it a great value purchase
Red and IR lasers help in aiming and total accuracy
Design matches military equipment and looks awesome
Comes in different colors to match your airsoft rifle
Cons
Button layout may be confusing to use in the dark
Flashlight itself is not that strong
Does not include a battery
What to Look for in an Airsoft Flashlight
One look at your old handheld flashlight in the cupboard will tell you that it would not make a great addition to your airsoft toolkit. So, what should you look for in an airsoft flashlight? Before we discuss the features you should be looking for in these flashlights, we should first consider what kind of playstyle and equipment you will use with the flashlights. Having a good idea about that will help you with deciding which features to prioritize in a flashlight. Here are some key features:
Attachment Points
How you will be able to attach the flashlight to your body or gear is extremely important. A good attachment point will be firm and stable even under intense movement and action. We consider flashlight mounts that offer good compatibility while remaining stable a great incentive. Be wary of flashlights that say that they are cross-compatible using adapters as the stability of a mount is determined by its weakest point, and cheap adapters can often be too loose.
Check your airsoft rifles and pistols for the available attachment points first before committing to a flashlight. In the worst case, it is possible to use a handheld flashlight, either a dedicated one or one you just removed from a larger airsoft rifle, if you're using an airsoft pistol.
Brightness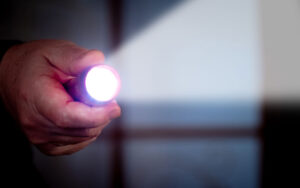 Every good flashlight should come with a brightness specification, this would most likely be in lumens, but may also be in candela. The best flashlight for airsoft might not be the brightest one available. Why? Because sometimes if the light is too bright you give your position away too easily and you'll get sniped from afar. A flashlight that throws light in a reasonable distance where your own airsoft rifle or pistol is still in effective range will be the best to use.
Beam Modes
Airsoft flashlights are not only for illumination but may be used to dazzle or confuse your adversaries in a match. Most flashlights have some kind of high beam mode, a low beam mode, and a flashing mode. Flashing modes are the best for distractions. Be aware though that not all airsoft fields allow the use of flashlights in this manner. Some may have limitations for brightness or flashing speed. Check with the site administrators or marshalls before you continue.
Power Source
How long do your matches last? That is at least how long your flashlight battery should last. A good battery can get you through an entire session with no problem. However, batteries mean weight, so you should choose the smallest possible battery that still fits the requirement.
Control Interface
Fumbling about with your flashlight is not fun and may certainly cause a loss for you. A good and easy to use interface, like a pressure switch or remote will make a huge difference to the total utility of your flashlight.
Robustness
Airsoft can be a rough sport, especially on equipment. Rifles and pistols get dropped, scuffed, hit, and more, all the time. And as your flashlight will likely be attached to it, your flashlight should be the same. Aircraft-grade aluminum, steel, as well as scratch-proof coatings and finishes will help a lot.
Flashlight Types
The first thing to differentiate in a flashlight is the difference between a regular and a "tactical" flashlight. Tactical flashlights are intended for use in a more rugged and combat-related environment, so they will have the right capabilities for use in airsoft.
Airsoft flashlight reviews will often mention what kind of tactical flashlight you're looking at. Mounted flashlights, flashlights that have a designated mounting mechanism, are the most common flashlights you will find in an airsoft field. Combination flashlights are those that are integrated with other tactical tools and attachments.
The most popular type of combination flashlights are illuminators, which combine infrared and laser capabilities to a flashlight, and grip lights which attach to a grip or support you will attach to the airsoft rifle.
How to Mount a Flashlight
Most tactical flashlights will have some kind of compatible mounting system. The very basic ones can be attached to the airsoft rifle or pistol with elastic rubber designed for the purpose. As you will note, this is not the best mounting system as it is prone to being loose and rattling. It will do in a pinch though.
Another popular way to mount is through the Picatinny rail system, which is extremely popular among airsoft rifles and pistols. Just make sure that the mount is of good quality as Picatinny rails can be loose if the tolerances on the attachments are not very precise.
Finally, there are also T-slot mounting options that can use other common rail systems and can often be used with adapters for rails that are not directly compatible.
How Many Brightness Levels Do You Want?
This will depend on the variety of play areas and fields you are likely to encounter with the airsoft flashlight you will use. For example, if you only play in large fields with the occasional dark indoor areas or tunnels, a two-level adjustment, just a high and low power option, can be enough.
On the other hand, if you bring your airsoft rifle from the daytime outdoor fields, to speedsoft games, then to military simulation night matches, You will need highly adjustable brightness to adapt the flashlight to all these conditions and locations.
Final Verdict
In this round-up, we have found the best airsoft flashlight for all levels of players. We chose the Olight Odin as it represents great performance in most functions without cutting any others short.
Several considerations got the Olight Odin our vote for this comparison. First is that the flashlight is designed specifically to attach to the Picatinny rail system. There is a reason why Picatinny rails are so popular, and that is because they are easy to use and extremely durable.
Another is the remote pressure switches which makes it possible for the airsoft player to use this flashlight as a tactical tool to distract their opponents by flashing the light in the direction of fire in a pattern they choose. Most players only turn on their lights while firing so that they do not give away their position. Finally, the brightness and light modes are the best.
In these terms, the Olight Odin wins our confidence as the best airsoft flashlight. However, at the end of the day, your needs and preferences should still be taken into account for you to find your perfect match. With our tips and suggestions, we hope that this guide will come in handy for you in finding the right accessory to add to your arsenal.