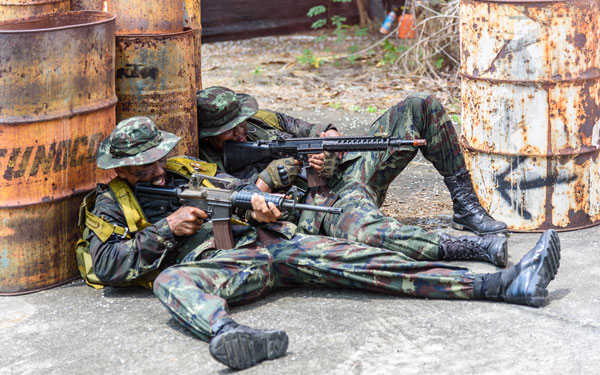 In an airsoft battle team, there are different roles that players need to fulfill to be effective. Most of the team will probably be regular infantry fighting in close quarters, working in tandem to achieve their objectives, win the battles, and "kill the bad guys". You may also have snipers, who can do surveillance on the enemy and hit targets from long range.
But then you can be the designated marksman, which can fulfill the roles of both (somewhat). To be effective in this role, you'll need a DMR (designated marksman rifle). And this is what this guide is for.
Top 4 Airsoft DMR: Comparison Chart
Best Picks of Airsoft DMR
With so many airsoft rifles that can work well enough for a designated marksman, which of them are the best? We've done the work for you and compiled 4 of the best airsoft DMRs you can rely on.
#1: Lancer Tactical LT-732 DMR Stock 45″ M14 SOCOM
Features
Muzzle Velocity: 380-400 FPS
Magazine Capacity: 400 RDS
Package Includes: Gun, 1x Magazine, Battery and Charger
Version 7 Full Metal Gearbox
Full Metal Receiver
Metal Barrel Assembly
Weighs 7.75 pounds
Full-scale replica
Adjustable rear sight
It's apt that we put in a Lancer Tactical weapon first on this list. That's because there's a good chance you're an airsoft beginner, and Lancer Tactical weapons are great for newbies. They're reliable, fairly easy to use, and come with affordable prices.
With this purchase, you also get a high-cap magazine with some free BBs, along with a free battery and charger. You can put in a 9.6v NiMH battery (though Lancer Optical recommends the 8.4V), and it also accommodates just about every nunchuck-style battery we've tried.
The original M14 was actually introduced way back in the 1940s, but it proved too heavy for CQB. That was why it was soon replaced by the M16. But you won't have that weight problem with this airsoft version. It weighs in comfortably at 7.75 pounds.
That gives you a nice, solid feel, thanks to the full metal receiver and barrel system. But you also get the toughness you need for battlefield use. The durable polymer frame also cuts down on the weight while adding to the toughness. With the receiver, you're able to attach a wide range of M14 optic mounts.
This works nicely for designated marksmen, starting with the 390 fps. Add the extended barrel and the adjustable hop-up, and you get the range and accuracy you need to do your job properly.
You can really rely on this weapon, as it has the metal-reinforced Version 7 Gearbox with the full-steel gears and reinforced cylinder head. You even get the larger 8mm bearing and bushing set for smoother operation.
This can fire on full and semi-auto, with the magazine able to hold 400 rounds at a time. You also get an adjustable cheek riser and butt pad. Finally, you also have ergonomic pistol grip that's designed to give you a secure grip even in challenging conditions.
Pros
Ample muzzle velocity
Comes with 400-round magazine, battery, and charger
Lots of rounds per magazine
Plenty of metal components for reliability and toughness
Fairly accurate
Cons
Maybe a bit heavy for some
Confusing manual
#2: CYMA Sport M14 Airsoft AEG Rifle
Features
Length: 1127mm
Weight: 4000g
Inner Barrel: 500mm
Magazine Capacity: 450rds
Muzzle Velocity: 395~405 FPS (0.20g BBs)
Gearbox: Full metal Ver.7
Motor: Short type
Fire Modes: Semi/Full-auto, safety
Battery: 9.6v Small type recommended
Hopup: Yes, Adjustable
Package Includes: Gun, Magazine
Full-sized replica of M14
Full and semi-auto
Lipo-ready
The Cyma brand is one of the oldest in the airsoft community, and it manufactures lots of OEM parts that you can use for other brands. This particular weapon is one of their more affordable models, but it sure doesn't have a cheap quality to it.
Instead, it feels great. That's partly because it uses metal parts where you ought to find metal. These parts include the gearbox, barrel assembly, and bolt receiver. These are all full metal parts.
This doesn't come with a free battery and charger, so you'll need to buy your own 9.6v Small type instead. But this can also accommodate a 7.4 or 11.1V LiPo battery. Get a smart charger as well.
The weight feels realistic, as it weighs about 4 kilos (about 8.82 pounds). The usual features like the full/semi-auto firing modes and the adjustable hop-up are here. You won't run out of ammo quickly even if you use full auto, since the magazine can carry 450 rounds at a time. With the 395-405 fps capacity, you should hit targets fairly accurately.
You can also get extra magazines (in fact, you should), and this rifle can take in the Tokyo Marui and Matrix system mid-cap and high-cap magazines. In fact, this rifle started off with a design that's compatible with the Tokyo Maui. It's also great for intermediate players who will want to customize the rifle with aftermarket upgrades.
This is a good weapon, and in its price range it's terrific. Put in a LiPo battery that can run all day, and with the high-cap mag you really have great firepower at your disposal. With all the metal parts here, this won't fail on you easily.
Pros
Can work with LiPo batteries for greater power
Having 450 rounds per magazine means you don't have to replace the mag too frequently
Ample fps
Lots of metal for reliable operations
Cons
May be too heavy for some
It may be harder to find parts for the Ver7 gearbox
#3: G&G GC7A1 Full Metal AEG Airsoft Rifle
Features
380 FPS with 0.20g BBs
Adjustable G&G Hop-Up
509mm Inner Barrel
G&G High-Torque Motor
140ft Effective Range
8mm Bearings
Battery and Charger Not included
Includes C79 ELCAN Replica Magnifying Optic
Metal body
weight: 8.8 pounds
Polymer stock and grips
Full stock and tri-rail system
G&G has been around for about 30 years now, and they continue to make high-quality weapons for the airsoft community. This one is comparatively more expensive than the others, but then it gives you a lot more for your money. The features include a metal/polymer body along with a full stock. That gives you a weight of 3.78 kilos, or 8.3 pounds.
The extras you receive include the C79 Replica ELCAN 4x optic. That will certainly prove useful, since this M4 airsoft replica has an effective range of at least 140 feet. You may want to add more attachments, since you have a tri-rail system here with the M4/M16 upper and lower receivers. The flash-hider in the weapon also works with G&G mock suppressors.
You should be able to get an average velocity of about 380 fps, which along with the premium-quality adjustable hop-up and extended barrel length should help you get the range you need. You have a reinforced metal gearbox with terrific gears, along with a high-torque motor. With the 8mm bearings, things ought to work smoothly and with less likelihood of damage.
What do you don't get is a free battery and charger, though that may depend on your seller. This does feature a spacious full stock along with a large-type battery Tamiya connector. That should let you use most battery sizes.
All in all, it's a lot of fun. You're not saddled by quality issues, thanks to the plentiful metal in the body and internals. This is designed to work as both a battle rifle and as a DMR.
What that means is it's a great option even if you're a newbie. You can start off as a regular infantryman using this. But if you're tagged as the designated marksman for your team later on, you can still carry the same weapon and be effective in that role.
Pros
Already comes with handy optics
Also features tri-rail with upper and lower receivers
Lots of metal for durability and reliability
Great for outdoor use
Ample fps
Cons
No free battery and charger
#4: Lancer Tactical Interceptor SPR
Features
Frame Material: Plastic
Material: Nylon Polymer
Velocity: 370-400 FPS
Inner Barrel Diameter: 6.03 mm
Operation: Semi-auto and full auto
Material: Polymer
Length: 32.25″ – 35.5″
Weight: 4.3 Lbs
Inner Barrel: 6.04 Mm
Magazine Capacity: 300 Rds
Power: 8.4v1200mah Nunchuck Battery
Polymer frame and stock
Range of 150 to 200 feet
We started the list with Lancer Tactical, and we end it with the same brand. Pick this one if you don't really want the realistic but rather heavy weight of a more faithful replica. Here, you get features that really help your role as a designated marksman. And it sure is affordable too.
This weapon actually lets you choose the fps capacity you get. That means we opted for the higher fps (of course), with a range of 370 to 400 fps (instead of 320-350 fps). The magazine has a capacity for 300 rounds, and with the metal gearbox you're ready to rock.
That velocity is rather high, but you need it for outdoor battles where a designated marksman comes into play. That fps range is also generally allowed in most airsoft battlefields. You're still able to hit targets up 150 or even 200 feet away, so you have one up over a regular infantryman. You may want to see if you can use 0.25g BBs, for greater range and accuracy.
You have polymer for the frame and receiver, to cut down on weight and the price. That's why it's so easy to handle and carry, because it only weighs 4.3 pounds. That receiver also has a full-length picatinny rail on top. It features flip-up front and rear sights, so you can flip them down when you attach red-dot optics.
The stock (which also functions as the battery compartment) is retractable. That lets you adjust the overall length from 32.5 inches to 35.5 inches. You're able to fit in a 9.6V 1200 mAh nunchuck battery here, but you may even set in a stick-type LiPo battery.
Pros
Uses wide range of batteries (even LiPo)
Adjustable stock lets you get it to a more comfortable size
High velocity for long range shots
Plenty of ammo per mag
Lightweight
Very accurate
Cons
You may want to upgrade the battery
You may wish to upgrade the spring as well for even greater fps
What's a DMR?
The initials stand for designated marksman rifle, which refers to the primary weapon of the designated marksman of your team. The designated marksman is basically a mix of regular infantry and snipers.
If you're a designated marksman, you're able to hit targets beyond the range of ordinary infantrymen. That's similar to the capabilities of a sniper, except that you generally have the rate of fire that infantrymen have. Snipers with realistic sniper rifles tend to use bolt-action rifles, which offer a much slower rate of fire.
What Classifies a DMR?
There is no formal definition of what constitutes a DMR, and even experts may disagree on the finer points. But essentially, the DMR must enable the designated marksman to do their job effectively.
What that first means is that the range of the DMR must be greater than what you get from an ordinary battle rifle. That lets the designated marksman hit enemies while still outside the range of battle rifles. The range of the DMR may not be as great as that of a sniper rifle, but designated marksmen and snipers ultimately have different jobs.
That's because the designated marksmen still work closely with regular infantry. So, when the enemy gets within the range of the battle rifles, the designated marksman can still help with the battle.
This means their rifle can't be limited by bolt action. It must be at least semi-automatic, and preferably with full-automatic mode.
What are the Most Important Attributes of a DMR?
When you're looking for an airsoft rifle that can help the designated marksman do their job, you'll need to look for the following features:
High FPS
Obviously, high muzzle velocity correlates to the weapon's range. You can't expect to hit targets beyond the range of infantrymen rifles with a puny velocity such as 250 fps. That may be well and good for indoor close-quarters combat, but not so much with outdoor battles comprising large teams.
At the very least, go with a minimum of 350 fps. Try to approach 400 fps if you can. Of course, you should still take maximum fps limits of local airsoft battlefields into account.
Extended Length
Again, this pertains to the range of the weapon. You can't really expect the pellets fired from pistols and submachineguns to travel farther than pellets fired by regular rifles. So, you'll need a long weapon, with emphasis on a longer barrel.
Durability
A fragile weapon on a battlefield is a no-go, no question about it. You'll need something that can shake off bumps and impacts in the field. It may even rain, and the weapon shouldn't have no issues with that as well.
High Rate of Fire
You simply can't use a bolt-action sniper rifle if you're the designated marksman, and that's because long-range shooting isn't your only job. You better be able to fire semi or even full auto when the situation demands it.
 What Are Some Handy Features For a DMR?
While the following features aren't absolutely necessary, you'll probably find a lot of them in the very best airsoft DMRs. What differentiates the better DMRs from the merely adequate ones will be the following attributes:
Easy Use and Carrying
Sure, a DMR will be longer and bulkier than the pistols and SMGs you normally see in CQBs. But that doesn't have to mean you have to deal with a weapon that's awkward to carry and move around. It ought to be ergonomic, and it's better if they're lightweight.
You may want to look for sling points for a strap, and maybe even a tripod on the barrel for stability needed for longer range shots.
Accessories
At the very least, you need a versatile rail platform for your various accessories. Most designated marksmen like to put in a scope on their DMRs, since their targets are generally farther away. Others like to put in mock suppressors as well.
High-Cap Magazines
While it's not really all that bad if you're limited to 50-round magazines in the field, some people might not agree. They may insist on using high-cap magazines with at least a hundred rounds or more.
What is the Best Airsoft DMR?
The best airsoft DMR is the weapon that gives you the utmost effectiveness in the battlefield as a designated marksman. Basically, all the necessary and handy features should be present in the DMR.
One other thing—you should be able to afford this rifle. A DMR with all the bells and whistles but carries a price tag that you can't afford simply isn't realistic for you. It's just wishful thinking.
How Does an Airsoft DMR Work?
The smart-ass answer to this question is that you aim it at the bad guys and press the trigger. Obviously, that's not entirely comprehensive enough.
The DMR works as a versatile, 2-job weapon. You're able to shoot farther than your infantrymen teammates, which makes you a long-range weapon like a sniper. With your weapon, you're able to hit enemy infantrymen while they're not able to hit you. That's a real advantage.
In addition, you're still useful in fights that involve your regular infantry. Your weapon can still rock at the same range as that of a battle rifle, and you're able to provide the same rate of fire.
Things to Consider Before Buying the Best Airsoft DMR
So how do you know which airsoft DMR is the best? You'll have to pay careful attention to the reviews and product descriptions, and focus on the following factors:
Extended Barrel Design
Just look at the pictures, and you'll know. The DMR has to look at least like a battle rifle, and not like a submachinegun. A longer barrel ensures that you get the range you need to act as a proper designated marksman.
FPS
It's true that just about all airsoft battlefields will have limits on how much fps capacity your weapons can have. But the general rule is to get as much fps capacity as you can without going over those limits.
That usually means getting to 400 fps if possible. To be effective in that role, you'll need that much fps to hit targets from farther away.
Adjustable Hop-Up
You'll need to check that your weapon has this feature. It's so important for optimizing range and accuracy that just about all good airsoft weapons have this feature. In fact, our general rule is that if the airsoft weapon doesn't have an adjustable hop-up, it's automatically a bad choice.
Firepower and Magazine Capacity
Another "must-have" feature is to have both full and semi-automatic modes (and safety mode, of course). You will need that full auto mode in case of close quarters combat.
But you then run the risk of running out of ammo quickly when you go full auto too often. That's why you need a magazine with hundreds of rounds at a time. Having 300 rounds is acceptable, and it's great if your mag capacity is 400 rounds or more.
Weight and Materials
Do you want something solid, or lightweight? It's a polarizing issue, with people on both sides of the debate.
Some people insist on having a solid weight when they're holding their DMR. It's very reassuring, as the weight is often due to the use of lots of metal in the weapon. Metal components tend to run more smoothly, and are better able to withstand the bumps of battles.
But others don't like having to lug around something heavy, and prefer a lightweight model. It's true that having polymer cuts down on the weight while it still keeps the weapon reasonably tough.
Either way, check the weight to see if it suits your preferences.
Full Metal Gearbox
You just have to insist on having metal for the gearbox. That's another deal-breaker if the weapon doesn't have a full metal gearbox, because plastic innards don't last too long with the rigors of battlefield conditions.
It's also much better if you have 8mm bearings, instead of the usual 6mm bearings. The larger bearings are more durable, and work more smoothly.
Price and Freebies
For newbies, affordable DMRs may be the best choice. You get a good weapon without spending too much money. When you get better, you'll have a better idea of what kind of DMR suits you best, and you can save up for an upgrade.
It's even better if your purchase comes with freebies, like a battery and a charger. That saves you the trouble of finding a suitable battery that works with your weapon. If you're like most excitable newbies, you'll want to play with your DMR as soon as it arrives at your doorstep.
But you may want to hold off and save up for better DMRs, even if they cost more. These DMRs may not even come with lots of freebies, but that's not always a bad thing. The freebies add to the cost, and they're not really "free" at all. What's more, you're able to get the accessories you really want.
Tips for Using and Maintaining Airsoft DMR
Now that you have your airsoft DMR, how do you proceed? Here are some tips that can get you started:
Get You Accessories
Obviously, that starts with getting a battery and charger. While the free battery and charger are okay if you're a newbie, sooner or later you'll want to upgrade to the most powerful battery you can fit in your weapon. Try to get a LiPo battery if it works with your DMR.
You'll also want to get a smart charger. The smart charger keeps your battery from getting damaged when you leave it charging for too long.
The next step is to get extra magazines. Try to get maybe 5 magazines in total, and they should be high-cap mags. A capacity of 300 rounds is good, but having 400 or more rounds is definitely better.
Finally, you should think about having a red-dot scope. After all, the real DMRs used by real soldiers generally have a scope as well. Keep in mind that your range is better than that of a regular infantryman.
Experiment to Maximize Your Range and Accuracy
Practice with the sights, and adjust the rear sight properly. Better yet, get a red-dot scope for long range targets, and zero it correctly.
Then fire pellets of different weights. You may want to see if you get better range and accuracy with 0.20g BBs, or with the 0.25g BBs. Make sure you only use BBs from well-known brands, to minimize the risk of firing deformed BBs.
Fiddle with the hop-up too, to maximize your DMR's potential. Remember, that's an adjustable hop-up, so adjust it.
Then perhaps you can think about upgrading the springs in your weapon to really boost your fps capacity. Find the springs that can give you the max fps that's still allowed in your local battlefields.
Clean Your Weapon Regularly
That means cleaning the barrel after each use. You can clean the mag and the hop up less frequently (maybe every other time you use the DMR). Always use silicone oil, and not other non-silicone-based cleaners like WD40.
Cleaning a rifle is what even real soldiers do, so just do it. If you take care of your weapon, it will take care of you!
Who Makes the Best Airsoft DMR?
If you're a newbie, then you should go first with Lancer Tactical. They're a relatively new brand, but they've quickly made a name for themselves by offering reliable weapons with terrific features and comparatively low prices.
Conclusion
Okay, so what we basically need is an assault rifle that can fire accurately enough to hit targets beyond the reach of an ordinary infantryman. With 4 options recommended on our list, you should have no trouble finding the one you like. If you have a limited budget, you can also just pick between the affordable Lancer Tactical Options.
But we sure do like the CYMA Sport M14 Airsoft AEG Rifle. Tops on the list of reasons why is that fps range. When your shots release at speeds of 395 to 405 feet per second, you definitely have an advantage.
Another advantage is that this is truly reliable. You have lots of metal here, for the gearbox and other components. These metal components work a lot smoother, with fewer issues (if any) along the way. That means you get a lot of fun, and no headaches while playing.
Add the 450-round mag and you're really going to have fun killing the bad guys in your airsoft battles. Try the CYMA Sport M14 Airsoft AEG Rifle, and it may just be the nest airsoft DMR you can get.
Frequently Asked Questions
You probably have several questions in mind about the DMR, so here are some answers that may clear up a few issues for you!
What does DMR stand for in airsoft?
These initials stand for Designated Marksman Rifle.
What is a good range for airsoft DMR?
It's great if you can hit human-sized targets effectively at a range of about 140 feet. If you can go farther, that's really great. Generally, the range is less than that of the sniper rifle, but greater than the range of the typical assault rifle.
What is the role of the DMR in airsoft?
The DMR's role is to let the designated marksman work effectively as both a long-range shooter (like a sniper) and as a close-quarters combatant (like regular infantry).
What caliber qualifies as a DMR airsoft
You don't really need anything special from your airsoft BBs to use with your DMR. Any 6mm pellet will do in general, though you have to make sure that it comes from a reputable brand. You want perfectly shaped pellets without any deformities that can cause damage to the rifle and make you shoot erratically.
How many magazines should I have as an airsoft DMR?
How many can you carry while you're still able to move effectively and quietly? In general, the rule with ammo is like the rule for most tools. It's better to have more ammo and not need them, than to need ammo and not have them. So, carry at least 3 magazines if possible.
How far should an airsoft DMR shoot?
In general, father than an ordinary airsoft assault (battle) rifle can shoot reliably. That means at least 140 feet or so.
What Are the Most Popular DMRs out There?
We already have them listed here on our list. We factored in the high possibility than you're a newbie, which is why we put in a couple of Lancer Tactical weapons here. That's a brand that has established a fine reputation for great bang for the buck, which is terrific for newbies with limited budgets.
Is the FAL a DMR?
This is actually a good question, as many DMRs are basically converted battle rifles that were super-customized to shoot accurately for a longer range.
Technically, it's not a DMR. But there are FAL variants, and weapons based on the FAL, that works as DMRs or even sniper rifles.
Is DP 28 a DMR?
No, the DP28 is more of a squad automatic weapon (SAW). That is, it's a weapon that a single team member can carry, but gives the team almost the same firepower as that of a heavy machinegun.
What Is Better for Airsoft, Bolt Action Sniper, or DMR?
This will, of course, depend on your role in your airsoft battle team. Get the bolt-action sniper rifle if you're the sniper. Get the DMR if you're the designated marksmen.
But the simple truth is that the DMR is better overall than the bolt-action sniper rifle. You get a better rate of fire, and better battle effectiveness at close and mid-range. The bolt-action sniper takes too much time between shots.
Could you convert an M4 AEG to a DMR?
Technically, you can. But then again, it's also true that it's possible to convert any rifle into a DMR.
But the better question is: should you convert an M4 AEG into a DMR?
The answer is no. You have better rifles available that you can convert into a DMR. Keep in mind that the M4 is actually a shorter version of the M16A2 rifle. So, you may as well convert the M16A2 rifle into a DMR, and get better results.