If you're on the hunt for the best airsoft AK, it's a pretty safe bet that you're not the only one these days. Or on any day, for that matter.
After all, the authentic AK47 is undoubtedly the most popular assault rifle in the world. More than 75 million of these babies have been made, since they're affordable and tough for various challenging environments.
In contrast, there have only been 8 million AR-15s, with the same production number for M-16s.
Top 7 Airsoft AK: Comparison Chart
Here's a quick glance at the main specs of 7 of the top airsoft AKs available right now. This table tells you right off what model it's based on, it's pellet velocity, weight, and power option.
Best Picks for Airsoft AK
Sure, you have lots of airsoft AKs to pick from. Some are better than others, though. To get the best, start with our list of recommendations.
Soft Air Kalashnikov AK47 Electric Powered Full Metal Airsoft Rifle
Features
POWERFUL ELECTRIC: 495 FPS with .20 gram ammo via a 8.4v 1600mAh small stick type battery
READY TO PLAY: Shoots 6 millimeter ammo in full and semi-automatic. Features front rail system for tactical accessories, adjustable front and rear sights, tactical side-folding stock and vertical grip
Replica: Made with heavy duty polymer for a realistic feel. Weighs 1.3 pounds
EASY TO LOAD: Magazine holds 400 rounds. Works with Matrix, G&P, Tokyo Marui and other compatible AK Series Airsoft AEG Magazines
ADJUSTABLE HOP-UP: Creates a back-spin effect on ammo to provide longer shooting distance
Last update on 2023-12-01 /  Affiliate Links (#ad)  / Images from Amazon Product Advertising API
This is actually made by Concern Kalashnikov, which is a major Russian manufacturing company. Whether you want an AK47 replica for its authentic looks or for actual battles, this particular version will do just fine.
For those who like authentic looks, you'll appreciate that this is the 60th Anniversary Tactical edition. It's part of the exclusive Guns of History collection, and you get all the official Kalashnikov trademarks on this replica. The build is also all-metal, giving you a realistic feel.
If you want to use this for actual airsoft battles, you won't be disappointed as well. Its magazine gives you 400 rounds, though you can also use the AK mags made by other brands like Tokyo Marui, G&P, and Matrix.
The strong electrical power you get from the AEG's battery (8.4v 1600mAh small stick type) can fire the 0.2g, 6mm ammo with a velocity of 390 to 430 feet per second.
With this, you can pepper an area with a rate of 600 rounds per minute. Or you can use this for target practice, as it's accurate enough to hit a quarter from 40 feet.
What I Like
It looks really authentic.
It feels authentic as well due to the all-metal build.
It's pretty accurate at long distances.
It gives you a lot of firepower.
It looks cool.
Pros
Extremely powerful
Easy-to adjust sights
Very accurate
High rate of fire
Hop-up system is easy to adjust and lock in
Durable
Affordable
Cons
Not easy to get a scope on the rails
The mag doesn't drop freely
Takes time and effort to put in a replacement battery
Cyma AEG Full Auto Airsoft Full Size Full Metal AK-47
Last update on 2023-11-30 /  Affiliate Links (#ad)  / Images from Amazon Product Advertising API
Sure, Tokyo Marui airsoft rifles are nice. What isn't all that nice are the Tokyo Marui prices though. But Cyma comes through with a clone of the Tokyo Marui Ak-47 that comes close to the features and looks without getting anywhere near those high prices.
Put this next to the AK47 from Tokyo Marui, and they'll look like a matched set. If you're getting this for display purposes, then you're all set.
If you want to use this for battles, you can too. It's made of tough plastic, which means it's both durable and lightweight. Due to the folding stock, you can even change this from its full rifle size to a small gun better-suited for close quarters combat.
The magazine has 600 rounds, so you'll have plenty of ammo before you need to replace the mag. The accuracy isn't bad either, as the rounds fly at a rate of 350 fps. If you're looking for a cheap airsoft AK 47 that won't embarrass you in the field, then this is it. This is the best starter AK airsoft for newbies.
It does have some metal components, to make it more durable than you'd think. You have metal for the front and rear sling mounts for durability. The full metal gearbox inside is also perfectly compatible with the Tokyo Marui upgrades. You can adjust the rear iron sight to compensate for elevation.
What I Like
It looks a lot more expensive
It's easier to handle because it's lightweight
It offers decent range at 40 yards
The gearbox is TM-compatible
There are 600 rounds per magazine
Pros
Looks just like the TM AK47
Lightweight
Accurate
Plenty of rounds per magazine
Very durable
Cons
May need some lubrication
Not easy to put in new battery
You may want to get a more powerful battery
BBTac BT-AK Airsoft Electric Gun
Features
AK 47 Style Airsoft Electric Gun comes with a sling, sight, clean rod, protection glass, rechargeable battery, and charger
Holds a 50RD 6-millimeter clip, a 1500 RD barrel mag (sold separately), and has a bb opening
Shoots approximately 200 feet per second
Equipped with semi or fully automatic modes, with an adjustable hop up system
This product is restricted from shipment into the state of New York
Last update on 2023-11-30 /  Affiliate Links (#ad)  / Images from Amazon Product Advertising API
If you don't have much of a budget, and you're thinking about an AK47 airsoft replica for display or for some backyard plinking, try this. It's very affordable, but you do get a lot for your money.
This is an AEG rifle that fires at about 200 fps. That's actually not quite good enough for range, but then you do have the adjustable hop up system to compensate. You can then put the right backspin on your pellets to increase the range and accuracy.
For battles among newbies, it's not all that bad as it only weighs 5 pounds. With its 34.5-inch length, it's easy enough to handle. It holds a 50-round mag, but you can also put in a 1,500-round barrel mag if you buy that separately. Put it in semi or fully automatic mode, and you're ready for your opponents.
With its price and features, it's obviously geared towards newbies and children. More advanced players certainly won't be impressed by this, unless it's meant only for display. But for beginners and kids, it's certainly a lot of fun for just a few dollars.
What I Like
It looks real
It can handle a 1,500-round barrel mag
It doesn't weigh much
It's extremely affordable
Pros
Authentic look, great as movie prop
Nice size and weight
Fun for newbies and kids
Cons
Weak pellet velocity
Takes about 5 hours to recharge the battery
Not really for advanced players
UKARMS Lancer Tactical LT-728 AEG AK-47
Last update on 2023-12-01 /  Affiliate Links (#ad)  / Images from Amazon Product Advertising API
Let's mention upfront what's bad here—battery not included. That's an astonishing drawback for an AEG, as may very well realize.
But it does let you get the battery separately, so you don't waste money paying for a battery that you won't use. You can get a powerful LiPo battery and really get things going.
This comes with the full metal (version 3) gearbox, and it's able to shoot 0.20g BBs at a velocity of 370 to 380 fps. With practice, you should be able to hit your opponents from 200 feet away. For airsoft battles, that's not bad at all.
Just keep in mind that the hop up system (which boosts the range and accuracy) needs a bit of breaking in. Once that's done, it should be fairly accurate.
This also comes with a metal magazine with 550 rounds. That's a lot of ammo, which means you won't need to change mags all that often.
What I Like
It looks cool
The magazine contains 550 rounds
It can fire pellets at 380 fps
It's nicely durable
Pros
Looks real
Great pellet velocity
Fairly accurate
Hi-capacity mag
Great with a LiPo battery
Cons
Battery not included
Hop up system needs breaking in
Colt Soft Air CQBR-RIS Electric Powered Airsoft Gun
Last update on 2023-12-01 /  Affiliate Links (#ad)  / Images from Amazon Product Advertising API
Here's the main drawback to this nice-looking AEG: even if it looks nice, it doesn't really look like an AK47. That's actually because it's an M4 replica.
So why are we putting in an M4 replica in an AK47 list?
It's here just in case you're looking mainly for something to use for airsoft battles. That means functions come first before looks, so it shouldn't matter if it doesn't look like an AK47.
This comes with plenty of metal parts, especially for all the moving parts. You'll also find metal for the outer barrel, the sling attachments, and the magazine. All these parts need to be in metal.
The other parts don't have to be metal, so they're made of tough polymer. You have this durable plastic for the buffer tube, stock sights, furniture, the rail system, and for both upper and lower body.
This also comes with a nice 9.6v butterfly battery, which shoots 0.20g pellets at a velocity of 350 to 380 feet per second. With the adjustable hop up system, you'll have some nice range and accuracy.
You can then pick either semi or fully automatic mode, and have fun. With 350 rounds per mag, you should have plenty of ammo to spare.
We picked this because it's a great airsoft rifle that performs just as well as a premium airsoft rifle. You just don't have to pay the premium price.
Besides, for an M4 this looks great. With its desert tan and black two-tone color scheme and fully licensed M4 logos, you can play the good guy while the others play the insurgents.
What I Like
It comes with a 9.6v battery
It fires 0.20g rounds at 380 to 385 fps
It fires 0.25g rounds at about 350 to 360 fps
It's very accurate
It's easy to handle
It's very affordable
Pros
Performs like a premium airsoft rifle
Affordable
Can accommodate a red dot scope
Extremely reliable for all-day play
Cons
Not exactly an AK replica
May need some lubrication first
Lancer Tactical LT-16D AK-47 Airsoft Rifle
Last update on 2023-11-30 /  Affiliate Links (#ad)  / Images from Amazon Product Advertising API
The Lancer Tactical brand is the best AK 47 brand for punching above its weight class. They offer higher-end features that you won't normally find in affordable airsoft price ranges.
This AK47 replica is a good example of that. This is mainly made of polymer (which is why it weighs just 5 pounds) but it has a metal outer barrel.
This comes with full and semi-auto mode, as well as a safety mode. When you're ready to fire, you can shoot 0.20g BBs at a velocity of 405 to 415 fps.
That's the power you get from the Ni-MH8.4V1200mAH flat/brick battery. Imagine if you replace it with a better battery.
The high-capacity waffle magazine won't let you down, either. It contains 500 rounds of ammo, which should help for lots of airsoft battles.
While this looks like a good enough replica for an AK47, it's really meant for serious gameplay. Try it out, and you may find this the best airsoft AK47 for CQB.
What I Like
It's great for actual airsoft battles
It's easy to handle
The round velocity is terrific
Pros
405 fps
Weighs 5 pounds
500-round magazine
Cons
You may want to replace the battery
KWA AKG-74M Rifle
Last update on 2023-11-30 /  Affiliate Links (#ad)  / Images from Amazon Product Advertising API
What if you want the best airsoft AK74 for realistic training? If that's the case, then go for this gas-powered full metal blowback model.
This is meant for serious training with the AK74. It's ATF-approved to accurately mimic the AK platform.
Look closely, and you'll find that its functions and operations is very similar to how a real AK74 works. This even comes with a blank-fire mode, so you don't have to chamber a round to train with it.
The size and weight are the same as with the real AK74. With the blowback function, you're even able to simulate the recoil when you fire this.
The receiver is made from full metal alloy, while you have tough polymer for the pistol grip, hand guards, and full folding stock.
The receiver also features am AK side rail mount, so you can put in various accessories meant for the real AK74.
Your training with this can even include field stripping. Its make is really that faithful to the original.
If you want to use this for airsoft battles, you can. It's able to accurately fire BBs at targets up to 100 feet away.
What I Like
It offers almost an exact replica of the original AK74
It gives you a high rate of fire
You get terrific range and accuracy
It's easy to adjust the hop up
The iron sights are realistic
Pros
Can be used for AK74 training
Has blank-fire mode
Fine accuracy, range, and rate of fire
Offers field stripping training
Accepts optics
Cons
Too realistic for airsoft battles (too many handicaps)
Very heavy at 9.5 pounds
What is the best airsoft AK?
The best option is the AK airsoft replica that satisfies your longing for authentic looks, for your need to train, or for combat situations. How you plan to use the airsoft AK will determine the features you need to look for.
Of course, the airsoft AK has to be manufactured by a brand with a reliable reputation for quality manufacturing. This should assure you that the weapon is durable and won't break down quickly.
You also need to balance the quality of the airsoft AK with the cost. The best value airsoft gun fits in your budget, yet it's a lot of fun.
Things to Consider Before Buying airsoft AK
When you read an airsoft AK47 review to find out if the airsoft rifle will suit you, you need to check out its specs and features.
But what are the right features to focus on when you're reading an airsoft AK review?
That will depend on certain things, one of which will be your budget. Like with most consumer items, you get what you pay for. The best airsoft gun under 300 will most likely be better than the best AK 47 airsoft gun under 200. Many AK replicas can cost a whole lot more.
The other main factor to consider will be your purpose. Why you want to get the airsoft AK will then dictate which features will matter more to you.
Just Collecting
Some people just like to collect replicas of famous firearms, so it's pretty common for a collector to want to have an airsoft AK replica. If that's the case with you, then the most important feature you'll want to look for is how well the replica mimics the look of the real AK47. You can then hang it up on your wall or in a display case for you and your friends to admire.
Training
In some cases, people want to use a full metal AK47 airsoft gun for training. This is obviously safer (and probably more legal) with the replica than with the real AK rifle.
To make you ready for the real AK rifle, your AK replica has to be very similar with the original AK. This means not just in looks, but in function as well.
You need to have the right shape, dimensions, and even the right weight. Some AK airsoft rifles can be dismantled in much the same way as a real AK. You may want to go with a gas blowback version to mimic the same recoil force you'll experience with the real rifle.
For Airsoft Battles
This means you want an effective weapon, but in this case, you just want an airsoft replica that looks somewhat like the AK rifle. When it comes to battle effectiveness vs authentic looks, you sacrifice authenticity in lieu of more effective firepower.
For this purpose, you'll want plenty of rounds of each magazine. Forget about authentic 30-round magazines. You can go with 200 rounds or even 600 rounds before you need to change mags.
Then you need a higher fps (feet per second) rating. A higher FPS increases your range and accuracy.
It's a toss-up regarding whether you should go with an all-metal build or not. Some people like an all-metal build as it will be more durable (just like the real AK is so darn tough). But you may want to lessen the weight with some plastic parts, which makes the rifle easier to handle.
That also means you may want to forgo getting the realistic recoil of a blowback rifle.
Advantages of Owning an Airsoft AK
The advantages of owning an airsoft AK also depends on why you bought it in the first place. If you're a collector, then you have the pleasure of having a replica of the most popular assault rifle in the world. It can be argued that no firearms replica collection will be complete without an AK.
With an airsoft AK, you also don't spend as much. The airsoft AK is also more accessible, probably easier to get legally, and much safer besides.
You can also use an airsoft AK replica for training. You can get used to its size, shape, weight, and even functions well before you handle the real deal.
For battles, having an Ak lends a touch of realism to any airsoft encounter. You can pretend to be a Russian soldier, or play the part of an insurgent. These people tend to use actual AKs in real life.
Tips for Using and Maintaining airsoft AK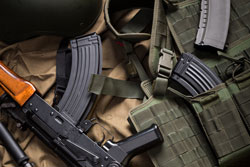 The first thing you need to remember is to not brandish your AK rifle around like it's a toy in public. You don't want to alarm other people in your neighborhood, especially if they might call the cops. You may even find people who are licensed to carry firearms shooting at you, if they mistake you for a crazed gunman.
Here are some other tips:
Keep the rifle in a nice soft bag or container, to protect it from dust.
Clean the airsoft rifle barrel regularly.
Don't bang the airsoft rifle around, just because the real AK-47 is the toughest rifle in the world. Your airsoft rifle may not be as durable. Even if it is, why risk it?
If you have an AEG or spring airsoft gun, empty the magazine after every time you use it.
For gas airsoft rifles, leave the mag pressurized.
Lubricate the gearbox or the hop-up if the rifle keeps jamming or misfiring. Use silicone oil.
Top Airsoft AK brands
We've already listed some of the brands you ought to look at first. Our list contains some of the most famous airsoft brands in the world.
However, the Concern Kalashnikov is one brand that should be considered. It's the officially licensed gun replica manufacturing brand. It's a Russian company making faithful copies of a truly iconic Russian assault rifle. If you want a replica that looks virtually like the real Russian AK, this brand can offer it.
Other brands such as Cyma, BBTac, UKArms, and Lancer Tactical are also famous for their affordable airsoft weapons. These weapons come with low prices, but the quality isn't cheap at all. You get a lot of value for your money, as their weapons tend to better than others in their price range.
Who Makes the Best Airsoft AK?
That's your call to make. It depends on what you can afford, what you plan to do with the airsoft rifle, and the features you're looking for.
If you don't mind getting a model of the AK74 instead of the more famous AK47, then you should take a look at their gas-powered full metal blowback model. It's the ultimate AK weapons training platform.
It doesn't just look and feel like the genuine article. You're even able to field-strip it much like the real thing. And it also helps with actual airsoft battles, as it's effective and accurate up to 100 feet.
Airsoft AK vs M4 vs M16
This comparison doesn't really mean much in the world of airsoft. That's because AK variants can be very different from one another. When you consider that there are also numerous airsoft versions for the M4 and the M16, a side by side (by side) comparison won't matter much.
Of course, in the real world you can find definitive differences between these rifles. So, let's say you're comparing utterly faithful replicas. How would the AK fare against these other rifles?
Against the M4, the AK47 looks very good. The AK is more durable, especially as the airsoft variants are made with stamped steel. Airsoft M4s don't really have as much steel in its build by comparison.
The AK is also generally more accurate than the M4. That's due to the barrel length.
Compared to the M-16, it's a different matter. The M-16 gives you minimal recoil with the bullets flying flat and faster for greater accuracy. It's not as heavy as well.
However, the AK is much more durable. You need to pamper the M-16 more, and even then, it has twice the malfunction rate of the AK. Under stress, it's more difficult to handle the M-16 because it's smaller.
Final Verdict
So, which should you get? Of course, any of the AKs on our list should do well, depending on your budget.
If, however, you want something that looks faithful to the original while giving you lots of firepower in an airsoft battlefield, go with the Soft Air Kalashnikov AK47 Electric Powered Full Metal Airsoft.
This looks very much like the real thing. But you also get 600 rounds per magazine while shooting at more than 400 fps.
Now if you're looking to train with a replica, just get the KWA AKG-74M Rifle. It's the closest to the real AK74 without getting the real firearm.
Just keep in mind that the best airsoft rifle should suit your needs, and you should be able to pick between the two.
Frequently Asked Questions
Is "AK74" a misprint?

No, there's a real AK-74 rifle. The main difference is that the AK47 fires the 7.62×39 round, which is the original version. The states that previously made up the former USSR now uses the 5.45×39 round, which you can fire with the AK-74. The magazines for each rifle aren't interchangeable.

What this means is that if you find a product advertised as am AK74 replica, that means it'll look different from an airsoft AK-47 replica.
How many rounds do I have with the AK47?

With the authentic AK47s, your standard magazines give you 30 rounds. However, some models made for the California market can only use single stack magazines with 10 rounds.

You're better off with an airsoft replica, unless you're going with a model that's advertising full faithfulness to the exact AK47 specs. With airsoft AK47s, you go get at least 200 rounds or more per magazine. Some even go as high as 600 rounds per magazine.
Can I just neglect to clean the AK47 airsoft replica, like with the real thing?

No. Clean it as often as you would another airsoft rifle.

It's true that the original and authentic AK47 doesn't need a lot of pampering, as it can withstand the harshest conditions. But even authentic AK47s will last longer if it's regularly cleaned. The same goes for its airsoft counterparts.