It's not as easy these days as it was in simpler times to find the best air pistol for target shooting. You are confronted with many products, brands, competitive features and specs that to find one will take up so much time.
Fortunately, you can simplify everything by going back to the essential features and factors. Some of the important attributes to consider would have something to do with accuracy, proficiency, flight velocity and compatibility with common pellet types.
That said, we've made things even simpler for you by giving you this guide on the best air pistols for target shooting. Scan this through and see if you agree with our best choice.
Top 4 Air Pistol For Target Shooting: Comparison Chart
Based on factors like grip, stance and shooting accuracy, we have come up with this list as our top four:
Best Picks Of Air Pistol For Target Shooting
Whether you're looking for the suitable airgun target shooting that you can handle or you're just searching for a pistol for a hobby, these may be the choices you need to find the right one:
What is the best air pistol for target shooting?
The best single-shot or CO2 air pistol for target shooting these days would be a product that's made by a reliable manufacturer operating for decades already.
Other than brand reputation, you may also need to consider the FPS reach, added stability, grip, and numbers of accessories that can fit as indicators in your selection process.
If price is not an issue and accuracy is a priority, go for a single-shot type, such as the Crosman 2240. It's made safer because you need to cock the gun every after shooting, so no unwanted rapid firing can be done.
If you want more powerful than a spring-action lever type of pistol, find a compressed gas powered one.
Things To Consider Before Buying Air Pistol For Target Shooting
When deciding to purchase a beginner or a pro air pistol for improving your shooting skills, don't forget to consider these key areas first:
Intended Use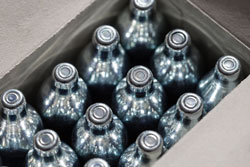 What this means is that your air pistol's efficiency will depend on where you're going to use it. Are you buying an air pistol for training for an actual gun, or is it just for fun?
If you want to train for target-shooting, then it may make sense to buy a single-shot, since you get more time allowance to hone your aim from one shot to the next.
If you're aiming for just simple plinking, then go for the most affordable one that you can get that's powered by a spring action lever.
If you want both to train for target shooting and also get a powerful pistol that can knock down vermin, find a CO2 or compressed gas pistol.
Overall Safety
Even if you're no longer a teenager using your beginner pistol, the safety mechanism in your pistol should be still of prime importance.
If you're buying a cheap or budget friendly air pistol, be sure to regularly clean your air pistol right after use. Ensuring safe operations means your air pistol can function for as long as you want it to.
Accessories
When looking for the air pistols you'll use for the next few years, put in mind the kind of accessories you'd like to  add in. Some air pistols come in with extra mounting rails for tactical flashlights or even a laser pointer.
Tips for Using and Maintaining Air Pistol For Target Shooting
The first tip you should know about extending the lifespan of your air pistol is storage. Don't put your air guns in a humid area or where it's too damp.
Bluing Issues
There's a standard finish in air pistols that's called a "bluing" that requires constant protection. What you want with this is to prevent it against rust and away from contact with moisture.
It's not just running water you need to protect it away from,  but also from an atmosphere that can in later season be too dump for your pistol.
Scope Lenses
If you happen to decide to use scope lenses in your air pistols, then make sure you apply a special lens cleaning agent or coating with it. That way, you don't scatter water around your air pistol and make it gather rust.
Corrosion Protection
It helps also to add some sort of corrosion coating or protector when you store your air pistol away.
Who Makes The Air Pistol For Target Shooting?
It may be safe to claim that Crosman is the best maker of target shooting air pistols, but this still depends on what you're after.
If you're looking for a powerful CO2 air pistol for target shooting that shoots both .177 pellets and BBs with as high as 435 max FPS, then you can rely that Crosman will have something that suits your demands.
Final Verdicts
After considering the the features and specs from the top four choices above, I pick the Crosman 2240 as my best air pistol for target shooting. I am drawn to its high bolt action power and 460 FPS reach even if it's just a single-shot, CO2 compressed gas type of air pistol.
Frequently Asked Questions
What air pistol should I buy?
Go for the air pistol that will suit your unique needs. If it's just target shooting, then a single-shot will do you good already. If it's rapid firing, go for something more powerful, like a CO2 compressed gas air pistol.
What air pistol gives the highest level of FPS?
The Benjamin Marauder has 700 FPS, so it could be the one you need.
Should I buy a cheap air pistol?
If you're a beginner and you're just still training, then yes. Otherwise, go for something solid and long-lasting but a little more pricey.