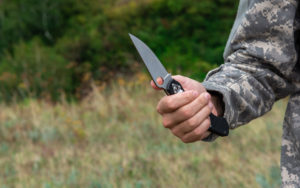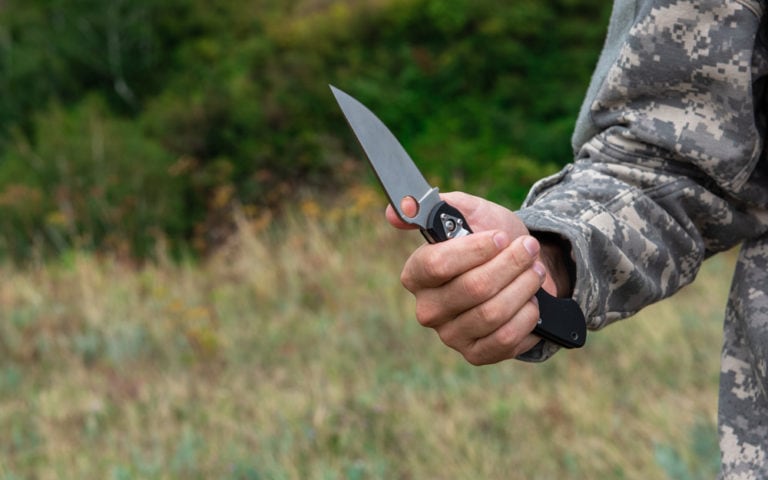 Steels used for knife blades come in different tiers, and at the top of the heap you have the "ultra-premium" steels. These are generally expensive stuff, but then you do have to pay more for want many experts call super steels. And on of these steels is the ZDP-189 steel, which is a steel developed and made by the Japanese brand Hitachi.
But what exactly does it mean when you find a ZDP-189 steel knife? Find out what benefits you'll enjoy, the drawbacks you can expect, and how it really performs in this ZDP-189 steel review. Check out of having the ZDP-189 steel for knife blades is a good idea, and look over our list of the best ZDP-189 steel knives you can get.
What is ZDP-189 Steel?
The ZDP-189 steel is one of the hardest steels you can find in knives, and it comes from the Japanese brand Hitachi. With its huge levels of both carbon and chromium, it can reach almost unbelievable hardness levels.
It's quite famous now, since you can find it in a lot of the elite versions of the classic Spyderco knives. This is the kind of hardness that offers excellent convenience for EDC knives, since you can cut anything. You'll also find it in premium Japanese kitchen knives.
Common Uses of ZDP-189 steel
There are some uses for which unbelievable hardness is preferred.
Survival knives
Hunting knives
Premium EDC knives
Premium kitchen knives
Surgical cutting blades
ZDP-189 Steel Chemical Composition
A closer look at the ZDP-189 steel "recipe" should give you a clearer picture of what to expect with this particular steel.
Carbon, 3%
Chromium, 20%
Manganese, 0.5%
Molybdenum, 1.4%
Tungsten, 0.6%
Vanadium, 0.1%
Silicon, 0.4%
Carbon, 3%: No, that's not a typo. It really is 3% and not 0.3%, and that's certainly a lot. Some "high carbon" steels have about 0.7% carbon, and many of the upper-range steels may even have 1% carbon or more. With 3% carbon, that's a lot of carbon! It's like saying a billion dollars is a lot of money.
Carbon is the most important element that influences the hardness of the steel. With 3% carbon (at least 5 times the carbon of many other carbon steels), you certainly shouldn't be surprised at the hardness of the ZDP-189 steel.
Chromium, 20%: This is the element that leads to corrosion resistance. Stainless steels, in fact, are corrosion-resistant because they have a minimum of 12% chromium. With 20% chromium here, however, the main point isn't corrosion resistance at all.
Instead, it's still about the hardness of the ZDP-189 steel. The chromium pairs up with the carbon in ZDP-189 steel to form carbides. The carbide keeps the steel from dulling and to instead cut faster. Since a lot of the chromium is used up for this purpose, you don't actually have a lot of chromium left free for corrosion resistance. There's still a substantial amount to keep rust at bay, though.
Manganese, 0.5%: Next to carbon, this is perhaps the most important element (especially for determining the steel hardness). It boosts tensile strength and hardenability, but too much of it can lead to reduced ductility.
Molybdenum, 1.4%: This is another element that works as a carbide former. It boosts creep strength and hardenability, and also helps with corrosion resistance.
Tungsten, 0.6%: The tungsten helps the steel to keep its hardness at high temperatures.
Vanadium, 0.1%: You don't really want a lot of vanadium, as too much of it can lead to brittleness. But even a tiny amount helps with boosting the steel's resistance to fractures and shock loading.
Silicon, 0.4%: This tiny amount also helps with the hardness and strength.
ZDP-189 Steel Hardness
The ZDP-189 steel is one of the hardest steels you can find in knives these days. In fact, it's basically the hardest steel of them all. Maybe some of the secret weapon steels or exotic steels may be harder, but this steel can be found easily enough. After all, you can find it in Japanese kitchen knives and even EDC knives from Spyderco.
The hardness level is usually set at around 64 HRC. But some manufacturers are able to even boost this hardness up to 66 HRC. That's the kind of hardness you rarely ever see un mass-produced knives.
Properties of ZDP-189 Steel
So, what attributes can you expect of ZDP-189 steel? When you get a ZDP-189 steel knife, here are some features you can expect:
Terrific Edge Retention
That's the main advantage you get when you get a knife with steel this hard. It just won't deform as easily as "softer" steels, even when you use it to cut tougher materials. It takes a good long while before you'll need to sharpen that edge back.
Unbelievable Wear Resistance
The blade simply will last a good long while. Knives will eventually wear out, after several cycles of dulling and resharpening. But since it's super-hard, this just won't wear out even after years of use. It's one of those knives you can pass on to the next generation.
Decent Corrosion Resistance
With that much chromium, it's somewhat disappointing that plenty of cheaper stainless-steel knives are better at corrosion resistance than the ZDP-189 steel. But ZDP-189 steel isn't really all that bad at resisting rusting and staining, which is why it's also used for kitchen knives. Just don't let it stay in the sink overnight.
Acceptable Toughness
It's a rule of thumb that the harder the steel, the less tough it gets. In this case, "toughness" is defined as its tendency to chip off.
Now you'd think that with this super-hardness in the ZDP-189 steel, you'd have steel that's as brittle as a cracker. But that's not actually the case here. The toughness level is still acceptable.
Difficult to Sharpen
This is, admittedly, the thorniest issue with the hardness of the ZDP-189 steel. It's just not that easy to sharpen. You'll need a sophisticated sharpening system at home, or maybe have an expert do the sharpening for you. Simply using a steel rod just won't cut it.
ZDP-189 Equivalent Steels or Alternative
How does the ZDP-189 steel compare with the other steels you may find in other knives? Here are some direct comparisons that help to highlight the ZDP-189 steel features:
ZDP-189 vs VG10 Steel
VG-10 steel is a high-end steel that sits 2 tiers lower than the ZDP-189 steel. Unlike the ZDP-189 steel, it's a "jack of all trades" steel. It offers decent edge retention, though of course it won't compare to ZDP-189 steel at keeping a sharp edge.
But then it's much easier to sharpen. Also, it's better at resisting rust than ZDP-189 steel.
ZDP-189 vs S30v Steel
The s30v steel is in the "premium' category, and in fact it's a favorite among many knife experts. It balances edge retention, hardness, toughness, and corrosion resistance nicely.
It's not as good as retaining its sharp edge as the ZDP-189 steel. It's not really easy to sharpen, but it's still a lot easier to sharpen than the ZDP-189 steel.
ZDP-189 vs SG2 Steel
This is a close match, since SG2 is also a high carbon steel that can reach hardness levels of up to 64 HRC. While its edge retention may still fall short of the ZDP-189 steel, at least it's somewhat easier to sharpen.
ZDP-189 vs K390 Steel
The K390 steel also has a lot of carbon, with about 2.47%. But it only has 4% chromium. It's not really corrosion resistant, though it's also wear-resistant and comparable edge retention.
ZDP-189 vs S110v Steel
Now the S110V is also another "ultra-premium" steel. Its edge retention is actually better than the ZDP-189 steel, if you can believe it. In addition, its corrosion resistance is even greater.
But then you'd have more issues sharpening it than the ZDP-189 steel. It's not really easy to work with, which is why knives made with S110V steel can get very expensive.
ZDP-189 vs M390 Steel
This is another fair matchup, as the M390 is also part of the "ultra-premium" category. Its edge retention can match that of the ZDP-189 steel. It forms carbides using molybdenum and vanadium, so it has more free chromium for even better corrosion resistance.
It's also quite difficult to sharpen, though it's marginally easier to sharpen this than the ZDP-189 steel.
Is ZDP-189 Steel Good for Knives?
Spyderco certainly thinks so. In fact, they use it for the elite versions of their more popular knife designs. That must mean it's not just good. It must be better than most.
That level of hardness is terrific, as it come with the edge retention you'd like if you don't want to be bothered by too frequent resharpening. The hard steel is less susceptible to deformation, and that leads to greater wear resistance as well. It's even corrosion-resistant, though you should still wipe it dry after each use.
Its main issue is the difficulty of sharpening the edge. You'd have to get the right equipment for that, and you better know what you're doing. If that's the case with you, then the ZDP-189 steel is certainly great for knives.
Pros & Cons of ZDP-189 steel
Pros
Will last a lifetime
Fantastic edge retention
Decent toughness
Acceptable corrosion resistance
Cons
Found in somewhat pricier knives
A headache to sharpen
Best ZDP-189 Steel Knives
While you can find ZDP-189 steel in hunting knives and kitchen knives, we think its best used with premium EDC knives.
#1: Spyderco Endura 4 Lightweight Signature Folder Knife
Quick Specification
Blade Length: 3.80″ (97mm)
Blade Thickness: .118″ (3mm)
Handle: FRN
Lock Type: Back Lock
Origin: Japan
Clip Position: Ambi
Grind: Full-Flat
The Endura first came out in the 1980s, and it soon became iconic as one of the first lightweight clip-carry folding knives. It's still one of the most popular designs from Spyderco, and its now in its 4th generation. This time, they've used the ZDP-189 steel for their elite version.
When closed, it measures close to 5 inches (about 4.98 inches, to be exact). Open the 3.8-inch blade with its 3.46-inch sharpened edge, and the overall length is 8.78 inches. It's very lightweight at 3.3 ounces.
This comes with a back lock and a full-flat grind, along with an FRN handle. This will give you a cutting performance that won't disappoint.
Pros
Comes with ambidextrous metal clip
Opens easily with round hole
Handle offers slip-free grip
Extremely durable with dual skeletonized stainless-steel liners
Works for camping and hunting
Lightweight and easy to carry
Cons
The handle looks plain
You'll need a good sharpening set
#2: Spyderco Delica 4 Lightweight Signature Folding Knife
Quick Specification
Blade Length: 2.875″ (73mm)
Edge Length: 2.563″ (65mm)
Blade Thickness: .093″ (2.5mm)
Handle: FRN
Origin: Japan
Lock Type: Back Lock
The Delica is also among the Spyderco bestsellers along with the Endura, ever since 1990. This is their elite version as well, as it uses the ZDP-189 steel instead of the usual VG10. The blade has a spearpoint shape and a plain edge. It's a bit smaller, with a closed length of 4¼ inches and an overall length of 7⅛ inches.
The opening hole here is a bit larger at 13mm, so it's easy to open. You still get the FRN handle with the superb grip and ergonomics. Also, it has the dual skeletonized stainless-steel liners inside the handle for greater knife strength. It doesn't weigh much at 2.4 ounces.
Pros
Very quick deployment
Easier to carry in your pocket
Very lightweight
Works for camping or for EDC
Sharp out of the box
Cons
Not really cheap
You'll need to strop it often (to avoid the resharpening chore)
#3: Spyderco Manbug Lightweight Folding Knife
Quick Specification
Blade Length: 1.97″ (50mm)
Edge Length: 1.75″ (44mm)
Blade Thickness: 0.098″ (2.5mm)
Handle: FRN
Lock Type: Back Lock
Origin: Japan
This is tiny with an overall length of less than 5 inches, and the blade doesn't even reach 2 inches. But that's a good size for some people, and it also complies with lots of legal restrictions.
Believe it or not, this is actually a bigger version of a famous Spyderco knife called the Ladybug. That Ladybug was the favorite knife of Sal Glesser, who founded Spyderco. This Manbug was made so that it fits bigger hands better.
This cuts much better than its size suggests, and with the ZDP-189 steel you certainly don't have to worry about the blade not being hard enough.
Pros
Can fit on a keychain
Still cuts terrifically
Extremely lightweight
Fits large hands nicely
Easy to open with one hand
Cons
The size may not suit everyone
The handle feels too plasticky
 Conclusion
The main issue with the ZDP-189 steel is that it's really difficult to sharpen. You may want to get an actual expert to do this for you, especially if you don't have the right sharpening set.
But then again, with normal use it may take years before you need to sharpen this blade. The ZDP-189 steel is that hard. It will last you for a lifetime, and the next generation will get to use it too. If you need a knife that you can trust to cut through just about anything, then