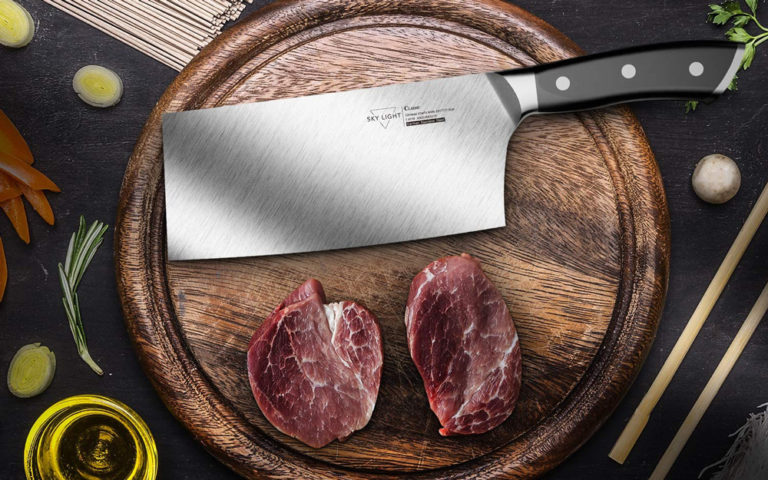 Are you looking for good knives for camping or hunting, or perhaps for cutting packages open and other everyday tasks? Or perhaps you need lots of kitchen knives. Regardless of what you need your knives for, it's always a good idea to check out how it will do by looking up the blade steel. So, what does it mean if you find a knife made with X50CrMoV15 steel?
That's what you'll find out in this comprehensive X50CrMoV15 steel review. You'll look over its uses, its chemical elements, and the best knives in the market that really show off the benefits of X50CrMoV15 steel.
What is X50CrMoV15 steel?
Let's start with the name of X50CrMoV15 steel. The steel here wasn't named using a bunch of randomly chosen letters and numbers. All those letters and numbers mean something:
X – This means that this is a type of stainless steel.
50 – This indicates the amount of carbon the steel contains. In this case, it means it has 50% carbon.
Cr – This contains chromium.
Mo – This contains molybdenum.
V – This contains vanadium.
15 – This number indicates the percentage of chrome, which means it contains 15% chromium.
You also have to keep in mind that Germans came up with this steel, and as a group, the German steel makers are among the best. This particular steel is good in a wide range of factors, making it a solid choice especially for kitchen knives.
Common Uses of X50CrMoV15 steel
The X50CrMoV15 steel is particularly popular for kitchen knives, such as:
Cleavers
Chopping knives
Kitchen utility knives
Paring knives
All-purpose kitchen shears
X50CrMoV15 steel Chemical Composition
Carbon, 0.5% — The carbon largely determines the hardness of the steel, and it's on the "just right" range. That means a lot of other premium steels have more carbon, so the X50CrMoV15 steel isn't as good at retaining its edge. But then it's more flexible and also easier to sharpen due to the average carbon content.
Chromium, 15%
Manganese, 0.4%
Molybdenum, 0.5%
Silicium, 0.5%
Vanadium, 0.15%
Chromium, 15%: Consider that to be stainless steel, you need at least 12% chromium. The amount of chromium here means you really have a corrosion-resistant blade you can rely on.
Manganese, 0.4%: A lot of steels have about this amount of manganese to help with the hardness.
Molybdenum, 0.5%: This helps with corrosion resistance too, while it also boosts creep strength, strength at higher temperatures, and hardenability.
Silicium, 0.5%: Also called silicon, it's used to strengthen the iron in the steel. It also helps with corrosion resistance.
Vanadium, 0.15%: You don't want too much of this, or else the steel becomes too brittle. But just enough vanadium boosts its resistance to fracturing, fatigue stress, and wear.
X50CrMoV15 steel hardness
You do have enough carbon here that you can expect a hardness rating of about 56 HRC or so. That's hard enough to deal with food items you need to cut in the kitchen. But it's not too hard that you will have to be very careful about chipping, though the edge retention isn't all that terrific.
Properties of X50CrMoV15 steel
Here are the features you can expect from X50CrMoV15 steel:
Corrosion Resistance
This is its most important feature, which is why it's so great for use in the kitchen. It simply won't rust, especially if you're conscientious enough to wipe it down after you use it and clean it.
Terrific Sharpness
This is very common with kitchen knives made with X50CrMoV15 steel. Generally, the knife makers will give it a wicked edge you simply can't test its sharpness with your fingers. You will end up just hurting yourself.
Nice Toughness
You can expect the X50CrMoV15 steel to resist chipping, especially when you use it properly. It's this toughness you want, since much harder steels aren't this tough.
Good Enough Edge Retention
Sure, if you use this for camping then its edge retention won't be great. But for kitchen duty, when you're cutting meat, veggies, and fruits, the edge will retain its sharpness for a good long while. You may need maybe 2 or 3 months before you see the need to sharpen it.
Easy to Sharpen
When it's time to sharpen it, it's not a big deal. Even a standard honing steel will do. It won't take too long either. That's also one of the benefits of using the moderately hard X50CrMoV15 steel. It's not too hard that sharpening the blade is complicated.
Great Wear Resistance
The hardness is also good enough that the blade can last for years, even if you use it regularly.
X50CrMoV15 Equivalent Steels or Alternative
You may get a more accurate view on how X50CrMoV15 steel really performs when you directly compare it to other steel types with somewhat similar features.
Who knows? Maybe you'll find a better alternative with these other steels. Or you can confirm that X50CrMoV15 steel is exactly what you need.
X50CRMOV15 VS 440C Steel
There was a time when 440C steel was regarded as a high-end steel for US knives. But now, a lot of newer steels have rather eclipsed its performance. Still, 440c is similar to X50CrMoV15 steel in that they're both good all-around steels.
While the 440c is somewhat better at retaining its sharp edge, it's also a bit harder to sharpen (though that's still quite easy to do). It's not as tough as X50CrMoV15 steel either, so it's somewhat more likely to chip off.
But 440c is also terrific at corrosion resistance, and it's even a bit better than X50CrMoV15 steel when it comes to this factor.
X50CRMOV15 vs X30cr13 Steel
The X30Cr13 is actually a bit softer than X50CrMoV15 steel, as it has less carbon, molybdenum, and vanadium. So, it's not even as good at retaining its edge. Of course, it's easier to sharpen and better at resisting chipping.
Still, the X50CrMoV15 steel is already more than easy to sharpen and has great toughness, so being better at these factors may not be all that crucial. Besides, the X50CrMoV15 steel has more chromium so it's more rust-resistant.
X50CRMOV15 vs VG10 Steel
The VG10 also has lots of chromium for good corrosion resistance, and vanadium for increased toughness. It's hard enough that it's a lot better at retaining its edge. Still, VG10 is better suited for EDC and camping, while X50CrMoV15 steel is better for kitchen knives.
X50CRMOV15 vs Cromova 18 Steel
Yes, this Cromova 18also has a "just right" level of hardness, so it balances edge retention and ease of sharpening nicely. It even has 18% chromium, so it's probably more corrosion-resistant. As the name indicates, it also contains molybdenum and vanadium.
But this Cromova 18 isn't a common steel, as it's only found in Global knives. Meanwhile, the X50CrMoV15 steel is more common, and it's proven to be reliable. It's pretty affordable as well.
X50CRMOV15 vs 8CR13MOV Steel
This 8cr13mov is a rather affordable steel from China, and you have brands like Spyderco that use it. It's not really all that great with edge resistance, like the X50CrMoV15 steel. But unlike the X50CrMoV15 steel, it's not really corrosion-resistant. That's why it's better for EDC than kitchen duty.
X50CRMOV15 vs AUS10 Steel
The AUS10 steel comes from Japan, and it's relatively unknown. It does offer good edge retention due to the generous carbon content (over 1% usually). It also offers good corrosion resistance.
However, the X50CrMoV15 steel is a lot easier to sharpen. You'll need coarser sharpening stones with the AUS10.
Is X50CrMoV15 steel good for Knives?
That depends on what knives we're talking about here. With its ho-hum carbon content, you can't rely on this if you're going camping or hunting. This isn't the steel you want for a tactical defensive knife.
But when we talk about kitchen knives, we're on to something. For that purpose, it's very good indeed. That's why so many German households have this X50CrMoV15 steel in their kitchen knives. It's reliable and it works, and it won't rust.
Pros & Cons of X50CrMoV15 steel
Pros
Great corrosion resistance
Acceptable edge retention
Quite easy to sharpen
Terrific in the kitchen
Nice wear resistance
Tougher than other steels in its price range
Cons
Not really good for outdoor work
May not cut through harder stuff like rope
Best X50CrMoV15 steel Knives
#1: TUO 8-pcs Kitchen Knife Set (Fiery Phoenix Series)
Last update on 2023-09-27 /  Affiliate Links (#ad)  / Images from Amazon Product Advertising API
This is a great option, since you get all the knives you'll need in the kitchen and they all have the X50CrMoV15 steel. What's more, this set has won a bunch of awards, and the Fiery Phoenix Series set is considered one of the best in the world.
Your purchase includes:
7-inch cleaver
7-inch Granton Santoku knife
6-inch chopping knife
5-inch kitchen utility knife
4-inch paring knife
All-purpose sheers
8-inch honing steel
A wooden block
The full-tang handles are made with specially-made high density Pakka wood composite. It won't crack, and it won't shrink or expand either. The balance is great and it's easy to hold and use with confidence.
Pros
Nice complete set
They come really sharp
The blades hold their sharp edge
Very easy to use, especially for women
Cons
Maybe a bit pricier than other sets
#2: SKY LIGHT Cleaver Knife
No products found.
If you're into buying your kitchen knives separately, you may want to start with a good cleaver knife. Here the hardness of the X50CrMoV15 steel is a bit higher at 58 HRC, so you're able to cleave through meats easily. This is also extremely sharp, with an angle of 17 degrees on each side. This is a very professional knife, and it is sharp right out of the box.
The full-tang design offers terrific weight balance, while you get s secure grip on the triple-rivet handle. It's very ergonomic, so your hold is quite comfy and you're able to maneuver it with no trouble. It feels very secure, and even when wet the handle doesn't turn slippery.
The thickness of the spine is also around 2.5mm, so it works for chopping too.
Pros
Steel is harder than usual
Ergonomic design offers comfy hold with maneuverability
Great for cutting meat and veggies
Easy to resharpen, about every 2 to 3 months
Safe for dishwasher (though hand-washing is better)
Cons
Not for bones, joints, or tough frozen meats
#3: Aroma House Chef Knife Professional 8-Inch Kitchen Knife
Last update on 2023-09-27 /  Affiliate Links (#ad)  / Images from Amazon Product Advertising API
If you want a kitchen knife you can use in wide range of kitchen tasks, try this one. You can use it for tasks like chopping, slicing, dicing, and mincing. You can use it for meats, fruits, veggies, and cheese. The blade angle is 15 degrees on both sides.
The blade measures about 8.3 inches long, while the handle is about 5.1 inches. Your purchase also includes the knife sharpener. With its double-edged blade, this can be used by both right-handed and left-handed cooks.
The military-grade high polymer handle is safe to use, and it won't warp at all. It feels nice to the touch, and quite secure as well.
Pros
Light and dexterous
Cuts through meat easily
Very easy to deal with fruits and veggies
Extremely sharp
Good weight balance with terrific handle
Cons
Fussy to clean (not for the dishwasher)
Conclusion
So, what do you think about X50CrMoV15 steel so far? Don't be shy to send in your comments, or even drop some questions that (somehow) we haven't answered yet.
It's true that the X50CrMoV15 steel isn't really super. But it's not designed to be super. It's meant to be reliable, and that's what it is. If you have X50CrMoV15 steel in your kitchen knives, you expect it to work as it was meant to. It does the job, and does so again and again—what more can you possibly want?