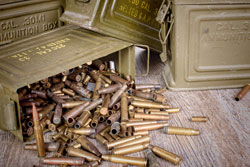 There are multiple recycling projects and DIY crafts you can do with empty bullet casings.
We're going to talk about all of them in this guide so that you're going to extend the value of your empty casings in ways you never thought possible.
Many of the gun ranges in your area probably don't have a proper disposal mechanism for their brass bullet casings, and so you might be able to ask for them and save them for your projects.
This article will help you not only save money but also explore the exciting, crafty ways you can extend the life of your empty bullet casings.
Let's start!
The General Types of Bullets You Can Use for DIY Projects
The three types of bullet casings you can use today include:
Brass bullet casings
Bullet casings made of steel
Aluminum-made bullet casings
If you're looking for great value for scrap, then the brass bullet casings are pretty much worth more in scrap than the aluminum and steel scrap casings.
I'm not saying that the others are worthless, but you'd get much more out of your time if you're able to prioritize the brass types.
You should also note that some brass casings are not really brass, but are just coated with some light-grayish brass tint.
To test if it's really brass, stick the item into a magnet, and since brass doesn't stick to a magnet, you'll get your answer from there.
These bullet casings that are just colored brass but are not, should be filed under the steel casings pile.
Crafty Ways to Use Empty Bullet Casings
Wall Decor
One of the cool things to do with bullet casings is you can use them as wall decor. Just simply put a row of empty casings over a canvas of an empty picture frame using an adhesive, such as a super glue or some wood glue.
Arrange it to your own preference and voila, you can now frame it in your man cave for some cool gun wall art.
Miniature Windchime
If your door is acting so bare and dull, then animate it with some cool-sounding, empty casing windchimes. You can simply glue or wire together a series of casings so they can be grouped together in a line of string before attaching it to a base to hang unto your door.
Wall Clock
Who says you can't make empty brass casings into a wall clock? Simply get a blank circular wood, a raw clock mechanism and some empty bullet casings.
Make the casings as the numbers on the clock before attaching the clock mechanism into it. Now you're all set!
For more information on how to make this wall clock and other useful DIY empty casings crafts, here are your guides:
Where Else Can I Get Empty Brass Casings For My Crafts?
If you're out of empty casings from your own ammunition, you may simply go to your nearest firing range. Ask kindly from the officer in charge for empty casings that they're throwing away.
You might even be doing them a favor since it takes a bit of time and labor to get rid of them in bulk.
Conclusion
 So there you have it: you now have plenty of ideas to upcycle or recycle those scraps of brass casings that you or your firing range is no longer using.
As a summary, you now have an idea how to turn brass casings into wall art, a wall clock or even a miniature windchime. You also have a supplement video that shows you more ways to recycle brass bullet casings.
Did you like our ideas? Do you have any better ones that can help recycle these cool metal trinkets to make them even better than when they were still unused?