Brass cleaning can be labor-intensive, unless you know what you're doing. To save time, money and resources, you may want to consider these easy tips and methods on how to clean brass for reloading.
For starters, we should state first here that there are four basic types or options to mass-clean a number of brass in one go. These are thanks to the the help of machines like: vibratory dry media tumbler, an ultrasonic tool, rotary tumbler with the stainless steel and the one without.
There are of course its own pros and cons, and we will explore them all in this article, as comprehensive and complete as can be.
With the help of this article, you can hopefully clean your brass as efficiently with the least amount of cost and resource waste as possible.
Let's get into it stat!
Dry Vibrate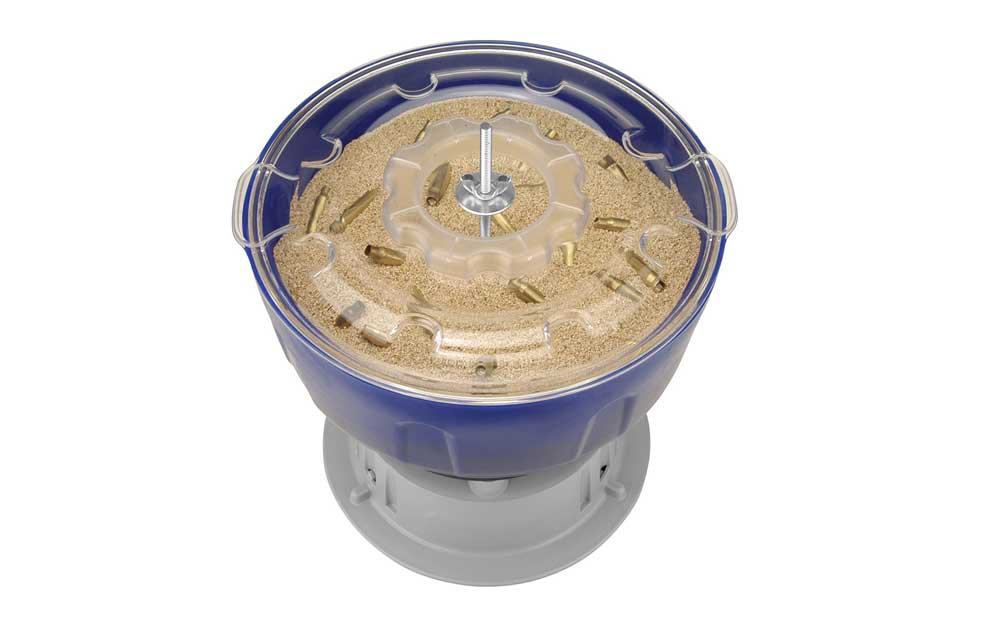 Considered to be the oldest and most popualr way of cleaning brass, this vibratory tumbler consists of what is called an electric motor and a tub.
It is the electric motor that gets the tub going in a circular type of motion. Through this process, the media and the brass cassings in the tub will swirl, collide and vibrate against each other to execute the cleaning process.
If you're going to ask about 100 reloaders today, they will most likely say that this is the cleaning process that they comply. They'd also add that one of their most trusted manufacturer for this vibrator would be Frankford Arsenal.
Capacity
These tumblers will come in a variety of capacity and sizes, and these will range from "600 9mm" to about  "350 .223 cases". Metrics like this are useful because it can help you eyeball how many can be cleaned in one go.
You should know that the more the cases you have in the tumbler, the longer it will most likely clean them all.
You shouldn't also expect any changes in the curing of the corroded portion of your primer packets. It's only the job of these tumblers to give your casing that wanted smooth finish and shine.
Pros
Affordable
Time-tested
Media selection
There's no need for time-consuming clean-up
Cons
Limited cleaning capacity
You can get lead in your casing
Requires media replacement often
Stainless Steel-equipped Rotary Tumbling (aka Wet Tumbling)
This is arguably the best method to clean casings, as evidenced by experts. It could be said that this method has been around nearly as long as the previous one, so you know it's a trustworthy method that no longer will present hidden risks.
One of the major manufacturers today that have gotten the support of new users for this type of method is Frankford. It also helps to get this method to the masses that the new technology has tapped the online sellers worldwide.
Capacity
How this system works is that you are given a sealed watertight drum that's either made of metal or plastic, and its spinning on a motorized base will the cleaning work.
You need to load this one with a cleaning fluid, as well as what is called an SS meda, to act as its polish or waxing coat. When the mixing movement happens, the coating will both chemically and mechanically coat and clean the casings to give the the best thorough clearing.
All of this is done in the most atomic and granular level, unlike with the vibratory tumbler. So what you get is better cleaning for the tough stains, blemishes and corrosions that the previous type is unable to do.
You may be able to load up a total capacity of 1,000 .223 brass cases at a time for a standard cleaner, such as the one made by Frankford. Even if you put a bulk load of this, you can ensure that you get a thorough cleaning that gets rid of even the filthiest brass cases you've ever seen.
You can definitely enjoy this cleaning type if you want your brass casings to look like factory brand new again.
Substantial long-term savings is what this method is all about, so if you have an eye for good money sense, then this might be the good recommendation you're looking for.
Pros
No exposure to lead, which is tested to be bad for your health
Surprisingly thorough and gets the job done better than the first one
Savings will accumulate and will affect long-term
You may be able to use this indoors so rain or shine, you can do thorough cleaning
Practically lasts forever
Cons
Initially high in cost and will appear to be an investment for the long haul
Drying the casings will be required
There may be media separation for this
Wet Tumbling Without SS
Similar to the previous type of cleaning, you may want to go with this one if the brass casings are not too dirty. To do this, you'd have to use some hot water and get some dallop of lemishine, and put them both in the cleaning machine with the brass cases, and you're set.
You can now get your brass cases all brand new and shiny, ready for the next reload.
If you're looking for a better option, then you may want to use Dawn instead of a standard store wax cleaner. The result is the same, but it will be able to resist all types of tarnishing to make them last longer.
Pros
Less costly since no SS is used
Eco friendly
Less use of chemicals and harm
Cons
Not as thorough as the cleaning used by the previous one with SS
 Ultrasonic Cleaning
Said to be used by power users, you can trust that this cleaning method will do what the rest can do, but better. It's a method that can even clean up rust and primings.
The gun parts in your Glock or rifle can even be cleaned with this type of method.
The Ultrasonic method works by producing millions of almost invisible, microscopic bubbles that go through the crevices of the casings in ways that the previous methods can't do.
These bubbles turn out to be an implosing of vacuum energy that can generate heat and extreme levels of forceful pressure that can get rid of the particles of the cases in the most thorough way.
For a video of how an Ultrasonic method works, refer here:
Conclusion
So there you have it: you now have a complete set of options that you can choose from when you want the best methods to clean your brass cases.
Simply try out each one of these methods and see which of them works best and which ones don't suit to your unique living conditions or where you are located.