Do you think your D2 knives are underperforming? Maybe D2 needs more resistance to corrosion. Then the next best option is Sandvik 12c27. It's a good all-rounder, providing consistent performance even in wet environments.
Sandvik 12c27 is a popular choice in a lot of steel knives, like the Morakniv Kansbol Fixed Blade Knife. It's a good alternative to the D2. In fact, it's an upgrade over the D2 steel.
What is Sandvik 12c27 Steel?
Sandvik 12c27 steel is a high-chromium martensitic stainless steel. Sandvik AB, a Swedish multinational engineering company manufactured the alloy. It's one of seven patented steel alloys in the Sandvik series.
Most of the steels Sandvik AB manufactures are good at resisting corrosion. Most of the alloys also vary in terms of hardness. All the alloys have good wear resistance for repeated and extended use. This makes the Sandvik series work well for kitchen knives.
What sets the 12c27 apart from the other series is its sharpen ability. For the 12c27, this is an advantage. Most high chromium stainless steels are difficult to sharpen.
Common Uses of Sandvik 12c27 Steel
Sandvik 12c27 steel works well in a variety of tools. The alloy is at its best when crafted as knives. Here are other applications of the 12c27 steels.
Slaughterhouse band saws to cut through large slabs of meat
Heavy gauge guitar strings
Bone saws for surgery
Building tools like rulers, trowels, and measuring tapes
Electric shaver parts
Sandvik 12c27 Steel Chemical Composition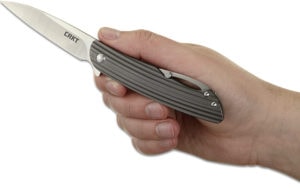 From the name itself, one of the metals used is carbon. The 12c27 has the following elements present:
Carbon, 0.60%
Silicon, 0.40%
Manganese, 0.60%
Chromium, 12.9%
Carbon, 0.60%: Carbon is very useful for increasing hardness at high temperatures. The more of it in a steel, the better it can harden during heat treatments. We've mentioned in our other steel reviews about carbon. Increasing carbon has its advantages and disadvantages.
Silicon, 0.40%: Silicon isn't used as a direct component of steel. It's function is a deoxidizer. This means it will form bonds with oxygen present in the metal during forging. Once it does, it falls off during the manufacturing process. This will make the steel of higher quality.
Manganese, 0.60%:  Manganese has a similar function to silicon. It's both a deoxidizer and an additive to the alloy. It strengthens the metal by increasing the time the metal cools. The austenite will then transform into more stable martensite without compromising quality.
Chromium, 12.9%: And we have chromium which serves as the alloys "main body." Here, the amount is enough to qualify this as stainless steel. That gives you reliable corrosion resistance.
Sandvik 12c27 Hardness
The information here is in accordance with the spec sheets listed on Sandvik's database. Sandvik 12c27 has a hardness of 94.3 HRB. At soft annealing, this is the hardness it will attain. If the process includes regular annealing, the hardness is 97.4. At cold rolling, Sandvik 12c27 will achieve a hardness of 94.3–106.6.
Properties of Sandvik 12c27 Steel
The 12c27 is 7.7 g/cm3. It follows the standard density for stainless steels, despite being a chromium steel.
Hardness
The Sandvik 12c27 has a high hardness. This holds true when comparing steels at the HRB level hardness. The high hardness will allow Sandvik 12c27 to resist deformation. For example, if one were to bend knives, then they'll find that it requires a certain amount of pressure. Sandvik 12c27 having a hardness of 94.3 HRB means it will be impossible to bend using bare hands.
Resistance to Rust
The Sandvik 12c27 has good corrosion resistance. It can resist corrosion and rust better than a D2. In everyday use where the hands are constantly in contact with the knife, moisture will be a problem. The salt in sweat will not induce rusting in the 12c27. This is assuming one takes the time to wipe it dry before storage.
Good Wear Resistance
The hardness of Sandvik 12c27 correlates with its wear resistance. This has held true for most steels. The chromium carbides in the Sandvik 12c27 will provide resistance to dulling. Using a rope cutting test, the 12c27 will be useful for at least a good number of cuts before it dulls. See how the Sandvik 12c27 performs in this video.
Decent Toughness
As for toughness, the 12c27's hardness should make up for it. The alloy doesn't go into HRC territory so it should be able to bend without breaking first. Sandvik has their own signature hardening process. This should also contribute to the toughness of the alloy.
Some pictures of the carbide grains and austinites present are as shows. The third picture is the ideal "texture" for the 12c27.
Sandvik 12c27 Equivalent Steels or Alternative
We already know Sandvik 12c27 performs well in the HRB levels. So how does its corrosion resistance and toughness fare against other steels? Will it retain its edge better than the ones listed below? Continue reading to find out.
Sandvik 12c27  vs 440c Steel
The 440C's hardness is in the HRC region but has a lower numerical rating. This only means the 12c27 steel has better hardness. The only advantage 440C has in comparison to 12c27 is it's easier to manufacture.
440C has higher carbon content, and theoretically, should achieve higher hardness. This also means 12c27 has better edge retention. The higher hardness in 12c27 will have its tradeoff. 440C will be tougher, and will deform under pressure. 440C will not break first before bending.
Sandvik 12c27 vs 8Cr13MoV Steel
The 8Cr13Mov has components which are not present in Sandvik 12c27. The 8Cr13MoV has additional molybdenum, vanadium, and nickel. These additional components will beat the 12c27 in terms of sharpness and hardness. It will also outperform the alloy in the toughness department.
The 8Cr13MoV will achieve even higher hardness if a secondary heat treatment. This secondary stage is part of the manufacturing process.
The 8Cr13MoV doesn't perform well in terms of corrosion resistance. Individuals looking for a knife that does well in wet environments should get 12c27.
Sandvik 12c27 vs S30V Steel
The S30V will have better edge retention. The vanadium present in the alloy compliments the chromium carbides already present. Vanadium carbides are more stable and will offer greater benefits than chromium carbides.
As with any alloy that has higher hardness, the sharpen ability will decrease. S30V will retain its edge longer but at the cost of making it difficult to whet. The 12c27 doesn't have that problem and people wanting to keep their blades sharp can rely on it.
Sandvik 12c27 vs D2 Steel
And finally, the comparison we've all been waiting for. The D2 has a reputation of holding an edge "forever." Due to its high hardness, it can resist wear in multiple uses. The 12c27 has enough hardness to resist wear but not as good as the D2.
The good thing about Sandvik 12c27 is that it's easier to machine than D2. Having simpler components means the process to make 12c27 is cheaper. Most Sandvik 12c27 knives out in the market will have a lower price than D2 knives.
Is Sandvik 12c27 steel good for Knives?
The Sandvik 12c27 is a steel that undergoes a cheaper manufacturing process. Cheaper, yes, but Sandvik has already improved their processes since the 60's. This should lower the overall cost of the steel.
There are knife smiths that will still use the 12c27 due to the lower price. From a business standpoint, it's ideal.
Sandvik has been improving their heat treatment process for their Sandvik series. Many metal workers will agree that this metal is a good all-rounder. You will still find many knives on the market that use 12c27.
In the next paragraph, we will outline the main reasons why Sandvik 12c27 is a good metal for knives.
Pros & Cons of Sandvik 12c27 steel
Pros
Excellent wear resistance (can be reliable up to 85 passes on a rope cutting test)
High hardness (will not chip easily when struck against hard surfaces)
Decent toughness (will not break even when deformed)
Fair amount of resistance to rusting and corrosion (better than D2's numbers)
Cheaper to manufacture (Sandvik hasn't changed its components since the 60's)
Easier machinability (simpler components require less specialization during manufacturing process)
Cons
Some alloys on the list beat the Sandvik 12c27 in corrosion (emphasis on some)
Not exactly friendly when sharpening (at least, one doesn't have to sharpen it quite as often)
Best Sandvik 12c27 Steel Knives
Here are the best Sandvik 12c27 Knives you can find online. Each knife has its own perks that should meet your similarly specific needs.
#1: Morakniv Kansbol Fixed Blade Knife
Quick Specification
Blade Length: 109 mm
Blade Thickness: 2,5 mm
Blade Shape: Straight
Handle Material: TPE-rubber
Knife Series: Kansbol
This knife by manufacturer Morakniv measures
9 x 2.3 x 1.4 inches
. It has an overall
weight of 4.64 Ounces
. The blade edge is a compound bevel and has a unique perk. The bevel spine's grounded texture and has a rough texture. Morakniv included this feature for use with fire starters. It's an outdoor knife which will benefit campers.
The Kansbol knife can cut through almost anything. With its high hardness and reliable sharpness, it should feather wood easily. Feathered wood will be helpful in starting a campfire. With the additional ground spine, setting yourself up for a cold night will be a breeze.
The semi-matte finish and the green, rubberized handle make the Kansbol very pretty to look at. It combines a subtle ruggedness to this outdoor knife. People who want to go on wildlife adventures should consider taking this with them.
Pros
High wear resistance allows you to cut or shave wood for fire.
Unique ground-textured blade spine for use with fire starters
Comes with a plastic knife sheath to prevent rust from developing on to the blade.
Blade profile addresses specific needs. (drop point has its advantages over a Wharncliffe)
Scandinavian grind makes sure the knife can chop without slipping.
Cons
Doesn't have a finger guard so safety is not guaranteed (handle with care)
The handle is a bit heavy but some people find the extra weight helpful.
#2: CRKT Swindle EDC Folding Pocket Knife
Quick Specification
Blade Length: 3.20″ (81.28 mm)
Blade Thickness: 0.12″ (3.05 mm)
Closed Length: 4.25″ (107.95 mm)
Blade Edge: Plain
Handle: Stainless Steel
Columbia River Knife and Tool made an impressive handle for this pocket knife. Grooves cover the handle that remind you of clam shells. This straight knife is 4.75 x 1.5 x 1.25 inches and weighs 0.353 ounces.
The knife actually won the Blade Magazine's Most Innovative Design in 2013. Ken Onion designed the knife with the intent to fit a longer blade in a pocket knife. This knife has the IKBS ball bearing system which means tucking the blade is easy and smooth. There's a flipper switch that flicks the blade in ready-mode.
There's a tensioned pocket clip which will secure the knife to a strap or simply your pockets. It's made of metal so it won't break. You don't have to lose this collectible from Ken Onion. The knife has a satin grey finish that looks premium.
Pros
More grip because of the grooves in the handle.
Uniform satin gray finish makes this knife easy on the eyes.
Ball bearing pivot system makes sure opening the knife is fast and easy.
Metal clip secures the knife into straps or your pocket.
Drop point blade profile makes this knife ideal for piercing…vegetables
Cons
Very smooth finish means it will slip out of shallow pockets (use the clip)
The very uniform design can confuse people what side the blade pops from.
#3: Alden – Sandvik 12C27 Stainless Steel Knife
Quick Specification
Blade Length: 105 mm
Blade thickness: 3,0 mm
Sheath weight: 52 g
Design: Gunnar Lothe
Sheath material: Genuine leather
Handle material: Curly birch
This knife looks beautiful with the carved wooden handle. The whole knife measures 9.2 x 2 x 1 inches and weighs 6.88 ounces. Knife users will find the handle very comfortable. It only measures 5.1 inches. To improve the rustic feel of the knife, HELLE includes a leather pouch for extra protection.
The knife is very sharp and can cut through paper without difficulty. It can shave wood without compromising its edge. Most people testing knives for sharpness try shaving their arm hair. The Alden easily shaves forearm hair without needing to apply pressure. It's razor sharp.
There will be hesitations to use this outside. Because it looks too pretty, it may not feel like an outdoor knife. A few trips outside and a few cuts and shaves later with the knife will ensure that this knife is not only pretty. It's functional. It's very light due to the wood handle but still has heft to make sure it's balanced.
Pros
Beautiful wooden handle also provides lightness.
Very sharp edge – it cuts forearm hair with just a light sweep
Extra leather sheath makes sure you can carry the knife wherever you go.
HELLE's Alden knives (and their other knives, too) are individually crafted.
The blade mounts securely on the shaft so it will not break even in rough handling.
Cons
Since each blade is individually made, there may be SOME minor defects.
The blade is too small for people with big hands.
Conclusion
The Sandvik 12c27 has been around for a long time. The material composition is very simple. Sandvik as a company improved their manufacturing process. This helped them in making great steels. Sandvik 12c27 is good for knives because it's well-made steel.
A good knife will always depend on how it's made. On the same note, a good steel doesn't have to have complicated ingredients. We've found out here in our review that Sandvik 12c27 still goes toe-to-toe with other knives. It beats some of them due to one thing: price.
Sandvik 12c27 for knives is good for both customers and manufacturers. The price tag shouldn't fool you. If you want to experience owning a Sandvik knife, we recommend the Alden. What 12c27 knife do you prefer? Comment your answers down below