Knives may seem like the most basic tools there are for some folks but in reality, they're highly sophisticated, especially the modern ones.
This is why new options tend to be very exciting for knife collections as they can offer something new. This is true for the K390 steel as its innovative design got lots of people talking.
If you're reading this, then, there's a very good chance that you caught wind of what the K390 steel has to offer and your curiosity is piqued. So, to help you get to know this material better, stick around and you might just get the answers to your burning questions in this review.
What is K390 Steel?
Described as a 'high-performance powder-metallurgy steel' by Bohler, the developer of the Bohler K390 Microclean steel, the K390 steel is a cold work tool steel. It's not stainless and is crafted to be way tougher through the manufacturer's third-generation particle metallurgy processes. It promises extreme durability that can resist heavy wear and deliver exceptionally high compression strength.
The K390 steel is meant for versatility, too, as it is designed to handle tough cutting, cold forming, and die-cutting tasks. This, in addition to its impressive performance history in the plastics industry, makes it a promising option for many applications.
Common Uses of K390 Steel
The K390 steel has a long list of applications. Some of what Bohler recommends are the following:
For cutting tools like dies and stamps
For roll die-cutting machines
For cold forming applications
For coining
For general engineering purposes
For screws and barrels
For shearing applications
For the creation of different kinds of knives
For various plastic applications like mold inserts and check valves
K390 Steel Chemical Composition
The Bohler K390 steel is composed of various components to create a tough and wear-resistant material.
Its primary components are:
Carbon 2.47%
Vanadium 9%
Molybdenum 3.80%
Chromium 4.20%
Carbon 2.47%:  This is an amazing amount of carbon, given that some steels contain only 0.75% carbon—and they're considered "high-carbon" steel. You'll rarely see this much carbon in any other steel. With this carbon level, there's no doubting the hardness of the steel.
Vanadium 9%: This amount of vanadium is also surprising, as steels with vanadium tend to have only 0.5% or less. But it helps to counteract the tendency of carbon and other elements to make the steel too brittle. It helps with resistance to shock loading and fracture toughness, and also improves hardenability.
Molybdenum 3.80%: There's also a lot of molybdenum here, as most steel alloys have less than 1% molybdenum. It enhances elevated temperature strength, corrosion resistance, and creep strength, and also boosts hardenability.
Chromium 4.20%: What makes it non-stainless is its relatively low Chromium content. Stainless steel can contain up to 18% of Chromium while K390 only has a fraction of that amount. This means that it also requires proper maintenance to prevent corrosion.
It also contains a significant amount of Silicon, Cobalt, and Manganese.
K390 Steel Hardness
According to Bohler's fact sheet for the K390 steel, the material has an achievable hardness range of 58-64 HRC. As those who are familiar with the Rockwell hardness scale, the higher the number is, the harder the steel is. For knives, this is already a high score for hardness as steel rated higher than 59 HRC are already classified premium.
Properties of K390 Steel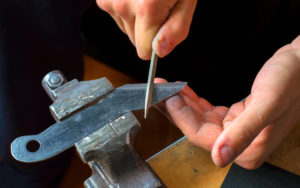 As mentioned above, the K390 steel is designed and crafted to be tough, wear-resistant, and overall durable. This is why you can also expect the following properties and features from it:
Wear resistance
Wear resistance is a highly beneficial feature for many steel applications as it promises durability. For knives, it can guarantee that they can withstand abrasive and adhesive wear despite regular use. With K390's high levels of Vanadium, it promises abrasive wear resistance which makes it very useful for knives.
Good machinability
This material will not require a lot of effort to cut, finish, or process and will not wear out the tooling much. This makes it easier to work with as it will not wear out machines despite its toughness.
Edge retention
As its name suggests, edge retention refers to the ability of the steel to retain its sharpness while being subjected to regular use. Some knives tend to lose their sharpness after a while if you use them regularly which then requires more frequent sharpening. Using a K390 steel for knife products help eliminate this need as it's designed for excellent edge retention.
Corrosion resistance
Despite not being of the stainless-steel variety, the K390 steel has a decent corrosion resistance rating. This is why it's sometimes considered as a semi-stainless steel. If you don't intend to use it in places with high levels of humidity anyway, there's no need to worry about this detail.
Hardness
Steel hardness is important if you don't want it to get easily deformed when weight, stress, or pressure is applied to it. The K390 steel is made to be very hard so it won't easily bend out of shape when a high amount of force is applied to it. For tool knives, this is essential as they are not exclusively used for cutting. A lot of strain and pressure can also be put on them as they are used for a wide range of purposes.
The only downside to the hardness of this steel is that it's a bit challenging to sharpen. Due to its composition, K390 knives tend to require diamond sharpeners to get the job done. It can be considered as a trade-off, however, since you'll be getting a very durable tool in exchange. And since it holds its sharpness for a long time, there might not be any need for frequent laborious sharpening sessions.
Toughness
Last but not least is toughness. Knives typically face major challenges so it's important that they're tough enough if they can perform as a top-notch tool. K390 steel knives are meant to be very tough with high compressive strength and high impact resistance. As a result, it can handle rough handling which comes with the territory for tool knives.
K390 Equivalent Steels or Alternative
To better demonstrate how tough the K390 is, it's worth mentioning that it's often compared to a number of high-end steel products that are used in some of the most famous and expensive knives in the market today.
For starters, it's often pitted against the A11 steel which, like the K390, has a high vanadium content and is very wear-resistant. It has a lower Rockwell hardness rating, however, at 59 HRC so the K390 still has a leg up in this face-off.
K390 vs. CPM M4
Others liken it to the CPM M4 which is a premium tool steel with high Molybdenum content. It has a 64.5 to 67 HRC rating so some might find themselves torn with the numbers. Some enthusiasts dubbed the K390 as the M4 killer, however, since it is harder, more wear-resistant, and holds its sharpness longer.
K390 steel vs CPM 3V
You'll also find a K390 steel vs CPM 3V debate going on. Both are made with Vanadium and Molybdenum making them very tough and capable of holding sharpness for a long time. However, the 3V is quite flexible in that it doesn't easily chip or break. K390 still has a higher HRC, however, and it has a higher Vanadium percentage in its composition.
K390 steel vs M390
Perhaps the K390 steel vs M390 topic is the most popular of the lot. Developed by the same folks behind the K390, the M390 is practically a superstar in the knife world being consistently popular despite being released four decades ago. What makes it stand out is its incredible sharpness retention which ensures its durability.
The M390 is a stainless steel with 20% Chromium in its composition. This makes it more resistant to corrosion than K390. Unfortunately, it's also quite a bit hard to resharpen due to its hardness, so you'll need the right equipment to simplify the chore.
Is K390 steel good for knives?
Like its classic predecessor, the M390, the K390 was not created to be used solely for knives. However, with the characteristics it has, K390 has proven to be more than suitable for the said application, just like the M390.
With its tough composition that is capable of excellent sharpness retention, it can promise great usability and performance for knives. It's popularly used as an everyday-carry or camping knife as you can leave it as it is and not have to worry about its sharpness. It will stay sharp even without regular sharpening, ready to be used at any given time.
Pros & Cons of K390 Steel
Pros
Built to be tough and durable (guaranteeing that it can last a while and will not be easily damaged)
Available in different varieties of knives (gives you ample options to find a good match for what you need)
All-around use for knives (ideal as an everyday carry knife)
Built to last (created to be wear-resistant and hold its sharpness for a long time ensures longevity)
Relatively low-maintenance (semi-stainless-steel construction is easy to protect from rust and its sharpness retention requires less frequent sharpening)
Knives slice and cut nicely (it holds a very nice sharpness)
Reasonably priced (not the most expensive option for a nice material)
Excellent steel components (its chemical composition guarantee top-notch quality)
Cons
Requires some upkeep (a semi-stainless steel and can still corrode in certain environments)
Knives can be quite hard to sharpen (due to its hardness)
Patina can set in rather quickly (semi-stainless-steel material is not completely rustproof
Best K390 Steel Knives
What are the best picks in the market today that you should get to know better? Here are two K390 steel knife reviews that will help you get to know your options better:
#1: Spyderco Ladybug 3 Lightweight Folding Knife
Quick Specification
Blade Thickness:  0.079″ (2.0mm)
Blade Length: 1.97″ (50mm)
Edge Length: 1.74″ (44mm)
Handle:  FRN
Origin:  Japan
Lock Type:  Back Lock
Weight:  0.6oz (17g)
Brand: Spyderco
The Spyderco Ladybug 3 Lightweight Folding Knife in K390 is of the brand's small knife options that is designed to be very handy. As its name suggests, it's from the Ladybug line which is meant to be versatile and lightweight.
And with this product's 2-inch blade length and the roughly 5-inch total length, it's definitely a tiny tool that you can easily take anywhere with you. It doesn't come with a pocket clip like its bigger counterparts but it has a keyring hole that will let you attach it to your keys for easier mobility.
The Ladybug 3 is available in different steel types but the one made with K390 is a step up from the others. It's a game changer as the steel amplifies its functionality and performance through its high-quality composition.
Pros
High-end blade steel
Lightweight
Very portable design
Versatile in terms of design and functionality
Durable fiberglass-reinforced nylon or FRN handle
Cons
Users with bigger hands might have bit of difficulty in handling it
Slightly more expensive than the other Ladybug 3 models with other types of steel
#2: Spyderco Delica 4 Lightweight Folding Knife
Quick Specification
Blade Thickness: 0.098″ (2.5mm)
Blade Length: 2.90″ (74mm)
Edge Length: 2.56″ (65mm)
Handle:  FRN
Origin:  Japan
Lock Type:  Back Lock
Weight: 2.3oz (65g)
Brand: Spyderco
Hailing from a range that is described as a modern classic, the Spyderco Delica 4 Lightweight Folding Knife continues the heritage of the bestselling line. This specific variety that features the K390 steel helps take things up a notch, something that the product line is known for.
The Delica line started out as a trailblazing product so it's fitting to give the range a new twist by using a high-end steel with it. By using K390 steel on the latest iteration, it takes the product line to the next level, giving it a nice update. The tougher and innovative steel can easily be a novel addition to the well-loved model.
Slightly bigger than the Ladybug, the Delica line is a more universal, compact pick as it can be easier to handle for most people due to its bigger size. It's still very lightweight and portable, however, so it can still be a good everyday option.
Pros
Easy to handle with its size and ergonomic handle design
Available in a wide range of colors, edge configurations, and blade grinds
Very lightweight and compact
Highly portable
Sturdy feel despite the weight
Durable handle material
An updated classic
Cons
No additional functionality
Quite pricey
Conclusion
Tough, durable, versatile, easy to work with, and very dependable – these are just some of the things that this particular type of steel is described as. And after looking at the many K390 steel reviews and getting to know the Spyderco Ladybug 3 and Delica 4, it's easy to say that the product is rather true to its claims.
Hopefully, you were able to gain as much knowledge about this particular steel type as you can. If you have additional queries, don't hesitate to drop a line. There are certainly lots more to know about this product if you're truly curious.