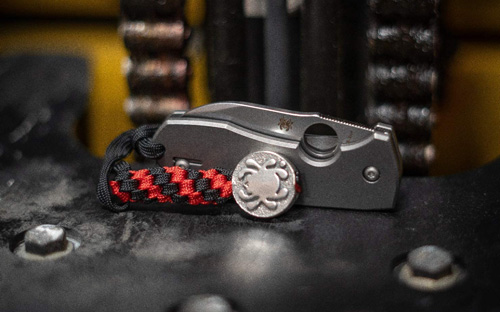 It's not true that one type of steel is as good as another when you're buying knives. Some steels are better at some things. Some steels may hold its edge longer, others are easier to sharpen, and you have stainless steels that offer terrific corrosion resistance.
But then there's the CTS XHP steel—which is a great all-around steel. Basically, it's good at most things and particularly great for some of these things. Find out what you can expect from this steel with our CTS XHP steel review, and check out the CTS XHP steel knives you should add to your collection.
What is CTS XHP Steel?
This is steel made by the US brand Carpenter, and it's somewhat new. It's created by powder metallurgy that gives you that fantastic performance.
Basically, it's like they made a steel as hard as D2 steel, but they made it a lot more corrosion-resistant than the semi-stainless D2 steel. Other experts describe it as like 440C steel, but with higher hardness rating.
So, in a way, Carpenter combined the hardness of D2 steel with the corrosion resistance of 440C steel.
Common Uses of CTS XHP Steel
Here are the items where you may find CTS XHP steel used:
High-end knives
Comparatively expensive cutlery
Surgery tools
CTS XHP Steel Chemical Composition
A closer examination of the particular elements in the mix, along with the precise percentages of each element, can help you understand what kind of performance you can get from the CTS XHP steel.
Carbon, 1.60%
Manganese, 0.5%
Silicon, 0.40%
Chromium, 16%
Nickel, 0.35%
Molybdenum, 0.80%
Vanadium, 0.45%
Carbon, 1.60%: You'll find a huge amount of carbon in CTS XHP steel. Consider that you already get lots of hardness with just 1% carbon, and a lot of good carbon steels have a lower percentage of the stuff. So, at 1.6%, you really get a lot for excellent edge retention and wear resistance.
But then you have to worry about issues like ease of sharpening and tendency to chip upon impact.
Manganese, 0.5%: Some experts consider manganese to be the most important element in steel alloys after carbon. It boosts tensile strength and hardenability, and it also helps to make the CTS XHP steel easier to work with.
Silicon, 0.40%: It works as a "deodorizer" for steel, cleansing the molten steel of the oxygen bubbles. It also boosts hardness and strength, but too much silicon can lead to cracking. That's why you only get a tiny percentage.
Chromium, 16%: To be considered stainless steel (with good corrosion resistance), the steel has to have at least 12% chromium. The CTS XHP steel sure has enough chromium so you can't doubt the corrosion resistance.
Nickel, 0.35%: While it helps with corrosion resistance, nickel also boosts notch toughness and hardenability.
Molybdenum, 0.80%: In smaller amounts (like in this case), the molybdenum boosts creep strength, strength in higher temperatures, hardenability, and even corrosion resistance.
Vanadium, 0.45%: You have just enough vanadium here to boost shock loading resistance, fracture toughness, wear resistance, resistance to fatigue stress, and hardenability.
CTS XHP Steel Hardness
With that massive amount of carbon in the mix, it shouldn't surprise you to find out that CTS XHP steel can be very hard indeed. You usually get at least 60 HRC, but depending on the heat treatment used by the brand to prepare the steel, the hardness can go up to 64 HRC.
Most of the good steel knives for everyday use come with about 57 to 59 HRC. That means the CTS XHP steel is generally harder than average.
Properties of CTS XHP Steel
Here are some characteristics that you can expect from CTS XHP steel:
Great Wear Resistance
This is one of the most expected advantages of having steel this hard for your blade. Hard steel can last a long while, through many cycles of dulling and resharpening. It won't wear down easily though constant use in challenging settings.
Terrific Edge Retention
This is the other advantage you can expect with steel this hard. The sharp edge remains sharp not here not just for days, but for weeks and months. You can cut packages all day long without stopping to sharpen the knife during the day. Its edge retention is considered even better than what you get from something like the terrific S30V.
High Corrosion Resistance
The CTS XHP steel is also notable for its corrosion resistance. In fact, the corrosion resistance of the CTS XHP steel is about the same as what you get from the 440C steel.
Reasonably Tough Despite the Hardness
It's a basic rule of most hard steels that you don't really have terrific toughness to go with that hardness. That means you'll find that most hard steels are more prone to brittleness and chipping.
This is actually true of CTS XHP steel, technically speaking. But in the real world the toughness of CTS XHP steel is quite surprising. It's tougher (that is, more resistant to chipping) than you might suspect.
Of course, that's why you don't see this steel used for axes and longer knives. It's not meant for high-impact work. But use it right with shorter blades, and you won't have to worry too much about chipping.
Not All That Hard to Sharpen
It's also true that CTS XHP steel is moderately difficult to sharpen, compared to many of the steels around. But it's not really all that difficult to sharpen
Relatively Easy to Work With
The CTS XHP steel is a lot more forgiving during the heat treatment process. That makes it better to work with for many custom knifemakers. This makes the whole knifemaking process easier, which cuts down on the prices a bit.
Not Very Common
Yes, this isn't really a physical feature of CTS XHP steel. But it's not quite available in huge quantities, so that you may not find a lot of CTS XHP steel knives around. Even the Cold Steel brand switched from using CTS XHP steel because there isn't enough of it, though Spyderco still uses it.
So, you may want to buy online, since finding a CTS XHP steel knife in a local store may be too iffy.
CTS XHP Equivalent Steels or Alternative
Another way of illustrating the characteristics of CTS XHP steel is to compare it directly with other steels. This can reassure you that CTS XHP steel is actually your best choice. But you may also discover other steels that may better suit your needs and your budget.
CTS XHP VS S30V Steel
Both these steels are in the premium steels category, so it's a fair comparison. S30V is more established, however, and it's a lot more common and popular.
These 2 steels aren't all that difficult to sharpen. They're not super-easy to sharpen, either, but then they're both among the hardest steels found in popular knives.
The CTS XHP steel does offer better edge retention, which means you'll have to sharpen the S30V first. But while both offer great corrosion resistance, the S30V does a better job of it.
CTS XHP VS S35VN Steel
Many (including experts) claim that there aren't really any noticeable differences between the S35VN and the S30V, so we may just be rehashing that comparison above. The CTS XHP steel wins by a nose in edge retention, but the S35VN is better at corrosion resistance.
CTS XHP VS AUS 8 Steel
The CTS XHP steel sits at a much higher premium tier than the AUS-8, which is categorized as an upper-midrange steel. Keep in mind that there's still the "high end" tier in between the upper-midrange and the premium.
The most noticeable difference here is how much better the CTS XHP steel is at retaining its sharp edge. The CTS XHP steel is also better at resisting corrosion than the AUS-8.
The AUS-8, however, is much easier to sharpen. It's super easy and you can get it done much faster.
CTS XHP VS D2 Steel
You might say that the CTS XHP steel is like a much more corrosion-resistant version of the high end "semi-stainless" D2 steel. They're both great at retaining a sharp edge, however.
The D2 steel also has more problems with toughness, as its hardness comes with a higher tendency to chip off upon impact. The D2 hardness also makes it a lot more difficult to sharpen once it gets dull. It takes an expert sharpener to get it done right.
CTS XHP VS VG10 Steel
The VG10 is another high-end steel sitting at a lower tier than the CTS XHP steel. But the VG10 is a great all-around steel that balances hardness and toughness nicely. Its edge retention doesn't match the CTS XHP steel, however.
The VG10, though, is a bit more corrosion-resistant. It's also slightly easier to sharpen.
CTS XHP VS M390 Steel
Like the CTS XHP steel, the M390 is one of the newer super steels, and it's actually at a higher tier as part of the "ultra-premium" category. It's even better than CTS XHP steel at retaining a sharp edge and corrosion-resistance.
However, the M390 has the characteristic drawback of the so-called super steels. It's a lot more difficult to sharpen.
Is CTS XHP Steel Good for Knives?
In the usual meaning of the word "good", the answer here is yes. It's good steel for knives. You'll find the CTS XHP steel knives excellent at retaining a sharp edge and resisting corrosion. It takes a bit of work to sharpen, but it's not really all that difficult. It also offers reasonable toughness so it doesn't chip off easily.
It's not even all that expensive, though the CTS XHP steel knives do tend to cost around the $200 level. The main issue with CTS XHP steel is that it's not all that common. It's why the Cold Steel brand decided to switch from the CTS XHP steel. Cold Steel simply couldn't get enough of it to make the number of knives they need to manufacture.
Pros & Cons of CTS XHP steel
Pros
Great wear resistance
Terrific edge retention
High corrosion resistance
Reasonably tough despite the hardness
Not all that hard to sharpen
Relatively easy to work with
Cons
Can be a put pricey
Not all that easy to sharpen, either
May not be too common so
Best CTS XHP Steel Knives
You can best avoid any potential issues with chipping by sticking to shorter blades, which are great for EDC knives. Here are some great CTS XHP steel knives to consider.
#1: Spyderco Techno 2 Specialty Folding Knife
Quick Specification
Overall Length: 5.98″ (152mm)
Blade Length: 2.52″ (64mm)
Closed Length: 3.46″ (88mm)
Edge Length: 2.44″ (62mm)
Weight: 3.4oz (96g)
Blade Thickness: 0.138″ (3.5mm)
Origin: Taiwan
This is a simple-looking knife, but then again it was designed by the Polish knifemaker Marcin Slysz who's known for making knives that offer authenticity and simplicity. Spyderco took the original and then made small improvements along the way, so now it's even better.
This is a compact knife, with an overall length of less than 6 inches when open. The blade is about 2.5 inches long, with the near-sheepfoot design offers a functional point for piercing. You also get textured grooves on the thumb ramp for terrific control.
The handle is made from titanium, and the Reeve Integral Lock (R.I.L.) secures the blade when the knife is open. It's easy to open too, due to the round hole.
Pros
Smooth opening action
Sharp out of the box
Looks great
Can last for a good long while
Cons
The handle blocks the round hole for opening somewhat
#2: Spyderco Chaparral Prestige Folding Knife
Quick Specification
Overall Length: 6.40″ (163mm)
Blade Length: 2.80″ (71mm)
Closed Length: 3.60″ (91mm)
Edge Length: 2.30″ (58mm)
Weight: 2.3oz (65g)
Blade Thickness: 0.077″ (1.9mm)
Handle: G-10
Origin: Taiwan
This is a bit bigger, with an overall length of 6.4 inches while the blade measures 2.8 inches. You get a ground full-flat blade with a leaf shape and a plain edge, along with some non-skid jimping (the textured surface) at the choil and spine for greater control.
The handle is made with tough carbon fiber, with a back lock to secure the blade during its use. The handle also features a convenient clip.
Pros
Looks great
Very easy to open with large round hole
Sharp right out of the box
The backlock secures the blade when opened
Cons
The backlock is stiff at first, so you need to break it in by opening and closing the knife for a whole day
[/su_list]
#3: Spyderco McBee Specialty Folding Knife
Quick Specification
Overall Length: 3.85″ (98mm)
Blade Length: 1.52″ (39mm)
Closed Length: 2.33″ (59mm)
Edge Length: 1.49″ (38mm)
Weight: 1.7oz (48g)
Blade Thickness: 0.118″ (3.0mm)
Handle: Titanium
Origin: Taiwan
This one looks a bit strange to knife beginners, since it looks like its sharp point chipped off. But the design was deliberate, as it is based on a design made by a lifelong outdoorsman and a Marine Corps vet.
It sure is small enough to fit inside any pocket, since its overall length is just 3.85 inches. The blade is short as well at only 1.5 inches. With the scalloped spine, you get terrific cutting power with great precision.
You also get a titanium handle here, which is both strong and lightweight. Even though the knife is small, you can still use a single hand to open it.
Pros
Cuts great
Offers terrific control
Very compact and easy to carry
You won't alarm people when you use the knife
Cons
Large hands may have trouble with the tiny handle
Conclusion
The CTS XHP steel is great, which is why you can find 8 different Spyderco knives using this particular steel. It holds its edge very well and offers terrific corrosion resistance, while the toughness and the sharpening requirements are reasonable.
With this kind of performance, you really can't complain with CTS XHP steel.