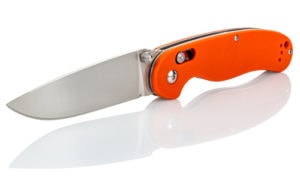 If you have been looking to choose a good steel for your new blade, you would have noticed that commonly used alloys are never at the top of the rankings. That is because advanced premium steels are delivering performance way out of the capabilities of common steel. So much so that the additional technical hurdles and investment to work in premium steel are still worth it.
Here you will see the capabilities of one of the most effective options available, CTS-204p steel.
What is CTS-204P Steel?
CTS-204P is premium powder metallurgy stainless high in chromium and vanadium. It is best compared to its contemporaries the Bohler M390 as well as CPM-20CV. With a specific composition that has significant amounts of Tungsten, Vanadium, Molybdenum, and of course Chromium, this steel can be considered to be one of the top available premium steels on the market today.
CTS-204P steel is manufactured by Carpenter Technology Corporation, an American company that specializes in the manufacturer of specialized alloys and products used in many industries and markets. Their products can be seen in use for defense, consumer electronics, industrial, medical, and the aerospace market.
Common Uses of CTS-204P Steel
The CTS-204P steel proves to be useful for a set of applications. Some of which are the following:
For high-end custom knives
For food processing equipment
For heavy-duty tools for professional applications requiring high-performance steel
For industrial machinery with custom tooling
For plastic molding production facilities
For extrusion applications
CTS-204P Steel Chemical Composition
The chemical composition of CTS-204P is quite similar to CPM-20CV and Bohler M390. The steel has
Carbon, 1.9%
Molybdenum, 1%
Vanadium, 4%
Silicon, 0.6%
Tungsten, 0.65%
Chromium, 20%
The significant carbon content of this steel means that decarburization is possible during processing. Adequate precautions should be taken to prevent this during any heat-treatment process. Using a controlled atmosphere, vacuum furnaces, or a salt both will help prevent such occurrences.
The comparatively high volume of Vanadium in this steel is responsible for the excellent wear-resistant characteristics of this steel. Vanadium rich carbides are free from segregation and are uniformly fine and sized in the metal. The cleanliness and toughness brought about by the powder metallurgy process used by Carpenter Technology Corporation are second to none. You will appreciate the polishability and corrosion resistance these processes have produced.
CTS-204P Steel Hardness
The CTS-204P has a working hardness of 57-59 HRc but can be upped to 62 HRc. There may just be some warnings in maxing out its Rockwell hardness rating as it can compromise its toughness and corrosion resistance for wear resistance.
Properties of CTS-204P Steel
What can you expect if you choose to opt for a CTS-204P steel for knife? Here are its properties that can also explain why this steel grade is quite popular:
Edge retention
Lasting edge retention is among the top criteria for a good steel for knives. It's not enough for a knife to get sharp because if it loses its sharpness right away, it would be quite useless. This is where the CTS-204p excels as it can hold its edge for a long while.
With high carbon content, this can be expected. However, the addition of vanadium increases its capability of holding its edge's shape. As a result, it promises to stay sharp for very long.
Sharpness
The CTS-204P's ability to get very sharp is a draw for this kind of blade as it promises top-notch performance. Since it can also stay sharp for long with its excellent edge retention, it's not surprising why it's considered as a top-performing steel for knives.
This is an excellent feature for any CTS-204P knife to have as the sharpening process of such blades can be quite a challenge. Due to its hardness and resilience, it can be quite tricky to sharpen, especially for those who aren't skilled in the said activity just yet.
Wear resistance
With a good combination of vanadium and tungsten as additions to its high chromium and carbon content, this steel grade is gearing up to be one resilient material. It can hold up against very heavy use as it won't easily wear out. This also contributes to the fact that it's rather difficult to sharpen.
Corrosion resistance
The CTS-204P steels may just be some of the most rust proof options out there with its very high chromium content. This makes it suitable for use in most environments and situations and will promise simpler maintenance. So those who want a heavy duty knife that doesn't require a lot of upkeep, products made with this steel can be in the running for the top pick.
Toughness
Tough and durable are two things that can be said about this particular steel grade. While it's very hard and wear resistant, it's not brittle so it can handle all sorts of use and abuse that heavy duty knives are often subjected to.
CTS-204P Equivalent Steels or Alternatives
As mentioned above, the CTS-204P is a version of a popular super steel. It's meant to be the American counterpart of the M390 so it can be expected that it's pretty similar to other steel grades. So if you need side-by-side comparisons of it against other popular steels, the list below would come in handy for you.
CTS-204P vs M390 Steel
Again, the M390 is the very inspiration of the CTS-204P so it makes sense that the two are often pitted against each other. The two have very similar composition with minute differences in their tungsten and manganese levels. This means that in terms of quality and performance, the two are effectively the same. They may just differ by way of treatment which can always affect a blade's performance.
The most glaring difference between these two, really, is their availability. Since the M390 is a German steel, it's not as easily available as the American-made CTS-204P. This makes the latter slightly cheaper to source locally.
CTS-204P vs Elmax Steel
The German Elmax steel is another steel grade that is nearly identical to the CTS-204P. Created for tech products, it's not necessarily meant to work at the same level as the M390 or the CTS-204P.
The difference lies in its slightly lower chromium and slightly higher silicon levels compared to the CTS-204P. It's tougher but has slightly lower edge retention and corrosion resistance.
CTS-204P vs S35VN Steel
Created by Crucible Industries, the S35VN is another American-made steel so it can be easily compared with the CTS-204P. In terms of hardness, the S35VN tends to win over the other thanks to its higher molybdenum levels and its addition of some niobium. The CTS-204P is still more wear and corrosion resistant, however, keeping it a step up against this steel grade.
CTS-204P vs CPM-20CV Steel
Crucible Industries' take on the M390 is the CPM-20CV so when it comes to composition, the 204P and 20CV are practically the same steel. However, what sets them apart is the process used in their creation. As its name suggests, the 20CV uses the proprietary Crucible Particle Metallurgy process which churns out very fine and uniform carbide distribution. The 204P, on the other hand, uses the Carpenter Micro-Melt powder metallurgy process which is believed to be superior by many. It offers more refined results.
CTS-204P vs S90V Steel
The Crucible CPM S90V is a steel grade that is also gaining quite a bit of attention for its high vanadium levels. It promises exquisite toughness, wear resistance, and edge stability. It has, however, lower chromium levels so it's not as resistant to rust and corrosion as the 204P. As the 204P is nearly as tough and wear resistant despite S90V's high levels of vanadium, the former tends to be more promising between the two.
CTS-204P vs S110V Steel
When looking at the contents of Crucible's S110V and the CTS-204P, it's plain to see that the two are very different steel grades. While the former doesn't have as much chromium, it more than makes up for it by having a lot more of the other components. This is why it promises better edge retention and toughness than the 204P.
Is CTS-204P steel good for knives?
Asking if the CTS-204P is a good choice for knives is like asking whether the M390 is a suitable material for such tools. Since these two are essentially the same steel and the M390 is considered as a super steel, it's safe to say that the CTS-204P can also be a top-notch pick for knives.
Pros & Cons of CTS-204P Steel
Pros
Highly resistant to rust and corrosion (this makes it way easier to maintain)
Stays sharp for very long (it has very high ratings on edge retention)
Gets very sharp, scarily so for some (if you know how to properly sharpen it)
Extremely tough and can handle a lot of beating (not brittle and will not shatter or break easily)
Versatile (can be used for different kinds of knives)
Loved by experts (making it more reliable)
Cons
Sharpening can be quite tricky due to its hardness
Knives made with this steel are quite pricey
It tends to be overshadowed by its more popular equivalents
Best CTS-204P Steel Knives
To best demonstrate what this particular steel grade can offer, here are some CTS-204P steel knife reviews that should also help you get to know which are some of the best picks available today.
#1: Zero Tolerance 0456
Quick Specification
Blade Length: 3.25 in. (8.3 cm)
Blade Thickness: 0.156 in. (0.396 cm)
Closed Length: 4.5 in. (11.4 cm)
Handle: Material Titanium
Handle Color: Silver
Handle Thickness: 0.56 in. (14.2 mm)
Overall Length: 7.7 in. (19.6 cm)
Weight: 6.3 oz. (179 g)
One look at the Zero Tolerance 0456 and you'll know that it's not your run-of-the-mill knife. Designed by the popular custom knifemaker Dmitry Sinkevich, it offers a very sleek and modern styling. It will not look out of place in a business suit but also won't stick out like a sore thumb amongst other hunting gear. Its titanium handle elevates the appearance and ensures that this piece looks like the premium piece that it is.
Aside from looking fancy, the functionality of the 0456 is also notable. The attention to detail of this item complements the quality and performance of the steel, helping justify its rather hefty price tag. It's durable, easy to handle, and very convenient to use, convincing many that it's worth the investment.
Premium components promise great value for the money
Versatile and suitable for all kinds of uses
Designed by a well-known custom knife maker
Looks and feels expensive
Lightweight handle provides a nice balance to the blade
Well thought-out details like a reversible clip and caged ball bearings for deployment,
Cons
Not all batches are made with CTS-204P, others are made with CPM-20CV
High-end price
#2: Stedemon Folding Pocket Gentlemen Knife
Quick Specification
Length open: 16.4 cm
Blade length: 7.3 cm
Blade thickness: 3,7 mm
Handle thickness: 13.7 mm
Blade: CTS-204P stainless steel
Handle: titanium
Weight: 82 g
Another fancy-looking option is the Stedemon Folding Pocket Gentleman Knife A02BLU Jenova. This folding knife has a slim profile and compact design so it's a popular choice as an everyday carry.
Complementing its premium CTS-204P steel blade is a titanium handle. Not only is this material functional in keeping the weight down and ensuring durability but it's also designed to stand out.
Another notable feature this product has is its reinforced lock bar. It already has a nice frame lock handle but to ensure that it won't accidentally deploy, it has an additional security feature. This part also serves as a preventive detail to avoid overstretching the lockbar.
Pros
Comes with a limited lifetime warranty
Compact size but still easy to handle
Sleek modern design with a beautiful satin finish
Good action and deploys smoothly
Titanium handle offers a good balance with the CTS-204P blade
Designed with a reinforced lock bar
Cons
Slim handle may not appeal to everyone
Might need sharpening upon arrival
#3: Ideale Outdoor Stainless Steel Knife
Quick Specification
Overall length: 195mm
Blade length: 82mm
Handle length: 113mm
Blade thickness: 4mm
Blade material: CTS 204p Steel
Handle material: titanium
Strong hardness: 59-60HRC
Weight: 160g
Completing this roundup of some of the best CTS-204P steel knives is the Ideale Outdoor Stainless Steel Knife. If you don't have the budget to splurge on the other two above, this might do the trick as it's a more affordable alternative.
This item is an OEM quality product so it promises the same quality as Zero Tolerance products at a lower price.They use the same materials and processing but because it doesn't carry the same brand name, it's not as expensive.
Pros
Attractive rugged all-black design
Suitable for all sorts of outdoor activities thanks to its sturdy construction
OEM quality promises the same high-quality materials and craftsmanship as Zero Tolerance's CTS-204P products
Affordable price tag
Can be used as an EDC
Cons
Doesn't come with a warranty since it's not a brand name product
Complete product details are not provided
How To Sharpen CTS-204P Steel Knife
Conclusion
Hopefully, this CTS-204P steel review was able to shed some light on the many confusing and interesting things about this super steel grade. Since it's not exactly as popular as its direct equivalent, the M390 or even the CPM 20CV, this roundup should have given you a good understanding of what this American steel is all about.
With the 204P's toughness, edge retention, wear resistance, and overall durability, it could be the very thing lots of knife enthusiasts are looking for.