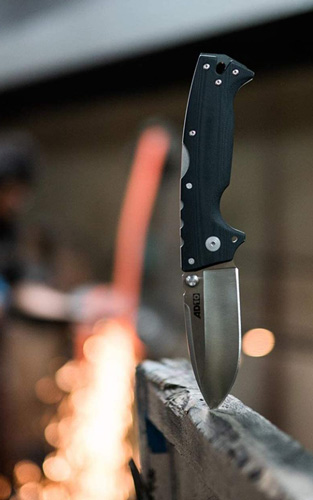 When you're looking through knives with prices that hiver around the two-hundred-dollar level, you can't be satisfied with budget steel steels for the blade. You can settle for nice steels. They have to be great so you're getting your money's worth. And that leads us to the CPM S35VN steel.
One of the main issues with CPM S35VN steel knives is that they're not exactly cheap. It's not the kind of steel you'll find in regular knives. In this CPM S35VN steel review, you'll find out exactly why this CPM S35VN firmly deserves its place among the "premium" steels in the knife industry.
What is CPM S35VN Steel?
You may have already encountered the CPM S30V steel made by the US brand Crucible Industries, as it's already quite common these days despite its premium steel status. You'll find it in a lot of costly cutlery and high-end pocket knives.
But then Crucible improved it with the introduction of the CPM S35VN steel, back in 2009. They did this with the help of the iconic knifemaker Chris Reeves, who also had a hand in the creation of the S30V in the first place.
Many experts and satisfied customers consider CPM S35VN steel as perhaps the ultimate steel outside the rare, exotic steels category. It's super even while it's part of the mainstream steel. It gives you a fantastic balance of hardness and toughness, even though these 2 properties are normally inversely proportional. It's even great at resisting corrosion.
So, what is CPM S35VN steel? It's a fantastic all-around premium steel that balances all the needed attributes, while it doesn't have any glaring drawbacks or weakness. It's one of the most popular knife steels around, and for good reasons.
Common Uses of CPM S35VN Steel
You may find the CPM S35VN steel in the following products:
EDC knives
Tactical knives
Specialty cutlery
Ball bearings
Smaller machinery parts
CPM S35VN Steel Chemical Composition
The chemical composition of CPM S35VN steel is quite simple really, which is why it offers consistent behavior during heat treatment.
Carbon, 1.4%
Chromium, 14%
Molybdenum, 2%
Vanadium, 3%
Niobium, 0.5%
Carbon, 1.4%: Let's make this clear: this is a huge amount of carbon. The amount of carbon here approaches the very maximum limits of carbon in steel.
Chromium, 14%: This is enough chromium to classify the CPM S35VN steel as stainless steel. That means you can sue it safely in wet situations, without having to do complicated anti-corrosion measures to keep rust at bay.
Molybdenum, 2%: This is a multi-purpose addition to the recipe, as it increases creep strength, hardenability, and strength at hotter temperatures. It's also added to stainless steel to boost its corrosion resistance even further.
Vanadium, 3%: That's not a type, as we really don't mean 0.03%. Usually, steels don't contain more than 0.05% vanadium because it makes the steel too brittle. But somehow the wizards at Crucible made the steel tough and resistant top chipping despite the hardness and the overabundance of vanadium.
Vanadium boosts the resistance to wear, fatigue stress, shock loading and fractures. It also enhances hardenability.
Niobium, 0.5%: This helps form carbides that make the steel stronger. It boosts hardness and wear resistance, and ductility too. It's added to the mix to boost the toughness and also make it easier to sharpen and take a sharp edge. Plus, it helps with corrosion resistance too.
CPM S35VN Steel Hardness
The CPM S35VN steel is among the best all-around steels, if not the best. It's true that the super steels are all harder, but you have more than enough hardness with its 61 HRC rating. That's still impressive, giving you terrific wear resistance and edge retention.
But that's not too hard, so it's still tough while also easier to sharpen. Harder steels tend to chip off more easily, and you may need to be a sharpening expert with those super steels.
Properties of CPM S35VN Steel
Let's check out the attributes you can expect from this steel. As you'll discover, because it's an "all-around" steel it offers lots of benefits. In fact, a lot of experts regard this CPM S35VN steel as the very best among all the mainstream steels. It balances all the features nicely into one super package.
Terrific Edge Retention
With its high carbon content, the sharp edge will remain sharp for a good long while. Only the "super steels" (which are more expensive) will offer better edge retention.
Fantastic Wear Resistance
You can also expect the CPM S35VN to for many years. When you're spending about a couple of hundred bucks on a knife, it makes sense that you don't want to buy a replacement knife too soon afterwards. This can do the jobs you ask it to do without any issue whatsoever, day after day.
Decent Toughness
You don't really expect hard steels to be tough. Harder steels are generally more susceptible to chipping upon impact. But that's not true of the CPM S35VN steel. The S30V on which this steel is based is already tough, but the addition of niobium to the mix plus the finer grain structure also improves the toughness nonetheless.
Corrosion Resistance
This is nicely resistant to corrosion. Rust, and even stains, won't be any problem for you with the proper care. Your knife will remain good looking with the right TLC.
Not Too Difficult to Sharpen
This is big plus you get since CPM S35VN isn't terribly hard. So, it's no trouble to sharpen at all. While some steels are definitely much easier to sharpen, with the CPM S35VN steel won't really pose a complicated problem. It's one of the reasons why you'd want this over the super steels.
CPM S35VN Equivalent Steels or Alternative
You can get a clearer picture of how CPM S35VN performs when you compare it directly with other similar steels. That way, you may know for sure that the CPM S35VN is best-suited for you need your knife for.
Of course, you may find a steel that's better to the tasks you want to do. But that's really a challenge with the CPM S35VN.
CPM S35vn vs M390 Steel
One way to put the CPM S35VN steel in its place is to make it clear that while it's a premium steel, there's still an upper tier with the ultra-premium category. In this category, you'll find the M390. Though it's not quite as popular as the CPM S35VN, you'll see quite a few M390 steel knives around.
The edge retention is even better with the M390, while the corrosion resistance is terrific and matches what you get from CPM S35VN. But it's much more difficult to sharpen than the CPM S35VN.
CPM S35vn vs S30v Steel
Crucible used a much finer grain structure for the CPM S35VN steel, and added a bit of niobium to the S30V recipe. What resulted was steel that was bit harder, but somehow also more resistant to chipping. It's very easy to machine, and it has a great ability to take a sharp edge. It's somewhat easier to sharpen, too.
Basically, CPM S35SVN steel is just a bit better than the S30V, but it's also more expensive.
CPM S35vn vs VG10 Steel
The VG-10 is part of the high-end steels, which is a lower category of steel than the premium S35VN. While the VG10 matches the corrosion resistance of the S35VN, the VG10 falls a little bit short when it comes to edge retention. But of course, the VG10 still keeps a sharp edge for a long while. It's just longer for the S35VN.
However, since the S35VN is harder than VG10, the VG10 is a bit easier to sharpen.
CPM s35vn vs s110v Steel
The S110V is an ultra-premium steel, which means you don't see it much because it's just very expensive. But you'll probably like it when you see it, since it offers just about the very best edge retention and wear resistance over any other mainstream steel.
It also offers good corrosion resistance, though the S35VN is somewhat better at this aspect.
The 2 main problems with the hardness of the S110V starts with how difficult it is for knife makers to work with. This difficulty adds to the knife production expense. Also, with that hardness you'll certainly have a problematic time trying to sharpen a dull edge.
CPM S35vn vs Elmax Steel
Elmax is actually a stainless steel, and it's also considered one of the ultra-premium steels. As a stainless steel, it offers fairly good corrosion resistance though then S35VN is better at resisting rusting and staining.
The Elmax steel offers terrific wear resistance and edge retention. Because of the mix of chromium, vanadium, molybdenum in this powdered steel, it acts very much like carbon steel. It's better at retaining its sharp edge than the S35VN.
Of all the "super-steels", the Elmax is actually the easiest to sharpen. But it's still more difficult to sharpen than the S35VN.
CPM S35VN VS 20CV Steel
The 20CV is also another super steel, and it also comes from Crucible. It's actually Crucible's version of the excellent M390. This 20CV is significantly better at edge retention and wear resistance than the S35VN. The 2 steels also do equally well in resisting corrosion.
But then it's a super steel, with the main super-steel drawback: it's quite difficult to sharpen. You have an easier time getting back a sharp edge with the S35VN.
Is CPM S35VN Steel Good for Knives?
It's great steel for knives. In fact, you may want to do yourself a favor and save up for this type of steel knife. The cost of CPM S35VN knives is perhaps its main drawback, as there's really no such thing as a budget S35VN knife.
But it offers terrific wear resistance and edge retention along with reliable corrosion resistance. It's moderately easy to sharpen. Because it's also easy to work with, these CPM S35VN knives aren't really prohibitively expensive.
Pros & Cons of CPM S35VN steel
Pros
Fantastic edge retention
Great wear resistance
Surprising toughness level
Not difficult to sharpen
High corrosion resistance
Easy to work with
Cons
It's not exactly cheap, though at least the price is still within a reasonable range
The vast majority of the softer steels are easier to sharpen.
Best CPM S35VN Steel Knives
To see the obvious benefits of CPM S35VN steel, check out these CPM S35VN steel knives.
#1: Zero Tolerance 0450CF; Folding Knife
Quick Specification
Overall Length: 7.375″
Blade Length: 3.25″
Blade Thickness: 0.12″
Blade Style: Drop Point
Finish: Black Stonewash
Edge Type: Plain
Handle Length: 4.125″
Handle Thickness: 0.40″
Made: in the USA
The 0454-model folding knife from ZT was terrific, and it even won a lot of awards. But it's a bit big for some people. If you want something a bit smaller but with the same design, you get the 0450CF.
This folding knife works for EDC, for all-day package opening, and even for tactical situations. The 3.25-inch blade has a drop point style with a plain edge. It features a DLC coating for better performance and a more impressive look.
The carbon fiber front matches with the titanium back in the handle, which features a secure frame lock for confident use. The handle is about 4.1 inches long, and when open the whole knife measures 7.4 inches. Its compact size comes with a meager weight of just 2.45 ounces (about 68g).
Pros
Extremely versatile
Very easy to open
Secure locking system for safety
Compact and lightweight
Cons
The balance feels different for lefties
It's not cheap
#2: Cold Steel Recon 1 Series Tactical Folding Knife
Quick Specification
Weight: 5.2oz
Blade Thickness: 3.5mm
Blade Length: 4in
Handle Length/Material: 5-3/8in G-10
Overall Length: 9-3/8in
If you're thinking about getting a popular knife for emergencies, then you may want to consider the Recon 1 folding knife. This is a favorite knife among plenty of fire and rescue crews, and also among police officers and military personnel.
It's basically tough and indestructible, yet it remains as sharp as a surgical cutting blade for a long time. With the Tanto design, it holds up to tough materials without breaking and it's also designed to puncture. You can also use it for prying.
When open, the whole knife is 9⅜ inches long, with the blade measuring 4 inches. You also have DLC coating on the blade. The Tri-Ad lock secures the blade when you're using it, and it also makes the knife impervious to shock.
Close it up, and you're left with the handle length of just 5⅜ inches (it's grade school math). The G10 handle also offers a comfy and secure grip. The whole knife weighs in at 5.3 ounces, but it doesn't really feel heavy at all.
Pros
Great for emergencies
Extremely reliable
Secure and comfy grip
Holds a razor-sharp edge
Cons
Again, not really a budget knife
May look a bit too intimidating when you use it in public
#3: Cold Steel AD-10 and AD-15 Tactical Folding Knife
Quick Specification
Weight: 6.5oz
Blade Thickness: 3.8mm
Blade Length: 3-1/2″
Handle Length/Material: 5″ G-10
Overall Length: 8-1/2″
We focused more on the AD-10, with the 4-inch blade, 4⅞-inch handle, and 8⅜-inch overall length. The AD-15 is a bit different in its dimensions, with a 3½-inch blade, 5-inch handle, and 8½-inch overall length.
This is a heavy-duty performance knife that you'll want to have with you when you're going on a dangerous adventure, or just hunting big game. With its drop point tip and 3.8mm blade thickness, you're able to use this to pierce, shear, or cut just about anything you need to.
The G-10 handle has full-length aluminum liners for strength, machined scales for a secure grip, and an integral fingerguard with exact contouring so it feels great when you hold it. It's also designed for ambidextrous carry and hold.
Pros
Strong lock
Good ergonomics
Obviously terrific blade
Meant for heavy duty work
Extremely sharp right out of the box
Cons
It's a bit large and heavy
It's even more expensive than the others on this list.
How to Sharpen CPM S35VN Steel Knives
Conclusion
Is CPM S35VN a "super steel"? We may have compared the CPM S35VN to a lot of super steels, but it's not really in the same class.
Still, you get a remarkable balance of benefits here. The CPM S35VN steel give you terrific scores for wear resistance, edge retention, and corrosion resistance. But it is remarkably tough, which is often an issue with the much harder steels.