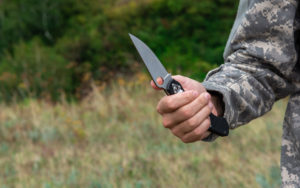 There will always be lots of different opinions when it comes to the topic of steel. With 3500 different grades of steel in existence, this can't be helped. Some will have their top picks and favorites based on their experience with specific varieties.
The CPM S110V steel is one of the more modern options that are making a lot of people question and reconsider their top picks. With its great wear and corrosion resistance as well as its superb edge retention, many believe that it's a super steel that's hard to beat.
If you wish to know more about this specific metal, read on for a quick CPM S110V steel review. There will be a few product recommendations at the end, too, so stick around to get better acquainted with the S110V.
What is CPM S110V Steel?
Created by Crucible Industries sometime in 2005, the CPM S110V steel is described as a high-alloy, powder metallurgy martensitic stainless steel. With a fine and uniform carbide distribution and the addition of a number of ingredients this steel promises great toughness, hardness, and resistance to different kinds of damage.
One of the most notable things about the S110V steel is its development. It went through quite a lot in order to achieve the final form it has today. In fact, the first formulation in 2005 was tweaked to better improve its overall quality.
Common Uses of CPM S110V Steel
The CPM S110V steel is used for a wide range of applications. Some of the most popular examples are the following:
Created for plastic injection applications
For the creation of certain parts of compounding machines
For manufacturing industrial knives, slitters, and circular cutters
For tools and implements meant for food and chemical processing applications
CPM S110V Steel Chemical Composition
As mentioned above, the S110V is noted for its innovation. This makes its composition rather interesting as it has a nice assortment of elements including
Carbon : 2.8%
Chromium : 15.25%
Vanadium : 9%
Niobium : 3%
Molybdenum: 2.25%
Cobalt : 2.5%
The basic components are already pretty impressive as it makes up a high carbon and high chromium alloy. The addition of high amounts of vanadium and niobium in such high levels add to the hardness and fineness of the carbides making this steel incredibly wear resistant.
CPM S110V Steel Hardness
The CPM S110V steel is known for its hardness. According to Crucible, its typical application hardness is 58-61 HRc but it can be taken up to 64 HRc depending on the processing. This high rating promises that the S110V can handle abrasion and friction damage effectively.
Properties of CPM S110V Steel
Considered as a super steel by some knife fans, what exactly are the things that the CPM S110V steel excel in? Here are its key features that might help you get to know it better.
Wear resistance
With such high levels of chromium and niobium, the CPM S110V is meant to withstand abrasive damage. This makes it suitable for heavy use and some of the most challenging cutting and slicing tasks. It can promise durability, ensuring that knives made in this steel can last a long time.
Edge retention
Thanks to its high hardness, the edge retention of the CPM S110V steel is also incredibly impressive. It holds its edge really well so it stays sharp for a long period of time. Even with heavy use, it will not get dull right away.
This is one of the reasons why it's considered as a top-performing blade material. Aside from guaranteeing that it can always be at its top form, it also doesn't require sharpening very often. It's a plus since this blade material can be a challenge to sharpen.
Corrosion resistance
This metal's chromium levels may not be the highest in the stainless steel category but it's already significantly high to promise that it won't rust easily. Even when exposed to high humidity or very wet conditions, the S110V will not easily corrode or get rusty.
This property also promises simpler maintenance. Since it won't easily corrode, there's no need to take extra steps every after use to ensure that it will not get damaged.
Hardness
The composition of the S110V already promises hardness and fine grains but the addition of certain heat treatment techniques can further increase its hardness. This contributes to its abrasion resistance and ability to withstand abuse.
Toughness
To make the S110V more resilient and capable of taking a lot of beating, it's also designed to be very tough. Its high amounts of vanadium makes sure of this. It's still not the toughest out there, however, and many are left doubting since its toughness measurement is not detailed by the manufacturer.
Sharpness
With its top-notch edge retention, it can be expected that the S110V can also get very sharp. However, due to its hardness, it's not the easiest to sharpen.
This is where a lot of knife fans and experts take a step away from this specific material because it can be quite hard to work with. Even those who are pretty skilled in sharpening aren't too keen on the idea of sharpening their S110V knives very often. Luckily, it holds its edge very well so there's no need for that.
CPM S110V Equivalent Steels or Alternative
For those who are not very familiar with super steels just yet, the idea of all of these exciting things that the CPM S110V steel has to offer might be a bit hard to imagine. So to put them in context, here are side-by-side comparisons with some of the most popular blade materials today.
CPM S110V vs S30V Steel
A crowd favorite, the S30V is best known for its balanced composition. Its high levels of vanadium adds toughness and wear resistance to what could've been a very hard but brittle blade. It's a popular premium steel grade and is commonly found in high-end pocket knives and kitchen cutlery.
Compared to the S110V, however, the S30V is incapable of holding an edge for as long. To be fair, however, the S110V is among the highest edge retention capabilities in the market today so it's hard to beat in this area. It's a lot harder to sharpen, though, so that could be a serious tradeoff.
CPM S110V vs S90V Steel
A lot of people believe that the S11oV and the S90V are practically identical as they pretty much offer the same performance. On paper, however, S110V has a few more additional components to tweak its performance while the S90V has a more straightforward composition. The effects are pretty similar, though.
The main difference of the two, however, is in sharpening. The S110V is harder to sharpen with its very high hardness levels.
CPM S110V vs M390 Steel
Despite being more resistant to corrosion than the S110V, the M390 still cannot outlast it in terms of edge retention. By no means does this mean that the M390 is of a lower caliber than the S110V but it just puts the latter in a whole different class in terms of edge retention.
In other areas like wear resistance, toughness, and hardness, however, the two aren't too different from each other. However, the M390 is more easily available nowadays, so there's a better chance that you'll find one without having to look far and wide for options.
CPM S110V  VS MAXAMET Steel
Despite not being stainless steel, the Maxamet is still often compared to the CPM S110V steel for knife products as they tend to offer the same qualities, aside from corrosion resistance. They may not have identical components lists but they have similar levels of hardness and edge retention as well as cutting capabilities. Both are also notoriously hard to sharpen.
What makes the S110V a bit more popular than the other, however, is the price tag and corrosion resistance. It's just more practical to go for the S110V since it requires less maintenance and is available in more affordable options.
CPM S110V  VS S35VN Steel
Also from the same manufacturer is the S35VN steel. It's a modification of the popular S30V to create a metal that's tougher and has higher machinability. Despite being a few years younger than the S110V, it's more popularly used by knife makers because of its good balance between toughness and edge retention.
CPM S110V vs 3V Steel
3V's list of components may not necessarily look impressive but in terms of performance, it can outdo the S110V in toughness. It's preferred by some knife makers for its dimensional stability. It's flexible and highly resistant to wear and shock.
However, since the 3V is not stainless steel, the S110V can still be a more practical and convenient option with its higher corrosion resistance.
Is CPM S110V steel good for knives?
Based on the fact that the CPM S110V is used for custom and high-end knives, it can be said that this metal is a good choice for creating knife blades. The fact that it has excellent edge retention – one that is practically unparalleled – tends to justify its premium price.
It might not be the toughest option and can be quite hard to sharpen but it makes up for its shortcomings by being rustproof and capable of handling heavy use. The only true drawback about it is its price tag and relative rarity as it's not widely used for commercially available knives.
Pros & Cons of CPM S110V Steel
Pros
Incredibly tough and hard (will not easily break or chip)
Highly resistant to corrosion (will not rust easily even when exposed to humidity and wet conditions)
Holds an edge for a long time (gets razor sharp and will stay that way for a while)
Great wear resistance (capable of handling heavy use and handling)
Considered as a special steel (not a lot of people will have knives made with this steel so it's pretty exclusive)
Available in high-end options (often used in top-shelf knife models)
Cons
Can be tricky to sharpen
Quite hard to work with
Some experienced chipping
Not widely available
Best CPM S110V Steel Knives
Where can you find the best CPM S110V steel knives? Here are a few product reviews that should help you get to know this steel grade and its knives better.
#1: Spyderco Native 5 Lightweight Signature Folder Knife
Quick Specification
Blade Length: 2.95″ (75mm)
Edge Length: 2.42″ (61mm)
Blade Thickness: 0.125″ (3.2mm)
Lock Type: Back Lock
Weight: 2.5oz (71g)
Tip Carry Position: Tip-Up/Down
Another S110V item from Spyderco is the Native 5. This is another classic piece from their collection, starting out as a mid-range piece but then elevated to one of the higher-end options through the addition of premium steel blades.
One of the things that make this folding knife a major hit is its easy handling. It's design has really thought of all of the small details because it is nicely designed in terms of comfort and action. The choice materials also contributes to this as it's made of high-quality materials. The craftsmanship also convinces many that it's worth the investment.
While this product has the word 'lightweight' in its listing title and description, the detail can be disputed. It's technically light since it's under 4 ounces but some might still find it a bit too heavy for an everyday carry.
Pros
Made in the US
A classic option from the renowned brand
Tried and tested design and performance
Easy to handle
Can take on a good deal of beating
Cons
Can be a bit heavy for some users
Handle material doesn't necessarily look expensive
How to Sharpen CPM S110V Steel Knives
Conclusion
Settling for something less than stellar is a common practice among knife fans. However, with the growing popularity of super steels, things are changing. With the CPM S110V steel, you can already tick all of the boxes in your checklist for what the perfect knife for you would have. It already has the ultimate edge retention, great corrosion and wear resistance, and decent toughness, promising top-notch performance.
Case in point: the Spyderco Military in S110V. This particular knife proves that you can pretty much have it all in a knife if you know where to look and if you're reading to make an investment. This knife has everything people are looking for in a good, reliable, heavy-duty knife, so why not give it a shot if you're after the same thing?