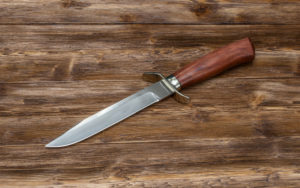 For plenty of knife owners, one of the features they want in a knife is something that doesn't have any glaring weak points. It should balance out all the relevant factors that a knife owner will find important. These factors include hardness, edge retention ease of sharpening, toughness (tendency to chip off), and even corrosion resistance.
And that's what you get when you find that a knife is made from CPM 154. It balances all these factors nicely, giving you a versatile material that's great for a wide range of knives. You can confirm that with this CPM 154 steel review, as it digs deep into how it works.
What is CPM 154 Steel?
This is a comparatively harder steel than usual, but it's still nicely tough as well. It also offers easy sharpening along with convenient corrosion resistant. Even knifemakers like to use this as well.
The origins of CPM steel started with 440c steel, which is the best of the 440-steel series. Crucible added a bit more molybdenum to the mix to improve the edge retention. They reduced the chromium content, but somehow the new stee retained its corrosion resistance level. This new steel was the 154CM.
The CPM 154 is chemically the same as the 154CM, but the CPM 154 is the powder version as it undergoes a different manufacturing process. The "CPM" in the name of the steel stands for Crucible Particle Metallurgy. This different process makes the CPM 154 somewhat better than 154CM steel, with slightly better edge retention and toughness.
The CPM 154 is an all-around steel, and it's great for a wide range of knives.
Common Uses of CPM 154 Steel
You can find the CPM 154 steel in a wide range of products, including:
Premium EDC knives
Bushcraft knives
Hunting knives
Cutlery
Corrosion-resistant tooling
Bearings
CPM 154 Steel Chemical Composition
Here's the recipe of the CPM 154 steel, with the most important elements and the amounts for each:
Carbon, 1.05%
Chromium, 14%
Molybdenum, 4%
Carbon, 1.05%: Carbon is perhaps the most crucial element in the recipe, as it's the element that greatly defines the hardness of the CPM 154 steel. Plenty of terrific carbon steels contain 0.7% carbon, which is already in the "high carbon" range. But you really get plenty of carbon here to give you a strong knife you can rely on.
Chromium, 14%: The CPM 154 steel qualifies as stainless steel, since the minimum chromium content requirement for stainless steel is about 12%. The CPM 154 steel is nicely resistant to corrosion, which makes it suitable for outdoor work. You can use it in the rain or to cut wet materials.
Molybdenum, 4%: This was what was added to 440c steel to basically make it better. It boosts hardenability, increases creep resistance, and enhances the strength of the steel at higher temperatures. It's even helpful at improving the corrosion resistance.
CPM 154 Steel Hardness
With the addition of the molybdenum, the CPM steel is even harder than 440c steel. The specific hardness level depends a lot on the heat treatment used, so it can range from 55 to 62 HRC. But a hardness rating of 59 HRC is quite typical.
This is quite hard, and it offers good performance in terms of wear resistant and edge retention. But it's not too hard, so it's still decently tough (hardness and toughness tend to be inversely proportional). Also, it's still relatively easy to sharpen.
Properties of CPM 154 steel
This is a terrific all-around steel.
Edge Retention
Due to its hardness, it should keep its edge sharp for a good long while.
Great Wear Resistance
The knife will last you for years. That's true even if you use it for camping and hunting.
Corrosion Resistance
This will resist corrosion nicely, since it qualifies as stainless steel. Just wipe it down after each use to be on the safe side.
Ease of Sharpening
This isn't all that hard to sharpen, either. That's because it's hard, but not too hard.
Surprising Toughness
This won't chip off easily either, which explains why it's used for outdoor knives too.
CPM 154 Equivalent Steels or Alternative
CPM 154 vs 154CM Steel
If you check out the chemical composition of these 2 steels, they're virtually the same. But because the CPM 154 steel was produced in a different (better) way, it's considered superior.
The wear resistance is about the same, but somehow the CPM 154 is a lot tougher than 154CM. That's to say, it's much less resistant to chipping. That's why the CPM 154 steel is very popular for outdoor knives, as you can use it to chop and hack at slender tree limbs.
In addition, knife makers on the whole find it much easier to work with CPM 154 steel than with 154CM. These knife makers find the CPM 154 steel easier to grind and polish.
CPM 154 vs s35vn Steel
Now this may be somewhat of an unfair comparison. After all, CPM 154 steel is a high-end steel, but S35VN is at the higher premium tier of steels. The S35VN steel is another terrific all-around steel that earns great scores across the board.
The S35VN is slightly better at retaining a sharp edge, and it's also a bit more corrosion-resistant. But the CPM 154 steel is easier to work with. They're both easy enough to sharpen.
CPM 154 vs s30v Steel
The S30V is identical to the S35VN. In practical terms, they're virtually indistinguishable. So, the S30V is also better than the CPM 154 steel at corrosion resistance and edge retention, and they're both easy to sharpen. Knife makers may find the 154 steel easier to work with.
CPM 154  vs M390 Steel
Now this really doesn't seem fair, with the M390 sitting at the "ultra-premium" tier. The M390 is considered one of the modern "super steels" with extremely high hardness so it's much better at edge retention and wear resistance. It's also somewhat better than CPM 154 at corrosion resistance.
However, the CPM 154 is much easier to sharpen. It's also tougher too, so it's less likely to chip off.
CPM 154  vs D2 Steel
Like the CPM 154, the D2 steel is part of the high-end tier of steels. It's even better at edge retention than the CPM 154, though the CPM 154 is better at wear resistance.
In addition, D2 steel is only semi-stainless steel. CPM 154 is better at resisting corrosion.
The toughness level is about the same. Many knife makers do say that the D2 steel is somewhat easier to work with, with a higher grindability rating.
CPM 154  vs 3v Steel
These 2 steels are both wear-resistant and offer good edge retention, though the CPM 154 steel may be somewhat better at these factors.
But the 3V steel is famous for its high impact resistance. It's extremely tough, and it won't break or chip in situations when other steels may fail.
On the other hand, it's not really all that corrosion-resistant. The 3V steel only has 7.5% chromium, so it's not stainless steel.
Is CPM 154 Steel Good for Knives?
It's very good steel for knives. It doesn't have any fatal flaws, with a nice balance of features and benefits across the board.
Even knife makers prefer to use it, as it's easy to work with. That keeps the prices down, although many CPM 154 steel knives aren't exactly cheap. Quality does come at a price, but thankfully it's not prohibitive either.
Pros & Cons of CPM 154 Steel
Pros
It's hard enough for everyday cutting tasks
You'll keep the edge sharp for a good long while
When it's time to resharpen the edge, it's easy enough
It offers good corrosion resistance as it's stainless steel
The toughness is surprisingly at a high level
Cons
It's a good all-around knife, so you'll find steels that are better at particular factors (edge retention, toughness, ease of sharpening, corrosion resistance, etc.)
Some of the newer steels are even better across the board (though these "super steels" are generally more expensive)
Best CPM 154 Steel Knives
Just how versatile is the CPM 154 steel? Very. To illustrate the point, here we have 3 CPM 154 steel knives with very different designs.
#1.Kershaw Leek Carbon Fiber Stonewash Finish
Quick Specification
Blade Length: 3 in. (7.6 cm)
Blade Thickness: 0.09 in. (2.29 mm)
Closed Length: 4 in. (10.2 cm)
Handle Material: Carbon fiber
Handle Thickness: 0.04 in. (10.17 mm)
Overall Length: 7 in. (17.9 cm)
Weight: 2.4 oz. (69 g)
The Kershaw Leek is a famous EDC knife, and with the use of CPM 154 in the blade this is the "upscale" model. This folding pocket knife is only 4 inches when closed, but with the 3-inch blade out it goes to 7 inches in length overall.
The blade slices very well with its modified drop-point design, but the slimness of the tip lets you pierce stuff and do detailed work. The blade thickness is less than a tenth of an inch (about 2.3mm).
This comes with a carbon handle fiber so the knife remains lightweight at 2.4 ounces. You get the "SpeedSafe" feature for easier opening, while the "Tip-Lock" system secures the blade when you close the knife.
Pros
It cuts through anything, from raw animal meat to seatbelts
Can pierce and do detailed work
It basically flies open, as it's so easy to unfold
Compact for easier pocket storage
Secure locking system
Grippy and durable handle
Comes with pocket clip
Features a glass breaker tip
Cons
May not be terribly sharp right out of the box
Some quality control issues
#2: Spyderco Darn Dao Fixed Blade Knife
Quick Specification
Overall Length: 16.27″ (413mm)
Blade Length: 10.63″ (270mm)
Edge Length: 9.86″ (250mm)
Weight: 18.4oz (522g)
Blade Thickness: 0.236″ (6.0mm)
Handle: G-10
Origin: Taiwan
This was designed after the rare Darn Dao custom blade made by the legendary knife maker Bob Lum. He specialized in bringing modern forms to classic Asian blades, and this one was based on the iconic broadsword you'll find in classical Chinese martial arts.
It's basically a sword, or more accurately a machete with a G10 handle. It's 16.27 inches, with the blade at 10.63 inches. This weighs about 18.4 ounces (a little over half a kilo) and you carry it around in a leather sheath with a belt loop.
Pros
With the CPM 154 steel, it's very tough and great at resisting impact
Flares at the pommel for a secure grip even with quick movements
Features a large hole for a lanyard
Cons
This may be considered a dangerous weapon
Not exactly easy to carry
Not cheap either
#3: Spyderco Respect Fixed Blade Knife
Quick Specification
Overall Length: 13.15″ (334mm)
Blade Length: 7.94″ (202mm)
Edge Length: 7.00″ (178mm)
Weight: 11.2oz (318g)
Blade Thickness: 0.300″ (7.6mm)
Handle: G-10
Origin: United States
This is basically the classic Bowie knife, but now made with modern materials. The whole thing is 13.15 inches long. The blade is 7.84 inches long with an edge length of 7 inches and a width of only 0.3 inches.
It also comes with a G10 handle. You get that feeling that the knife is entirely a single piece, since you also have the stainless steel Torx screws set in seamlessly.
It's true that you can really use this for bushcraft, as that is what it was designed for. It's a Bowie knife after all. It's shaving-sharp right out of the box, and it combines edge retention, wear resistance, toughness, and corrosion resistance into one impressive knife.
But it's somewhat expensive, and Spyderco really made this Respect knife with the utmost care. It's basically a work of art (especially when you consider the rather high price).
Pros
It offers high performance in the bush
Extremely strong and chip-resistant
You get a very secure grip
It's elegantly beautiful
Cons
It's pricey (so much so that you might hesitate to use it for hunting)
Conclusion
The CPM 154 steel knives are terrific, with great scores across the board. It performs well in edge retention, wear resistance, impact resistance, corrosion resistance, and ease of sharpening. Some CPM 154 steels are somewhat pricey, but you can get more affordable EDC knives with CPM 154 steel.
With this great all-around steel, you can simply rely on your CPM 154 steel knife to do the job—whatever it may be!