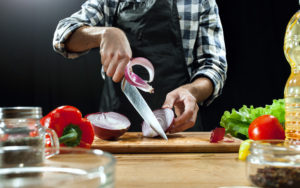 Steeped in tradition and history, the steel industry of Japan is nothing to scoff about. Archaeological and historical evidence show that they've been forging steel since the sixth AD, creating katanas and other blades that helped pave the way for the age of the samurai. With this, it can be expected that Japanese steel is some of the most coveted and preferred today.
The AUS 8 steel is among the Japanese steel varieties that gained quite a bit of attention for its quality and performance. If you're here to learn more about it, stick around to get to know its basics as well as find out what the best AUS 8 steel knives are available today.
What is AUS 8 Steel?
The AUS 8 steel is a mid-range Japanese stainless steel grade made by the Aichi Techno Metal Fukaumi Co., Ltd. As its name suggests, it's a part of the AUS series and carries on the tradition of the quality manufacturing of the said range.
Considered by knife experts and enthusiasts as in league with the stainless steel standard 440C and other highly rated stainless steel grades like the 154cm and D2, the AUS 8 holds a lot of promise. It's believed to be among the superior stainless steel options, capable to meet the high standards of a true quality stainless steel.
Coupled with excellent heat treatment, this steel grade can promise high levels of hardness, sharpness, durability, and, of course, corrosion resistance.
Common Uses of AUS 8 Steel
Nowadays, the AUS 8 steel is primarily known for its use in knives but it's also used for the following applications:
For the creation of cutting implements like scissors
For the creation of automotive parts
For the creation of medical devices and tools
For food machine parts
AUS 8 Steel Chemical Composition
The composition of the AUS 8 steel is not too different from many of the others in the AUS line. There are just a few differences here and there which can explain the big similarities in their performance and quality.
The AUS 8 steel, in particular, contains
Chromium, 13-14.50% 
Carbon, 70-0.80%
Molybdenum, 10-0.30%
Silicon, 8%
Manganese, 5% 
Vanadium, 10-0.25% 
Nickel, 49%
Phosphorous 04%
Sulfur. 005%
These numbers are carefully formulated to create a good balance between toughness, hardness, and resistance to wear, corrosion, and abrasion.
The same components can be found in the AUS 8A but the two should not be confused with each other. Despite the similarity, the 8A uses annealing in its production. The A actually stands for annealed.
AUS 8 Steel Hardness
The AUS 8 is said to have a Rockwell hardness rating of 58-59 HRc. It's definitely not the hardest there is today but it can already handle quite a wide range of uses and challenges. This also makes it a bit easier to sharpen, allowing easier use and maintenance.
Properties of AUS 8 steel
If you're wondering why a lot of people are opting to use AUS 8 steel for knife products, here is a list of its features that might just explain its charm:
Edge retention
With its high carbon content and high hardness rating, the AUS 8 can certainly offer good edge retention. It's often compared to premium steels in this area as it can hold on to its sharpness for quite a while, even with heavy use. This property is also one of the very reasons why this particular steel grade is popularly used for cutting implements and knives.
Toughness
High in chromium and with a bit of nickel, this particular steel grade is also quite tough. It can handle heavy use and a lot of impact without easily getting damaged or chipped. This property is even further enhanced with proper heat treatment, so the better made an AUS 8 knife is, the tougher and less impervious to damage it can be.
Corrosion resistance
With 13-14.5% chromium content, the AUS 8 exceeded the minimum threshold for a steel grade to be categorized as stainless. This guarantees that it's adequately capable of resisting rusting and corrosion when exposed to saltwater, humidity, and other possible factors for such kind of damage.
This feature ensures that the AUS 8 is not as fussy as other steel grades. It doesn't require a lot of maintenance to stay in top shape and that it's tough enough to be exposed to all kinds of weather.
Wear resistance
The addition of the silicon, manganese, and molybdenum further increases the wear resistance of this high-carbon steel. This can explain why it's capable of handling regular use without losing its sharpness and right away. It's also capable of handling abrasive damage which might be one of the reasons why the AUS 8 is often compared to premium steel grades.
Sharpness
Rounding out this list of properties for AUS 8 steel review is the sharpness that AUS 8 can get. Blades made from this steel can get razor sharp without too much effort. Thanks to the good balance in toughness and hardness of this steel grade, it's easy to sharpen and can get very sharp at finer edges. As a result, it can offer some of the most reliable blades for various purposes.
AUS 8 Equivalent Steels or Alternative
If you still can't get a good picture of the AUS 8 based on the descriptions above, don't fear. This is completely understandable as many blades need to be experienced in order to be fully appreciated.
The next best thing that can be done to further demonstrate what this particular steel grade has to offer is to compare it with other popular steel grades. Check out the list below as it can help you find out whether you'll like the AUS 8 based on their similarities and differences with the mentioned equivalent or alternative steel grades.
AUS 8 vs 440C Steel
The 440C is practically the stainless steel standard so it shouldn't come as a surprise that it's usually pitted against the AUS 8. Technically, however, their main similarity lies in the fact that both are stainless steel grades.
The 440C is a solid choice for those who wish to get a rust-proof piece. With its high chromium content, it can be highly corrosion resistant – better than the AUS 8. However, with the balanced composition of the latter, it proves to be tougher. And since it also has properties that will prevent rusting, it tends to have an edge over the 440C.
AUS 8 vs VG10 Steel
With a name that pertains to being of 'gold standard', the VG10 can easily be an attractive choice for many. It's also a Japanese stainless steel so it's easy to see why it's often compared to the AUS 8.
Generally, the VG10 is rated as a good all-around steel for blades as it's pretty tough and resists corrosion effectively. However, its edge retention is not as impressive so it's a good thing that it's easy to sharpen.
AUS 8 vs D2 Steel
Dubbed as a tool steel, the D2 has impressed a lot of knife fans for its great wear resistance, hardness, and edge retention. However, because it's only a 'semi-stainless steel', it can develop a patina over time or get rusty if not cared for correctly. It's also quite difficult to sharpen since it's very hard.
This is where the AUS 8 excels in, making it a more attractive choice to those who want a low-maintenance steel. Being a stainless steel, it's more resistant to corrosion. Its balanced composition also makes it softer than the D2 which, in turn, makes it easier to sharpen.
AUS 8 vs 8Cr13MoV Steel
The Chinese 8Cr13MoV steel is another popular alternative to the AUS 8, offering similar qualities at much lower prices. This is one of the reasons why this steel grade is quite notable as it's a budget pick that can compete with more established options.
The beauty of the 8Cr13MoV is that it doesn't claim to be a super steel, helping manage people's expectations of it. It's often used as an everyday knife since it's also very affordable. As it can get very sharp and hold its edge rather well, it offers great value for the money.
Is AUS 8 steel good for knives?
With its affordability, toughness, and ability to get very sharp without too much effort, it can be said that the AUS 8 is a good choice for making knife blades. It can perform well for the tasks that knives need to face on the regular. And since it has a nice machinability, crafting and shaping the blade isn't too fussy for knifemakers. With these, the AUS 8 proves to be a reliable material for knife products.
Pros & Cons of AUS 8 Steel
Pros
Easy to sharpen (it's not too hard to make the sharpening very challenging)
Resistant to corrosion and rust (thanks to its high chromium content)
Gets really sharp and holds the sharpness well (has a good edge retention thanks to its balanced composition)
Tough enough for different kinds of uses (it won't easily break, chip, or shatter)
Reasonably priced (knives made with this steel offer good value for the money)
Easy upkeep (since it's a stainless steel, it doesn't require heavy maintenance)
Comparable with top-notch stainless steel grades (promising quality and durability)
Versatile (great for everyday use and other purposes)
Cons
Some experienced some difficulties in removing burr
Heat treatment determines quality so some AUS 8 steel might not be as great as others
Gets a bad rap for its price
Best AUS 8 Steel Knives
To better explore what this steel grade can offer, here are some AUS 8 knife reviews. This roundup includes a number of top picks from the long list of products that are popular among knife buffs, experts, and casual buyers.
#1: DALSTRONG Chef Knife – 8"
Quick Specification
Product Dimensions: 13.15 x 1.93 x 0.1 inches
Item Weight: 1 pounds
Manufacturer: Dalstrong
Starting off this quick list is the Dalstrong Chef Knife 8" Phantom Series, the entry level option from the brand. It's meant to handle heavy regular use without the hefty price tag that comes with professional-grade options. This is why it caught the eye of aspiring chefs and home cooks who are getting serious about their equipment.
Aside from being able to get very sharp and retaining its edge for long periods, this Phantom Series product is also notable for its balance and handling. The D-shaped handle promises comfortable handling for long periods of use as well as easy food transfers. It's also made of durable but lightweight laminated pakkawood to match the reliable quality of the AUS 8 steel of the blade.
Overall, this knife promises to handle the many demands of a busy kitchen.
Pros
Traditional D handle promise ease of handling
Lifetime warranty
Lightweight and nicely balanced for comfortable use
Gets very sharp
Laminated pakkawood handle adds quality to the overall design of the knife
Comes with the DragonLock sheath to further protect the edge when not in use
Easy to clean and sharpen so maintenance is fuss-free
Cons
Some find the handle a bit too long to their liking
Can be quite pricey
#2: Ontario Knife Company 8848 Rat I Folding Knife
Quick Specification
Blade Length: 3.5 in (8.9 cm)
Blade Material: AUS-8 Stainless Steel
Blade Thickness: 0.115 in (0.292 cm)
Closed Length: 5.0 in (12.7 cm)
Orgin: Taiwandeployment
Handle color: Forest Green
Handle Material: Nylon 6
Hardness: 55-56
Overall Length: 8.5 in (21.6 cm)
Weight: 0.3 (Lbs)
For a heavy duty EDC knife, the Ontario Knife Company 8848 Rat I Folding Knife is a popular choice. Portable when folded but quite sizable when fully extended, this product promises durability and performance that can meet high expectations.
The Rat I got its name from Randall's Adventure and Training Team (RAT) which is the collaborators of its creators. These folks are authorities in professional survival training and outdoor gear research so their creations promise to be suitable to be used outdoors and for tactical purposes.
As the Rat I is also very inexpensive, it promises to be the perfect hard use pick for many. Since it's inexpensive and it can take on quite a lot of impact, you don't have to feel bad about abusing it.
Pros
Designed by survival experts
Lightweight and durable
Easy to handle, store, and carry around
Inexpensive price offers great value for money
Easy to sharpen and clean
Good lockup design and mechanism
Sharp out of the box and holds its edge pretty well
Cons
Tactical users might find the shiny finish a bit off putting
Thick handle makes it quite bulky but easier to hold
Black coating on the clip will fade over time
#3: CRKT Hissatsu EDC Folding Pocket Knife
Quick Specification
Blade Length: 3.88″ (98.43 mm)
Blade Edge: Plain
Blade Steel: AUS 8
Blade Finish: Corrosion Resistant Coating
Blade Thickness: 0.16″ (4.06 mm)
Overall Length: 8.75″ (222.25 mm)
Closed Length: 5.00″ (127.00 mm)
Weight: 5.80 oz. (164.43g)
Handle: Glass Reinforced Nylon
Offering a sleek design, the CRKT Hissatsu EDC Folding Pocket Knife can double as a stylish accessory for those who wish to carry it around for everyday suburban use. Its all black streamlined design is eye-catching and the addition of its patented Outburst assisted deployment make it quite a handy piece to have all the time.
It's not just all about the looks, though. The build of this piece is remarkable as it comes with high-grade materials that make it durable. If you're worried about the locking mechanism due to its easy-to-deploy design, don't be. The lockup is well designed and made so it won't accidentally unfold.
Pros
Comes with a limited lifetime warranty
Outburst-assisted opening makes it easier to deploy
Sleek and stylish modern design
Good weight and balance
Good size makes it easy to handle
Durable construction and materials
Cons
Sharpening may be required before first use
Slightly pricey
Some had trouble with the automatic opening mechanism during the initial use
Conclusion
As this AUS 8 steel review may have suggested, this particular steel grade may not be a super steel or even an industry standard but it's still a very decent choice for different kinds of knives. It delivers on the areas where it matters, making it a solid blade material. While the heat treatment can greatly affect its quality and performance, the right pieces can go a long way.
For the finest option for AUS 8 knives, the Ontario Knife Company 8848 Rat I Folding Knife is a highly recommended pick. It offers great value for the money with its build, design, and performance. The others listed above, of course, are good options, too. But if you want to get acquainted with this steel grade, the Rat I might be able to tell you why lots of people like this Japanese steel.