Among the many steel options for knives, 8Cr13MoV steel stand out for its continuing popularity. This is a type of stainless steel that you may find in lots of kitchen knives and home-use scissors.
Its low cost yet admirable hardness explains why so many home users prefer these knives, while manufacturers like the steel as it's quite easy to work with.
If you're looking for a knife that serves your purposes without breaking your budget, then 8Cr13MoV steel is a sensible choice. Here we take a closer look at the 8Cr13MoV steel attributes, and also offer 8Cr13MoV knives that offer great value for your money.
What is 8Cr13MoV Steel?
The 8Cr13MoV steel is part of the Cr family, and it's notable for its relatively high content of carbon and chromium. The carbon makes it relatively hard and suitable for lots of cutting tasks. The chromium qualifies it as stainless steel, with good resistance to corrosion.
This steel is relatively affordable, that is why it's a common steel used for knives and scissors.
Its usefulness in cutting and satisfactory resistance to both wear and corrosion makes it a preferred choice among plenty of home users, especially given its affordable price.
8Cr13MoV Steel Chemical Composition
Here's a closer look at the various metals and elements which make up 8Cr13MoV steel.
Chromium, 14.5%
Carbon, 0.8%
Manganese, 1%
Silicon, 1%
Molybdenum, 0.3%
Vanadium, 0.25%
Nickel, 0.2%
Sulfur, 0.04%
Chromium, 14.5%: To be considered stainless steel, the steel must contain at least 10% chromium. The chromium level here certainly qualifies, and the 8Cr13MoV steel is suitably resistant to corrosion.
In addition, the chromium also helps with the edge retention and resistance to wear. It also boosts tensile strength, meaning that it won't chip easily because it's brittle.
Carbon, 0.8%: The addition of the carbon here makes the steel hard enough for many cutting tasks. It also helps the steel last a good long while, as it enhances its resistance to both corrosion and wear.
Manganese, 1%: The manganese boosts the hardness of the steel.
Silicon, 1%: This also enhances the strength of the metal.
Molybdenum, 0.3%: While molybdenum also increases strength, manufacturers appreciate how this element improves the machinability of the steel. This means the 8Cr13MoV steel is easier to work with because of the molybdenum.
Vanadium, 0.25%: This also helps with increasing the hardness, and making the steel less susceptible to wear.
Nickel, 0.2%: This is to increase the toughness of the blade, meaning it's less likely to chip.
Sulfur, 0.04%: This tiny bit of sulfur in the metal also helps to improve the machinability of the steel.
8Cr13MoV Steel Hardness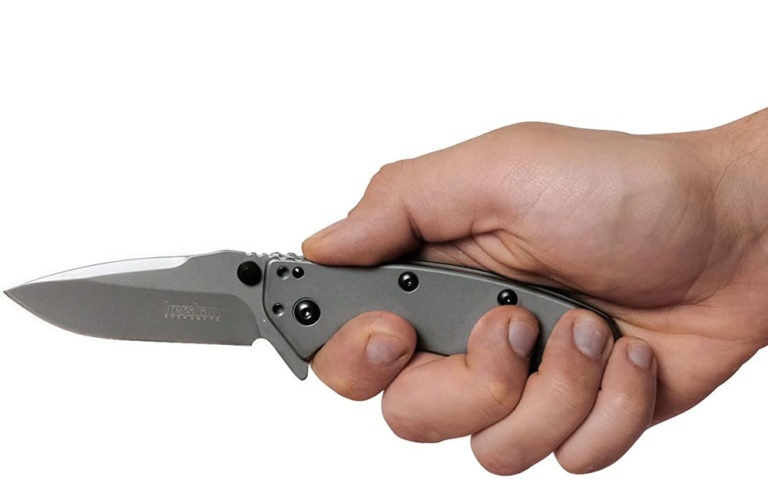 The hardness of 8Cr13MoV also varies, depending on how the manufacturer prepares the steel when making their knives. In general, the hardness of 8Cr13MoV steel registers somewhere within a range of 57 to 62 on the Rockwell HRC scale.
So, what does this mean, in practical terms? In general, Everyday Carry (EDC) knives have a hardness of 54 to 56. The premium knives tend to be harder, with an HRC rating from 59 to 66.
It doesn't always mean that higher HRC ratings are good. That's because hardness is generally inversely proportional to toughness. While hardness is about retaining a sharp edge and wear resistance, toughness is about resistance to chipping. So, if your blade is too hard, then it's likely that it will chip off more easily.
This is why axes and machetes aren't as hard, since they tend to have an HRC rating within a range of 52 to 55. But that also means they're very tough, which give them the ability to survive high-impact jobs like cutting wood.
Properties of 8Cr13MoV
Here are some of the attributes you can expect from the blades made with 8Cr13MoV steel.
Good Wear Resistance and Durability
The 8Cr13MoV steel is considered a relatively hard type of steel. It's harder than your typical EDC knives, which means it should last a good long while. Given the fact that 8Cr13MoV steel is also considered a low-budget steel, that makes a knife made from this steel an absolute bargain.
The terrific resistance to wear can be attributed to the use of relatively large amounts of carbon, chromium, and even vanadium. All these elements enhance the wear resistance and overall durability of the steel.
Terrific Corrosion Resistance
This is a type of stainless steel, which means it shouldn't rust all that easily. By definition, stainless steel must contain at least 10% chromium, and a lot of stainless steels contain at least 12%. You have 14% with 8Cr13MoV steel, so this certainly qualifies.
Because of the excellent corrosion resistance, you won't have to worry about the blade rusting when you live in a high humidity area. This explains the popularity of 8Cr13MoV steel for kitchen knives, since you work with a lot of wet foodstuff in the kitchen.
It's also great for outdoor work as well, such as for cutting cords while working near a stream. You won't have to worry for the blade if it rains, either.
Nice Sharpness and Edge Retention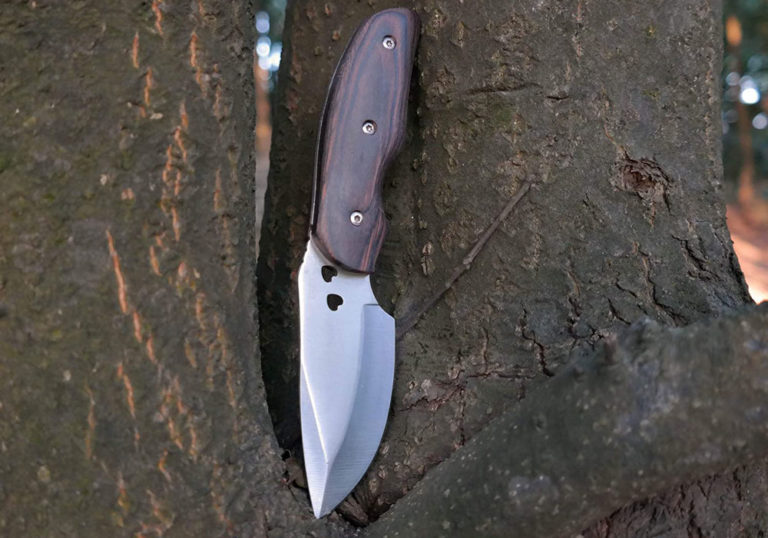 Most of the highly regarded brands offer extremely sharp 8Cr13MoV steel knives right out of the box. That's because they're easy to machine, and the steel isn't too hard.
But it's still hard enough to retain its sharp edge for some time, so that you don't have to sharpen the blade too frequently. In fact, for most people the blade remains sharp for many months before the blade even needs sharpening.
It's a good practice to strop your blade every time you use it. That way, you retain the sharp edge longer.
Comparatively Easy to Sharpen
Even when you do need to sharpen the blade, you won't need specializes equipment. Sharpening the blade is relatively simple and easy. You won't need to buy expensive sharpening systems to get the job done.
In most cases, just sharpen the blade maybe once a month. A whetstone is often the best, but a ceramic sharpening rod also does the job nicely.
It's best if you know how to sharpen your knife properly, and you need the right tools for the job. Perhaps every 1 or 2 times a year, you may even consider a professional sharpening job. But some people may do this only for their more expensive jobs.
Just remember that even a poorly sharpened blade is better than a dull knife. So, either sharpen the blade or get a new knife—both options are good with the inexpensive 8Cr13MoV steel. Using a dull knife is just asking for trouble.
Decent Toughness
It's a truism in the knife-making industry that extremely hard blades tend to be brittle, on the whole. That's why it's a good thing that this 8Cr13MoV steel isn't all that hard. It's just hard enough, while still able to retain an acceptable level of toughness.
It does help that the molybdenum, nickel, silicon, and phosphorus all contribute to enhancing the toughness of this steel.
This means that the blade won't chip off too easily. While you still need to take care of the blade when using it for hitting stuff or prying open cans, at least it can do these jobs better than harder steel.
Excellent Machinability
Because of the molybdenum (and the tiny bit of sulfur), knife manufacturers like 8Cr13MoV steel because of its excellent machinability. It's relatively easier to fashion the steel to whatever shape and design needed for the knife.
It doesn't cost as much to use the steel for making knives, and these cost savings are passed on to the consumer. You can then buy these knives at a lower cost, while enjoying all the other properties that make 8Cr13MoV steel a popular option for knives and scissors.
8Cr13MoV Equivalent Steels or Alternative
Another way to really check out if 8Cr13MoV steel is best for your needs is to see how it performs with direct head-to-head comparisons with other popular steels.
You may discover a better steel for your needs this way. Then again, it may confirm your initial feeling that 8Cr13MoV steel is simply what you and your budget needs.
8Cr13MoV vs 440c Steel
For the most part, 440c is better based on its performance. It retains its edge better than the 8cr13mov, though there are some terrible exceptions that require almost weekly sharpening for regular EDC tasks.
The thing is, 8cr13mov offers much of the same benefits except for the weaker edge retention. But 8cr13mov is also more affordable.
8Cr13MoV vs 420hc Steel
In general, if you have the same hardness level in both steels then the 8cr13mov will retain its sharp edge for a longer time.
But while there are some exceptional versions of the 420hc out there, it depends on the heat treatment used by the brand, in most cases the 420hc is just too soft. Some of the knives made with this steel are just good enough to work as letter openers.
8Cr13MoV vs 14c28n Steel
In general, the 14c28n tends to be harder with slightly better edge retention. It also offers excellent corrosion resistance.
The 8cr13mov is actually very similar to the 14c28n, but 8cr13mov is easy to work with and also very fairly priced. These are the reasons why the 8cr13mov remains a more popular choice than the 14c28n. With the right heat treatment, the 8cr13mov also becomes a lot better.
8Cr13MoV VS VG10 Steel
VG10 is considered a high-end steel type from Japan, with excellent hardness and a very fine edge. On the face of it, it's much better than the 8cr13mov across the board.
But they're both terrific for the prices they come with. You can still with the 8cr13mov if you don't have much to spare for a knife, or if you don't use the knife often. But if you want to upgrade your knife and still get great value for your money, the VG10 is a great choice.
8Cr13MoV VS AUS 8 Steel
The AUS 8 is another steel that comes from Japan, with medium carbon levels and high chromium content. It offers a nice sharp edge, excellent corrosion resistance, and decent toughness. But it doesn't retain its edge very well.
The 8cr13mov will definitely hold its edge longer, though it's not as good as resisting impact. Go with the AUS 8 if you need the knife for tasks that risk chipping, but stick to the 8cr13mov if you don't want to sharpen your blade too frequently.
8Cr13MoV vs 7cr17mov Steel
These belong to the same Cr family of steel from China. One of the differences here is that the 7cr17mov contains more chromium, which means it's better at resisting corrosion. That's why you find this steel in lots of survival knives meant to be used for camping.
On the other hand, the 8cr13movm is harder and holds its edge better. This is great for indoor tasks, and you won't need to sharpen the blade too often.
The 8cr13mov is a bit more expensive than the 7cr17mov, but not by much. You get your money's worth (and more) with the harder 8cr13mov.
Is 8Cr13MoV Steel Good for Knives?
From a certain point of view, there are quite a number of other steel types that offer better overall performance than knives made with 8Cr13MoV steel. The steel on these knives may offer better durability and cutting ability, and may even give you the toughness you require.
Yet those types of steel are generally more expensive. Using 8Cr13MoV steel tends to lead to much more affordable knives. For its price range, it's actually quite good. It gets the job done better than most other affordable steels out there.
With this knife, you get a nice balance between hardness and toughness, while you get excellent resistance to corrosion. It's even easy to sharpen as well.
This is a good type of steel to use on an EDC pocket knife, and later in this article you'll find fine examples to prove this.
Pros & Cons of 8Cr13MoV Steel
Pros
Good resistance to wear
Doesn't rust easily
Holds sharp edges nicely
Simple enough to sharpen
Decent toughness
Easy for manufacturers to work with
Affordable steel
Cons
Not recommended for welding
Isn't as hard as some other steel types
Best 8Cr13MoV Steel Knives
There are plenty of 8Cr13MoV knife options you can find online, and you may find yourself confused as to which knife to pick. While the 8Cr13MoV may be similar on the blades of these knives, you need to consider other factors to find the most suitable knife for your needs.
Here, we listed 3 excellent pocket knives using 8Cr13MoV for the blade. All these options offer terrific value for your money.
#1: Spyderco Tenacious C122GP Folding Knife
Quick Specification
Overall Length: 7.76″ (197mm)
Blade Length: 3.39″ (86mm)
Closed Length: 4.45″ (113mm)
Edge Length: 3.39″ (86mm)
Weight: 4.1oz (117g)
Blade Thickness: 118″ (3mm)
Handle: G-10
Origin: China
This is the Plain Edge model, with the 8Cr13MoV blade shaped like a leaf. It's been ground flat from the spine to the cutting edge to boost its cutting performance. You also get the textured spine so you can set your thumb on the spine without slipping.
This also features the characteristic round hole on the blade for easier opening. The blade is 3.39 inches long, and set with a G10 handle with skeletonized steel liners for greater rigidity. The knife is 7.77 inches long overall, but it comes with a 4-way pocket clip.
Pros
Good cutting performance
Nice size for your pocket
Strong without being heavy
Comfy to hold
Razor sharp out of the box
Comes with a nice clip
Cons
Unimpressive packaging
May need some oiling out of the box
#2: Kershaw Brawler Folding Pocket Knife (1990)
Quick Specification
Blade Length: 3 in. (7.6 cm)
Blade Finish/Coating: Black-oxide coating
Blade Thickness: 0.121 in. (3 mm)
Closed Length: 4.1 in. (10.5 cm)
Handle Thickness: 0.55 in. (14 mm)
Overall Length: 7.1 in. (18 cm)
Weight: 3.9 oz. (110.6 g)
With the heat treatment that Kershaw brings to the 8Cr13MoV, you can expect the blade to hold its edge nicely. It's quite resistant to adhesive and abrasive wear.
The blade also comes with a black oxide coating, which helps a bit with the corrosion resistance. But the main reason for this is to reduce light reflection, for tactical purposes.
Deploying this folding knife is smooth and quick, thanks to the SpeedSafe Assisted Opening system. It also comes with a secure locking system for safety.
This is easy enough to carry around, especially with the clip it comes with. It's not heavy at all, coming at just 3.9 ounces.
Pros
Sharp enough for cardboard and cords
Holds its edge nicely
Doesn't reflect much light
Easy deployment
Lightweight
Cons
Won't cut tougher materials
May be a bit too thin, so it will eventually break on you
#3: Kershaw Cryo Pocket Knife
Quick Specification
Blade length: 2.75 inches (7 cm)
Overall length: 6.5 inches (16.5 cm)
Weight: 4.5 oz
Made in: China.
How good is this? Well, when it came out it received the Best Buy of the Year award at the 2012 Blade Show. It's that good, as it was designed by Rick Henderer.
The model we got came with the stainless-steel handle, for a uniform look. This comes with the lanyard hole, along with the textured edges for more secure handling.
The overall length is just 6.5 inches, with the blade at 2.75 inches. It's extremely versatile, and with the handle it works in so many situations.
Pros
Comes sharp out of the box
Holds its edge for a long while
Good size to carry in your pocket
It also comes with a 4-way clip
Award-winner
Cons
Takes a bit of practice to open it smoothly
Perhaps too small for outdoor tasks
Conclusion
Who say budget knives have to be substandard? Not with 8Cr13MoV steel to make your blade. The 8Cr13MoV offers great balance between wear resistance, sharpness, edge retention, corrosion resistance, and resistance to chipping.
Try a pocket knife from our list, and you'll find that you have a nice EDC knife you can carry around for most cutting tasks at home and on the road. The 8Cr13MoV may be cheap, but it still offers a lot of bang for your buck.