Are you looking for an affordable knife that's reasonably sharp out of the box, and easy to sharpen when it gets dull? If that's the case, then you may want to check out the knives made with 5Cr15MoV steel.
It's crucial that you first check the steel used in any knife you'll use, before you consider other factors. That's because knives are made for cutting, and you need the right kind of steel for the blade to do that properly.
Given the right situation, 5Cr15MoV steel maybe your best option. It's a favorite among many consumers, as knives made from this steel are usually affordable, and generally easy to sharpen.
What is 5Cr15MoV Steel?
5Cr15MoV steel started with the excellent X50CrMoV15 steel, which is among the most widely used steel types for knives made by German brands. Chinese manufacturers came out with their own version by tweaking this steel a bit, leading to the 5Cr15MoV steel.
As you might expect from your standard Chinese product, this version is quite affordable even while it gives you good value for your money.
This particular steel is justly popular due to its terrific corrosion resistance, which is why it's found in so many kitchen knives. You don't have to worry when it gets wet, which is bound to happen when you work in the kitchen.
Also, it's hard enough for good durability, but not too hard. The best knives that use 5Cr15MoV steel often come with a very sharp edge. When you eventually dull the blade, it's easy enough to sharpen the edge.
5Cr15MoV Steel Chemical Composition
The chemical composition of the 5Cr15MoV steel can give you a clearer idea of how it performs. The main elements here are the carbon and chromium, but the other elements in smaller amounts help in various ways.
Carbon, 0.5%
Chromium, 15%
Molybdenum, 0.6%
Manganese, 0.4%
Vanadium, 0.1%
Carbon, 0.5%: This carbon level is why you have the 5 in the name of the steel. This amount of carbon boosts the hardness of ordinary steel. The carbon helps with the edge retention and the resistance to normal wear as well.
At the same time, there's not really a lot of carbon at all. So, it may be hard, but not that hard. That's not always a bad thing, because it means it's easier to sharpen the edge gets dull.
Chromium, 15%: This time, you see the chromium content in the Cr15 part of the name of the steel. The chromium level mainly determines the resistance of the steel to corrosion. In fact, stainless steel (which is renowned for its corrosion resistance) has to contain at least 10% chromium.
This high amount of chromium also explains the popularity of this steel for affordable kitchen knives. Get it wet while using it in the kitchen, and you're not worried.
The chromium also helps in boosting edge retention and minimizing the steel's tendency to chip. It also improves its wear resistance too.
Molybdenum, 0.6%:  While the molybdenum also helps in boosting the strength, its main benefit is to increase the machinability of the steel. That means it's easier for the manufacturer to work with the steel, and that means lower production costs.
The cost savings are passed on to the buyers, as the resulting knives generally come with a very reasonable price.
Manganese, 0.4%: This helps with the hardness, even while it also boosts the toughness of the steel.
Vanadium, 0.1%: A tiny bit of vanadium boosts the steel's hardness and its ability to resist wear.
5Cr15MoV Steel Hardness
Using the Rockwell HRC scale, you'll find that hardness of most 5Cr15MoV steel is within a range of 55 to 57 HRC. The hardness also depends on the heat treatment used by the manufacturer for the steel, which is why some knives that use this steel come with 58 HRC.
But in general, the average hardness level of 5Cr15MoV steel is about 54 HRC.
In practical terms, it's hard enough for good durability and resistance to wear. But it also doesn't mean much for edge retention, which means you may need to sharpen the blade often. On the other hand, since the 5Cr15MoV steel isn't all that hard then sharpening the steel won't be difficult at all.
Properties of 5Cr15MoV Steel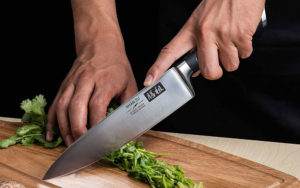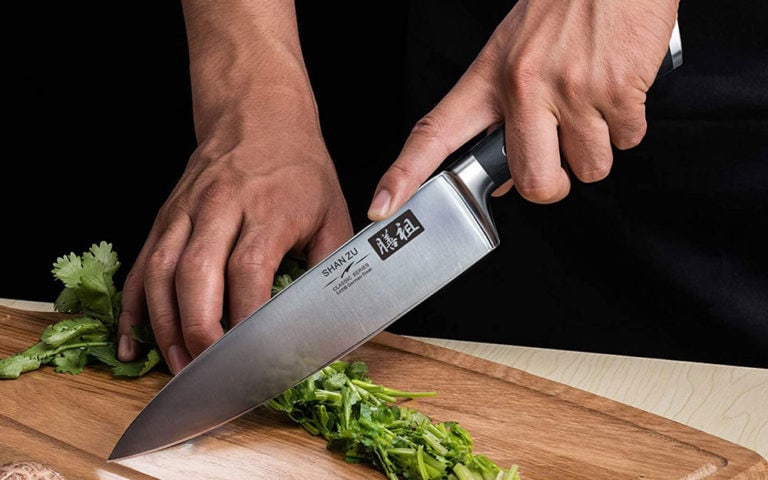 Here are some of the characteristics and benefits you might expect from any knife made with 5Cr15MoV steel.
Terrific Corrosion Resistance
This is perhaps one of its main benefits, aside from the fact that the steel itself is quite affordable. For such a low-priced steel, you get a knife that just won't rust with normal use. In fact, it won't even stain.
Keep in mind that stainless steel must contain at least 10% chromium. Many of the other stainless-steel types contain only 12% chromium. In comparison, this is much more resistant to corrosion. Use it in wet conditions, and you won't have to worry.
Easy Sharpening
This is the other main reason for the popularity of 5Cr15MoV steel. Once the sharp edge gets dull, it's no trouble at all to sharpen. You don't really need special sharpening systems for this. A ceramic sharpening rod will do fine.
It's for this reason why lots of newbies buy 5Cr15MoV steel knives. The edge retention encourages the user to develop a regular habit of sharpening their knives.
Beginners can learn how to sharpen kitchen knives with simple tools. Because of the relative "softness" of this steel, sharpening the edge won't be a frustrating process for absolute beginners.
Hardness
Yes, with the carbon level here you might consider the 5Cr15MoV steel as hard enough. At the very least, it should offer good resistance to wear. Your 5Cr15MoV knife should last a good long while.
But edge retention can be an issue here, as the steel isn't as hard as other carbon steel variations. The edge may dull faster. The good news is that lots of good 5Cr15MoV steel knives come very sharp, so they're great right out of the box.
Tensile Strength
The other good news with the relatively low hardness level of 5Cr15MoV steel is that it's also correspondingly tough. That is, it offers comparatively good tensile strength so that the steel isn't brittle at all.
That's the main problem with "harder" steels, as they're not tough enough. They're more prone to chipping, which is a problem if you do a lot of chopping instead of cutting with the knife.
With this steel, you can chop without having to worry too much about chipping the blade. Since chopping food (such as veggies, meat, and fish) is a common task for kitchen knives, the 5Cr15MoV steel works nicely.
5Cr15MoV Equivalent Steels or Alternative
Another way to gauge the performance of the 5Cr15MoV steel is to compare it directly with other popular steels found in other knives. Here's how the 5Cr15MoV steel looks in comparison:
5Cr15MoV vs 440 Steel
In general, 440 steel has more carbon than 5Cr15MoV steel. The lowest-grade 440A contains 0.65% to 0.75% carbon. That makes it harder, and offers better edge retention.
However, the "softer" 5Cr15MoV steel makes it easier to sharpen. It takes less effort and time.
5Cr15MoV vs AUS 8 Steel
AUS 8 is also another common steel in knives. It's slightly harder than 5Cr15MoV, with carbon content ranging from 0.7% to 0.75%
Again, that means better edge retention for the AUS 8, but the 5Cr15MoV is easier to sharpen.
Also, AUS 8 generally contains less chromium at 13-14.5%. That makes 5Cr15MoV steel a lot more resistant to corrosion/
5Cr15MoV vs stainless steel
5Cr15MoV is actually a type of stainless steel. It contains 15% chromium which makes it resistant to corrosion. The minimum chromium content for stainless steel is just 10%, so it's more corrosion-resistant than other types of stainless steel.
5Cr15MoV also contains 0.5% carbon. Some stainless steels contain little or no carbon at all, so the carbon makes the 5Cr15MoV more durable and more wear-resistant.
5Cr15MoV vs 7cr17mov Steel
From a certain point of view, 7cr17mov steel is "better". It has more carbon, which makes it harder and better able to maintain its sharp edge.
But because 5cr15mov is "softer", it's easier to sharpen. It's also tougher, meaning it's less prone to chipping when you use the knife for chopping food.
Also, in most cases the 5cr15mov is more affordable. So, if you don't need steel as hard and as corrosion-resistant as 7cr17mov, you save money with the 5cr15mov.
Is 5Cr15MoV Steel Good for Knives?
That depends on how you plan to use the knife in the first place.
For hunting knives and other outdoor uses, 5Cr15MoV steel isn't really ideal. Using this to cut tough materials like thick ropes and tin cans will just dull the knife quickly. It can be bothersome trying to sharpen the knife several times a day.
It's good enough for a small pocket knife used for opening packages, and for cutting strings and adhesives.
But it's really great with kitchen knives. It makes short work when cutting and chopping food items. It's excellent rust-resistance also helps a lot with kitchen work. It won't stain easily, so your kitchen knives keep looking good for a long while.
Pros & Cons of 5Cr15MoV Steel
Pros
Good for cutting strings and adhesives
Great at chopping food
Won't chip easily
Extremely resistant to rust
Easy to sharpen
[/su_list]
Cons
Doesn't retain its edge for very long
Not good for cutting tougher materials
[/su_list]
Best 5Cr15MoV Steel Knives
#1: SHAN ZU Pro Stainless Steel Kitchen Knives
Quick Specification
Thickness: 2.2mm
Total length: 13.5″
Weight: 0.5 Ib
Blade Material: Stainless Steel
Blade Edge: Plain
Blade Length: 8″
The blade here is 8 inches long, with a thickness of 2.2mm, a super-sharp edge, and a cutting angle at 15 degrees. The blade is double-edged, so that even lefties will have no trouble using this. With this blade design, you can cut through meats and veggies easily enough, and the food doesn't stick to the blade.
The craftsmen at Shan Zu spent 2 months polishing the blade by hand, and it's been nitrogen-cooled to boost its hardness, flexibility, and resistance to corrosion.
The blade matches with a nice handle made of non-slip pakka wood, with an ergonomic shape that feels comfy to hold. You're able to get a nice, secure grip so you can work efficiently and safely. Your fingers are safe, while the full-tang design allow you to exert enough force.
The whole knife is 13.5 inches long, but it weighs just half a pound. The weight balance is terrific, and it's easy enough to clean. Somehow this knife doesn't require frequent sharpening, but you still need a good sharpening system to take care of the edge.
Pros
Extremely sharp, slices through food easily
Comfy handle
Comes in a fancy box (perfect as a gift)
Well-balanced
Food doesn't stick to the blade
[/su_list]
Cons
Needs wood, rubber, or plastic chopping board (don't use on your countertop)
Best to wash by hand after each use
[/su_list]
#2: SOG Small Fixed Blade Knife
Quick Specification
Overall Length: 5.9″
Weight: 2.3 oz.
Blade Length: 2.3″
Blade Thickness: 0.16″
Weight: 3.8 Ounces
Blade Edge: Straight
Blade Length: 2 Inches
This particular knife proves that the 5Cr15MoV steel isn't just for kitchen knives. This is a tiny knife, which you can use as a tactical knife set on your neck or in your boot.
The blade itself is 2.3 inches long with a clip point shape, and it's 0.16 inches thick. It looks great with its satin finish, and the 5.9-inch overall length makes it easy to carry around. It doesn't weigh much at all, with a weight of 2.3 ounces.
This fixed knife comes with a textured G10 handle. With the jimping and finger grooves, you're able to get a secure and comfortable grip that gives you full control over the blade. You get a tough full-tang design that lets you cut through stuff without issue.
This also comes with a nice hard-molded sheath with a 360-degree mount. You can just set the sheath in whatever setup you want so that it's comfortable while it lets you take out the knife efficiently.
All in all, it's a great EDC knife that you can bring along wherever you go. Sure, you can use this as a tactical knife too (as the SOG designation indicates). But for most of us civilians, this works best as an EDC and camping knife that cuts through everything you need to cut all day long.
Pros
Lightweight at 2.3 ounces
Good size and length for EDC and everyday tasks
Handle offers terrific control with comfy grip
Snug sheath
Razor-sharp right out of the box
Cons
Won't fit in your pocket
May not be best for large hands
#3: Gerber Freeman Guide Fixed Blade Knife
Quick Specification
Blade length: 4″
Overall length: 8.4″
Weight: 4.4 oz
This is another fixed blade that works for EDC, and you can even use this for camping or hunting. This comes with a spear point blade that's 4 inches long, while the knife itself is 8.38 inches overall.
The handle is lightweight, too, with the special "TacHide" onlay that makes sure you get a secure grip. You have a set of large finger grooves as well, so this works for a wide range of hand sizes. With the full-tang design, you're able to control the blade nicely while you exert ample force when you do your cutting.
The blade itself is sharp right out of the box. You may want to spend a few minutes on a sharpener and a leather strop to make it sharp enough for shaving.
This also comes with a formed nylon sheath. It's not quite as good as the knife itself, but it'll do until you replace it. The sheath somehow covers the entire knife (including the handle), which doesn't allow you to take out the knife quickly.
Just make sure you use this properly outdoors, and you'll be fine. It's a Gerber knife, and that means it was built with quality in mind. However, it's not meant for chopping tasks outdoors, so don't use this as an axe or hatchet.
Pros
Effective cutting blade
TacHide surface on the handle offers a secure grip
Large finger grooves
Easy to control
Cons
Needs sharpening out of the box (to be sharp enough to shave with)
The sheath isn't as good and needs to be replaced
Conclusion
It's true that 5Cr15MoV steel isn't meant to be a premium-grade steel. But that wasn't the goal for creating it in the first place. It was meant to be a budget-option instead.
What it does prove is that an affordably-priced steel can still offer a lot of value. While it may not be as hard as other steels, that doesn't have to be a bad thing every time. This is an easy blade to sharpen, while the corrosion-resistance is terrific.
As we've shown, 5Cr15MoV steel isn't just for kitchen knives, either. It can be quite versatile in its usage, providing you pick the right brand when you buy your 5Cr15MoV steel knife. Try any (or even all) of the knives on our list, and you end up with a knife that does everything you can reasonably ask it to do.