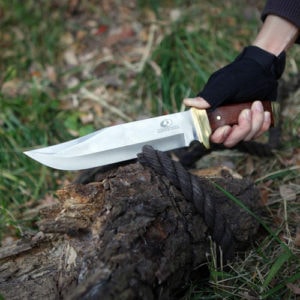 For many consumers, the most notable factor taken into account when buying knives is the price. That goes for a set of kitchen knives, or even for an everyday carry knife used to open packages and other typical cutting tasks.
The problem is that it's also a truism that you get what you pay for — buy cheap, get cheap. This leads us to 3cr13 stainless steel, which is eminently affordable. Yet for its price range, it's actually quite good. You're not wasting your money at all.
What is 3CR13 Stainless Steel?
Perhaps the most notable fact about 3cr13 stainless steel is that it's made in China. That reassures buyers with a limited budget, but it's a bit worrisome for those who don't want undependable knives that prove too much trouble in the long run.
But it's also reassuring to know that this steel is actually quite popular in the US. You can find it used to make a lot of metal items, like springs, bolts, bearings, and entire tools.
It's also a very popular steel for knives, and you can find it in kitchen knives, EDC knives, and even outdoor knives for hunting and camping. It may be low-priced, but you sure get a lot of value for every dollar you spend.
Let's make this clear—if you want a special knife, then the 3cr13 stainless steel isn't what you're looking for. But if you want a regular knife that you can rely on to get a job done, this may be the steel you want.
3CR13 Stainless Steel Chemical Composition
Let's get a closer look at the elements that make up the 3CR13 stainless steel. That way, we have a more definitive idea on how it will actually perform.
Carbon, 0.3%
Chromium, 13%
Silicon, 1%
Manganese, 1%
Nickel, 0.6%
Phosphorus, 0.04%
Sulfur, 0.03%
Carbon, 0.3%: It has long been known that the presence of carbon makes the steel harder. But blade makers have also known that too much hardness comes at a price. The knife also becomes much more brittle, with a greater risk of chipping when used.
This is why the carbon here is limited to this level. It offers a certain compromise, with just enough hardness to get by.
Chromium, 13%: This is the other featured number in its name, so you know it's important. While the chromium also helps in boosting the hardness of the steel, its other main purpose is to ensure its resistance to corrosion. In fact, all stainless-steel types must have at least 10% chromium. With this much chromium, you certainly get more than the bare minimum.
Silicon, 1%: This enhances the strength of the steel while also minimizing the brittleness. It's a nice combination with the carbon.
Manganese, 1%: This is a versatile component, as it somehow enhances both the hardness and the strength (non-brittleness) of the steel.
Nickel, 0.6%: This is another element that counterbalances the hardness of the steel. It reduces the chances of chipping.
Phosphorus, 0.04%: This may be a rather tiny amount, but it also helps with countering the brittleness.
Sulfur, 0.03%: The sulfur makes the steel easier to machine, so that the production stage doesn't end up costing a lot. But it's right that only a small amount of sulfur is used here, since it may also make the steel more brittle.
3CR13 Stainless Steel Hardness
It's hard enough, so that you can't really say that it's too soft. At the same time, the makers of 3CR13 Stainless Steel aren't aiming to get the hardest steel they can get. In fact, they want to minimize the hardness so that the steel isn't too brittle.
Instead, the makers were looking for the best compromise between hardness and brittleness, so the steel can still be hard and tough. 3CR13 Stainless Steel tends to have an HRC rating of 52 to 55, and averages at about 54 HRC. That's actually the hardness level of a lot of affordable knives today.
Properties of 3CR13 Stainless Steel
So, what can you expect with 3CR13 Stainless Steel? Here are some notable features that you should expect"
Affordable
This is perhaps its greatest selling point. 3CR13 Stainless Steel is easy to machine, and the makers pass on the savings due to the lower production costs to the consumers. The terrific machinability of the 3CR13 Stainless Steel also allows knife makers to create and shape a wide variety of blade designs to suit various needs.
Sharpening
The sharpness of the blade out of the box depends greatly on the brand. But since the blade isn't too hard at all, knife makers can certainly give you a very sharp knife without adding too much to the cost.
In addition, when it does become blunt, the moderate hardness level makes the blade easy enough to sharpen. You won't need too much time and effort, and there won't be a need for expensive sharpening systems.
Edge Retention
Compared to the harder (and more expensive blades), 3CR13 Stainless Steel doesn't really maintain the sharp edge of the blade all that long. But this is an unfair comparison.
Compared to other steels used for knives in this price range, the edge retention of 3CR13 Stainless Steel is actually excellent.
Corrosion Resistance
This is stainless steel, and you have ample chromium here for corrosion resistance. While some other stainless steels may contain 14% or more chromium, the 13% chromium in 3CR13 Stainless Steel is more than enough.
You won't have to worry about rust with this knife, at least for a few years. You just need to take care of the knife, and try to make it a habit to wipe it down after washing it.
Wear Resistance
You've got a nice balance between hardness and toughness here, so that the wear resistance is excellent. This is less likely to chip even when you use this for chopping, and it can last a surprising long time. Its combination of flexibility and resistance to wear is another main selling point.
3cr13 Equivalent Steels or Alternative
To get a better idea of how the 3cr13 steel will perform for you, here's are some direct comparisons with other common knife steels. You may find a better steel to suit your needs, though the comparison may also confirm that the 3cr13 steel is your better choice.
3cr13 steel vs 420j2
Many experts say that the 3cr13 steel is very similar to 420j2. Perhaps the 420j2 is just a touch harder, so it offers better edge retention. But it's also stainless steel with good corrosion resistance, and it's also easy to work with.
Because it doesn't rust that easily, 420j2 may be found in surgical knives and dive knives. A lot of scissors also use this steel.
3cr13 steel vs 1055 carbon
These are quite different, though both are usually within the same price range. With 1055 carbon, you get good enough hardness. It certainly offers better edge retention that 3cr13 steel, but it's not brittle at all.
But it doesn't really resist corrosion at all, unlike 3cr13 stainless steel. That's why the 1055 carbon isn't used where it gets wet.
3cr13 vs 420 steel
420 steel, like 3ct13, is also a type of stainless steel. Because 420 steel is corrosion-resistant, you may want to use it for use in salt water.
But it's very soft due to its low carbon content, and the knife edge dulls quickly. It's great for decorative knives and swords, but a poor choice for everyday use. You certainly will do better for practical use with the 3cr13.
Is 3cr13 Stainless Steel Good for Knives?
For the most part, yes. It's good enough that it's extremely popular. This is mostly because it's also cheap, but then again you get great value for your money.
In fact, 3cr13 stainless steel is good enough for quite a few types of knives. You can find the 3cr13 stainless steel used in kitchen knives, hunting knives, and everyday carry folding knives.
You will like the nice edge retention, as you won't have to sharpen it every day. When it's time for sharpening, you can do the job quickly enough, and you're able to get back a razor's edge without too much trouble.
The corrosion resistance makes it versatile, as you can use it in the kitchen and in wet environments.
You get all these, and yet you won't have to pay a premium price. It's this terrific combination of performance and price that makes the 3cr13 so popular.
Pros & Cons of 3cr13 Stainless Steel
Pros
Very affordable
Easy to sharpen
Terrific corrosion resistance
Flexible
Good wear resistance
Works well for lots of different purposes (mostly casual use)
Cons
Not really as good as the more expensive knives
Not for serious work
Best 3cr13 Stainless Steel Knives
#1: KUMA Multi-Purpose Chef Knife (set of 3)
Last update on 2023-09-26 /  Affiliate Links (#ad)  / Images from Amazon Product Advertising API
Here the blades are 8 inches long, and they're quite thin with a width of just 2.5 mm. This will cut through your food ingredients easily enough, even right out of the box.
Kuma prepared this blade by balancing 2 crucial features: edge retention and ease of sharpening. Here the blade remains sharp for a reasonably long while. It can even cut through roasts.
When you do need to sharpen it, you can just use any standard knife-sharpening steel. This is also nicely resistant to corrosion. It's designed to withstand water and acids when you cut through various food items.
The knife is easy enough to handle, with its Japanese profile, light weight, and smooth ergonomic handle. The balance is terrific, and it's a pleasure to use. The nice length of the blade does most of the work itself.
To clean this, just wipe it down with a wet sponge. Then dry it with some soft fabric, and you're done. Do it by hand, since dishwashers may increase the wear on the blade.
All in all, it offers fantastic value for your money. You may find yourself using this knife every day. It stays sharp even when you use this to cleave through chicken bones. When it does become dull, it's no trouble to sharpen it to a fantastic edge. It doesn't even chip as easily as other kitchen knives.
Pros
Slices and cuts through food easily
Very affordable
Lightweight
Easy to sharpen
Retains sharpness long enough
Cons
May have some quality control issues (though customer support is excellent)
Best washed by hand
#2: Mossy Oak 14-inch Bowie Knife
Quick Specification
Overall length: 14-inch
Handle length: 5-1/2 inch
Blade length: 8-1/2 inch
Blade thickness: 0.15-inch
Weight: 14 oz
This is a full-tang fixed blade that you can use for camping and hunting, and for some indoor uses as well. It's 14 inches long, so it's not exactly a knife you can easily store in your pocket.
The blade itself is 8.5 inches long, with a thickness of 3.7 mm. The whole knife is quite solid, as it weighs 14 ounces.
With this blade, you can cut a lot of things, even in tight places. The design makes it excellent for piercing, and it even allows you to use it for some detail work.
The handle also fits nicely in your hand, with its thickness of about 53/64 of an inch (about 21 mm). You have a classic design here in the rosewood handle, with a comfy, non-slip grip and slight grooves for your fingers. It works with a brass pommel, and the balance is excellent.
It also comes with genuine leather sheath, with an integrated belt loop and a snap fastener. Wear the sheath when you're out hunting or camping, and it should offer you easy use at any time.
The blade comes out of the box extremely sharp, and it stays that way for a while. When you do need to sharpen it, you don't need a lot of time and trouble to get it back to that level of sharpness.
The steel in the blade is also nicely corrosion-resistant, so it should hold off rusting issues for the next 5 years or so.
True, there are plenty of other better knives out there, though they're all a lot more expensive. In this price range, you may have a difficult time finding a better camping/hunting knife than this one. This may not be the best knife for the dedicated hunters, but for weekend warriors, it certainly brings a lot of bang for the buck.
Pros
Great hunting knife for the price
Razor sharp out of the box
Ergonomic handle
Comes with a nice sheath
Full-tang construction is more durable than folding knife design
Cons
Doesn't really look impressive
Not for everyday carry
#3: TAC-FORCE TF606WS
Quick Specification
Blade length: 3.25″
Thickness: 3mm
Close length: 4.5″
Overall length: 7.75″
Weighs: 5 oz
This is a personalized knife which you have engraved with your (or your loved one's) initials on the handle. That makes for a nice gift for Xmas or for birthdays. The professional engraving is deep enough into the wood that it's easy to read with the dark-looking text.
But this isn't a gift item meant only for display. This is a multi-purpose EDC knife you can use anywhere at any time. It is only 4.5 inches long when folded, and it only weighs about 5 ounces.
The design includes a drop point for the 3.25-inch blade, while the edge is partially serrated. That makes it suitable for a lot of tasks. You may have to sharpen this up a bit, but the steel in the blade is easy enough to sharpen.
You can use it to slice through paper and cardboard to open packages. The serrated edge lets you cut cords a lot more easily. You can use this for wet work, since the blade is made from stainless steel. It won't rust easily.
There's even an attached can opener here so you don't need to blunt the point for this kind of use. The handle can be used as a glass breaker. The burl wood handle is easy enough to grip, leading to a comfy time using the knife.
This is a bit hard to open with just one hand, so get used to using both hands to open this quickly. It does come with a lock when it's open, so that you can use it securely.  The handle comes with a pocket/belt clip, for easier portability
Pros
Great engraving, for the most buyers
Very versatile, suited for many different tasks
Partial serrated edge makes it terrific for cutting cord
Very portable
Extremely affordable
Comes with attached can opener
Cons
Doesn't open easily with one hand
How to Sharpen 3cr13 Stainless Steel Knives
Conclusion
Let's be clear. 3CR13 Stainless Steel isn't really a high-end type of steel. If it's a car, it's not a Porsche or a BMW. It's more like an affordable compact car from Honda or Toyota.
But like those popular Civics and Corollas that get you from Point A to Point B cheaply, knives made from 3CR13 stainless steel usually get the job done. They will do the most common knife tasks without a fuss, and they will last you a few years.
All in all, at the price range of these knives, you probably won't find a better all-round steel than 3CR13 Stainless Steel.