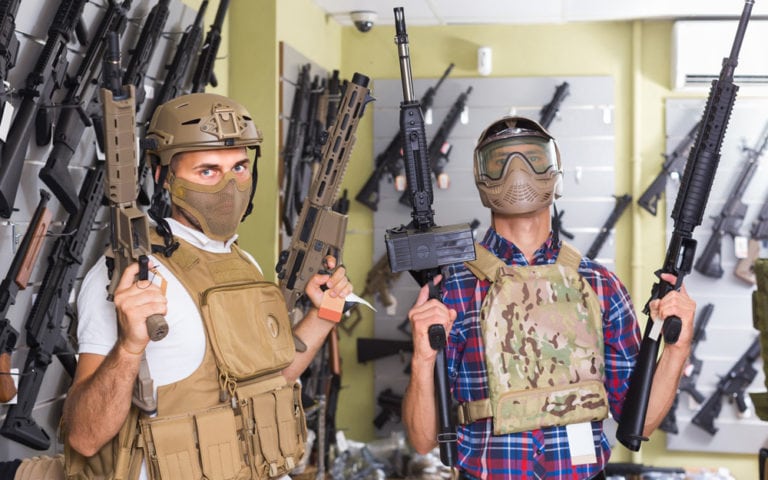 Choosing your first airsoft gun can be a challenge if you want to make sure to get it right on your first go. However, there are steps that can simplify the process. Some of these are the following:
Do a lot of research. There are lots of things to consider when shopping for these items and you need to know them all.
Take your preferences and needs into consideration. The airsoft gun needs to meet your needs in order to work well for you.
Create a budget and stick with it.
Take a pick after taking all of the important points into consideration.
Introduction
Airsoft may not be as big as traditional competitive team sport like soccer or basketball but no one can deny that it has a significant following worldwide. While there's no official count on the number of players that enjoy games on the regular, the market size for airsoft guns provide a good clue on the sport's growth. With an estimated $1.5 billion market value in 2018, it's quite safe to say that airsoft is enjoyed by many.
If you're one of those who are thinking of giving this outdoor activity a try, the first thing that you'll need to get would be a battle machine that will let you get in on the fun. But with so many options available, taking a pick can feel impossible.
Don't fret, though, as this is why this guide on how to choose your first airsoft gun was created. With the information and tips below, you can hopefully get some assistance in picking out the perfect first airsoft pistol or rifle for you.
Materials Needed
For this tutorial, here are the materials you might need to get started:
A computer or a mobile device
An internet connection
Some free time on your schedule
How to Choose Your First Airsoft Gun
With so many options to choose from, it's not surprising that people who wish to buy airsoft guns for the first time will need all the help they can get to find their perfect match. To help you out, here are the steps that you can take to ensure that you'll make the right choice.
Step 1: Condition yourself mentally and emotionally.
This may sound overly dramatic but you have to recognize that choosing your first airsoft gun isn't exactly the easiest task out there. You can certainly pop into any hobby store that carries airsoft guns and purchase the first thing you come across with but doing that does not ensure that you'll end up with the right pick for you.
If you want to make the right call on your first purchase, you will have to go through certain lengths and take quite a good bit of measure to guarantee that you'll end up with a good item. You should, at least, get in the right headspace and mindset that the process might take a while and that you will need to exert some effort.
Step 2: Carve time on your schedule for a good deal of research.
Before you start your search, it's best to allocate some time for the purpose of researching airsoft guns. With so many things to look into, you will need to spend some time on gathering pertinent information and looking at actual airsoft guns to get to know them better. Scheduling your research time for a new hobby would be ideal. This way, it won't interfere with the other stuff that you need to do if you have a packed calendar.
Step 3: Look up information on the best airsoft guns online:
Now that you've laid down the foundation of your search, it's time to get down to business. You can get straight to searching for the best airsoft guns for beginners online and you're sure to find lots of resources that are brimming with information. They can be a bit too much for some so we suggest to start slow.
Read up on the basics of airsoft guns first.
If you don't know anything about airsoft guns yet, it's crucial to start with the basics. If you have some knowledge on actual firearms, you won't feel confused or overwhelmed with this as airsoft guns are fashioned after real guns. Many are meant to look like the real thing to better suit military simulation type of games.
The first thing you can look into are the different types of guns available. Generally, there are two types that you'll find in the market today: rifles and pistols. Rifle-type airsoft guns can be further subdivided into different categories like sniper rifles, assault rifles, machine guns, sub-machine guns, and shotguns. Each kind can also be further divided into different replicas of actual gun models so there will be more options to choose from. The same goes for pistols.
Then you should check out the different kinds of power systems available. This refers to what powers the gun: spring, electricity, or gas. This detail can greatly impact the performance and usability of an airsoft gun so you should make sure to look into their differences, benefits, and disadvantages.
There's a very good chance that some might suit you better than others so learning about their differences and important details is crucial. There's a wealth of information about these details online so you will not have a hard time in finding the most important bits of info that you'll need to get to know your options.
Check out the most popular options.
Look up the most popular airsoft guns available today so you can get an idea of what others are getting for themselves. This will also help you get to know the things you can expect from a popular, if not exactly a great, airsoft gun.
Luckily, it's quite easy to find the most popular and best selling airsoft guns today. A quick search will give you lots of interesting options. Some of the top examples include the Daisy Powerline 426 Air Pistol, GameFace GF76 Electric Full/Semi-Auto Tactical-Style Carbine Airsoft Rifle, and the Firepower F4-D M4 Full Auto Electric Airsoft Rifle.
Be thorough in trying to get to know these items. Read verified reviews, watch demonstration and review videos, and get better acquainted with their features. The tidbits you'll find will help you get a good idea of what a good airsoft gun can be.
Visit forums, groups, and message boards.
Another way to learn more about airsoft guns online is through forums, groups, and message boards. There are now lots of places where airsoft enthusiasts gather to share their knowledge about the sport so you can look for those to gain more insight.
You may be able to ask questions or have your queries instantly answered by already existing discussions. Since airsoft has been enjoyed by many for a few decades already, you can be sure to find a wide range of information on it on the web.
Try to know what are the things you should take in consideration when making a choice.
Research on the most important factors to consider when looking for the best airsoft gun as there are lots. Some are listed below to help you get your search started.
Step 4: Ask people you know for suggestions.
If there are people you personally know that enjoy playing airsoft, you can also ask their opinions and suggestions on which gun to get. Their input will help you get a good idea of what certain products are really like as it's very likely that you can trust these folks' opinions.
Most people will not suggest products they personally did not like to others they know in real life, so you might be able to trust their judgment. Their expertise should be taken into account, however, as some folks may not exactly be more knowledgeable than you. Nonetheless, you can get a few more items to add to your list of products to check out with their help.
Step 5: Assess your plans and preferences:
With the knowledge you've already amassed, you can now use a lot of them to assess your needs and preferences on an airsoft gun. You should already have a good idea about what you can get and what your options are. You should also know what you might want to get in a battle machine.
To help you further assess and evaluate what you want and need from your first airsoft gun, here are a few questions that you should ask yourself:
What are your physical features and capabilities?
Your built and comfort are major factors to take into consideration when shopping for airsoft guns. Why? These items come in different shapes and sizes. If you're on the smaller side, you might not be able to handle certain guns comfortably.
Some guns also have more complicated mechanisms that might prove to be too difficult for some to handle. These can have a negative impact on your performance in the battlefield if you ended up getting something that you find too cumbersome to work with.
Make sure to look into details like measurements and design details when looking for your first airsoft gun as well. These can make or break the comfort and handling of a specific item.
What are the possible features you want to get in your airsoft gun?
After looking at different popular airsoft guns, some features may have piqued your interest. Take note of these as there's always a chance that you'll encounter something that will tick all of your boxes.
Think about whether you'd like something made with aluminum parts or if you want a gun that makes sharp sounds. Consider if you'd prefer something with more locks for its movable parts or if you'd like something with push-button locks better.
The weight should be another thing to look into as some like some heft in their guns while others like it better to feel like they're not carrying anything. Be particular about certain design details like the length of the barrel for better accuracy, larger battery compartment, and the compatibility with various accessories.
What role would you like to play in the battlefield?
The role you'll play in the battlefield can also dictate the kind of equipment you need. As a beginner, however, you might need something more versatile as you will still want to explore different positions to find the best one for you. For this, you might want to skip more specific options like sniper rifles.
Many newbies will find themselves drawn to being a support gunner since they may not have the confidence to lead an attack just yet. The best gun for such roles are machine guns since they require higher firepower. However, these guns can be heavier and pricier than other options, so that's worth taking into consideration.
What power system do you think will work for you best?
As mentioned above, there are three types of airsoft guns in terms of power system: electric, gas, and spring. Each has their own charms but the electric or automatic electric guns or AEGs tend to be the most popular and widely available.
To help you quickly differentiate the three, here are their key differences:
AEGs
Lots of great options available
Has an effective range of 100 to 200 feet
Can launch bbs at a rate of 250 feet to 500 feet per second
Can run quietly
Upgrades are easily available
Some models are made with actual metal for a more realistic look and feel
Gas
Available in a wide range of options like CO2, propane or green gas types as well as in blowback and non-blowback varieties
Some models look very realistic
Available in semi and fully automatic varieties
More affordable than most AEGs
Spring
Most affordable options
Power isn't very daunting for beginners
Can be upgraded easily
Can be used in all kinds of weather conditions
No recharging or refilling required to power up
It's up to you to choose which one you think will suit your needs best.
Step 6: Visit a local hobby store that carries airsoft guns.
To better gauge how airsoft guns are like when held and handled, you can also visit a local store that carries such products. You can also learn more from the people at the store and get some idea on what might be a good fit for you.
Step 7: Work up a budget.
Airsoft guns come in a wide range of prices so it's best to create a budget. Not only will this help you keep yourself from potential overspending but it will also help you narrow down your options.
Price is hardly ever a basis of quality and performance when it comes to anything, so even if you don't splurge on an airsoft gun, you can find a good one for you with other tricks and tips.
Step 8: Narrow down your options and compare them all against each other.
At this point, it's very likely that you already have a number of picks that you find interesting. If there are several that you are eyeing, try to narrow them down by comparing them to each other. There's a very good chance that one or two will stand out the most.
Step 9: Make a choice.
Taking a pick definitively can be tough if you liked a number of products. However, with the points above in combination with the additional considerations below, there's still a chance for you to make up your mind on which item to get.
Top Things to Consider When Choosing Your First Airgun
Aside from the things mentioned above, there are a few points that you should also include in your considerations in order to choose the right airsoft gun for your needs.
You absolutely need to prioritize your safety.
Airsoft guns have caused lots of injuries over the years, so it's important to make sure that the gun itself will be safe to use. Prioritize quality from the materials to the construction. Look for safety features, too.
Observe local laws and game field regulations.
There are lots of regulations for airsoft guns, ranging from federal and state laws to game field restrictions. Make sure to take note of what is allowed in your locale and your choice of game field so you don't make the mistake of getting something that you won't be able to use.
There will be lots of options available so do not rush the selection process if you want the best results.
Take your time when choosing your first airsoft gun, especially if you want to get it right the first time around. You might find it hard to wait to own your first battle machine but it's going to be more satisfying if you get yourself the perfect one that can suit your needs best.
Conclusion
Shopping for an airsoft gun is no easy feat, even if you're already a seasoned player. This is why you really need to know the basics on how to choose your first airsoft gun if you haven't tried purchasing one before. Hopefully, this guide covered all the bases for you and gave you a good idea on how to find your starter airsoft gun.
Should you have any additional insights or questions regarding the tips, make sure to leave them in the comment section. If you found this guide interesting and helpful, don't hesitate to share it to your friends and circles as well.
Frequently Asked Questions
What airsoft gun is best for a beginner?
There are lots of options for airsoft newbies as lots of guns are now labeled as entry-level airsoft guns. Assault rifles, however, are often recommended for this segment of the market due to its versatility and agility.
What was the first airsoft gun ever made?
The first airsoft gun was created in the 1970s in Japan by IchiroNagata. I was initially called the 'soft air gun' and was created to circumvent strict gun-ownership bans in the country.
What's better for airsoft, gas or electric?
It depends on your needs and preferences but lots of airsoft players prefer AEGs for their great convenience. They're easier and less costly to power up and if you need great power, you can always find a model that can reach very high speeds.
Gas-powered guns, on the other hand, tend to look more realistic, so others might like them better. It's really up to you and the specifications of the particular items you're eyeing, however.