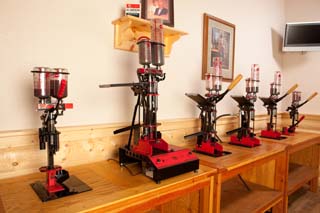 If you want the most efficient tool to let you reload more ammo than ever before, you need the best progressive reloading press. A single stage reloading press just won't do, and not even the turret press is as efficient.
Reloading your own ammunition is a great way to cut down on your ammo expenses, and you may even end up with more accurate rounds than the factory-grade ammo. The best progressive ammo reloader helps with that, especially if you're careful with your reloading.
But all these concerns lead to one natural question: which one is the best? You're probably the best one to make that determination, but we can make things easier for you by recommending the best progressive reloading presses.
Top 6 Progressive Reloading Press: Comparison Chart
Here is a handy table that gives you a quick overview of what to expect from each progressive reloading press:
Best Picks for Progressive Reloading Press
Hornady 095100
Sale
Features
Lock-N-Load Auto Progressive Reloading Press – Reload up to 500 rounds per hour with this professional grade, auto indexing, 5 station progressive press that features the patented Lock-N-Load bushing system. This must-have Hornady reloading equipment is intuitive and well equipped for all your reloading needs
Fast Reloading – Lock-N-Load technology allows you to stop loading, change dies and start loading another caliber in a matter of seconds thanks to the 5 station bushing system. Switch from 223 to 45 in less than 5 minutes
Quick and Reliable Ammunition Press – The Lock-N-Load powder measure uses quick change metering inserts that allow you to switch from one powder to another with a push of a button. The EZ-JECT system ensures a reliable ejection of cartridges, every time without adjustments
Smooth and Precise – With a single pull of the handle, you'll feel the smooth responsiveness, the rugged construction, and most of all, the power on this single stage reloading press! And since the AP features automatic indexing, priming and ejection, every pull of the handle give you a precisely loaded round
What's Included – Hornady AP Press Item 095100. Includes 5 Lock-N-Load Die Bushings, 1 large cartridge bin, primer pickup tubes, metering inserts and rotors, Lock-N-Load Powder Measure, and case activated powder drop. All you need are dies and shell plates to start loading with your AP
Last update on 2023-09-26 /  Affiliate Links (#ad)  / Images from Amazon Product Advertising API
This is the popular Lock-N-Load AP (Auto-Progressive) reloading press that many consider as one of the best in the business. In fact, some say it is the best in various Hornady Lock N Load AP review articles, though some people do have some trouble with the initial setup.
The printed instructions that come with the press aren't always clear, and neither is the video. You may want to spend some time checking the demo videos in YouTube first, or better yet have another Hornady 095100 teach you how to use it.
But you sure do get a lot of great features for your money. This starts with the automatic indexing, which offers smooth movement because it moves each of the 5 stations halfway on the upstroke and the rest of the way on the downstroke.
This uses a quick-change bushing system, which means you're able to transform the progressive reloading press from a 223 progressive reloading press to one that works on a .45 caliber round. You have 5 of these bushings to work with.
Since the dies are locked in the bushings, changing from one caliber to another takes only about 5 minutes.
This also has quick-change metering inserts, so you can just push a button and you switch from one powder to another. The powder drop is accurate, with maybe a 1-grain variance every now and then.
The press also has a case-activated powder drop, meaning that there has to be a cartridge case before it dispenses a powder charge.
You can remove or insert a case easily at any point, thanks to the clever case retainer spring. The EZject feature also offers a completely reliable ejection of the cartridge, without the need for adjustments.
Some people experience a problem with their Lock N Load bushing unseating after a while. But you can solve that easily by putting a thin rubber O-ring right under the lip of the bushing.
All in all, you should expect to get 500 rounds per hour with this progressive reloading press. It's much better than the Hornady turret press.
Pros
500 rounds per hour
5-minute caliber switches
Accurate powder drops
Large capacity hopper
Reliable eject system
Automatic indexing
Cons
You have to buy your own dies and shell plate
You may need an O-ring to secure the bushing.
Lee Precision Load Master Reloading Rifle Kit
Last update on 2023-09-26 /  Affiliate Links (#ad)  / Images from Amazon Product Advertising API
One of the more time-consuming tasks with a progressive reloading press is changing the setup of the press from one caliber to another. You have to basically change each die on every station.
Lee Precision avoids that issue altogether by setting their Load Master for a specific caliber. We counted 9 different specific variants (such as for the 38 Special and the 40 S & W), but we tried out the one for the 9mm Luger.
The kit for the 9mm Luger includes the Carbide 3-die set (Carbide Full Length Size, Powder Through Expanding and Bullet Seating Dies), plus the turret, the #19s shell plate, a powder measure, a universal case feeder, and a small primer feed.
Take note that you can only use CCI or Remington brand primers here. If you go with other primers, you're warned to install the explosion shield.
This works very smoothly, and with the 5 stations you can go slow and still get up to 300 rounds an hour.
Station 1 works as a universal decapper, station 2 is for resizing, station 3 dispenses powder with case expander, station 4 seats the bullet, and station 5 is for crimping.
It sure runs flawlessly, and for the 9mm rounds the savings pay for this press quickly. This may even be the best reloading press for 9mm we've seen at this price range.
We spent 3¢ for the primer for each bullet, 7¢ for the bullet, and 2¢ for the powder. That's a total cost of 12¢ per bullet—how much will your factory-made 9mm bullets cost you?
Pros
Works extremely smoothly
Offers lots of savings
Made of cast aluminum
Come with 3 dies
Cons
The initial setup takes time and needs a lot of care (watch YouTube videos!)
May not be the best choice if you're using it for limited quantities of many different cartridges
Dillon Precision 14261
Last update on 2023-09-27 /  Affiliate Links (#ad)  / Images from Amazon Product Advertising API
The Dillon Precision Products brand came into existence because its founder Mike Dillon started with kits to make other presses more versatile and work with a wide range of calibers. That focus hasn't changed, which you see with this Dillon Precision 14261 RL550C.
If you're looking for some Dillon reloading kits for beginners, this can work with just 4 stations. But this can work in reloading more than 120 different calibers, though of course you'll need the proper die sets for each caliber.
Also, after you've practice with it for a while, you'll find that you're able to work quickly with it, and it offers precise loads. That's true even when it only features manual indexing.
For a newbie, that's not always a bad thing. Also, you get more control over each step of the process which is crucial for match-grade rounds.
This may even be the best reloading press for accuracy among the entry-level reloading presses.
It's a "plug and play" model, though you better buy the accessories. These should include the strong mount and the bullet tray too.
Our review features the RL550C, and the "C" in the designation denotes an improved design compared to previous versions.
This new version offers the threaded link arm pins, which leads to quick and easy maintenance. The upper pivot pins are now more accessible, so you can use a needle fitting on a grease gun to lubricate the pins.
Also, the C model is much stronger. The key points on the press frame have been reinforced.
Pros
Works extremely smoothly
Very reliable
Easy setup
Can give you match-grade rounds
Entry-level price
Cons
You have to buy needed accessories
Manual indexing adds to the time
RCBS 9356 Rock Chucker Supreme Press
Sale
Features
Made of the highest quality materials
Hunting reloading presses
Another quality Bushnell product
Rock Chucker press frame provides a full four inches of ram-bearing surface to rigidly support the one inch diameter main ram
Handle is made of solid steel and features a comfortable ball-type handle grip
Last update on 2023-09-26 /  Affiliate Links (#ad)  / Images from Amazon Product Advertising API
Okay, it's true that this is a weird inclusion on this list. After all, isn't the RCBS Rock Chucker a single stage reloading press?
That's true, but with the Piggyback 4 conversion kit, it turns into a manual indexing multi stage reloading press with 5 stations. While the single stage version lets you reload 50 rounds an hour, with the conversion kit you increase that to at least 400 rounds an hour.
The assembly for the Piggyback can be somewhat complicated, but at least you can remove and reinstall it as a single unit.
Also, you have simple steps to follow if you want to change calibers. You have the interchangeable die plate for simple caliber conversion.
With this, you can reload all types of pistol rounds (except the 25 auto) and rifle rounds up to the .30-06 Springfield.
The resulting progressive reloading press you get offers a lot of neat features, starting with the safe and reliable APS priming system. You also have a terrific case-activated powder dispenser, along with a Universal Case Retention system that lets you remove and install cases easily at each station.
The shell plate holder here is self-cleaning, and your purchase includes an integral bullet tray, empty case, and loaded cartridge box.
Like with most other progressive reloading presses, the shell plate and the dies aren't included. However, it would have been nice to get a free powder measure.
Pros
The installation is actually easy
Works for lots of pistol and rifle rounds
5 stations
Great case-activated powder dispenser
Reliable and safe APS priming system
Universal Case Retention system
Cons
Installation still takes time and effort
Doesn't work for the 25 Auto
No powder measure
MEC 9000GN 12 Gauge Press
Last update on 2023-09-26 /  Affiliate Links (#ad)  / Images from Amazon Product Advertising API
The 9000GN actually works for the 12-, 16-, 20-, and 28-gauge and .410 bore. We went to the 12-gauge model to test things out.
As it turns out, this is a major upgrade on the MEC 8567N Grabber. All the features in the 8567N Grabber are here, but you also get auto indexing and automatic ejection of finished shells.
The Auto-Dex feature automatically transfers the shells through the reloading stages with each stroke of the handle. With each stroke, you get shells with the proper sizes.
The indexing system here is extremely quick and smooth. Whatever you do, you always get consistent movement through all the reloading stages.
After the final crimping stage, the shell carrier automatically ejects the finished shells. This saves you time and effort, as you won't have to do this task manually.
With the 9000GN, you basically have a superpower when it comes to reloading shotgun shells. In fact, not only are you able to do so efficiently with lots of resulting reloads, but the shells you reload will all be better than new factory-made shells.
Just buy a cover for this, as you'll need it to keep it clean.
Pros
Extremely fast and smooth automatic indexing
Shells are always resized accurately
This automatically ejects finished shells
You have most of what you need, except for the actual shell components (shotshells, primers, powder, shot, and wads).
Cons
Each variant works only for a specific gauge
You need to buy a cover for this
Dillon Precision XL 750
Last update on 2023-09-26 /  Affiliate Links (#ad)  / Images from Amazon Product Advertising API
Now this is extremely expensive, and the price is just for the press alone. Get it with all the needed accessories, and the price more than doubles.
These options should include the following in your progressive reloading kit:
Electric case feeder
Roller handle
Strong mount
Bullet tray
Powder check die
Low powder sensor
Die set
There haven't been too many reviews on this particular reloading press, as it's fairly new. It's basically an upgraded version of the XL-650.
One of the nice things about it is that assembling it is a breeze. It does help that it already comes mostly assembled already.
The reloading press offers 5 stations to work with, and it speeds things up with its auto-indexing feature. The case feeder here is fantastic (basically best in class) and the priming system is much better now.
You also have a caliber conversion kit here so you can use it for pistol (like the 45 ACP) and rifle rounds (like the 223).
It takes about 15 minutes to change calibers, but with lots of practice you may cut that down to maybe 5 minutes. The only trouble is that removing and replacing a single die isn't all that fast and easy.
Overall, the quality of this Dillon progressive press is superb. It really helps that it's made in the US, so you don't have quality control issues.
It's just that this can be somewhat expensive. If you're looking for a cheap reloading press, this isn't it.
Pros
Works smoothly and reliably
Fantastic case feeder
Better priming system now
Cons
Tedious single-die replacement
A bit expensive
What is the Best Progressive Reloading Press?
The best progressive reloaders have to have 2 key characteristics.
Efficiency
First, the best reloader has to be efficient. The main point of looking for the best progressive press in the first place is that you want to use it to reload hundreds or even thousands of rounds in a single session.
The progressive reloading press can let you do that, because it's designed to do more tasks at one stroke than a single stage reloading press. You're not limited to doing a single task at a time.
It also means that it should be easy for you to use. You need to remain comfortable especially if you're pulling on the handle for hours at a time.
Durability
If you're planning to use your reloading press to end up with thousands of rounds, it better be able to handle the work for a long time. That means the press must be durable and solidly built.
If it lasts long, then you don't waste your time and money on buying a reloading press too frequently. The best progressive reloading press for the money must last for years, even if you use it regularly.
How Does A Progressive Reloading Press Work?
The precise working mechanism of a progressive reloading press will certainly depend on the particular model you're using. Each one will have somewhat different designs and operating processes.
It will depend on the number of stations, as each station can do a particular task. Having 4 or 5 stations is often good enough.
It will also depend on the number of automated attachments you're working with. Each of these attachments can automate something that you'd normally do manually.
However, the basic operating process is the same:
The progressive reloading press has several stationary dies in a circle.
Each die can do a single task. For example, it can remove a spent primer from a casing, resize a casing to the right shape, put in a new primer in a casing, drop an exact amount of powder into a casing, bell a casing to seat a bullet to the right depth, and crimp a casing shut.
When you pull on the handle, all of these tasks are done at the same time, to different rounds.
It has a shellplate that moves the round from one die to the next die every time you cycle the handle.
As each round moves through to the next die, you can place a new one for the first station. The round at the front of the line is ejected, as it's been reloaded and ready.
Different Types of Progressive Reloading Press
There are several ways to categorize progressive reloading presses. Here are the more common differentiations:
Built for Specific Cartridges
Some progressive reloading presses can be used for a wide range of pistol and rifle rounds.
But a progressive reloading press may also be meant just for shotgun shells. Or it may be the best rifle reloading press, but you can't really use it for pistol rounds.
The main problem with progressive reloading presses for different types of rounds is that changing the caliber can take a lot of time and effort. You're usually required to take and change each die on the stations and get them working smoothly again.
That's why some brands (notably Lee Precision) build progressive reloading presses meant for specific cartridges. The particular variant of the progressive reloading press has already been factory-set to work with a specific load.
Automatic or Manual Indexing
With the progressive reloading press, you have several stations which the casing will have to go through in the reloading process. Now you have the option of whether to go with a manual or auto-indexing progressive reloading press.
With manual indexing, you have to advance the casing from one station to another by hand. But with automatic indexing, the casing goes to the next station automatically every time you cycle the handle.
Obviously, the auto-indexing variant is faster. Still, some like the manual indexing models because they're less complicated, which means it's simpler for newbies to use and there are fewer parts that can go wrong.
Single-Stage Press vs Turret Press vs Progressive Reloading Press
Don't forget that you also have other types of reloading presses to pick from, if you want. You can go with a single stage reloading press instead, or a turret press.
How does the best multi stage reloading press compare to these other types?
Progressive Reloading Press vs Single Stage
The single stage reloading press can give you the best reloading kit for beginners. First of all, it's a simpler machine, with all the advantages offered by simplicity.
That means it's a much more affordable device, compared to a progressive reloading press. That's why this may be the best reloading press for newbies, as even a complete kit may match the price of a single progressive press.
The simpler single stage reloading press is also much easier for a newbie to use. The progressive reloading press is much more complicated, and newbies can easily become overwhelmed by the complexity.
Finally, the progressive reloading press needs more maintenance, since it has more moving parts. If you're not careful with it, it may not last long.
However, the progressive reloading press has one crucial advantage over the single stage. The progressive reloading press allows you to reload more ammo in a given amount of time.
For a single stage reloading press, you can perhaps end up with 100 rounds in an hour, given a good reloading press and some practice with it. But you can increase that to 500 rounds in an hour with a good progressive reloading press.
It's for this reason that most reloaders eventually buy the progressive variant.
Turret Press vs Progressive Reloading Press
The turret press is more efficient than the single stage. Instead of having a single die and replacing it for each new task when using a single stage, the turret press holds several dies at once.
Each cycle of the handle turns the disk that holds the dies, so you don't have to replace each die.
The bad news is that you're still only able to work on a single casing each time. This is in contrast with the progressive reloading press, which holds a casing for each station.
With the turret press, you can maybe increase the production rate to 200 rounds per hour. That still doesn't compare to the 500 rounds an hour you can expect from a progressive reloading press.
Advantages of Owning a Progressive Reloading Press
With any reloading press, you're able to enjoy 2 distinct benefits:
You can cut down on costs. Or better yet, you can spend the same as you would with factory-made rounds, but end up with more rounds.
You're also able to handload more accurate rounds. For competition, a handload can perform much better than a factory load.
But with a progressive reloading press, you enjoy extra benefits:
You're able to reload more rounds, which means you can have a lot more practice rounds to use to hone your shooting skills.
You can save even more money, since you're able to get more rounds. The factory rounds will cost you a lot more.
Things to Consider Before Buying A Progressive Reloading Press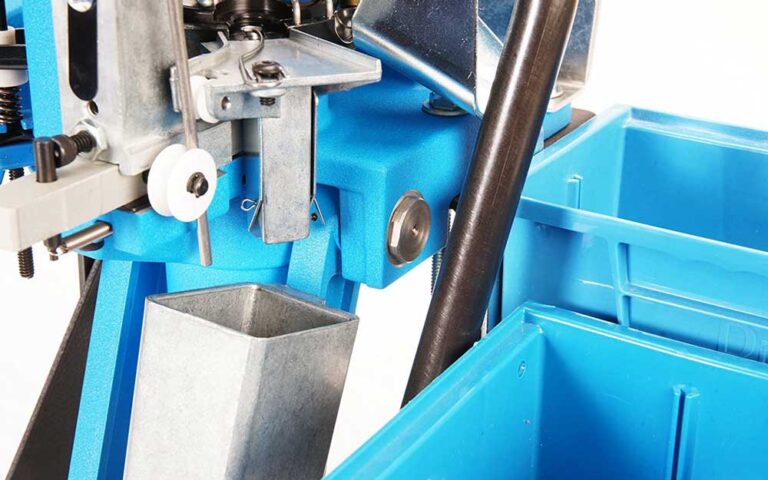 Here are the factors that may affect your choice. Focus on these when you read the various progressive reloading press reviews:
Brand Name
This isn't about brand snobbery, since we're not in the fashion industry. In the world of reloading, a famous brand becomes famous due to its reliability, quality, and innovative features.
You can trust a famous brand known to manufacture the best reloading equipment, but an unknown brand hasn't yet proven itself.
Does It Work for Your Ammo?
The reloading press should be designed for the ammo you're working on. There's no point getting a shotshell reloader when you want to use it for pistol and rifle rounds.
If you have several types of pistols and rifles, you want a progressive reloading press that allows for quick caliber changes. Some of these systems allow for very smooth transitions to another caliber.
However, if you're looking for the best 223 reloader, you may want to go with a press that's suited for that caliber already.
Reloading Rate
The manufacturer may give you a figure regarding how many rounds per hour you should be able to do using their progressive reloading press.
While this may take all their features into account, it's not always accurate. The rate may require you to be an absolute expert and things go perfectly—and how often does that happen?
Instead, you may want to check customer reviews for their own accounts regarding how many rounds per hour they're able to reload. These accounts should be more realistic.
Check that you can at least end up with 400 to 500 rounds per hour. With practice, you may improve on that over time.
Ease of Use
Some of these automatic reloading presses are easier to use than others. If you've just recently graduated from a "newbie" status, then you don't really want something overly complicated.
Number of Stations
Each station is designed for one specific operation, so you'll want at least 4 of 5 of these stations in your reloading press. If possible, go for 6 stations.
Available Accessories
It's nice if your purchase already comes with the accessories you need. At the very least, the manufacturer should have these accessories as a separate purchase.
Some of these accessories can automate various processes that you usually have to do by hand. Having these accessories can save you a lot of time.
Indexing
It's better to get a press with the automatic indexing feature, rather than stick with the manual indexing press. However, some people may want to go with the manual index because it's simpler and less complicated.
Powder Management
A good powder management system doesn't just minimize spills and waste. It also makes sure that you have the right amount of powder for your cartridges.
Ejection System
A good system will make sure to eject the bullets cleanly, so that they're not marred afterwards.
How to Use Progressive Reloading Presses
The first thing you need to do is to read the manual for the progressive reloading press you got.
If you've read several of these manuals, then you'll likely notice that they'll have different directions on what you have to do. That's to be expected, since each model will have its own design and features.
Use the manual to assemble the reloading press. After that, you can expect the basic process to be similar to these steps:
Place the first casing at the 1st station shell plate. Pull down the handle to get the case into the resizing die.
Raise the handle, to set the casing to the 2nd A primer goes into the progressive press priming station. Insert the new primer into the case.
Adjust the depth of the primer seating depth by fine-tuning the press base adjustment screw.
When you set the seating for the primer, put your next used casing in the 1st The case goes down when you set down the handle. When the handle goes up, the shell lowers to index the casing to the 2nd station. At the 2nd station, insert the primer.
Put in another used casing in the 1st Set down the handle. This gets the first case into the press's powder measure adaptor. This is where the machine sets the primer into the case. The shell plate lowers, and the machine indexes the case for the next reloading station.
Check the casing in the shell plate and place it onto a reloading scale to check its weight. After that, you can return the casing back to the 4th
Place another used casing in the 1st station again, and set the lever up again. The casing in the 4th station sets into another die. Your shell plate sets the casing lower, and it's indexed for the 5th
Make the right adjustments for the eject spring case. You have to make sure the case eject sets near the shell plate, without actually touching.
Place another used casing in the 1st When the shell plate rises, the case in the 5th station goes to the die for bullet seating.
Set the bullet over the case and into the seater die. When the shell plate lowers, the machine sets the case on to the eject tray.
Now you've reloaded a round, and you have plenty more rounds ready. Basically, each cycle of the handle will now leave you with a new reloaded round, even as you set another case into the 1st station.
Tips for Using and Maintaining Progressive Reloading Press
It's true that you save a lot of time when you use a progressive reloading press instead of a single stage. But you'll waste a lot of time if you don't use the device and take care of it properly.
Here are some tips that should help:
When you're working on your reloading press, only use clean tools. Dirty tools will just make your press dirtier as well.
At least once a year, oil all of the moving parts of your press. This makes sure they all work and move smoothly.
Clean the primer slide every time you've finished reloading 1,000 rounds of ammo.
Readjust the indexing pawls after each 10,000 reloaded rounds.
Sort your brass beforehand, since bad things happen when you put the wrong case in your case feeder.
Use vibrating case cleaner for your brass as well. Any dirt or corrosion in the brass can end up damaging your dies, along with your cartridges.
Check your brass for split or defective cases.
Use a powder check die if you can, so you'll know about missing or incorrect powder charges.
Spilled powder will be inevitable, but use a small paintbrush and some canned air to deal with it. Sweep it into a proper container. Don't use a vacuum for spilled powder, as that leaves you with a potential bomb.
If you have jammed primers, stop what you're doing and be very careful clearing the jam.
After loading, check the ammo again.
Top Progressive Reloading Press Brands
If you're buying a progressive reloading press, do yourself a favor and pick from only the most reputable brands. These brands have been around longer and are still among the most popular, for good reasons.
Check out the following brands, as they tend to get terrific reloading equipment reviews:
Hornady
With its founding way back in 1949, the Hornady brand is among the oldest in the industry. The fact that it's still among the top reloading brands today attests to its commitment to manufacturing high-quality reloading equipment.
They're especially known for producing professional-grade tools. This is one of the main reasons the Hornady brand is particularly popular among military veterans and law enforcement officials.
Lee Precision
Lee Precision started in a home workshop, where Richard Lee first designed the Lee Loader for shotgun shells in 1958. In a few years, he would follow this up with the Lee Loaders for rifle ammo and for pistol rounds.
These 3 different Lee Loaders have now been used by more than 1.5 million reloaders in the US alone. The Lee Precision brand remains popular, as they consistently offer innovations in the reloading industry.
RCBS
This brand has been around for 60 years, and they're popular for their reliable reloading equipment. They also offer a wide range of tools for reloading, and some fans are so devoted that all their reloading tools bear the RCBS logo.
It's probably not a coincidence that RCBS is part of the ATK Civil Ammunition Systems Group, which deals primarily with military weaponry.
Dillon Precision Products
The Dillon brand was named after its founder Mike Dillon, who started out as a reloading hobbyist. He started out making kits for his friends so that they could all use limited reloading tools for all their loads.
He then founded the Dillon brand in 1979, building reloaders in his garage. The brand is famous for its reliable tools (and lengthier warranty periods), which is why its customer base is fanatically loyal.
MEC Outdoors
This was founded in 1945, but it was in 1955 when they really hit the scene as they went into the shotshell reloaders market. MEC Outdoors would eventually become the top brand in the shell reloader sector, with more than 2 million of its reloaders sold all over the world.
Who Makes the Best Progressive Reloading Press?
This is a hotly debated topic, as most brands have its own devoted fan base. You'll have to answer this yourself, since the best brand for you will suit your particular needs and preferences.
It's simply best to stick the top brands, if you want to be sure. Dillon has a small but devoted fan base, but Hornady, RCBS, and Lee Precision are all iconic brands.
Final Verdict
If you have the budget, you may want to go with the Dillon Precision XL 750. You'll have to get all the accessories as well, but in the end it's a worthwhile investment.
That's because this progressive reloading press simply just fast and efficient. Everything works smoothly, so you can get into a good rhythm and end up with lots or reloads over a single afternoon.
Even changing calibers is easy. Everything is built for long-lasting use, and you can also end up with match-grade ammo.
For us, the Dillon Precision XL 750 is worth the price tag. However, in the end you still have to make sure that the best progressive reloading press for you matches your budget and your needs.
FAQs
Why do shooters need so many rounds in the first place?

It's simple: you need to practice if you want to be (or remain) a good shooter. That means firing lots of rounds regularly.

While you can use a single stage reloading press for super-accurate competition rounds, for practice rounds you really need the progressive reloading press. You want volume, because you need to fire hundreds of rounds regularly to retain and improve your shooting skills.
Why do some say that a single stage produces more accurate rounds?

This isn't always true, but it can be true if you're a newbie.

With a single stage reloading press, you're able to concentrate on each step of the reloading process. That's not as easy with the progressive reloading press, you have lots of stations with a case in each station.

You have to be very experienced with your machine to notice if there's a problem. That's the kind of expertise that a newbie doesn't have.
Why is a progressive reloading press so heavy?

That's because it needs to be stable, and being heavy keeps it secure in a single spot.
Photo by MEC Outdoors