A lot of young newcomers to reloading these days are surprised that quite a few people, especially the veteran reloaders, are still trying to find and use the best beam scale for reloading. They might even snicker about these "boomers" and their "Jurassic" ways.
Don't these oldies know that digital scales are now available? Of course, they're aware of this, and they may even admit to the advantages of these newer scales.
But with some research, even newcomers to reloading may opt for these beam or mechanical scales themselves.
One of the reasons for this is that a lot of reloading beam scales are more accurate than their digital counterparts. What balance beam scale accuracy means is that the measurement the beam scale gives you is generally closer to the real weight value of an item, compared to the digital scale measurement you might get.
You also won't have to worry about issues that you have to think about when you're using a digital scale, such as battery power. With digital scales, you have issues like zeroing problems and the so-called "breeze factor" that are non-issues with beam scales.
Still, all these don't mean that any beam scale will do for reloading. Beam scales can differ in quality, so you should make sure you get one you can rely on.
Top Beam Scales for Reloading: Comparison Chart
Here's a convenient table to check out key specs such as manufacturing origin, grain capacity, and measurement levels.
Best Picks for Beam Scales for Reloading
If you're sticking with the traditional beam scales for reloading, you can rely on these top options. After all, countless reloaders have been using the scales from these brands for decades!
Hornady 050109 Lock-N-Load Balance Beam Scale
Features
Hornady Reloading Beam Scale – For reloading enthusiasts that prefer an analog powder measure compared to an electronic scale. An essential tool for any well-stocked reloading bench. Item no. 050109
Precise and Consistent – The Hornady Scale has a classic, time-proven manual balance system that provides a measurement range from 0 to 500 grains. Consistent within a 0.1 grain sensitivity
Easy to Read Measurements – The balance bar of this Hornady Powder Scale is laser etched and will not flake or peel. Features hardened pivot pins & bearings for durability
Accurate and Reliable – The magnetic dampener provides fast, accurate measurements. Handles most reloading tasks. Made in the USA
Precision Measuring – Hornady offers a variety of measuring tools, from micrometers and calipers, to powder measuring scales and precision tools for measuring rim thickness, bullet seating depth, bullet uniformity and more. By using these tools, you'll achieve better accuracy and reliable results
Last update on 2023-02-03 /  Affiliate Links (#ad)  / Images from Amazon Product Advertising API
Hornady has been around since 1949, and it has garnered a lot of respect for the quality of its reloading tools and accessories. This balance beam scale is an example of how the brand has managed to earn this reputation.
This comes with the time-proven balance beam design, with a substantial base on which you'll find the helpful weight conversion table. The measurements go all the way up to its 500-grain capacity.
This features the usual magnetic damper for accuracy, and you can get a reading up down to 1/10 of a grain. The laser etched bar is easy to read, and the markings won't ever fade over time.
This is quite sensitive, and adding 1/10 of a grain to the powder you're weighing will reflect in a shift in the balance line. You will always notice if your charge is slightly low or slightly high.
You can expect this best beam reloading scale to last you a long while, as it's made in the US. It even has hardened pivot pins and bearings to make sure it's durable.
Just make sure that you set this on a level table, and there are no air currents that can mess up with its accurate readings. Even a very mild air current can affect the reading, so you may want to turn off the fan or air conditioner in the room.
Pros
Marks are easy to read
Laser-etched marks won't fade
The magnetic damper settles the beam for quick readings
The scale notices even the slightest variance in the weight
Comes with molded pan hanger
Extremely durable
Cons
May be too sensitive for air currents
OHAUS 30393272 5-0-5 Reloading Scale
Last update on 2023-02-03 /  Affiliate Links (#ad)  / Images from Amazon Product Advertising API
The OHAUS brand has set the standard when it comes to reloading scales, and this scale right here explains a lot why this brand is so respected.
The main beam here has the usual rider shifting in 10g increments, while the minor beam has 2 riders. The first rider lets you set the weight in 1g increments, while the other rider gives the 1/10 of a grain reading.
All in all, you can get up to about 511 grains in weight capacity.
This comes in a tough die-cast base with enough weight to keep it steady. It even has a large levelling foot to help ensure that you can really keep it level on your reloading bench.
This is made in China, but most people still report that the units they got were all fine and working perfectly. However, there have been some reports about getting rusted units, though that should be easy enough to replace through customer support.
Pros
This is the time-tested model that everyone tries to emulate
You have 3 riders so that you can get a more precise measurement
It has a levelling foot to help you keep it level
Cons
It's made in China, and there have been reports of received scales that had to be sent back and replaced
RCBS M1000 Magnetic 98916 Powder Scale
Last update on 2023-02-03 /  Affiliate Links (#ad)  / Images from Amazon Product Advertising API
RCBS continues to make exceptional beam scales, and they even put in modern features in this traditional design. That's why they've discontinued their older beam scale models and replaced them with this model.
The 1,000-grain capacity tells you right away that it's the best balance beam scale for reloading compared to the older scales with their lower weight limits.
It's even ambidextrous, as you can read the weight measurement whether the pan is on your left and right.
It's easy to adjust the beams, and the depth of the grooves is just right to keep you from inadvertently skipping over to the next groove.
Your purchase comes with a 694.6g calibrating weight that really works. It calibrates perfectly, while the magnetic damper helps it to level easily.
It even comes with a plastic cover, to protect it from dust when not in use.
Pros
1,000-grain capacity
Ambidextrous
Nice depth to the grooves
Calibrates easily
Comes with a plastic cover
Cons
Made in China, which is why there are some doubts about its overall sturdiness
Lyman, Scales, Brass Smith 500 Metal (7752225)
Sale
Features
Built upon a sturdy aluminum body which reduces vibrations and ensures accuracy
Beam is double sided and the pan has two handles making it easy for right or left handed reloaders to use.
Beam features black markings with a white background for easy reading throughout it's 505 grain capacity
Scale also features magnetic dampening and precision ground knife edges for fast, smooth and accurate operation
Last update on 2023-02-03 /  Affiliate Links (#ad)  / Images from Amazon Product Advertising API
Nobody seems to have anything bad to say about this brass Smith 500 Metal Reloading Scale from Lyman, and you can count on us among them.
This is made with serious reloaders in mind.
Even those who already have digital scales may want to have this as a reliable backup.
This scale is made from aluminum, which is a lot stronger than regular steel.
The aluminum body minimizes the vibrations, which in turn increases the accuracy of the scale.
Here you also have the precision-ground knife edges, so that your able to move around the weights more easily.
Then you have the requisite magnetic dampening that settles the weight marker more quickly.
Everything is designed for fast and easy work.
The beam even features easy to read black markings on a white background.
In fact, you'll find this easy to use even if you're left-handed.
The beam is actually double-sided, so the markings are on both sides of the beam.
You even have 2 handles for the pan, so that you can use the pan with your left or right hand.
This can handle weights up to 505 grains, and the accuracy is within a tenth of a grain.
The calibration has been exquisite, and you get consistent results that you can trust.
Overall, the simplicity of the design makes this super-functional, and you don't waste time.
Pros
Simple to use
Sturdy
Consistently accurate
Ambidextrous
Tough
Cons
No freebies (like a cover)
What Are the Best Beam Scales for Reloading?
First, they have to be easy enough for you to use. They're useless for you if you can't figure out how to work with it.
Then they have to be reliable. That means the beam scale has to be both accurate and precise.
The scale should give you a measurement that's as close as possible to the actual weight, and it should be able to do this consistently.
Finally, the beam scale should last for years. It has to be durable, or else you'll just end up buying new scales too frequently and wasting your time and money.
Things to Consider Before Buying Beam Scale for Reloading
So how do you know which beam scales are the best for reloading? You should read reviews and product spec sheets, paying close attention to the following factors:
Brand Name of Beam Scale
This isn't about simply going with the trendy or fashionable brands. It's about sticking to brands with a proven history in manufacturing reloading equipment, and beam scales in particular.
This is why we've put in brands such as RCBS and Hornady on our list. These brands consistently manufacture the best reloading tools.
OHAUS is famous for its beam scales, as it has basically set the standard for the whole beam scale product category. OHAUS scales have been used and trusted even in official events since the 1960s.
Grain Capacity
You need at least a 500-grain capacity, which will be more than enough for your reloading needs. But a higher capacity can be very useful, especially if you'll be using the scale for bullets or even arrowheads.
Readability and Accuracy
Just how close of a measurement do you get to the actual weight? The weight should be expressed down to 1/10 of a grain, so that you can really try to go for precisely reloaded rounds.
The measurement reading should be easy to read as well. The markers should never fade, so look for laser etchings.
If you're left-handed, it's better if the markings are on both sides of the balance bar. That way, you can set the pan hanger on your left or right side and still be able to read the weight measurement.
Quality and Durability
The scale should be pristine when it's delivered to your door, with sharp knife edges and clean agate bearings. You know you have a dud when you get one damaged due to shipping.
Sometimes you may even get rusty instruments, especially if the scale was manufactured in places where quality control standards aren't as stringent. It's still best if you go with US-made products, even if plenty of scales made in Mexico and China can still offer comparable quality.
How to Use a Beam Scale for Reloading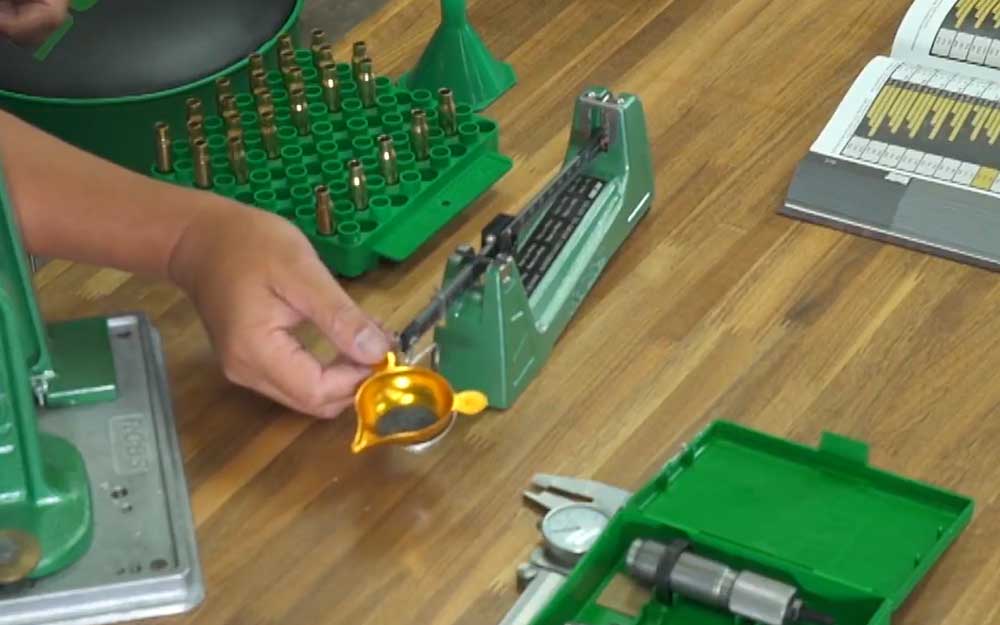 It's best if you first read the manual for the scale before you use it. The manual may have model-specific instructions regarding the setup, use, and maintenance of the scale.
The first thing you have to do is to zero the scale. That means you set the balancing weights down to zero, and put in the tray. Then you adjust the scale (usually by turning a dial) to level perfectly.
Once the markers are aligned, you're all set. Put your powder or bullet into the tray, and then adjust the weights to balance the scale. You'll then get your measurements when you've aligned the markers.
Every now and then, check the scale by putting a check weight to confirm that it's giving you the right reading.
You can clean the knife edges by rubbing a graphite stick (the lead you use in pencils) on the knife edges until the edges are fully coated. Use canned air to blow off the excess graphite on the knife edges.
Clean the agates as well, which are the stones that the knife edges sit on. Take out the agates every now and then, using Q-tips dipped in rubbing alcohol to clean them.
Final Verdict
The beam scales here are all terrific, but in recent years it's been a gamble. That's because some of these scales are now made in China, which has led to reports of substandard quality with a few units here and there.
That's why we heartily recommend the Hornady 050109 Lock-N-Load Balance Beam Scale, which is still made in the US (as far as we know). It's easy to use and easy to read, and it's sensitive to weight changes that lots of digital scales can't detect.
It's also durable as well, and you should get a unit in perfect working condition when you buy it. For many, it's the best beam scale for reloading as long as you keep away the air currents that can mess your readings!