A lot of young newcomers to reloading these days are surprised that quite a few people, especially the veteran reloaders, are still trying to find and use the best beam scale for reloading. They might even snicker about these "boomers" and their "Jurassic" ways.
Don't these oldies know that digital scales are now available? Of course, they're aware of this, and they may even admit to the advantages of these newer scales.
But with some research, even newcomers to reloading may opt for these beam or mechanical scales themselves.
One of the reasons for this is that a lot of reloading beam scales are more accurate than their digital counterparts. What balance beam scale accuracy means is that the measurement the beam scale gives you is generally closer to the real weight value of an item, compared to the digital scale measurement you might get.
You also won't have to worry about issues that you have to think about when you're using a digital scale, such as battery power. With digital scales, you have issues like zeroing problems and the so-called "breeze factor" that are non-issues with beam scales.
Still, all these don't mean that any beam scale will do for reloading. Beam scales can differ in quality, so you should make sure you get one you can rely on.
Top Beam Scales for Reloading: Comparison Chart
Here's a convenient table to check out key specs such as manufacturing origin, grain capacity, and measurement levels.
Best Picks for Beam Scales for Reloading
If you're sticking with the traditional beam scales for reloading, you can rely on these top options. After all, countless reloaders have been using the scales from these brands for decades!
What Are the Best Beam Scales for Reloading?
First, they have to be easy enough for you to use. They're useless for you if you can't figure out how to work with it.
Then they have to be reliable. That means the beam scale has to be both accurate and precise.
The scale should give you a measurement that's as close as possible to the actual weight, and it should be able to do this consistently.
Finally, the beam scale should last for years. It has to be durable, or else you'll just end up buying new scales too frequently and wasting your time and money.
Things to Consider Before Buying Beam Scale for Reloading
So how do you know which beam scales are the best for reloading? You should read reviews and product spec sheets, paying close attention to the following factors:
Brand Name of Beam Scale
This isn't about simply going with the trendy or fashionable brands. It's about sticking to brands with a proven history in manufacturing reloading equipment, and beam scales in particular.
This is why we've put in brands such as RCBS and Hornady on our list. These brands consistently manufacture the best reloading tools.
OHAUS is famous for its beam scales, as it has basically set the standard for the whole beam scale product category. OHAUS scales have been used and trusted even in official events since the 1960s.
Grain Capacity
You need at least a 500-grain capacity, which will be more than enough for your reloading needs. But a higher capacity can be very useful, especially if you'll be using the scale for bullets or even arrowheads.
Readability and Accuracy
Just how close of a measurement do you get to the actual weight? The weight should be expressed down to 1/10 of a grain, so that you can really try to go for precisely reloaded rounds.
The measurement reading should be easy to read as well. The markers should never fade, so look for laser etchings.
If you're left-handed, it's better if the markings are on both sides of the balance bar. That way, you can set the pan hanger on your left or right side and still be able to read the weight measurement.
Quality and Durability
The scale should be pristine when it's delivered to your door, with sharp knife edges and clean agate bearings. You know you have a dud when you get one damaged due to shipping.
Sometimes you may even get rusty instruments, especially if the scale was manufactured in places where quality control standards aren't as stringent. It's still best if you go with US-made products, even if plenty of scales made in Mexico and China can still offer comparable quality.
How to Use a Beam Scale for Reloading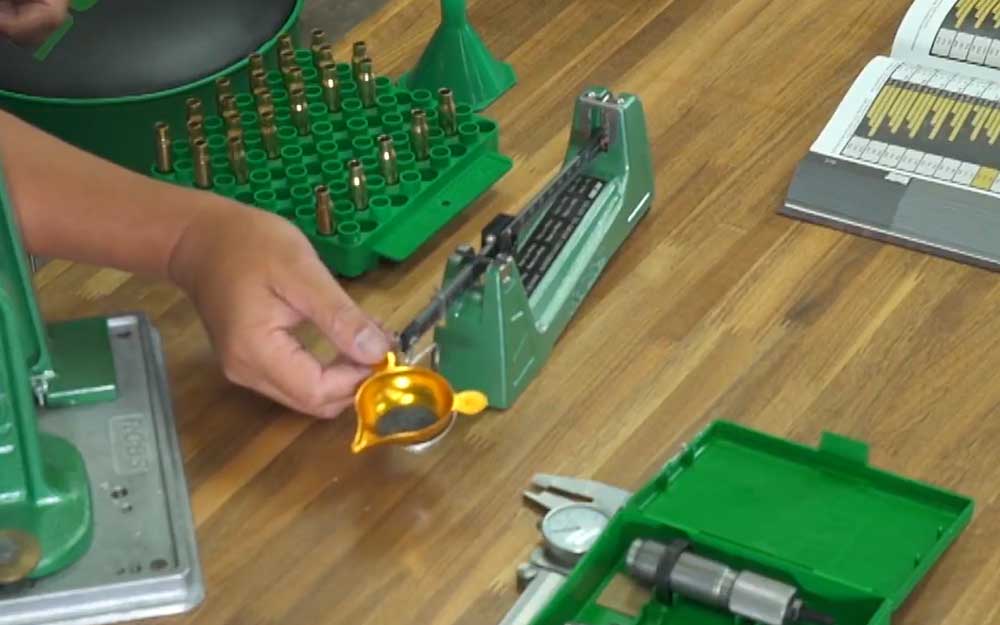 It's best if you first read the manual for the scale before you use it. The manual may have model-specific instructions regarding the setup, use, and maintenance of the scale.
The first thing you have to do is to zero the scale. That means you set the balancing weights down to zero, and put in the tray. Then you adjust the scale (usually by turning a dial) to level perfectly.
Once the markers are aligned, you're all set. Put your powder or bullet into the tray, and then adjust the weights to balance the scale. You'll then get your measurements when you've aligned the markers.
Every now and then, check the scale by putting a check weight to confirm that it's giving you the right reading.
You can clean the knife edges by rubbing a graphite stick (the lead you use in pencils) on the knife edges until the edges are fully coated. Use canned air to blow off the excess graphite on the knife edges.
Clean the agates as well, which are the stones that the knife edges sit on. Take out the agates every now and then, using Q-tips dipped in rubbing alcohol to clean them.
Final Verdict
The beam scales here are all terrific, but in recent years it's been a gamble. That's because some of these scales are now made in China, which has led to reports of substandard quality with a few units here and there.
That's why we heartily recommend the Hornady 050109 Lock-N-Load Balance Beam Scale, which is still made in the US (as far as we know). It's easy to use and easy to read, and it's sensitive to weight changes that lots of digital scales can't detect.
It's also durable as well, and you should get a unit in perfect working condition when you buy it. For many, it's the best beam scale for reloading as long as you keep away the air currents that can mess your readings!